How To Bypass ISP Blocking and Heavy Internet Censorship in Norway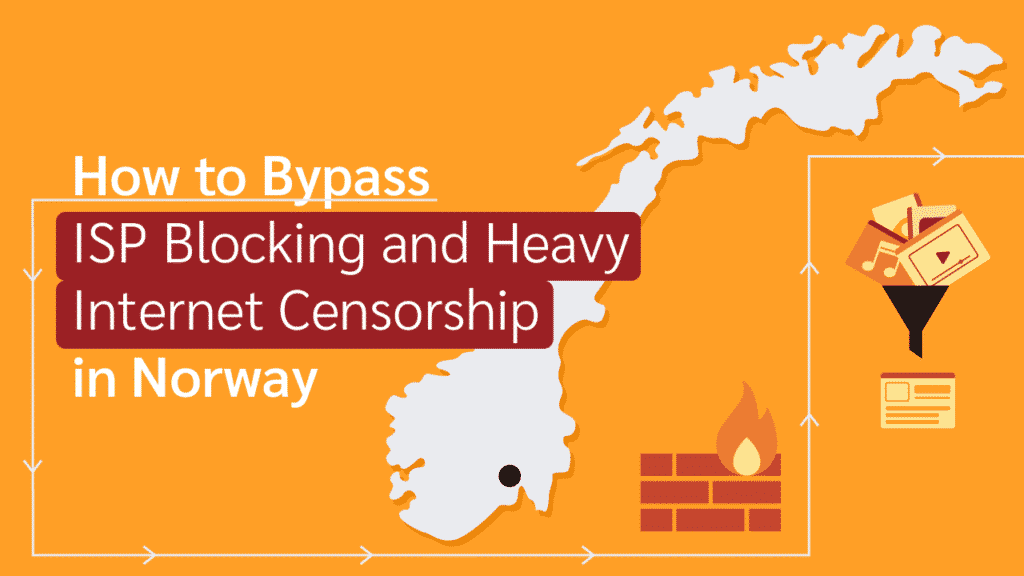 Norway has a population of about 5.3 million people. With its citizens earning an average salary of $3500 per month,  it is one of the wealthiest countries in the European Economic Area (EEA). It is therefore not surprising that more than 90% of its citizens have access to the internet. 
Norway is usually the benchmark for countries where citizens have unrestricted freedom. However, in recent times, the Norwegian government has moved from encouraging online freedom to blocking access to some internet domains. This article focuses on internet censorship in Norway and how to bypass restrictions resulting from it.
Internet Censorship in Norway
Norway portrays itself as a country that respects the people's choices, as long as whatever action they take is within the constitution's boundaries. Recently, it has come under some criticism for directing Internet Service Providers (ISPs) to restrict access to certain websites. This move by the Norwegian government goes against its image as a government that encourages a free society. 
In comparison with countries with heavy or moderate internet censorship, Norwegian residents usually enjoy the freedom to access online sites and services with little or no restrictions. ISPs only impose a voluntary CSAADF (Child Sexual Abuse Anti Distribution Filter) on their networks. This is to discourage the propagation of child pornography and the likes. Any attempt by residents to access such sites will see them read a warning message instead.
Beyond the CSAADF, ISPs, with the backing of the government, are imposing restrictions on other sites. The Norwegian government has valid reasons to implement some of these restrictions. For example, ISPs restricting access to gambling sites with no authority or license to operate under Norway's jurisdiction is laudable. However, there have been cases where the government has gone beyond the scope of its original intentions. ISPs are casting a wider net because of the ambiguity of the directives of the Norwegian government. 
Streaming and torrenting sites are among those hit with DNS-level restrictions. Sites like PirateBay, Movie4k, Viooz, DreamfilmHD, Primewire, and Extratorrent are no longer accessible in Norway. Online freedom advocates in Norway worry about the increasing scope of restrictions. They believe if the government keeps increasing censorship, the freedom of Norwegian residents is at risk. 
Why Is Internet Censored in Norway?
While some of these restrictions have reasonable and justifiable reasons, others result from pressure on the government by certain groups. For example, in 2016, the Christian People's Party urged the government to censor all forms of pornography. While the government did not succumb to the pressure from this group, other groups have succeeded in making the government implement restrictions. 
The MPAA (Motion Picture Association of America) is one group that pressures the Norwegian government to restrict access to sites that encourage piracy. Some torrenting and streaming sites meet that description and are on the blacklist of ISPs in Norway. Associations representing the film and recording industry are also vocal supporters of the government blocking these sites. 
How To Bypass ISP Blocking and Heavy Internet Censorship in Norway
Bypassing these restrictions requires the use of a Virtual Private Network (VPN). A VPN is usually the safest way to access platforms restricted by ISPs without compromising your identity. It will create a secure pathway between your device and its servers, masking your IP address in the process. This prevents any attempt by ISPs to have control over sites you can or cannot access. 
Asides from dealing with censorship issues, VPNs are one of the most secure ways to surf the internet. Several security features prevent malicious entities from stealing your data. So how do you use a VPN? Here is the step-by-step process of using a VPN to access a site like Pirate Bay, for example.
Select a VPN and purchase a subscription package. 
Install the application on one or all of your devices depending on your subscription package
Log in and choose a server outside Norway.
Access any site you couldn't access before due to the restrictions. 
This process is usually straightforward and doesn't take time. The only phase you might have some difficulty is selecting a VPN service to use. Several VPN service providers claim to be the best, but that is not always the case. There are a number of them that have proven to be reliable and trustworthy.
They include but are not limited to the following:
ExpressVPN
NordVPN
Surfshark
Conclusion
Norway has come a long way in building a reputation as a country that does not interfere in the online activities of its citizens as long as they are not breaking the law. Thus, it is appalling that the Norwegian government is making some effort to put a dent in that reputation. Fortunately for residents, VPNs provide a safe way to bypass whatever restrictions ISPs have put in place.