ExpressVPN vs PIA (2023): Full Guide (Speed, Netflix, Logs)
There are many uses a VPN can serve you. These include encrypting your network, thereby keeping you safe from hackers and cybercriminals. Additionally, a VPN can get you access to geo-blocked content on different platforms. Similarly, in regions with heavy government restrictions/surveillance, a VPN might be the only means to enjoy the internet.
There are quite a number of providers available, with different specifications and features. Thus, you may have problems settling for one. In this review, we will be analyzing two of the best providers in the industry: ExpressVPN and Private Internet Access (PIA). Hopefully, at the end of this review, you will be able to make up your mind concerning a provider to go with.
ExpressVPN: Short Summary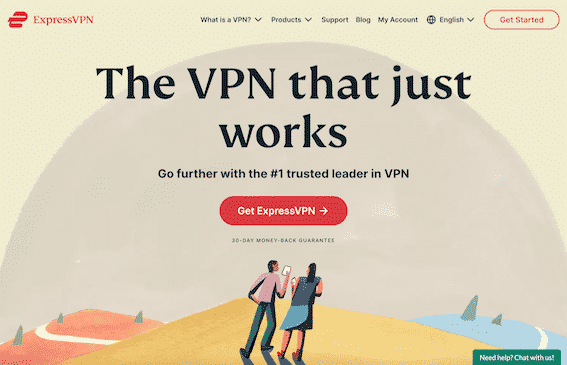 ExpressVPN is the industry leader when it comes to VPNs. The fact that it has maintained this reputation for years is no mean feat. What features make this provider a darling amongst users? Let's get down to them!
Considering speed, ExpressVPN is a grandmaster at it. All of its servers are equipped with top speed. You can browse, download, and stream to your heart's content with no issues.
ExpressVPN lists all the sites it can unblock. This show of faith speaks to its competence. This provider wants you to hold it accountable if it fails. On the list, you'll find Amazon Prime, BBC iPlayer, Google, Wikipedia, YouTube, and Netflix.
Most providers claim to be big on privacy, with strict no-logs adherence. However, when you go over the fine prints, you may discover that this is hardly the case. You can trust ExpressVPN on this count. It is based in the British Virgin Islands, a location known for its support for privacy. Additionally, it does not log any data from users.
ExpressVPN provides apps for major device types. You will find compatible apps for your Android, iOS, and Linux devices. It allows for 5 simultaneous devices connection to one account. Its subscription offers come with a 30-day guarantee period, which is more than can be said for most providers.
PIA: Short Summary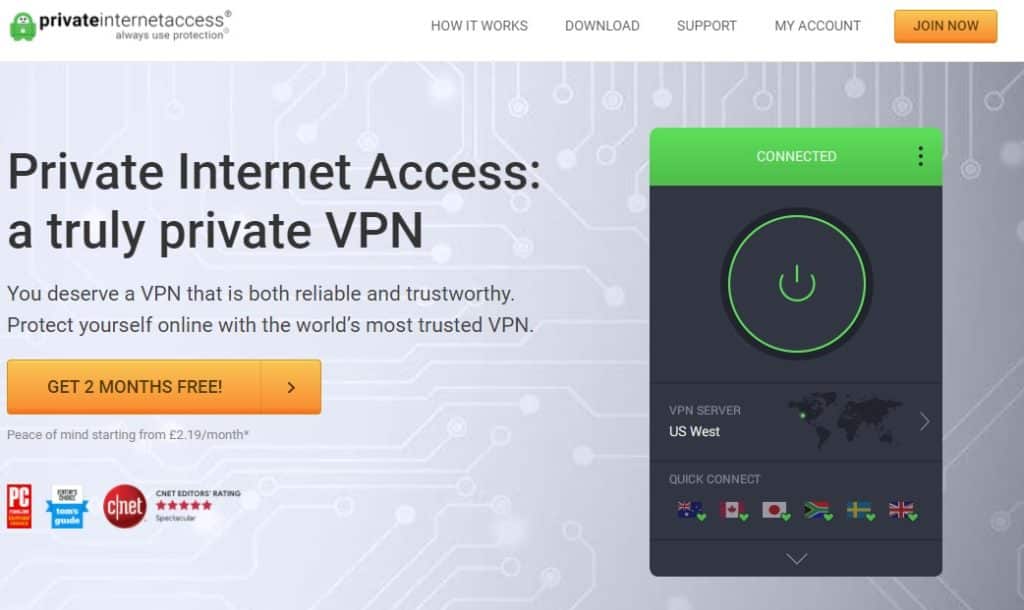 Private Internet Access (PIA) is a US-based provider that is steadily gaining ground. It is known for its features, which are above board. Also, it is popular for having a combination of speed and affordability.
Apart from being super-fast, PIA is quite good for torrenting. Remarkably, all of its servers are ideal for torrenting.
When it comes to security, this provider is no slacker. Its security features reflect its commitment to protecting the identity of its users. Thus, the VPN is equipped with IP masking features, data encryption using the AES 128-bit encryption, DNS, and IP leak protection, amongst others. Its encryption strength may not measure up to the standard 256-bit encryption, but it nonetheless should suffice.
This provider is big on privacy. It does not retain logs of users' activities. Hence, your online activities, including your browsing history, is safe. Its adware and malware blockers prevent bugs from infesting your device.
As already mentioned, this provider is super affordable. It gives you good value for your money with its pocket-friendly offers. Although it does not offer any free trials, it gives a 30-day money-back period.
ExpressVPN vs Pia: Server Coverage
The first consideration you should have for any provider is its server coverage. The wider the global coverage, the better for you. Ordinarily, a provider allows you to connect to its servers in any country they are located. Thus, a provider with multiple, strategically located servers allows you greater flexibility. You will be able to access more countries using the VPN, and with it, more content on platforms such as Netflix and Hulu.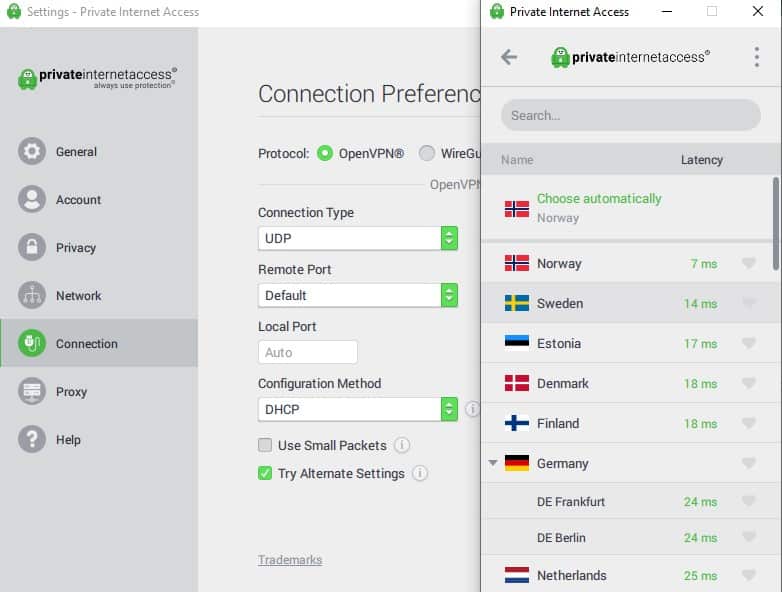 Another attraction for providers with greater coverage is faster speed. This is because users will not be clustered on to one server. However, you have to make sure that not only does the provider have an impressive number of servers, but that they are also evenly distributed. This will also spread their users across the different servers that they have.
ExpressVPN has more than 3000 servers in 94 countries (totaling 160 locations.) This spread out gives you a wide range of options to choose from. PIA has 10,910 servers in 74 countries. This is unprecedented in the VPN market. With this number, you can always find a VPN to connect to for whatever purpose you have.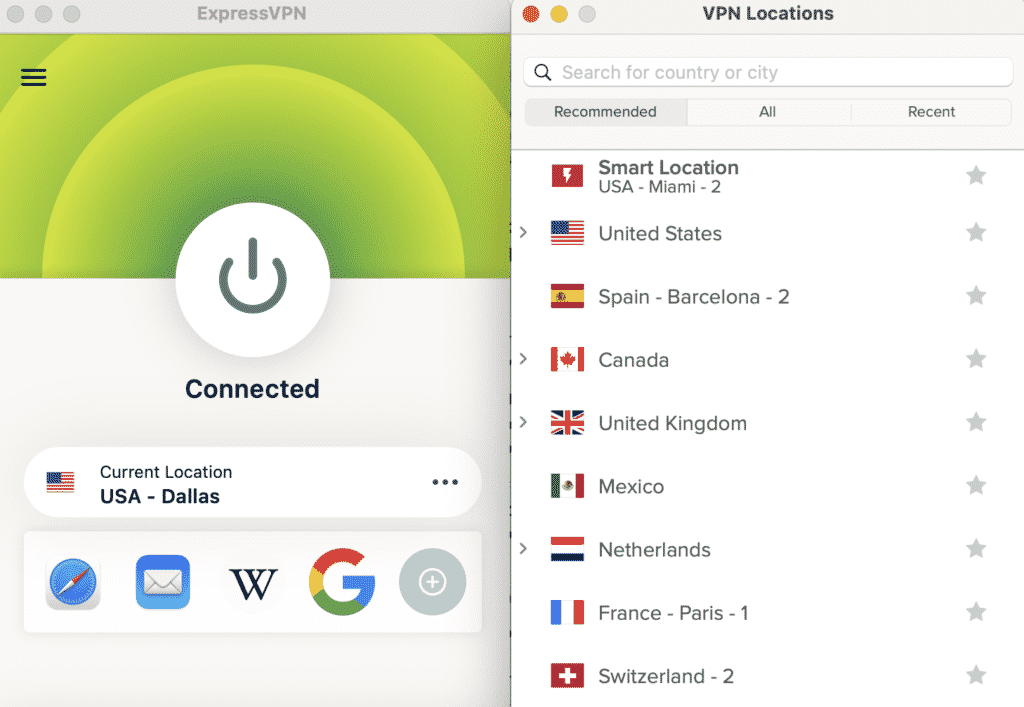 Speed and Performance Differences
Speed is also one other very important factor you need to consider. If your VPN use is restricted to just browsing or surfing the net, then speed shouldn't be of great premium to you. However, if you make use of the VPN to stream or download content, or for online gaming or gambling, then you should pay close attention. This is because if the connection is slow, you will experience lags while on the internet. This can lead to displeasure and dissatisfaction. More so, you can lose sums of money, especially if you use the VPN for business. Lastly, slow internet speed could compromise your security.
In carrying out tests for a VPN's speed, you should pay attention to 3 key parameters: Ping, Download speed, and Upload speed.
Ping is measured in milliseconds (ms) while upload and download speeds are measured in megabits per second (Mbps). Ping calculates how fast your network response speed is. A low ping rate means that your connection is fast. The reverse is the case with a high ping rate.
Download speed measures how fast a web page loads. The faster it is, the easier downloading and streaming will be for you. As already stated, if you make use of the VPN only for browsing, this will be of little concern to you.
Upload speed refers to how quickly your network sends and receives data. This is measured in Mbps. The higher the Mbps is, the faster the upload speed will be.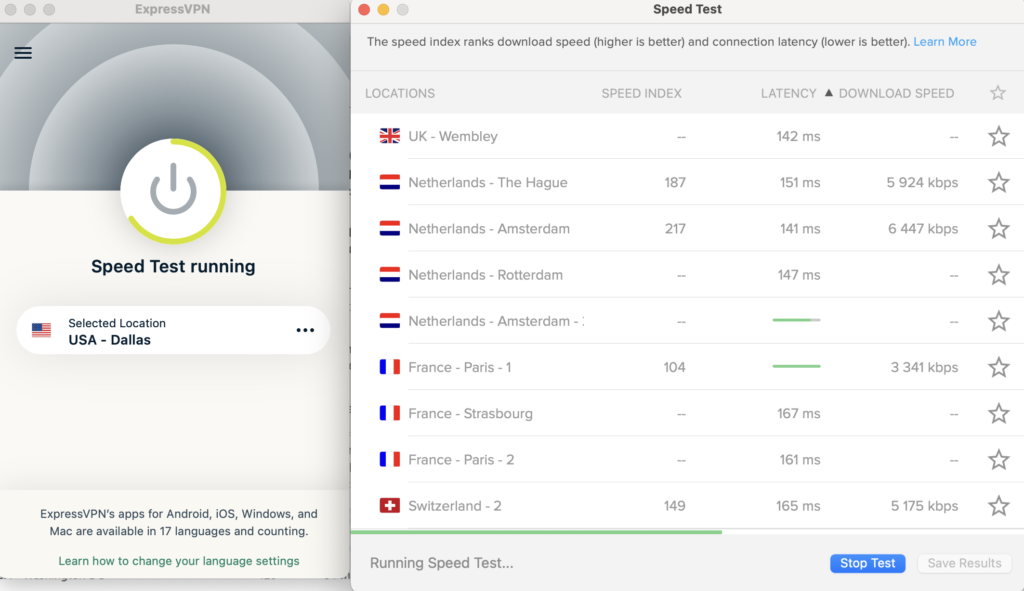 ExpressVPN's speed is excellent. It ranked quite well on the three parameters enumerated above. You can use it for browsing, downloading, and streaming without experiencing any lags. This provider even allows you to test the speed of each server before connecting. When you log in, you can run a speed check on all the servers. The result will show you the speed for each server, aiding you in making an informed choice. When it comes to speed, you will hardly be disappointed by ExpressVPN.
PIA also informs you of the latency, i.e., the speed of each server. In some cases, the actual speed of the servers exceeds the estimation by the PIA app. It affords you reasonable speed for browsing, downloading, and streaming. You can effectively make use of the VPN to play games also or share files between friends.
ExpressVPN takes this one. Generally, in the VPN market, very few providers can match the speed it uses. Hence, this is not an indictment of PIA. ExpressVPN is simply amazing in terms of speed.
Safety and Security Features
Security is perhaps the most important function of a VPN. An ideal provider ought to encrypt your network, keeping you fully anonymous online. That way, you will not be compromised while on the internet. Firstly, you will be protected from hackers who may want to steal your data. Even while making use of unreliable or shared networks like public WiFis, you will be completely safe.
Furthermore, an excellent provider protects you from the government. Some countries police the internet presence of their citizens. They do this by restricting access to some content and platforms. For instance, most social media applications are not available in China. Also, these authorities monitor the activities of their citizens. Citizens are hence punished if their Internet activities contravene the standards set by the government. A strong provider gives you a shield that totally obscures surveillance by the government.
Lastly, a great provider protects you from the activities of your Internet Service Provider (ISP). Typically, ISPs monitor users' traffic. They do this legally in some cases, such as when they have the duty to impose geo-blocks. They monitor traffic to prevent users' from accessing content not meant for their location. However, some unscrupulous elements monitor users for selfish purposes. It is not uncommon to hear of ISPs who sell data of their users to mining companies.
It is the security features of a provider that determines its strength. Providers with great security features offer the strongest protection. Therefore, if you want to test the strength of a provider's security, your first port of call should be its security features. Let's examine how the two providers under review fare in this area.
Both ExpressVPN and PIA make use of the highest grade of encryption available; the Advanced Encryption Standard (AES) 256-bit encryption. This means that to decrypt your data, the hacker has to find the exact key used to encrypt it. This is near-impossible. Incidentally, this is the level of encryption used by the United States military. You can rest assured that there is no possibility of your details getting compromised.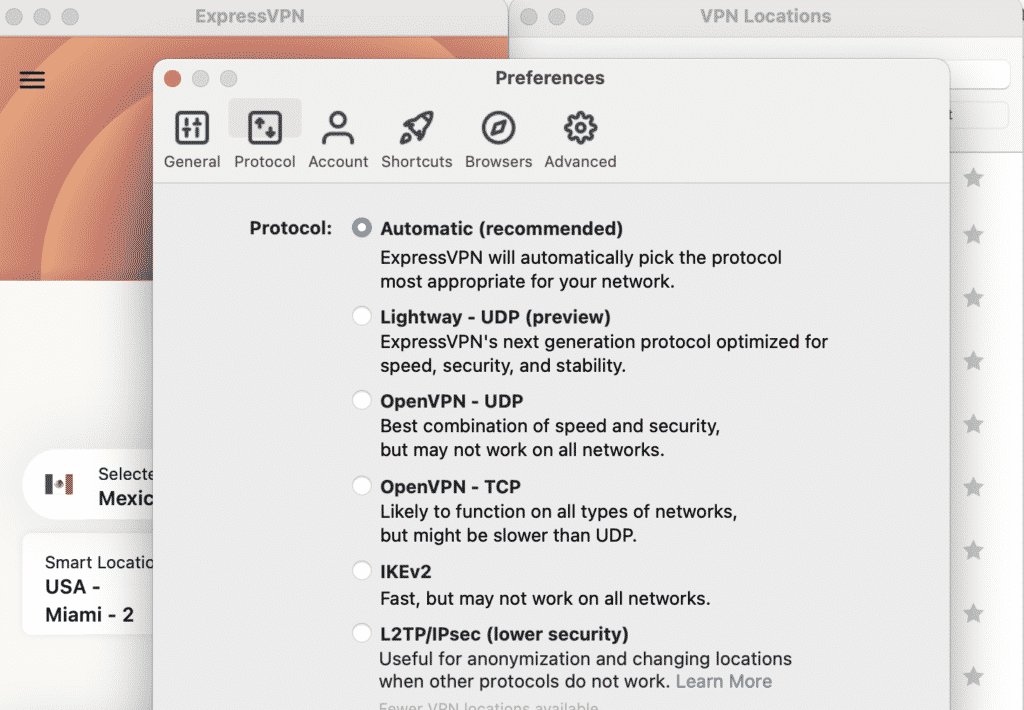 Furthermore, these providers make use of standard VPN protocols, including OpenVPN, PPTP, and TCP. They are both equipped with kill switches. A kill switch preserves your anonymity even if your network fails. Finally, they also allow for split tunneling. This is a process where certain parts of your traffic can be encrypted, and others left untouched. This is a helpful feature if you want to leave some part of your traffic free to carry out regular transactions.
Truly, these two providers are almost at par when it comes to security. However, PIA lets users choose whether to have 128-bit encryption but with enhanced speed. This trade-off weakens the strength of the user's security throughout that period.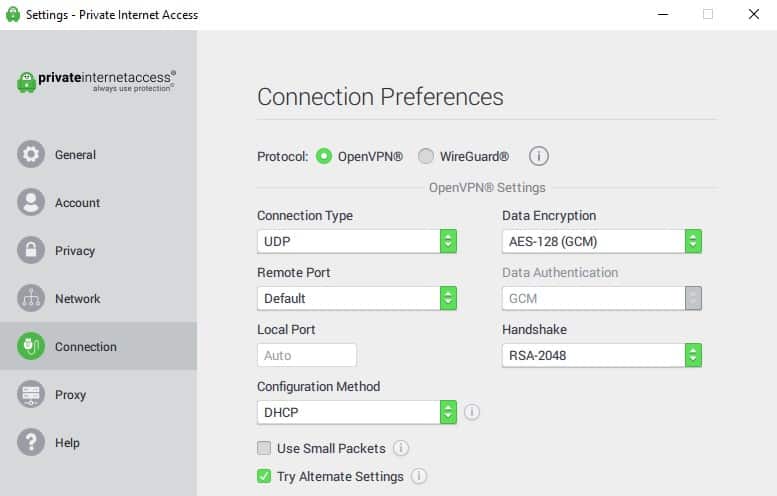 Anonymity and Privacy Features
A provider located in a privacy-unfriendly country should automatically be a red flag. Generally, different countries have defined laws regarding privacy. Some of these laws are friendly, discouraging the storage of users' data. Hence, these countries typically do not request for logs of users' activities. Some aren't all that friendly. They have strict regulations and may request for users' logs from VPN providers at any point.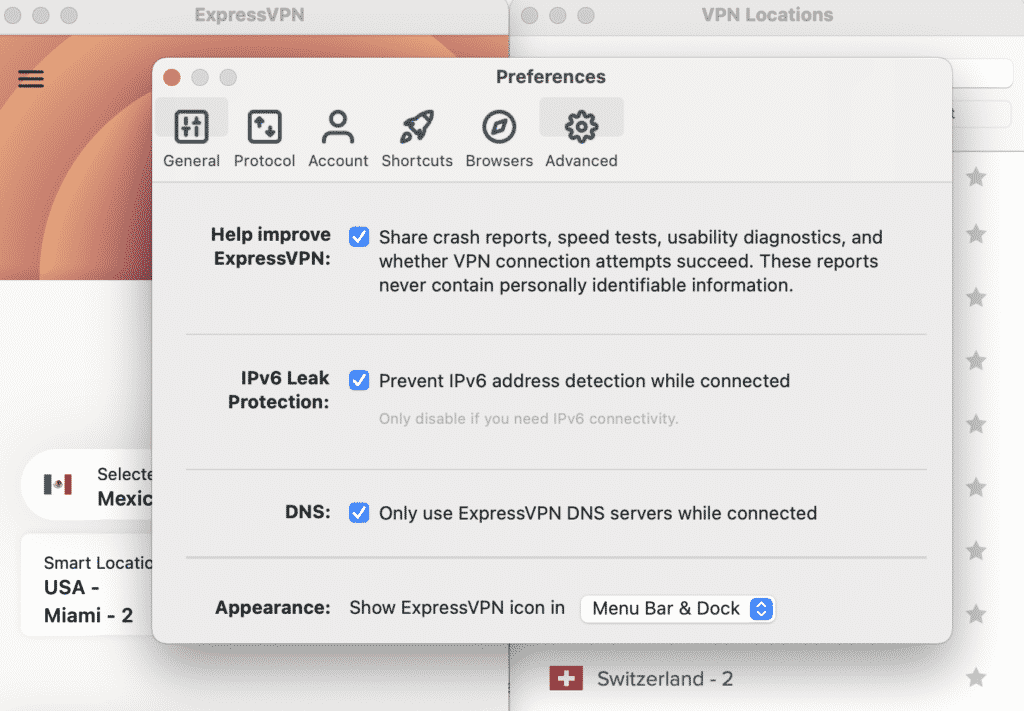 Some countries in the latter category make up a group known as the 14 eyes network. They monitor and allow the monitoring of citizens by governments who are part of the alliance. Hence, any country can request data from another country that is part of the alliance. The country being requested will be duty-bound to provide the information so requested.
ExpressVPN is located in the British Virgin Islands. Do not be deceived; this location is not part of Britain. It is an independent nation with favorable data regulation laws. It is not part of the 14 eyes network. Hence, ExpressVPN does not have an obligation to store or reveal users' data.
PIA is located in the United States. The USA is part of the 14 eyes network. More so, it has quite stringent privacy laws that are not to a user's advantage. PIA, however, insists that it does not breach the privacy of its users.
The next item on your checklist when it comes to privacy is the data retention policy of the provider. Your online activities are usually available to your VPN provider. Hence, you will be best served by one that does not store logs of your activities online. Providers in this category will wipe out your online digital footprint as soon as you are done using their service. In that way, even if they get subpoenaed by the government, there will be no data for them to give up.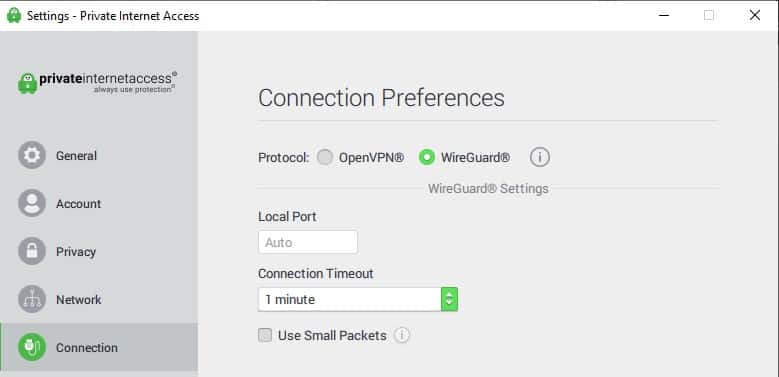 Both ExpressVPN and PIA state that they do not retain user logs. This includes traffic or IP logs, details of downloads, websites visited, etc. ExpressVPN affirms that it only keeps data relating to a user's connection process. This would include the email address that you used to sign up and your username. Also, concerning your activities with the VPN, they only store information relating that could potentially help you in the future. Hence, they note the date each connection was made and the server the user used. Neither of these can prove prejudicial to the user.
PIA states that the only information it retains is the email address you use when signing up. It further allows payment with cryptocurrencies like Bitcoin and Ethereum. This makes it quite easy to avoid detection. You can decide to set up a dummy email address, and then pay for the subscription with cryptocurrencies, staying safe the whole way. It will also interest you to know that PIA's stance has been tested in court twice. Such was its commitment to its users that it was adamant about giving up user details in both cases.
On this one, we will have to hand it to PIA.
ExpressVPN vs PIA: Platforms Supported
The average user has more than one device. This makes VPN compatibility with multiple device types very important.
ExpressVPN has apps for most device types. Thus, you can download and install its apps for your mobile device, laptops, desktops, etc. Arguably, the best it has is its desktop app. The mobile apps for iOS and Android do not have the full range of features its desktop app has. For instance, it does not offer Tor compatibility for its mobile options. You should make use of the desktop versions if you want to access the security privileges Tor guarantees. Furthermore, the speed test feature does not work on the mobile versions, too. However, its speed for the mobile versions is still topnotch and utterly reliable.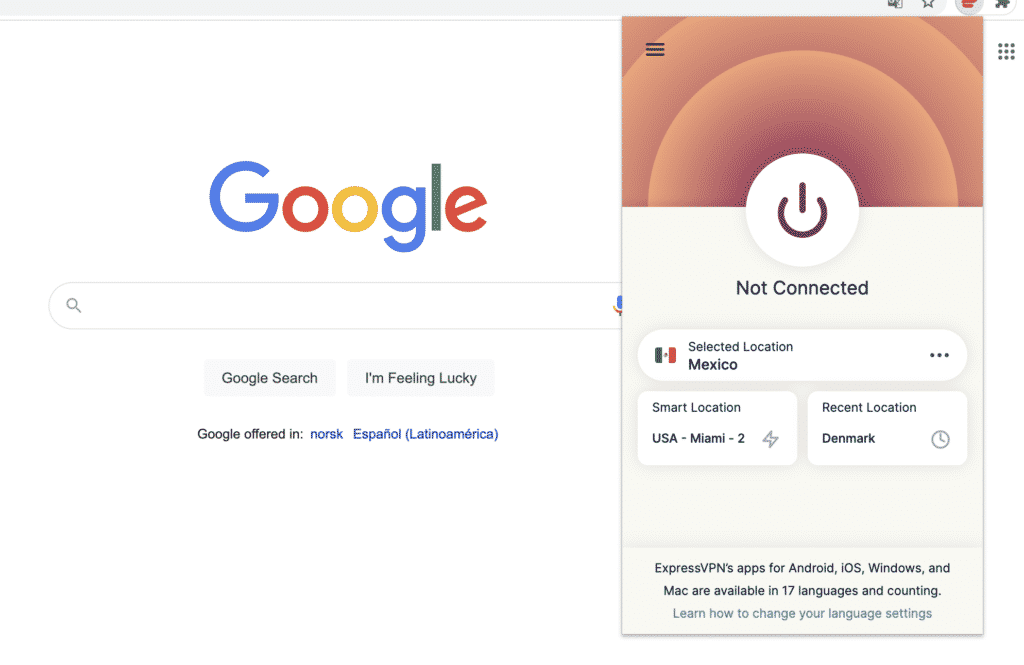 ExpressVPN also has apps for routers. The advantage of installing a VPN on a router is broader coverage. You can potentially hook up every device you have to that one plan. This provider provides instructions on how to download and install the VPN on these routers. Additionally, it offers extensions for Chrome and Firefox browsers. Here, it will protect just the network going to and coming from your browser. Every other part of your device will be unprotected. It will be important to bear this in mind while downloading and using the browser extensions.
PIA is also available for most operating systems. These include Windows, Android, macOS, iOS, and Linux. If you are a mobile user, this provider also has you covered. It has dedicated apps for Android and iOS devices. As long as your device has the Android 4.1 or Ios11, you can download and use its apps. Just like ExpressVPN, this provider has extensions for Google Chrome, Firefox, and Opera. They also allow for manual configuration, if you would rather go down that path.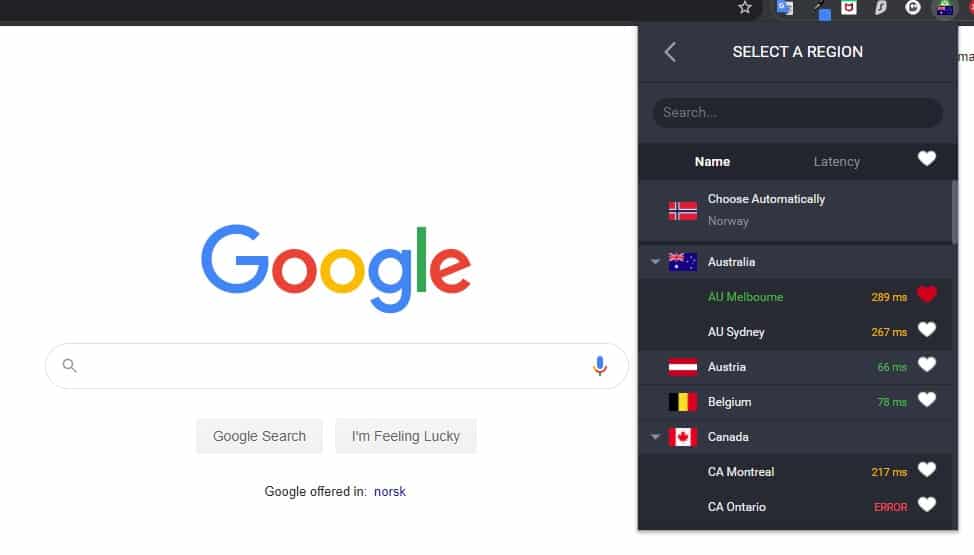 ExpressVPN permits 5 devices' simultaneous connections. This is quite generous and is equally the industry standard. You can hook up multiple devices to the same account without experiencing any lags or buffering. PIA offers double of what ExpressVPN permits. It lets its users connect 10 devices simultaneously to one account. This is way above what the other providers permit. You can connect all your devices, including those of family and friends, just with one account.
Streaming and Torrenting
Users are typically signed on to streaming platforms. The popular ones include Netflix, Amazon Prime, Hulu, BBC iPlayer, amongst others. Ordinarily, you should be able to access content on these platforms even without a VPN.
However, you will run into problems when you want to access content from another location. Streaming platforms have geo-blocks in place to restrict this. You will only be allowed to stream videos, music, etc. specific to your location. This can be frustrating, especially if your favorite show is streaming in a country different from yours.
A VPN gets around geo-blocks and gets you access to content on these platforms, regardless of geo-blocks. But you have to bear in mind that the encryption on these platforms is strong. The providers are committed to shutting intruders out and so make their algorithms strong and almost impenetrable. Equally, only a strong provider can break through the encryptions undetected.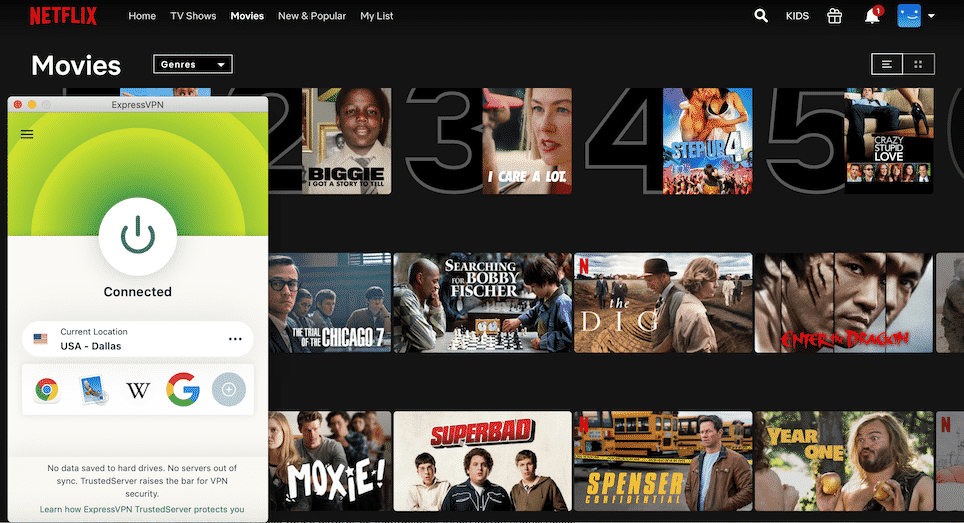 ExpressVPN is king when it comes to unblocking content. It unlocks Netflix libraries of different countries with ease. The same applies to Amazon Prime in the US and BBC iPlayer in the UK. Its large number of servers make streaming a delight.
Sadly, PIA is not as efficient as ExpressVPN in terms of unblocking content. If you are looking to unblock Netflix US, you should have no problems using PIA. However, if you want to unblock Netflix in other countries, or unblock content on other platforms, you may run into challenges.
Torrenting is also another activity VPN users are paying attention to. It provides you with files you may not be able to obtain through any other means. This action is illegal in some jurisdictions because of the copyright issues it raises. Thus, ISPs typically block users they find torrenting files. To get around this, you need a VPN.
Both providers have servers that are optimized for P2P file sharing. When you log on and start torrenting, the VPNs automatically connect you to the best servers for that purpose. More so, you can do this anonymously using ExpressVPN's obfuscated servers.
ExpressVPN vs PIA: Plans and Pricing
A provider's offers is another area of importance while choosing a VPN. It is important to stay within your means. Simply put, choose subscribers whose plans you can afford.
For PIA, the subscription plans are as follows:

Monthly plan: $9.95
6-month plan: $5.99 per month
1-year plan: $3.33 per month. (including 2 additional free months)
ExpressVPN has these price plans:

Monthly plan: $12.95 per month
6-month plan: $9.99 per month
12-month plan: $8.32 per month
Both providers give a 30-day money-back guarantee period. Within this timeline, if you need to recover your funds, you will. The two providers do not offer free trials. However, you can take advantage of the money-back window to run a trial on the provider. As already stated, the recovery of funds is easy and straightforward.
PIA has super-affordable subscription options. It even gets better with the more months you pay for. This offer is one of the cheapest in the industry. It even trumps ExpressVPN's offers. Compare different VPN price plans here.
Pros and Cons
ExpressVPN
Pros
Speed: ExpressVPN is one provider that prioritizes speed. Hence, it constantly upgrades its servers to make sure they are optimized for speed. You can even run a speed test on its Windows and Mac version to confirm the server with the best speed. Whatever use you need the VPN for, you can scarcely be worried about speed.
Security: Security is also one of ExpressVPN's forte. The provider has carefully designed features intended to keep users safe. Whether you are trying to steer clear of hackers or the government, you will be safe either way.
Commitment to Privacy: This provider does not waver in its commitment to privacy. It does not keep logs of users' activities. More so, with its headquarters being in the British Virgin Islands, it has no obligations to break user privacy.
Excellent Customer Care Support: This provider has customer support personnel working round the clock. Whatever your issue is, you can quickly get it resolved by reaching out to them. Thus, if you run into challenges while installing or using the provider, they are always on hand to help.
Easy-to-use User Interface: The layout and design of the ExpressVPN website and apps make it quite easy to use. Even if you are a first time user, you will have no problems.
Unrivaled Unblocking Ability: There is no encryption too difficult for ExpressVPN to get around. Whatever platform you need access to, this provider makes it possible.
Cons
Cost: This provider is a bit pricey. However, its features more than make up for this.
PIA
Pros
Simultaneous Devices Connections: With PIA, you can connect as much as 10 devices simultaneously. This is simply short of amazing.
Cheap Subscription Plans: PIA is very cheap. Its subscription offers are quite pocket-friendly.
Security: PIA is at par with industry leaders in terms of security. It has the standard features – AES 256-bit encryption, a slew of protocols to choose from, amongst others.
Privacy: PIA is transparent about its no-logs policy. It has even faced off the government in court twice to defend its stance.
Cons
Unreliable Customer Support: PIA's customer response system is not automatic. You may have to wait for a while to get any issues resolved.
Headquarters in the United States: This is a definite drawback because of privacy concerns. Although PIA is emphatic about its commitment to privacy, users still have to be wary. The United States does not have user-friendly privacy laws.
Slow Speed: This provider's speed does not match that of ExpressVPN.
Our Recommendation
This is an easy win for ExpressVPN. It has excellent features and speed-optimized servers. It also guarantees an almost matchless service on all fronts. Truly, PIA is superior in terms of the number of simultaneous devices allowed and its pricing options. In all, its services are not unpalatable; it just does not meet the standards set by ExpressVPN.