ExpressVPN vs IPVanish (2021): Full Guide (Speed, Streaming)
The internet is becoming bigger, difficult, and more dangerous to navigate. This is due to the many pitfalls that could ail the innocent surfer on the net. When you think about the phishing, cyber theft, and the vast data collection by companies happening daily, you can't help but opt for a VPN. However, choosing a VPN could be an arduous task seeing they all claim to serve the same purpose.
It is no different when your choices are narrowed down to two of the best: ExpressVPN and IPVanish. While both are ideal and capable of getting the job done, you still need to make a choice. In this article, we will pit the two giants against each other and deliver an expert verdict of which of the two VPNs would offer a better and smoother experience as you surf the web.
ExpressVPN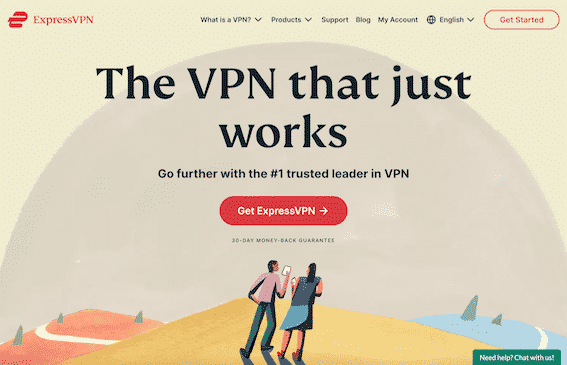 ExpressVPN is a premium VPN that offers impeccable and excellent quality of service. Their services' consistency and reliability make them the number one VPN on the long list of top tier services. They have over 3000 servers in 94 countries spread across 6 continents. This means they have servers everywhere you could think of connecting to. With so many servers, it is no surprise that their network is fast and reliable.
They offer maximum security and privacy to their users, using their military-grade encryption protocol. They are based in the British Virgin Islands, far away from all the data security and privacy laws that abound in most countries. They equally operate a no-logging policy, which means that they do not leak users' data. Along with these, they offer a lot of functions that make your security foolproof and your privacy safe.
They also have dedicated applications for major platforms and allow 5 devices to log in simultaneously using one account.
ExpressVPN also offers excellent pricing and plans that are justifiable compared to the excellent services they offer.
The quality of service that ExpressVPN offers sets it apart among VPNs as the best. A more thorough review of their services and offerings will be discussed below.
IPVanish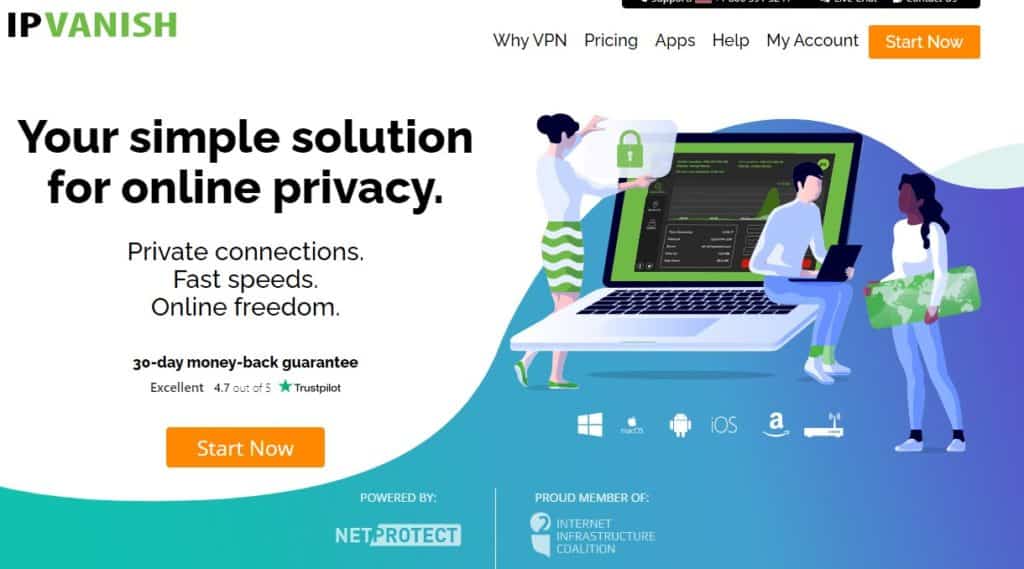 IPVanish offers top tier services that are only available on a few other competitors. They have over 1500 servers scattered around 75 server locations in 54 countries. This ensures that they can offer their services without any glitch or hitch. Their network is robust and reliable.
For a VPN based in the United States, it's rather shocking that they offer as much security and privacy to users. Considering the amount of data security laws that are operational in the United States, it is safe to say that IP Vanish tries to offer the best security and privacy. They use the AES 256-bit encryption technology, which is hack-proof. They also operate a no-logging policy that offers improved privacy. This policy has, unfortunately, been breached once, though.
They also support a great range of devices, including the most popular platforms. They allow up to 10 devices to log in simultaneously on a single account.
Their pricing and plans are quite fair and pocket friendly. Their monthly plan starts at $10.00 per month. This is not a bad deal when you consider all the goodies they offer. In all, IPVanish is an excellent VPN with great features anyone would be interested in leveraging. We have presented a complete review of their features below.
Server Coverage
Server coverage is a big deal when rating VPNs. A VPN with a broader range is considered reliable. The more the servers a VPN has, the better its speed and performance.
The official ExpressVPN site claims it has 3000+ servers in 160 locations, covering 94 countries. The IPVanish official site, on the other hand, claims to have 1500+ servers in 75 locations, covering 54 countries. Since it is a norm for VPN sites to inflate their statistics to attract people, we would not be basing our review on information gotten from their sites, but on an in-depth analysis.
ExpressVPN sure has comprehensive coverage that's spread across the globe. Here is a detailed breakdown of its server coverage in different countries around the world: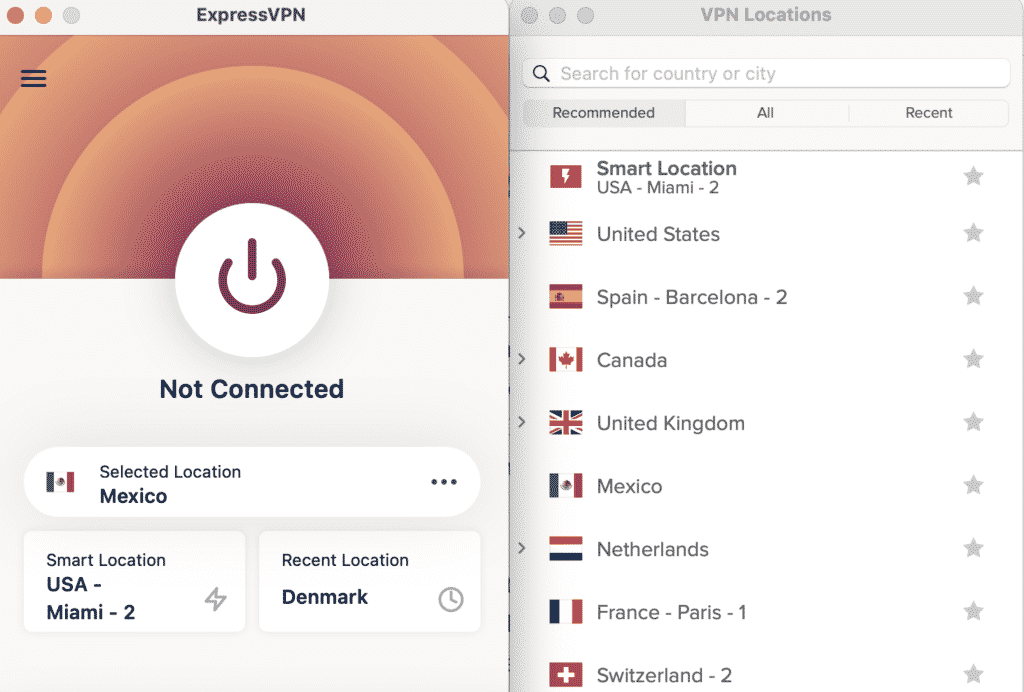 3 countries in North America ( with over 80 percent in the United States)
44 countries in Europe (including the United Kingdom, Netherlands, France, Spain, and Germany)
1 country in Oceania (Australia)
29 countries in Asia (including Singapore, Japan, South Korea, India, and Israel)
3 countries in Central America (including Costarica and Guatemala)
8 countries in South America ( including Brazil, Argentina, and Chile)
1 country in the Caribbean (Bahamas)
Four countries in Africa including (South Africa and Egypt)
Secret servers in unnamed anti-VPN countries
This totals to over 3000 servers in over 160 locations, covering 94 countries.
IPVanish also has servers distributed evenly around the world, but not quite as much as ExpressVPN. Below is a detailed breakdown of its server coverage around the globe: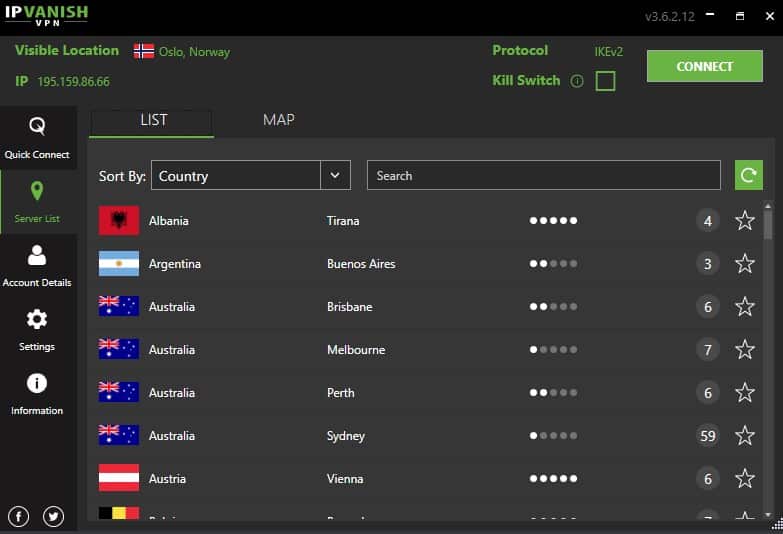 3 countries in North America (over 80 percent in the United States)
32 countries in Europe (over 80 percent in the United Kingdom)
2 countries in Oceania ( Australia and New Zealand)
8 countries in Asia (including Israel and Singapore)
1 country in Central America (Costarica)
5 countries in South America (including Argentina, Brazil, and Chile)
Servers in unnamed countries.
This totals to 1486 servers in 82 locations, covering 54 countries.
Though both VPNs have their servers in most parts of the world, ExpressVPN wins this round seeing it almost doubles the numbers of IPVanish. They have servers practically everywhere. ExpressVPN takes the lead in this category.
Speed and Performance
Another pertinent factor to be considered when choosing a VPN is speed and performance. Here, the stability and quicksilver abilities of the servers are put to the test. Every VPN (including the laggy and slow ones) claims to be fast. The two VPNs we are reviewing both made similar claims. While ExpressVPN claims to be "the fastest VPN around," IPVanish claims the title of "fastest VPN in the world." However, talk is cheap. Let's deal with statistics.
When it comes to internet speed, there are three parameters for measuring the browsing speed of a server or device — Ping, download speed, and upload speed.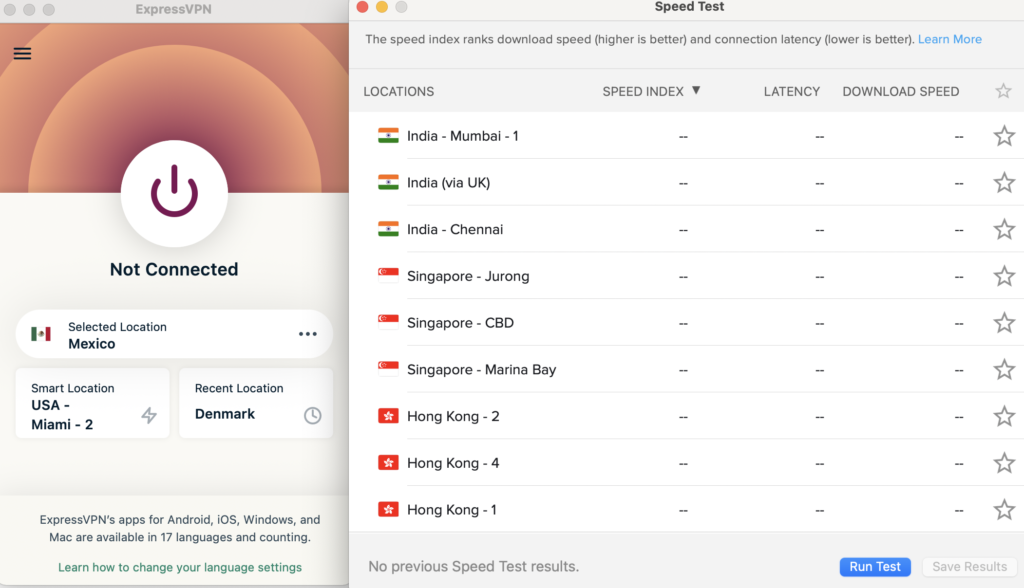 Ping is the amount of time it takes your devices to communicate with a server. The lower it is, the faster your internet speed. Download speed is the amount of megabit (data) that is transferred to your computer per second while upload speed is the amount of megabit (data) that your system can transfer per second. These three values form the yardstick for determining a server's internet speed.
A VPN should usually slow down your browsing speed due to the additional security protocols and distance from a server, etc. However, modern VPNs like ExpressVPN and IPVanish have found ways to provide users with excellent speeds regardless of this. We carried out speed tests to determine who offers faster speed, which would invariably assess performance.
While IPVanish offers a lesser Ping rate than ExpressVPN, ExpressVPN wins overall, offering a higher download and upload speed. Another reason why ExpressVPN comes tops is because of its diversity of servers. They offer double the number that IPVanish provides, thus making it easier to find a server nearby. The closer you are to a server, the better its speed and performance. Also, the more the servers, the lesser the traffic. With these parameters in place, nothing can stop ExpressVPN from performing faster.
Safety and Security Features
One of the primary reasons why people want to use a VPN is safety and security. The Internet is a large hub of information and insecurity as well. This is why many people opt for VPNs to secure themselves from hacks, data, identity, and money thieves. Some other people live in areas where the government monitors every action, including those you carry out on the Internet. In such areas of the world, a VPN with excellent security and safety features is a saving grace.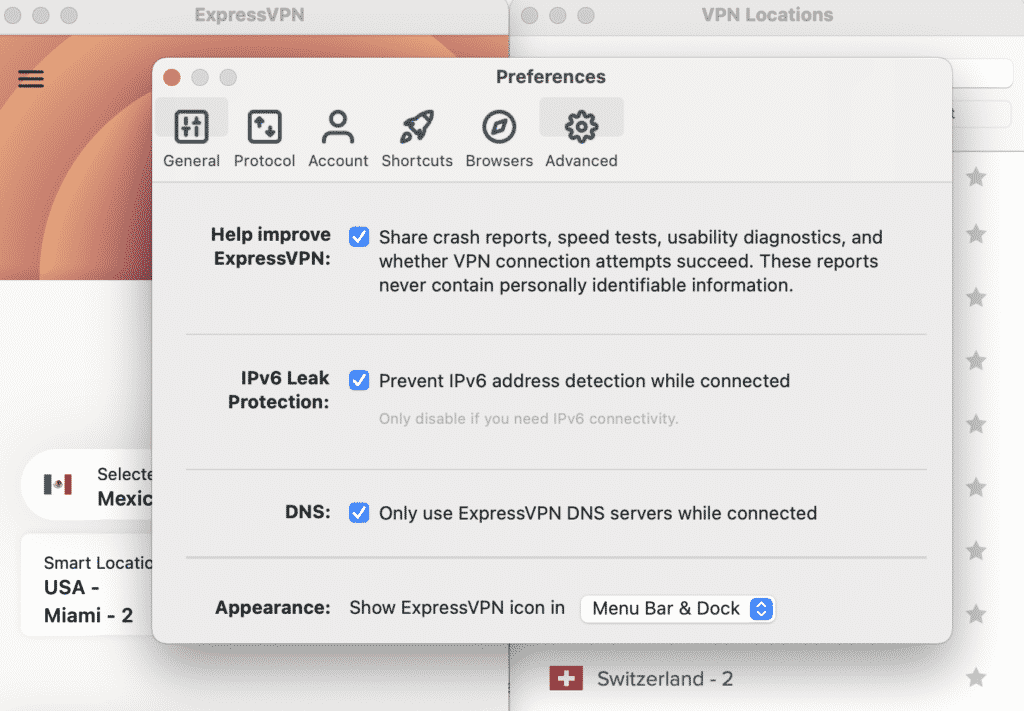 Both ExpressVPN and IPVanish brandish perfect security and safety features. They both use the AES with 256-bit keys, which is the best in the world for encrypting and securing data. Just so you know how effective it is, the US government and the NSA use it to secure their highly-sensitive files. No supercomputer can hack the AES. That's some maximum security.
Also, both VPNs have a kill switch feature that alters connectivity and data transfer if there was ever a disconnection from the server. This means there could never be a chance of data or information leaking. This means that both VPNs are strong and capable when it comes to safety and security.
However, there are places where IPVanish cannot offer much-needed safety and security. One of the most significant proofs that a VPN is a safety and security giant is having servers in countries or locations with strong anti-VPN policies. ExpressVPN has proved this beyond a reasonable doubt. An example is their secret server in China, a country with a great firewall that has stopped most VPNs from accessing their country.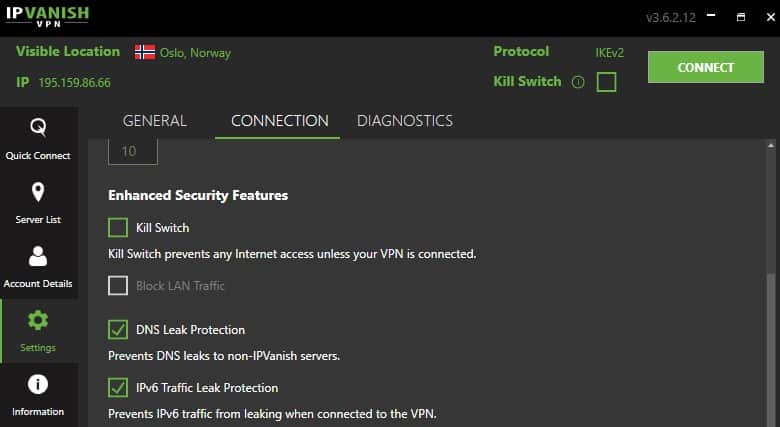 While both VPNs offer robust security features and options, ExpressVPN edges over IPVanish once again.
Anonymity and Privacy Features
When it comes to anonymity and privacy features, both VPNs claim to offer a no-logs policy.
A no-logs policy is part of the agreement between a VPN and the user, stating that the company would not store user data. While the IPVanish no-logs policy seems absolute, ExpressVPN stores your date (not time) of login, your server location, and the amount of bandwidth used. All of this information is, however, insignificant and does not hold any significant threat.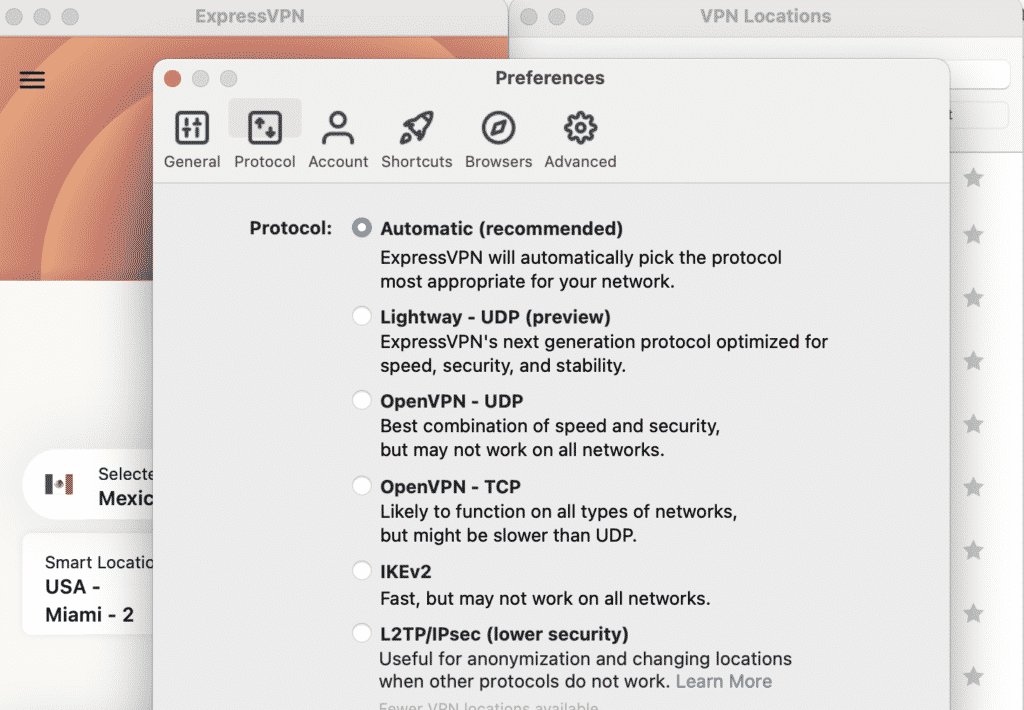 While the two VPNs offer excellent privacy and anonymity, one has some edge over the other. ExpressVPN is considered a more secure option to IPVanish due to a few reasons.
First is the no-logging policy breach by IPVanish in 2016. They were in the news over severe allegations of sharing users' data with government officials. Although the VPN was recently acquired by a new firm who preaches a lot about privacy and integrity, the 2016 incident remains fresh in people's minds. ExpressVPN has never had any such occurrence. Their spotless track record gives them a better reputation than IPVanish when it comes to privacy.
Secondly, there is the issue of location. ExpressVPN's headquarters is in the British Virgin Islands, a country that is not affected by most privacy laws that would affect IPVanish. IPVanish's base is in the United States, where internet and data privacy is almost a fantasy. The company can face questioning and probes from law enforcement at any time. This cannot happen in the British Virgin Islands, where your data is protected by law.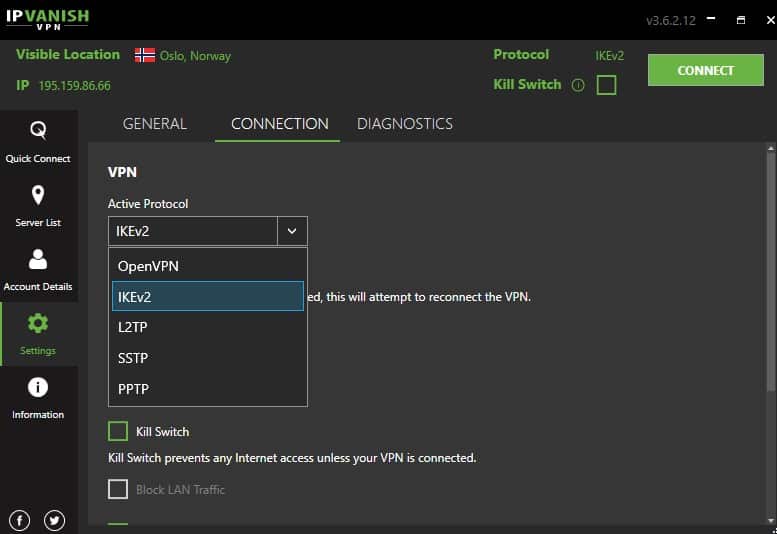 Furthermore, ExpressVPN offers more secure and untraceable payment methods like the use of Bitcoin and other Cryptocurrencies. All that IPVanish offers is the use of credit cards, debit cards, and PayPal. This is another ground on which the ExpressVPN shows itself more privacy-conscious. With so much concern for user's privacy, ExpressVPN once again takes this round over IPVanish.
While it was looking like it was going to be a tie, ExpressVPN comes out on top overall on privacy and anonymity.
Platforms Supported
There are three criteria to consider when it comes to platform support: apps, gadgets, and the number of devices that each plan supports.
For apps, both ExpressVPN and IPVanish have apps for all the popular devices and platforms including, Android, iOS, macOS, Linux, Windows, Amazon Fire TV, and Amazon Fire Stick. Their apps offer top-notch usability and functionality while boasting an excellent interface. Both VPNs offer browser extensions that work pretty well. On this ground, it is a tie.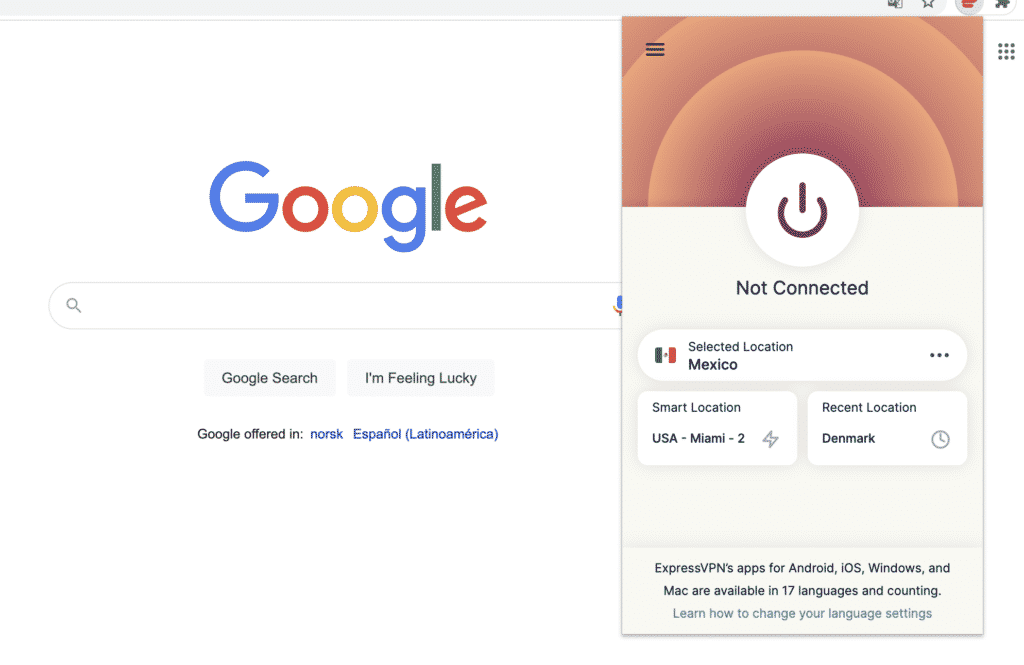 For gadgets, it's equally another tie. Both VPNs work well with gadgets like routers. This makes it challenging to select one.
The only place where one of the VPN stands out is the number of devices each VPN accommodates simultaneously in its plan. While ExpressVPN allows 5 devices to connect simultaneously, IPVanish offers up to a whopping double of that. With one subscription, you could connect up to 10 devices at the same time. That makes this category a landslide win for IPVanish.
Streaming and Torrenting
Streaming and Torrenting are two top features that any serious-minded VPN adds to its arsenal. Since it's already obvious this is the pitting of two giants, it would be a waste of time asking if they both offer great streaming and torrenting services because the answer is YES. Both VPNs are great for online streaming sites like Netflix, Hulu, Amazon Prime, BBC iPlayer, and Disney+. They are also good picks for torrenting.
A lot of people get VPNs for streaming so that they can unblock geo-restricted content on top streaming sites like Netflix. This is because a good VPN (like either ExpressVPN or IPVanish) would allow you to change your IP address to an alternate location. The most favored location for a lot of Netflix streamers is the United States. With a good VPN, you can unblock and stream geo-restricted content on the US version of Netflix with ease.
To enjoy streaming, you need a good ping and download speed. These are the network requirements that must be met before you can stream Netflix conveniently using a VPN. Both ExpressVPN and IPVanish are excellent choices for streaming Netflix.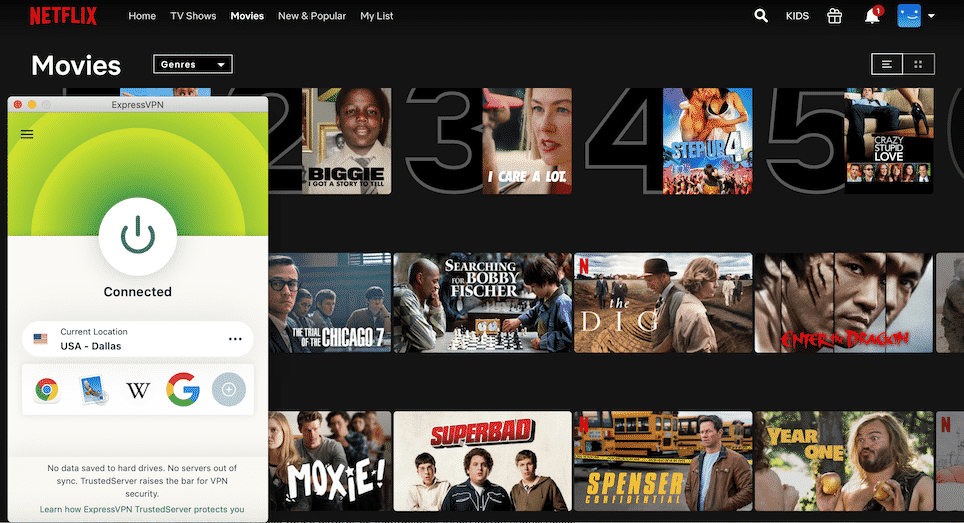 However, ExpressVPN has the edge over IPVanish when it comes to streaming US-based content. ExpressVPN has more servers in the US and also has more Netflix-dedicated streaming servers. Also, you can access other Versions of Netflix. IPVanish, on the other hand, finds it difficult to access the Netflix versions of some other locations like Canada and the Netherlands.
It is safe to conclude, therefore, that ExpressVPN takes the trophy when it comes to streaming and unblocking geo-restricted content.
However, when it comes to torrenting, IPVanish takes the win almost effortlessly. While both VPNs would fare well for Torrenting and offer the privacy and safety needed, IPVanish has the upper hand. This is because it uses a proxy known as SOCKS 5, which is way faster than the method which ExpressVPN uses for Torrenting.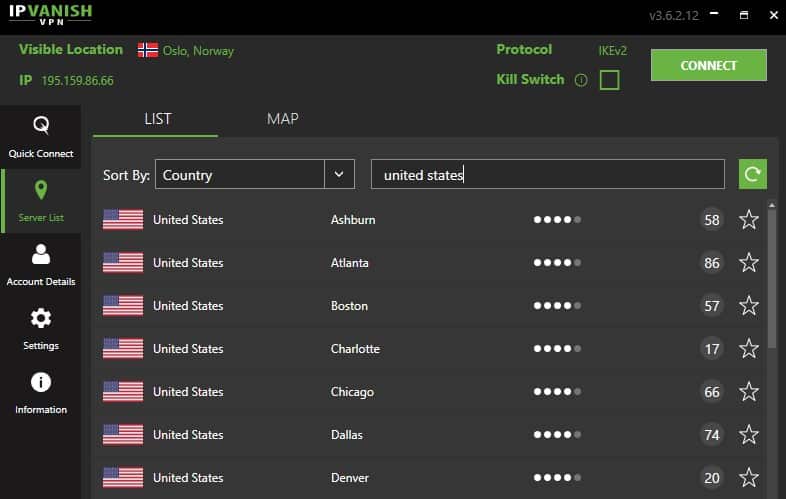 In summary, both VPNs would do well for either streaming or torrenting. But each one has its stronger point. ExpressVPN would be the ideal choice for streaming and unblocking geo-restricted content. For torrenting, IPVanish is the perfect option.
Plans and Pricing
Plans and Pricing is another tough one for these two VPNs. They both offer relatively reasonable pricing and plans. Their plans and prices might not be peanuts, but when you compare them with a lot of VPNs available on the market (in light of the many features that they offer), you will discover that they provide a fair enough bouquet of pricing and plans.
The plans and pricing for ExpressVPN are as follows:

Monthly plan – $12.95
6-month plan – $9.99/month
12-month plan – $8.32 per month.
The plans and pricing for IPVanish are a little bit more pocket friendly: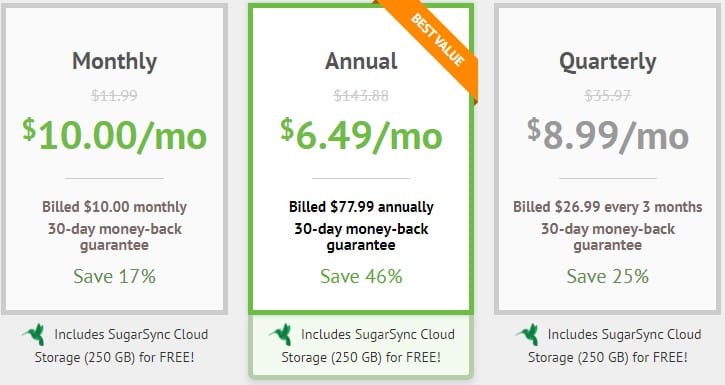 1-month plan – $10.00
3-month plan – $8.99/month (you save 25% on this plan)
12-months plan – $6.49/month (you save 46 % on this plan).
Both services offer a 30-day refund guarantee in case you have issues with or complaints against the service. However, ExpressVPN emerges on top of the statistics when it comes to refunds. Unlike IPVanish, the process for receiving a refund is less stressful at ExpressVPN. You will be able to receive your money back as their refund policy states, no questions asked. IPVanish, however, tries every possible tactic to make you stay and still ask numerous questions before you get refunded.
Comparing both pricing plans, IPVanish emerges on top since it is cheaper. While you may want to justify the price of ExpressVPN because of its many servers and other obvious advantages, you must not be quick to forget that IPVanish was right behind them in almost every category. Also, they allow 10 different devices to log in simultaneously as opposed to ExpressVPN's lower 5 devices. While IPVanish has the upper hand on pricing, the difference is not overly significant. See different price plans for VPNs here.
Pros and Cons
You can consider this to be the scoreboard section where we collate the points for or against each VPN. We would review the pros and cons of each VPN, keeping in mind the review we have above.
ExpressVPN
Pros
Fast in all locations: ExpressVPN is fast in every location. Whether it is in the United States or Australia, you can trust its speed and performance.
Advanced security and privacy: The security that ExpressVPN offers is top-notch and has never been compromised.
A good option for US Netflix: It is an excellent option for unblocking and streaming US Netflix from anywhere in the world.
Great unblocking capabilities: It is an excellent tool for unblocking different services and getting access to past restrictions, especially geo-restrictions. With ExpressVPN, you can unblock the PlayStation, Hulu, Disney+, Youtube, and a host of other services.
Works in the most unlikely places: ExpressVPN has servers in the most unlikely of places. They are one of the very few VPNs with servers in China and the UAE.
No-logs policy: They have a no-log policy that is yet to witness any violation. In 2017, the Turkish police used one of their servers for operation and found no data.
24/7 live-chat support: They offer a 24-hour live-chat/support system that actually works. You can get help quickly and easily.
Simple and intuitive app: Their app is intuitive and easy to use. Beginners would enjoy it, and professionals also can explore the app for advanced options.
Cons
Expensive: Their plans and pricing are slightly expensive when compared to the other option.
Streaming servers are not labeled: Streaming servers are not easily identifiable as they are not labeled.
Occasionally disconnects: There have been instances of the connection breaking while users were surfing the net.
Lesser number of Devices: ExpressVPN only allows 5 devices to connect simultaneously, which is low compared to IPVanish
IPVanish
Pros
Strong encryption and protection: IPVanish has a tremendous and reliable encryption protocol that makes it impossible for leaks to happen while the user is surfing the net.
Great speed and performance: The VPN offers excellent and reliable speed and performance.
Free SOCKS5 Web proxy: The SOCKS5 Web proxy makes it a better alternative for torrenting than ExpressVPN.
Higher number of Devices: You can connect up to ten devices at the same time. This is a higher number than most VPNs allow.
Cheaper: Its plans are more affordable when compared to those of ExpressVPN.
Cons
No live-chat: Even though they advertise life chat and support on their site, it is not available. If you ever need help, it might take 2 or maybe 3 days before you get it.
Lesser servers: They have fewer servers compared to ExpressVPN. This means that they offer less coverage than ExpressVPN does.
Doesn't work in places like China: In places like China, where a VPN may be the difference between life and death, IPVanish has no functional server.
Third-party review: Most of the great reviews that IPVanish has are from third parties. Most of the reviews that come from regular everyday people are mostly bad and full of complaints.
Security and safety: Due to the 2016 occurrence of the no-logging policy breach, many people are still skeptical about the VPN. Also, the fact that it is an American company plays a part in its privacy write-off.
Not the best for Netflix: While you may be able to get a server for US Netflix, you might have issues with the Netherlands, Canada, and a few other nations. This falls below the excellent performance and standard that the ExpressVPN has set.
Weighing the pros and cons carefully, it is evident that the deserving winner is ExpressVPN. While IPVanish is a reasonable alternative, ExpressVPN is the ideal choice among the two.
Our Recommendation
After thorough scrutiny of both VPNs, pitting them against each other, and examining their features, we have decided which VPN takes the lead. Our decision is based on the VPN that topped the charts in most of the above parameters — ExpressVPN. We recommend ExpressVPN because it has more advantages over IPVanish. While it may be a little bit more expensive than IPVanish, the many features and benefits it brings will be worth it in the long run. No matter where you are and what VPN needs you may have, ExpressVPN is sufficient and reliable any day, any time.