CyberGhost vs Surfshark (2023): Which VPN is the best?
It is becoming increasingly apparent that with the numerous advantages that VPNs offer, serious internet users cannot afford to ignore them. Their security and privacy features, coupled with their vast unblocking possibilities, makes using them a sagacious decision. VPNs are practical, but choosing the right one could be a dilemma.
There are so many VPNs on the market; many of them promise similar offerings, making it pretty challenging to make a choice. However, some names do stand out among VPN applications. CyberGhost and Surfshark are familiar names in the VPN industry, and veteran VPN users may have given them a try. If you're new to the VPN world, this review will help you make an informed choice.
We would be comparing these two VPNs along the lines of particular parameters. In the end, you would find which of the two would serve you better as you surf the web.
CyberGhost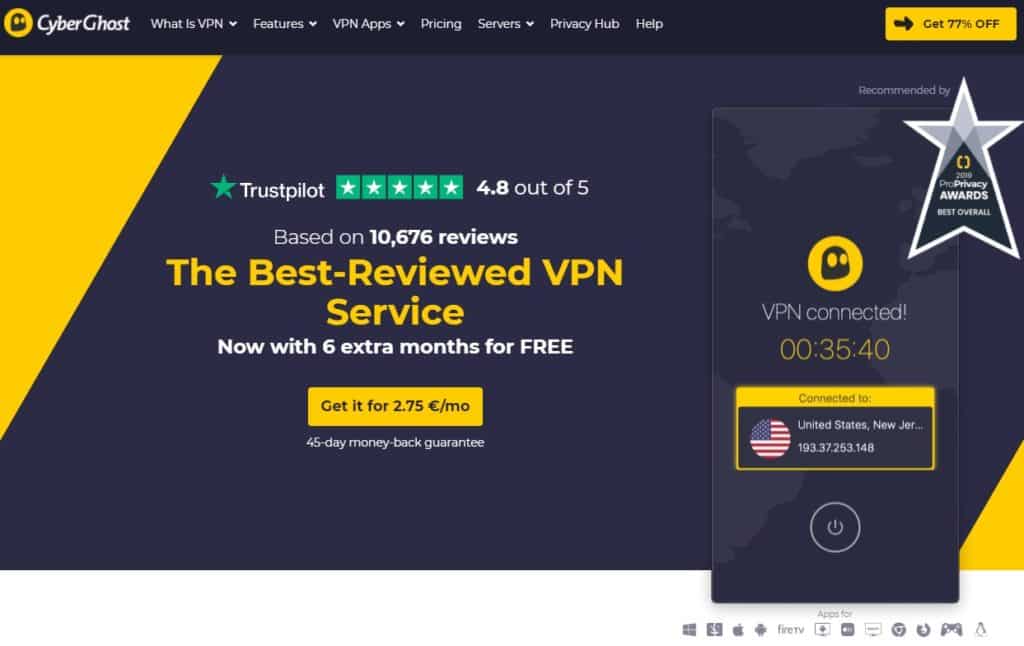 When you talk about VPNs that have long been relevant in the VPN market and proven their competence, CyberGhost comes to mind. Created in 2011, the VPN has stood the test of time, offering the best services to users worldwide.
CyberGhost boasts of a broad server coverage of over 6000 servers in 120 locations across 90 countries. They have servers globally, making it easy for you to connect to any part of the world you choose.
The company is based in Romania, a country outside the reach of unnecessary privacy and security laws. This makes it easy for them to protect the user's privacy and keep up with their no-logging policy.
They also use the AES 256-bit encryption technology, which is hack-proof. This, along with other outstanding security features, helps make you a literal CyberGhost. They also support all major devices and allow 7 devices to log in simultaneously using the same account.
Their pricing and plans are justifiable when compared to the vast range of functions they offer. Their cheapest plan, the three-year plan, starts at $2.44 per month. In all, CyberGhost is an ideal example of what a VPN should be and offer.
Surfshark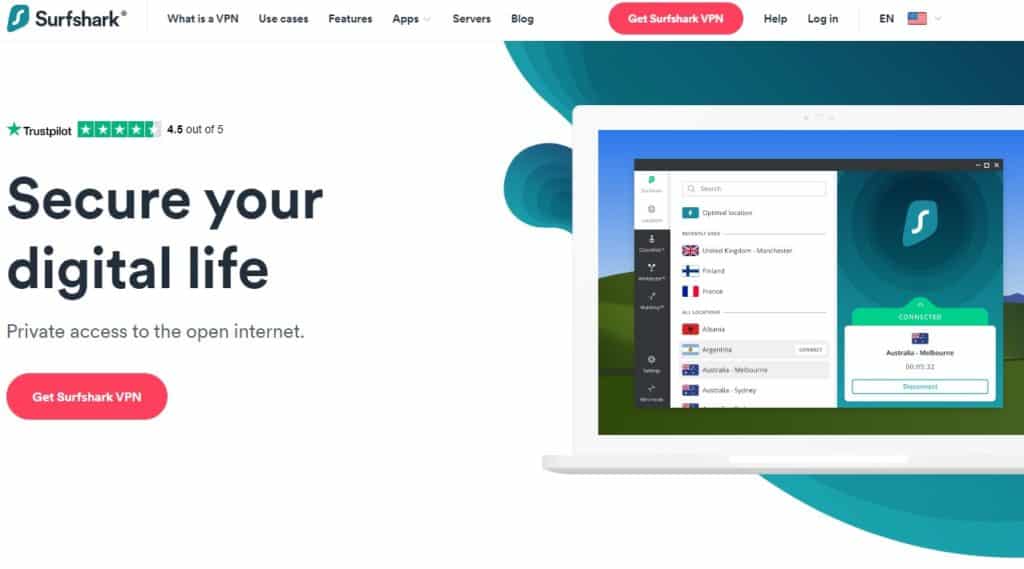 The most exciting and somewhat surprising fact about Surfshark is that it is relatively new but already making waves. It hasn't been on the market for too long but has risen to the top because of its excellent performance.
They have over 1700 servers in 112 locations across 63 countries. They offer impeccable service and speed with their servers, and their network of servers is reliable and trustworthy.
Surfshark is based in the British Virgin Islands, a country with no laws threatening data privacy and security. This makes it easy for them to operate a no-logging policy. They also offer state of the art security using the AES 256-bit encryption technology and other security features. This makes their security and privacy structure impenetrable.
Their app supports significant platforms and is easy to use. You can log in simultaneously on an unlimited amount of devices. Also, their pricing and plans are top-notch and affordable.
Their 24-month plan starts at $1.99 per month, which is quite reasonable. It is also a great option when compared with the offers on other top tier VPNs. Surfshark may be new, but they brought their "A-game" to the VPN table.
Server Coverage
Server coverage is a feature that every VPN user should consider when choosing a VPN. This is because the number of servers a VPN has is one criterion that shows how reliable a VPN is. It determines what locations in the world you can connect to, among other things. For example, the distance of a server from you can significantly influence your connectivity. It could affect your ping, your download speed, as well as your upload speed.
According to its official website, CyberGhost operates a whooping 6000+ servers in 120 locations, covering 90+ countries. Surfshark, on the other hand, claims to have 1700+ servers in 112 locations, covering about 63 countries. We did some underground work to be sure of the statistics, and here's what we found.
CyberGhost's claims on their site are valid. They do have over 6000 servers spread out around the world. Below is a thorough breakdown of its offerings: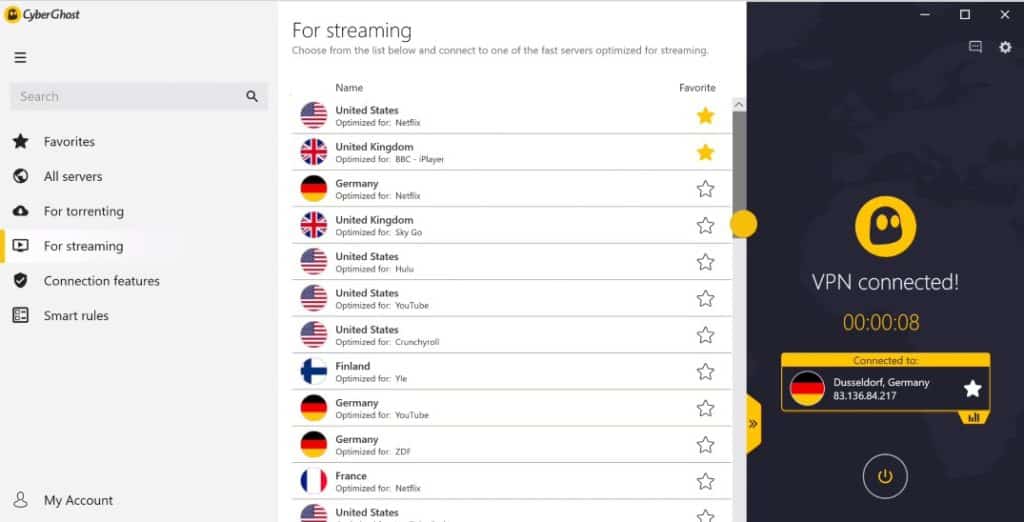 North America
3 countries (The United States, Canada, and Mexico)
17 server locations, 1475 servers.
Europe
43 countries (including The United Kingdom, France, and Spain)
59 server locations, 3526 servers
Oceania
2 countries (Australia and New Zealand)
4 server locations, 159 servers
Asia
26 countries (including China, India, and Israel)
26 server locations, 837 servers
Central America
2 countries (Costa Rica and Panama)
2 server locations, 36 servers
South America
5 countries (including Brazil, Argentina, and Chile)
5 server locations, 101 servers
Caribbean
1 country (The Bahamas)
1 server location, 48 servers
Africa
6 countries (including Nigeria, South Africa, and Egypt)
6 server locations, 120 servers.
Surfshark equally lives up to expectation. We have confirmed it to have 1700 functioning servers around the world. Below is a thorough breakdown: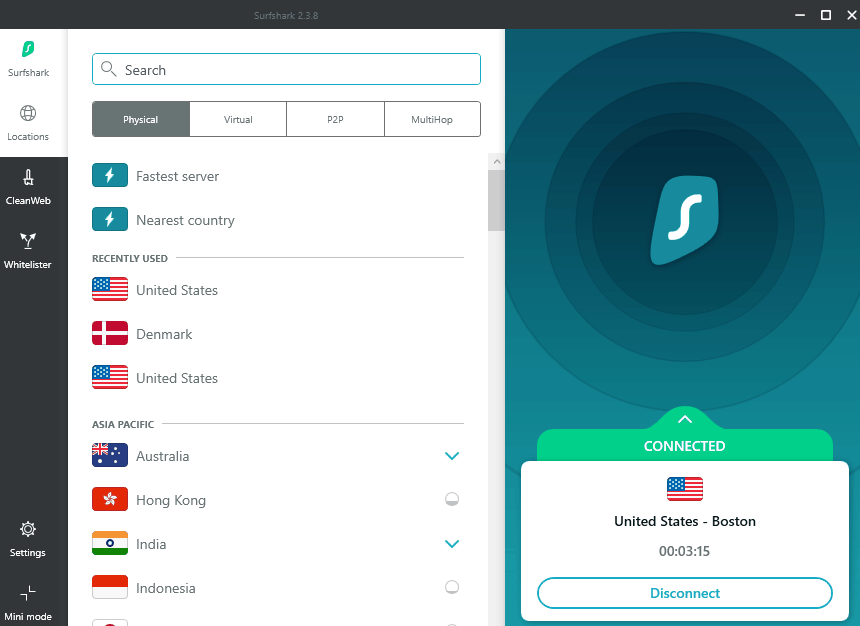 North America
3 countries ( the United States, Canada, and Mexico)
28 server locations.
Europe
36 countries (including the United Kingdom, Spain, and France)
52 server locations
Oceania
2 countries (Australia and New Zealand)
6 sever locations
Asia
15 countries (including India, Japan, and Hong Kong)
16 server locations
Central America
1 country (Costa Rica)
1 server location
South America
5 countries (Including Brazil, Argentina, Chile)
5 server locations
Africa
3 countries (Libya, South Africa, and Nigeria)
After due comparison, the verdict here is clear. CyberGhost offers almost four times the number of servers that Surfshark has available. CyberGhost covers more ground and is, therefore, the winner here.
Speed and Performance
Speed and outstanding performance are significant contributors to the ratings of any VPN. Speed, on the one hand, is the one thing most VPNs promise but never give. The two VPNs under review, however, have excellent reputations when it comes to speed and performance. The aim is to tell you which one performs outstandingly, so we'll just get to it.
Measuring the speed and performance of a VPN is determined by whether it makes your connection faster, and if the connection is reliable. To get the answers, we must conduct speed tests of both VPNs. This would invariably help us arrive at how reliable the performance of each one is. The speed of a server is determined by some factors, which include.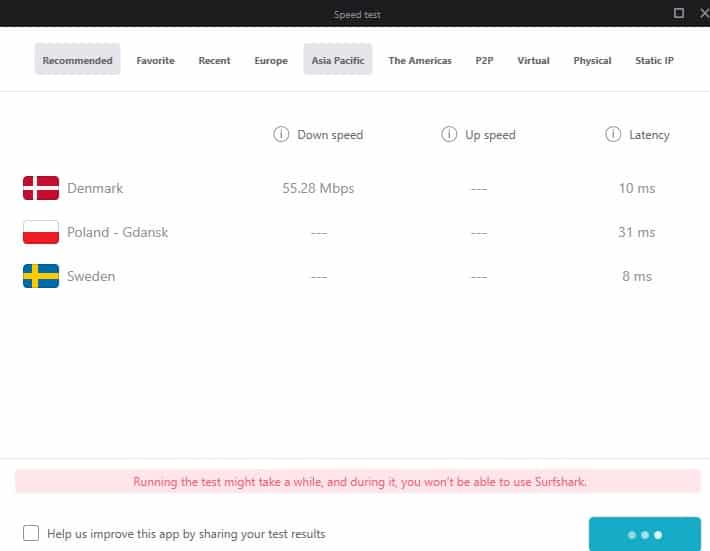 Number of Servers: The more servers a VPN has, the less likely it would be for any of its servers to lag and work slowly. If the servers are not so many, then the users are likely in for a slow ride. On this count, CyberGhost is the undisputed winner with over 6000 servers to its name.
Proximity: The farther a server is from you, the less likely it is to get good speed and performance. Servers work better when they are closer to the user. Both VPNs have their servers spread out worldwide and so users can connect to the closest server to them for high performance.
Encryption Technology: The process through which a VPN hides your data so nobody can read or access it is known as encryption. The technology used for encryption, however, could slow down your browsing speed and affect performance. In more recent times, the AES 256 with bit keys has become the standard for encryption technology around the world. It is unbreakable and incredibly fast at its job, thus enhancing your browsing speed. Most top VPNs (like CyberGhost and Surfshark) use this technology to encrypt data. Therefore, it would be futile to compare them on that ground. Instead, we would have to work with server proximity and the speed test results of each VPN.
We checked the ping, the download speed, and the upload speed to conduct a speed test. We discovered that Surfshark came out on top with a faster speed than CyberGhost. CyberGhost was not as fast as it used to be, which may be due to many reasons. It is one of the oldest premium VPNs around and may have accumulated so many subscribers over the last 15 years its been in operation. Surfshark, on the other hand, is barely two years old. While it's customer base is growing, it's nowhere near that of CyberGhost. Being a relative newbie in the business could be the reason why it's so fast. However, a win is a win. Surfshark offers better speed and performance.
Safety and Security Features
Safety and Security is a pretty big deal when it comes to choosing a VPN. While some people want a VPN just for the fun part, there are people whose work and life depend on the safety and security that VPNs can offer. For politicians, journalists, and a few other people, a VPN is vital for staying safe.
In some nations, data privacy is a myth. People are monitored on the web. In other places where this is not the case, people may just want to keep their details safe. The exposure of information such as credit card numbers, account passwords, etc. can be the owner's disadvantage. These are some of the reasons why a VPN must have adequate security tools and features in its arsenal. The two VPNs under review have a good reputation as regards security.
CyberGhost has been at the top cadre of the VPN game for over 15 years. That alone speaks volumes about the effectiveness of their safety and security features. CyberGhost has a maximum security and safety tradition. It uses AES 256-bit keys for encryption, which is the best in the world at the moment. It has a built-in DNS and offers four different protocols: Open VPN, IKEV2/IPSeC, L2TP/IPSec, and the PPTP. It has an Ad tracker blocking system that can detect and block ads. A malware detection tool is available. It also has a forced https. It offers leak protection, which helps to keep your data safe whenever you are surfing the Web.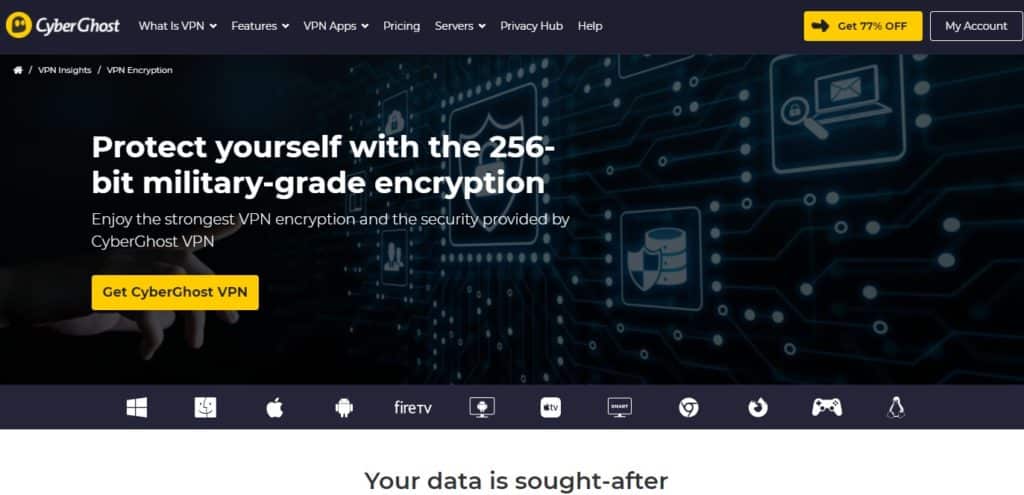 Additionally, it has the kill switch feature, which alters all data transfer anytime connection to the server drops. There is no way your data will leak to your provider, the government, or cyber snoopers. It also offers excellent personalization, which allows you to customize the way the VPN works in different situations. You can enable some Websites to use without the VPN encryption and determine how the VPN works when you connect to a WiFi.
Surfshark also boasts of a great deal of security. It uses the AES 256-bit GCM, the choice encryption for financial institutions, and even the military. It offers open VPN and ikEv2/IPSeC on its protocol list. While this may not be up to what other providers offer, those protocols are the safest in the world. It also has no leak issues and provides a kill switch function too. SurfSshark has some unique functions when it comes to security.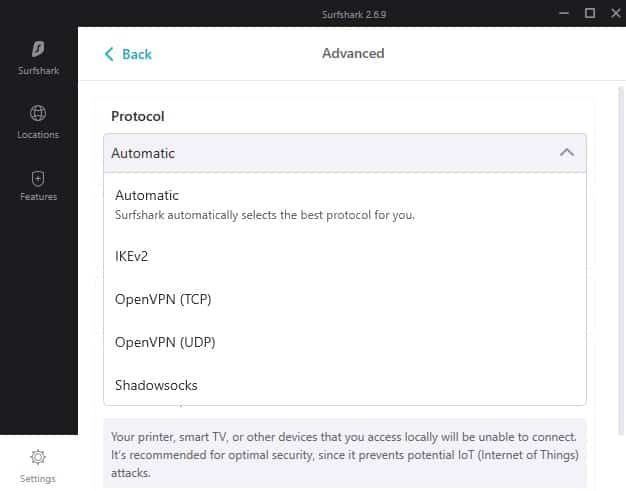 These include the Whitelister, which allows users to add websites and applications that can function outside the coverage of the VPN. Clean Web serves as an Adblocker. It stops all malicious links and ads that may be harmful to you.
Another great function is the Hacklock, which warns users when their users' data like account names and passwords leak anywhere on the web. This helps them stay a step ahead of cyber thieves and hackers.
The camouflage mode is one hell of a future that makes Surfshark perfect for users in VPN restricted areas. When this feature is active, your IP address will look like a regular address. This would make it look less suspicious. While your data would remain encrypted, you would appear like a typical Web user.
The No-border mode is another future that helps people who want to connect to countries with Internet restrictions. When this is active, the VPN would automatically choose the right servers that can help you connect seamlessly and surf the web without any restrictions.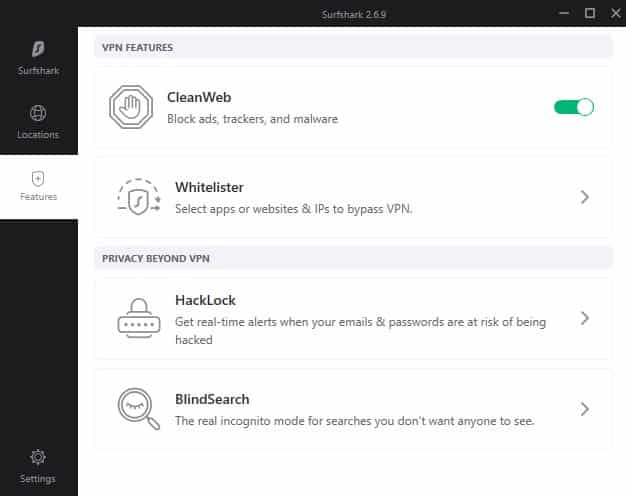 Multi-Hop is a fantastic feature that's just perfect for confusing hackers, snoopers, and every other person that may be trying to trace your Internet activity. When activated, it tunnels your activity through two separate IP addresses, confusing whoever is trying to find you.
Comparing the two VPNs, we have an obvious winner. It's the newbie VPN, Surfshark. While some people may claim that Surfshark is new to the game, but it beats CyberGhost hands down when it comes to security. This is because of the many features it brings on the table. Additionally, when you compare the number of devices that Surfshark and CyberGhost are protecting per account, it would be fair to say that Surfshark is carrying more security responsibilities.
Anonymity and Privacy Features
For a lot of VPN users, staying anonymous is the goal. You want to be sure that your data and all your activities remain a secret. This, after all, is why they are using a VPN. The two VPNs in the spotlight are known to be good at the privacy and anonymity game.
CyberGhost boldly claims that you cannot link any CyberGhost account to any existing individual. That's quite the claim. It does not expose your identity. This makes you a literal "CyberGhost." They operate a no-logging policy, which means that they have an agreement not to store any of your data. According to them, they do not keep records of your real IP address, assigned server, log in and log out time, traffic data, or conversation. Their payment options allow for a lot of anonymity as they offer payment methods such as Bitpay, which lets you pay in Bitcoin.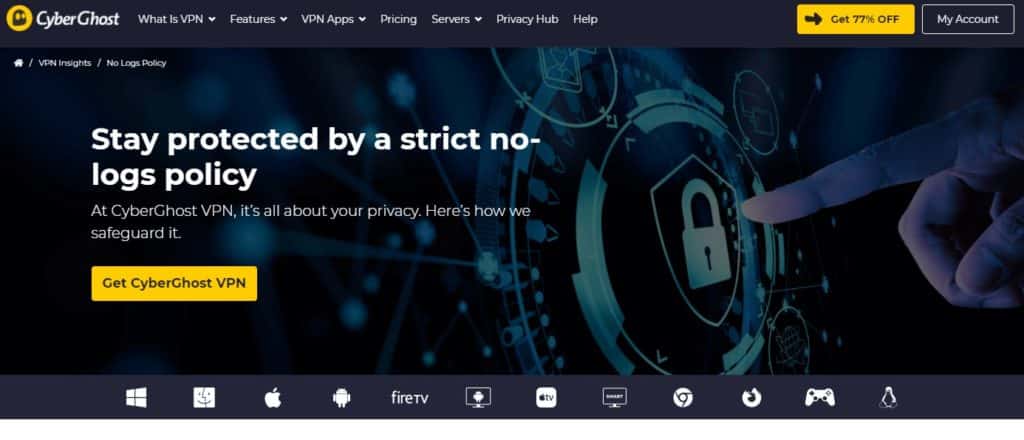 The company's location is in Romania, a country not under any stringent data and privacy laws. This ensures that they cannot be compelled to give up your data by a higher authority, such as the government.
Surfshark offers everything that CyberGhost offers. They have a no-log policy, and they do not keep any of your internet data. Also, their location is the British Virgin Islands, a country with no strict rules regarding internet activity and data policies.
At this point, it looks like a good old tie. But it's not. Surfshark has one distinct feature that makes it unique when it comes to privacy, and that is the Blind Search feature. It is a feature that lets you conduct internet searches without using regular internet search engines. This means Google and other search engines cannot have a log of your search results. With this, your internet search would always be pristine.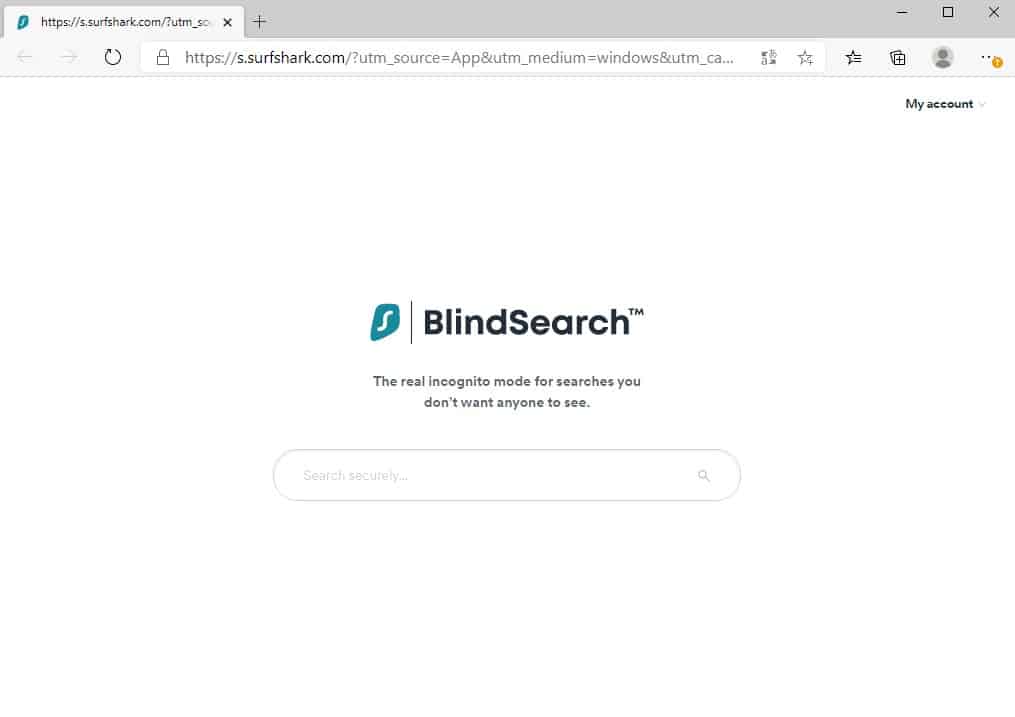 This feature hands the win over to Surfshark, although CyberGhost did put up a good fight.
Platforms Supported
When it comes to platform support, the ideal VPN should support different kinds of devices. CyberGhost and Surfshark perform well on this parameter as they both have apps for multiple platforms, including Windows, Android, iOS, macOS, Linux, Amazon Fire TV & Firestick. They also have useful browser extensions for both Chrome and Firefox. Gamers are in luck as these two VPNs support a lot of game consoles, including Xbox, PlayStation, and a host of others.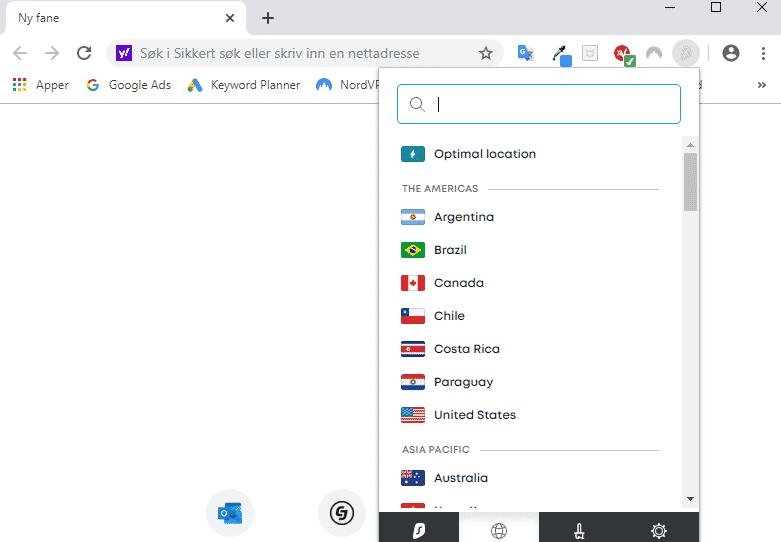 Once again, it looks like we are tied, but we aren't. Surfshark offers some uniformity across all platforms that CyberGhost doesn't. For Surfshark, there isn't much difference between what is obtainable on the iOS and Android platforms or the Windows, Mac, and Linux platforms. We cannot say the same about CyberGhost.
Also, the number of devices that each VPN allows to log in simultaneously on one account is another jaw-dropping difference between the two VPNs. While CyberGhost offers quite a decent number of 7 devices per account, Surfshark allows unlimited log in per account. There is no need to argue. Surfshark wins again.
Streaming and Torrenting
Streaming and Torrenting are significant reasons why many people use a VPN. They want to unblock geo-exclusive content on streaming sites like Netflix, Hulu, Disney, BBC iPlayer, plus a host of other streaming platforms. A lot of people want to access the US version of Netflix and other streaming platforms. That is why they seek VPNs.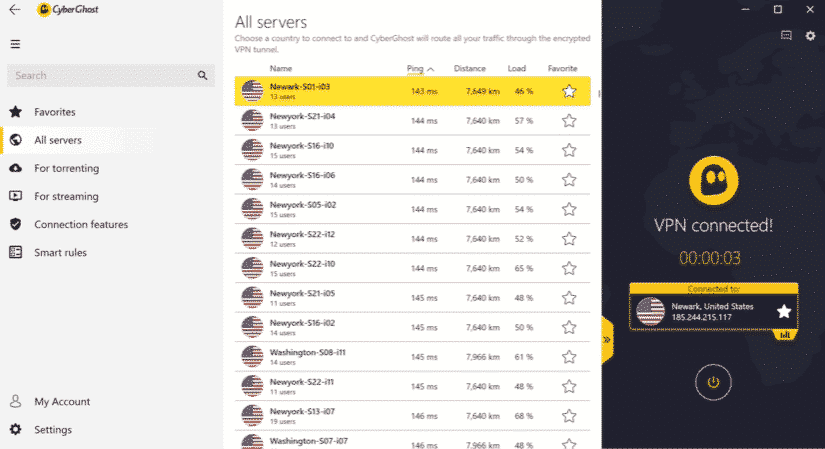 CyberGhost has been diligent in unblocking Netflix in America and other locations as well. This is because they are always switching the servers they use for Netflix. This makes it difficult for the streaming service to get a hand on them. While Netflix has been blocking many VPNs, they have not been able to block CyberGhost yet. In all, streaming Netflix or other streaming platforms is quite fair with CyberGhost.
Surfshark, on the other hand, matches up with CyberGhost when it comes to streaming. It unblocks geo-restricted content in many places, including the US, Japan, the United Kingdom, etc. It also lets you watch BBC iPlayer, Hulu, and other streaming platforms.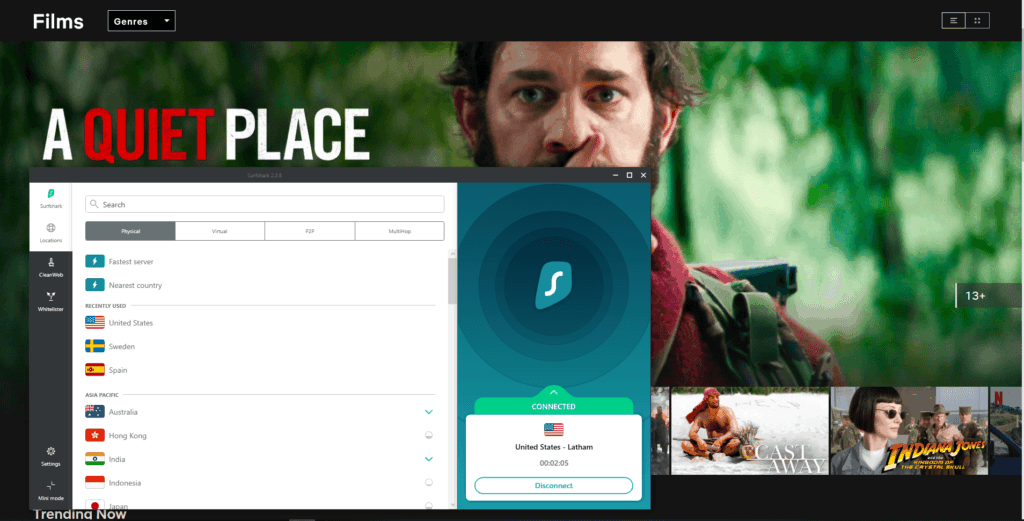 While both services are excellent for streaming, Surfshark has the edge over CyberGhost when it comes to speed. It is a better option for streaming Netflix. Read more about Surfshark's performance with Netflix here.
For torrenting, both VPNs use the same technology. This makes it challenging to choose one over the other. They are both great options and can get the job done. But overall, Surfshark wins in this category.
Plans and Pricing
When it comes to plans and pricing, the different VPNs have their bouquets. While the pricing for both the CyberGhost and Surfshark is fair, one has the edge over the other, and that is Surfshark.
While CyberGhost offers a three-year plan that starts at $2.44, Surfshark tops that with a 24-month plan that starts at $1.99 per month.
Here you can see the dfferent prices, first of CyberGhost, then Surfshark: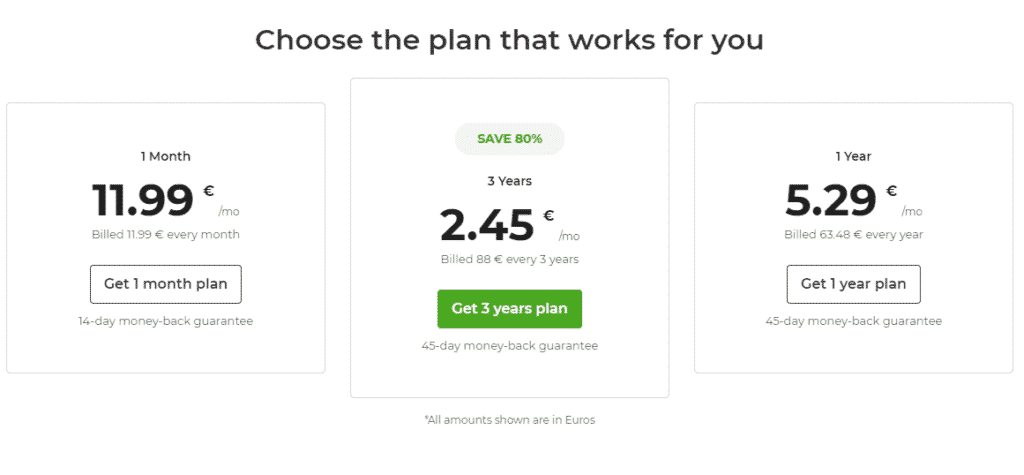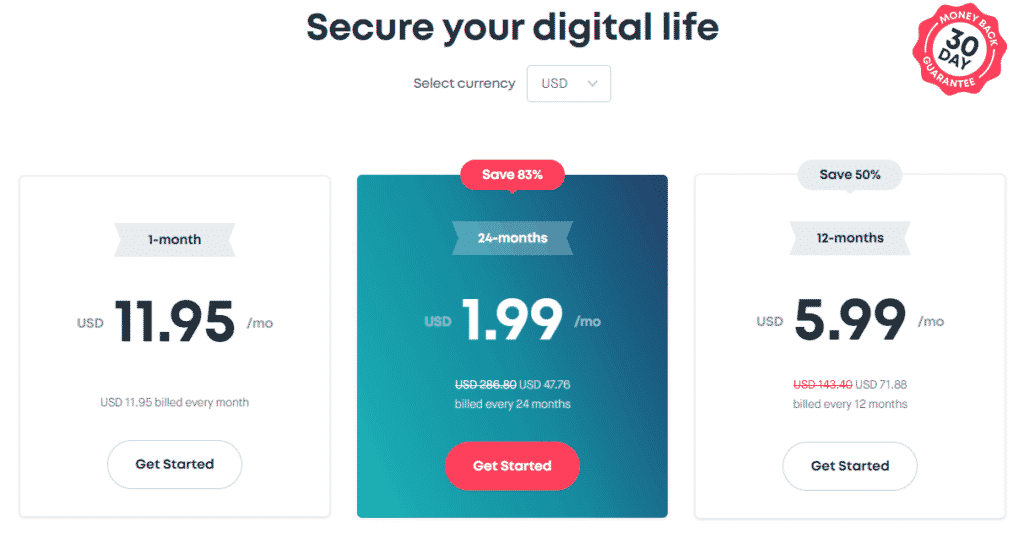 When we consider the features that Surfshark offers alongside its pricing, it is almost too good to be true. CyberGhost offers relatively cheap pricing, but Surfshark is even less expensive. That makes Surfshark the winner. See a price comparison of different VPNs here.
Pros and Cons
This is the final section of this review, where we would collate a quick rundown of the significant features and the VPN scores to find out which of them emerge on top.
Both VPNs have similar strong points. They both offer:
Strong encryption and security: Both VPNs offer excellent protection and security. They provide robust features that cater to every security need their users may have.
Excellent privacy features: They both offer great privacy as they have reliable no-log policies. Every user is anonymous on the web, and their true identities are as good as non-existent.
Great streaming and torrenting features: Torrenting and streaming become a breeze with these VPNs. Even on shared networks, users remain secure.
Simple and intuitive apps: They both have great and easy to use apps. This is especially useful for beginners to VPN so that they can find their way around easily.
Great pricing and plans: Both VPNs offer great prices and a wide range of plans that cannot be found in other VPNs. They're affordable with plans as lows as $2.
Excellent unblocking capabilities: CyberGhost and Surfshark offer great unblocking capabilities for streaming and gaming. They can access sites and geo-restricted games almost round the globe, and quickly too.
Good customer support: Both VPNs offer friendly and accessible 24/7 support and have great FAQs that can help you solve problems in real-time.
A quick note here, though. That the two VPNs share a lot of similar points doesn't mean that they rank equally on these points. For all of the points listed above, Surfshark is better than CyberGhost with its more unique features.
While they have similar strong points, they also have their shortcomings.
Surfshark
Fewer servers: Surfshark offers fewer servers than CyberGhost, which provides a wider deal of servers.
Weak social media presence: Surfshark is sparsely active on social media. While this may not be too big a problem, it's a problem nonetheless, especially for users who prefer to contact them there.
CyberGhost
Speed lags: Some users have complained of speed lags when using Netflix. In general, the speed of the VPN has dropped over time. This may be because of its overcrowded servers. But Surfshark offers a better reception.
Our Recommendation
Based on all the parameters we have reviewed, we have come to a conclusion and made our recommendation. We choose Surfshark over CyberGhost. While CyberGhost is a great VPN, it is just no match for what Surfshark offers. Surfshark might be a newbie compared to other premium VPN, but they came into the market fully prepared. They have established themselves as a household name and are usurping top VPNs. With a thoroughly rounded application that offers the best of VPN services available on an unlimited device log in scale, Surfshark is undisputedly the winner of this review.