Best VPN Services to Unblock Facebook in 2023
Facebook has been a frontrunner for social media services pretty much since its inception. The service has gained a lot of positive as well as negative feedback. Regardless, it is the most popular service, and even people who are against it normally use it. One simply cannot help looking at their Facebook feed from time to time.
The unique aspect about Facebook is that it is a service where everyone in theory may voice their opinions, as well as read the opinion of others. However, this has been restricted in several countries. For instance, authoritarian regimes in countries such as China and Russia are notorious for their censorship, and seeing as Facebook can spread unwanted political views, it is either heavily regulated or banned in certain countries.
This is a frustrating experience for the population in these countries, as they do not have full access to the Internet, and one of the most sought after services might be completely blocked. However, there is hope for these individuals in the rather simple VPN technology. By hiding your original IP address, and routing your traffic through an external server that provides you with a new IP address, you might access Facebook in these countries too.
Why Use a VPN For Facebook?
There is a vast amount of countries where Facebook is either blocked or censored to some extent. Most countries fall into the latter category, and of course censorship against concepts such as holocaust denial is not very relevant to get rid of. What is relevant to get rid of is the censorship of political thought, and of course in countries like China unblocking the service.
While getting access to political statements might not be of interest to you, there is a greater principle to be considered. Your freedom of speech and the ability to read unfiltered content online should be important to you, no matter what side of the table you affiliate with. Furthermore, chances are high that your government snoops into your affairs, so a VPN will be beneficial anyways.
There are also many other situations that might call for the use of a VPN. For instance, you might want to keep in touch with family members or friends that are abroad through the service. Conversely, if someone travels to countries such as China for even just a couple of weeks, it could be tough not to have access to Facebook.
Recommended VPNs for Facebook
Acquiring a VPN either as a resident in a restricted country, or merely as a tourist, is essential if you want access to Facebook. We have gone through some of the best VPNs for Facebook so that you can pick the one that fits you the best. These are all VPN services that will help you unblock Facebook, even in authoritative regimes such as China.
ExpressVPN

Features
Number of servers: More than 3,000
Speeds: Unlimited
Server locations: 160 in 94 countries
Maximum devices supported: 5
24 live chat: Yes
30 day money back guarantee: Yes
Pros/Cons
Fastest VPN out there
Strict no logs policy
256-bit AES encryption
ExpressVPN, which is located in the British Virgin Islands, is known to unblock sites all over the world, giving you full access to the Internet. Being able to unblock Facebook in some countries, such as China, is considered a great feat in the industry, as not many services are able to actually do this.
Being located in the British Virgin Islands, it is worth to note that ExpressVPN is not subject to any data retention laws. If you are worried about the authorities requesting information on your traffic, there is no need to be. ExpressVPN does not store anything, so if a government does enquire it, there is nothing to be shared.
The server offering at ExpressVPN is rather impressive. With a total of over 3,000 servers in over 94 countries, you can pick and choose. When determining the best VPNs for Facebook, this might not seem that important, but it in terms of stability and connection speed. ExpressVPN offers a vast selection of quality servers, meaning you can always rely on getting connected to Facebook.
ExpressVPN is offered at a rather low price point, and it also comes with a money back guarantee of up to 30 days. That means you can use the service for a whole month, and if you are not happy, request the money back. However, chances are you will be content, as ExpressVPN is one of the best VPNs for Facebook unblocking.
Pros: Fastest VPN out there; Strict no logs policy; 256-bit AES encryption;
Lowest price: $6.67
NordVPN

Features
Cryptocurrency accepted? Yes
Simultaneous connections: 6
Dedicated IP-addresses? Yes
Servers: 5342 in 58 countries
Pros/Cons
Lots of pricing options
Netflix support kept up to date
256-bit AES encryption
NordVPN is another VPN service that is rather recognized for being able to unblock several sites, even in countries such as China. That includes the social media site Facebook of course, meaning you can easily gain access to the service through NordVPN. The VPN service consistently bypasses geographical restrictions and government bans.
Since NordVPN is located in Panama, you do not need to worry about your privacy. Many fear that VPN services will provide traffic data to the authorities. While some services indeed do this, NordVPN is outside data retention jurisdictions, meaning they are not even obligated to store your data at any point. Following, you are completely anonymous here.
The service provides an impressive server offer of over 5,500 servers in over 60 countries. All the most sought after countries are included, but even more importantly, the servers hold a high quality. You are always ensured a connection that allows you to access Facebook through NordVPN, making it one of the best VPNs for Facebook.
NordVPN is among the cheapest VPN services in the market, despite also being one of the best. Furthermore, you can utilize the 30 day money back guarantee if you want to see whether NordVPN really can give you access to Facebook in countries such as China, Russia, and other authoritarian regimes.
Pros: Lots of pricing options; Netflix support kept up to date; 256-bit AES encryption;
Lowest price: $3.71
Surfshark

Features
Free trial? Yes
Simultaneous connections: Unlimited
Ad blocking? Yes
Servers: 1000+ in 61 countries
Pros/Cons
No footprints
Allows torrenting
256-bit AES encryption
SurfShark is, similarly to earlier mentioned ExpressVPN, located in the British Virgin Islands. This service is a little bit newer in the industry, yet it has already left its mark. For instance, this young VPN service has a rumor of being able to bypass the Great Chinese Firewall, a feat that few VPN services today can show to.
Not only does SurfShark operate well within authoritarian countries, it also provides you with the security of a no logging policy. In essence, this means that you actually remain anonymous while connected to their servers, as opposed to certain VPN services that end up passing over your traffic data.
In addition to sound privacy, SurfShark allows a connection without much compromise. It keeps the connections speeds high and the stability makes surfing enjoyable. In fact, there are no compromises to be found, and the over 500 servers located in over 50 different countries open up the access to the Internet.
SurfShark is a rather cheap VPN service compared to its offerings, and the longer of a subscription you choose, the better the discounts get. Remember that SurfShark has a 30 days money back guarantee, which keeps you at no risk within the first 30 days of utilizing this service.
Pros: No footprints; Allows torrenting; 256-bit AES encryption;
Lowest Price: €2.09
CyberGhost

Features
Connected devices at once: 7
Automatic kill switch? Yes
One click connect: Yes
Servers: 5900 worldwide
Pros/Cons
No logs policy
24/7 live chat
Apps for mobile devices and routers
CyberGhost is a Romanian VPN service that has been in the market for quite some time. However, it was not until just recently that they really started blooming, especially in terms of their server count. The service is especially known for its privacy standards, high speed connections, and ability to unblock anything and everything.
Because it is based in Romania, CyberGhost finds itself outside of the jurisdictions that normally require data retention. Therefore, the service does not store your data while you surf through their servers. That means authorities cannot track your use of Facebook, or even the fact that you have been using Facebook in the first place.
In recent years, CyberGhost has been updating its server database. Just in 2018 alone, they increased the amount of servers by a whopping 150%. Today, they can offer over 3,000 servers that are found in over 60 different countries across the world. This ensures that you always have a reliable and high speed connection available.
CyberGhost is not only reliable and one of the best VPNs for Facebook, but it is also cheap. If you want the service even cheaper, you can sign up for a longer subscription and enjoy the great discounts that follow. Subscribing to CyberGhost will monthly equal about the cost of a soda bottle – a very fair price to pay for your privacy and full access to Facebook.
Pros: No logs policy; 24/7 live chat; Apps for mobile devices and routers;
Lowest price: €2
PrivateVPN

Features
Killswitch Yes
iOS App Yes
Data logging No
Pros/Cons
Servers in 63 countries
30-day money-back guarantee
2048-bit Encryption With AES-256
Sweden-based PrivateVPN is another VPN service that can unblock Facebook in countries where the social media site is banned. PrivateVPN has a server network that spans 60 countries. Its over 200 servers will be more than adequate for people looking to bypass internet restrictions to access Facebook. One might think its small server count will be a limitation, but PrivateVPN has proved it has enough firepower to handle its user base.
In addition, performance-wise, PrivateVPN's global network meets the performance standard expected by its users. Its fast and reliable servers will not only give you access to Facebook; you will be able to watch videos in high quality as well. However, it is best to select a server close to your location because of the speed loss that comes along with using servers far away.
Apart from unblocking Facebook, another of PrivateVPN's primary missions is to keep your internet connection private. This means that no one can spy on what you're doing on Facebook. It achieves this using a watertight zero-log policy, an automatic Kill Switch, a Stealth Mode, and leak protection. Additionally, the encryption algorithm it uses to protect your Facebook connection is unbreakable. PrivateVPN offers 256-bit encryption, end-to-end encryption, and secure VPN protocols, such as OpenVPN, IKEv2, and IPSec.
With PrivateVPN, it doesn't matter what device you use as it is cross-platform compatible. In addition, it makes available instruction material for devices that do not have a native application. Finally, PrivateVPN has a 30-day cash-back policy, allows affordable access to its software with its low-priced subscriptions, and permits no more than six devices per user.
Pros: Servers in 63 countries; 30-day money-back guarantee; 2048-bit Encryption With AES-256;
Lowest price: €2.04
UltraVPN

Features
One click connect? Yes
Servers: 100+ superfast servers
Bandwidth cap? No
Platforms: Mac, Windows, iOS, Android
Pros/Cons
Firewall
Apps for all devices
256-bit AES encryption
Not as many servers as others
UltraVPN is a British VPN service that has reached quite a bit of popularity in recent years. Among their perks is the ability to unblock sites in restricted areas, and they have for instance proved to be able to bypass the Great Chinese Firewall. With ultra-fast servers, anonymity, and good prices, UltraVPN is one of the best VPNs for Facebook.
As the service is located in the UK, this might arise some concerns. This means the service, for now at least, is within the EU jurisdictions. Yet, no reports have been released of logging or UltraVPN passing on traffic data. Regardless, the chances are low that the use of Facebook abroad constitutes this enquire anyways.
If you are looking for the best VPNs for Facebook, you will be thrilled to hear that UltraVPN offers servers in over 55 countries. In practice, this means that you will have a vast amount of servers to draw upon. While located in a country such as Russia, it does not matter what VPN server you connect to, but the stability and Internet speed still matters. A large server selection ensures that these two aspects are always up to standard.
Similar to most VPN services, it pays off to choose a long subscription with UltraVPN. For a few bucks a month, you can get full privacy and unblock Facebook from wherever you are. On top of that, you get high speed connections and the stability that is to be expected from a VPN service. In terms of price UltraVPN is one of the best if you prefer monthly payments.
Pros: Firewall; Apps for all devices; 256-bit AES encryption;
Lowest price: €2.99
Do Not Get Tempted by Free VPN Services
The greatest issue with the Facebook ban or restrictions in certain countries are often hid. Too often, we focus on finding the best VPNs for Facebook, and we forget about the privacy aspect. So many free VPN services for instance will offer to unblock several sites, including Facebook, but with a great compromise.
If you only need a VPN to unblock Facebook, the compromises of lower connection speeds and less data for surfing might not be of too big importance to you. However, the fact that many free VPN services, and even some paid ones, market themselves to be non-logging services, yet reveals your traffic to the authorities, is rather concerning.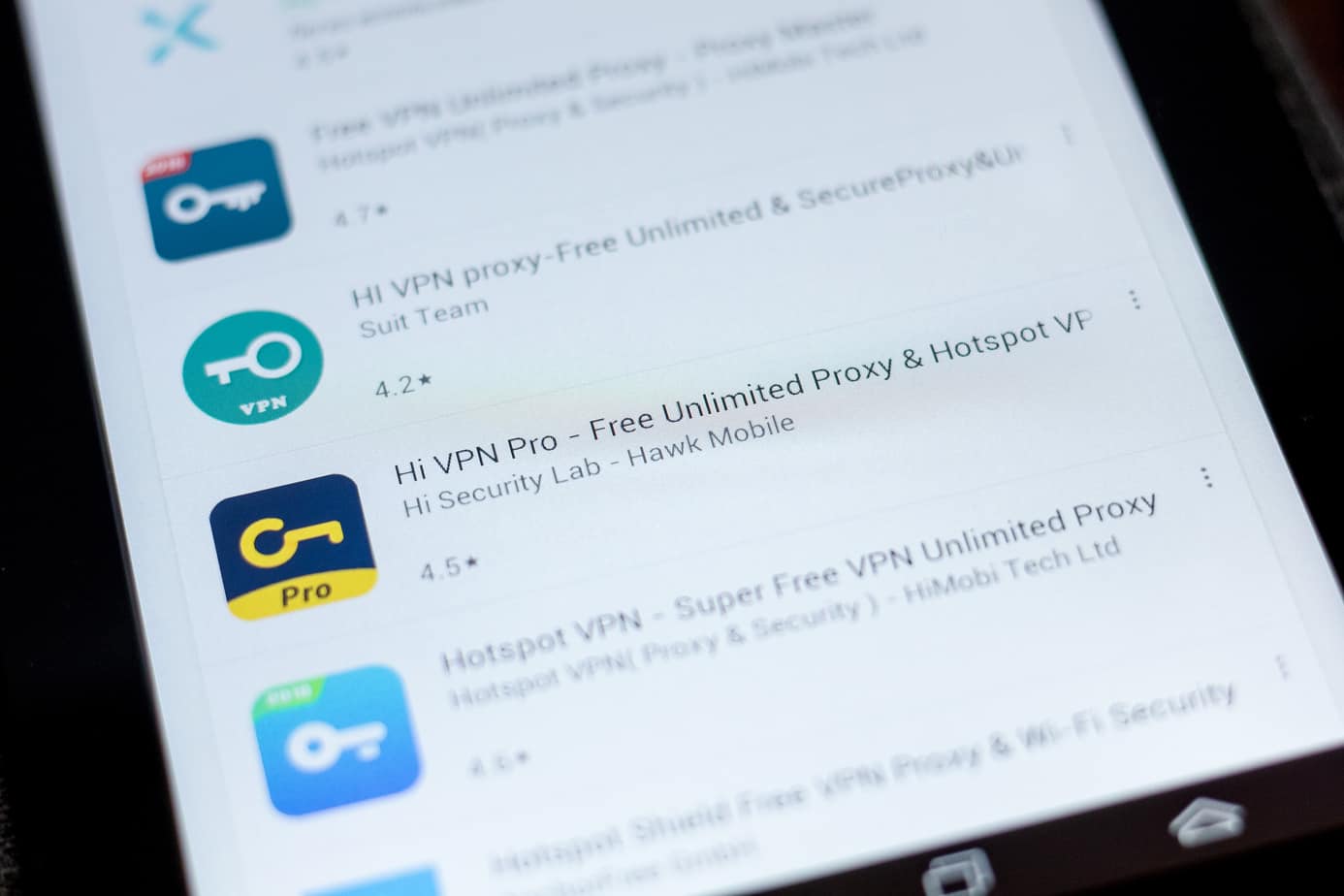 In order to have full privacy, you ought to seek out services that do not log and that are outside of the jurisdictions that force them to share data with the governments. While surfing on Facebook through a VPN unlikely will cause red flags with the government for you, your privacy is of the uttermost importance.
Regardless, paid VPN services that can bypass the Great Chinese Firewall, provide privacy and security, and gives you access to high speed servers, are usually rather cheap. That is despite their great ability, and if you sign up for longer subscriptions, you will get steep discounts that makes it an easy choice.
Unblock Facebook At School Or Work
While it is common to talk about unblocking Facebook in China, Russia, and other authoritarian regimes, we often forget that Facebook normally is blocked in schools and in the office. The same VPN services that can bypass the Great Chinese Firewall of course will have the ability to unblock Facebook at school or work.
In fact, the same technology aspect applies. When utilizing a VPN at school or work, the network cannot block your IP address from visiting the sites, which means you will gain access. Of course you could use mobile data to access the app, but a VPN that removes this block is handy to have by your side.
Access Facebook With a VPN Service
Facebook is heavily debated in the West, and some people even threaten to leave the platform for various reasons. Yet, deep down most of us enjoy the service in our lives, and it would be odd imagining a day without checking our feed or sending off a message. Or maybe it is the tagging of friends in funny posts that attracts you to Facebook?
Above all, Facebook is a great means of communicating with other individuals, and especially family and friends when you are abroad. Where certain countries decided to block this social media site, you can counteract with the use of a VPN. By simply logging onto a U.S. server for instance, you can get full access to the social media site.
That is provided you have the right VPN service. For instance, some services struggle to get past the Great Chinese Firewall. It is also a rather common problem that some VPN services, mainly free VPNs, will share your traffic data with the authorities upon enquiry. That essentially rids you of the privacy that you were promised initially.
The best option therefore is to invest in one of the best VPNs for Facebook, as they are rather cheap anyways. Most services cost no more monthly than a single cup of coffee at Starbucks. Considering you will get full access to Facebook wherever you are, this is a great deal.
Frequently Asked Questions
What should I look out for when choosing a VPN for Facebook?
You should look out for security, privacy, speed, unblocking power, cross-platform compatibility, and server network. All of these are important. However, one may be more important than the other to you. So, the reason why you're using a VPN will determine
Will the VPNs above really keep me anonymous when browsing on Facebook?
Yes, the VPNs in this article will keep you anonymous when you browse on Facebook or any other website. These VPNs use military-grade encryption to prevent ISPs or anyone from seeing your activities online, especially on Facebook. In addition, they have leak-protection features to keep your internet activities from unwanted exposure.
Is it legal to use a VPN for Facebook?
Yes, it is legal to use a VPN for Facebook. There is no regulation on Facebook that makes using a VPN illegal. So, Facebook will not block you or put you on the radar of the authorities for using a VPN. However, in certain countries where you cannot access Facebook without using a VPN, there is the possibility that you will be on the radar of law enforcement if the government or your ISP catches you. So, it is necessary to know the laws of a country before you visit.
Will a VPN affect my connection speed on Facebook?
Yes, a VPN will affect your connection speed on Facebook or other websites. On the positive side, using a VPN can increase your connection speed if your ISP throttles your speed. Otherwise, in most cases, it negatively affects your connection speed. This is because VPNs use high-grade encryption, which requires time and processing power, to make your connection secure. Distance to the VPN server you select also matters.