5 Best VPNs for Finland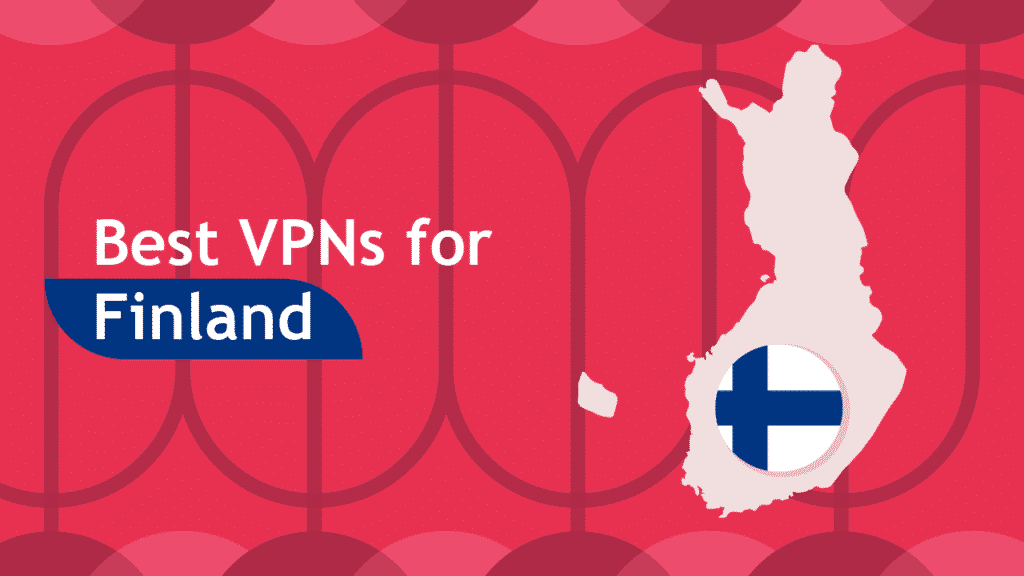 Finland allows you some freedom when using the internet. However, it's understandable to be still worried about your privacy. After all, Finnish laws allow your Internet Service Provider (ISP) to retain your data for up to a year. Worse, the Finnish government has the right to harvest this data anytime they want.
The Lex Karpela, which bans select internet usage and restricts access to some sites, might also frustrate you sometimes.
Well, there's a way to put all these worries behind you with a Virtual Private Network (VPN).It keeps you private and unlocks restricted sites in no time.
5 Best VPNs for Finland
However, you don't just need any VPN. You need one that guarantees you world-class service delivery. So, as this is no time for trial and error, here are our recommended options.
ExpressVPN

Features
Number of servers: More than 3,000
Speeds: Unlimited
Server locations: 160 in 94 countries
Maximum devices supported: 5
24 live chat: Yes
30 day money back guarantee: Yes
Pros/Cons
Fastest VPN out there
Strict no logs policy
256-bit AES encryption
Located in the British Virgin Islands, ExpressVPN has a reputation for being one of the most secure and private VPNs out there.
It runs a zero-knowledge DNS that guards your online data against your ISP, hackers, and the government. It also has a Network Lock that pops up when your VPN protection drops so that there is no lag time that hackers can prey on. Even more, it abides by a strict no-logging policy that makes it look like you were never there.
ExpressVPN also cloaks your IP address with its over 3000 servers located across 90 countries, including Finland. So, you can access any blocked site and enjoy total freedom when surfing the net. It also caters to your security with its TrustedServer technology that wipes all data upon reboot. ExpressVPN is also a great choice for watching Finnish TV abroad, such as channels like Yle.
This VPN has the most recent split tunneling feature that puts you in charge when it comes to what app should enjoy the VPN connection with. ExpressVPN also has an excellent interface and is compatible with the most popular operating systems. So, regardless of your device, you can jump in and enjoy this VPN on up to five gadgets simultaneously.
ExpressVPN also comes cheap when compared to its qualities. You can save 35% with its 1-year plan, which costs $8.32/month. However, if you're not so sure of the service, you can select its one-month plan for $12.95.
In any case, the VPN provider also guarantees a refund within your first 30 days in case you feel let down by them. However, we doubt that you'll not like using this VPN from Finland.
Pros:

Fastest VPN out there;

Strict no logs policy;

256-bit AES encryption;

Lowest price: $6.67
NordVPN

Features
Cryptocurrency accepted? Yes
Simultaneous connections: 6
Dedicated IP-addresses? Yes
Servers: 5342 in 58 countries
Pros/Cons
Lots of pricing options
Netflix support kept up to date
256-bit AES encryption
Ease of use, unlimited bandwidth, fast connection, and super encryption is what makes NordVPN perfect for your Finnish needs. It has a mind-blowing 5710 servers, including 45 in Finland that permits you to browse with fast internet speed.
You can also access multiple IP addresses that will enable you to stay invisible when you use its SmartPlay to access blocked content. Even more, you can opt for a dedicated IP address that only you will have access to.
Also, NordVPN provides you with double online security and privacy for the cost of one with its Onion Over VPN servers. It also designates your online activity as top-secret with its strict no-logs policy. You're also completely secure with its NSA recommended 256-bit key encryption. Added to the Double VPN servers, automatic kill switch, and DNS leak protection, you can be sure you're beyond the grasp of internet predators.
Also, NordVPN is compatible with Android, Linux, Android TV, macOS, and Windows, among other operating systems. Hence, you can enjoy all its features regardless of the gadgets you use.The VPN allows simultaneous use on six devices. And if you have trouble setting up or using NordVPN, you can also rely on its 24/7 customer care.
NordVPN also offers its service at a cool rate. You can enjoy 3-year protection for $3.49/month, 2-year protection for $4.99/month, or 1-year protection for $6.99/month. If you're not so trusting, you can start with a one-month subscription for $11.95.
The VPN has a 30-day money-back guarantee.
Pros:

Lots of pricing options;

Netflix support kept up to date;

256-bit AES encryption;

Lowest price: $3.71
Surfshark

Features
Free trial? Yes
Simultaneous connections: unlimited
Ad blocking? Yes
Servers: 1000+ in 61 countries
Pros/Cons
No footprints
Allows torrenting
256-bit AES encryption
SurfShark has over 1700 self-optimized servers in over 63 countries, including Finland, that allows you to stay private. You can also open up your online experience and bypass restrictions with its NoBorders mode. The VPN supports torrenting with its peculiar P2P-friendly protocol.
With SurfShark, you get maximum security from data theft, internet trailing, and surveillance. SurfShark's latest 256-bit encryption technology makes it almost impossible to hack. You also get to enjoy its secure IKEv2/IPsec protocol and CleanWeb feature that keeps ads, phishing, and malware far from you.
SurfShark is also compatible with almost all types of devices, including Linux and Smart TVs. Even better, with a single subscription, you can connect to limitless devices at the same time and enjoy its privacy function from its camouflage mode.
Surfshark has a strict no-logs policy, network kill switch, and private DNS functionality that keeps you hidden from everyone, including your ISP. Also, you get access to 24/7 expert support once you subscribe. You just need to share your problem to get it solved.
Of course, you've to pay to get this VPN service. However, it comes even cheaper than you would believe.
You can get a 2-year plan for $47.76 instead of $286.80. Its one-year plan cost $71.88 instead of $143.40. Alternatively, you can subscribe to its one-month plan at $11.95. On all these plans, you also have a chance to get a refund if you request one within the first 30 days.
Pros:

No footprints;

Allows torrenting;

256-bit AES encryption;

Lowest price: €2.49
UltraVPN

Features
One click connect? Yes
Servers: 100+ superfast servers
Bandwidth cap? No
Platforms: Mac, Windows, iOS, Android
Pros/Cons
Firewall
Apps for all devices
256-bit AES encryption
Not as many servers as others
UltraVPN has over 100 servers spread across many countries, including Finland. So, when you subscribe, you can hide your location and access the internet anonymously, securely, and without any boundaries. Even better, you also enjoy fast internet speed with no bandwidth cap.
UltraVPN also creates a protective layer around your internet activity with its secure firewall that makes sure all your internet traffic stays private. It also affirms the necessary zero-logs policy to protect your data from a privacy breach. The VPN works on the best-in-class advanced encryption that protects your device from hackers and other internet threats.
Also, this VPN is compatible with several devices such as Windows, Mac, Android, and iOS. You can also connect as many as five devices simultaneously to one account when you subscribe.
The VPN comes with an excellent knowledge base that allows you to get fast answers to any question about your VPN. You can also contact their customer support in case you need further support.
UltraVPN is affordable. You can get on a one-year plan for 3.75/month. Alternatively, there's a 6-month plan for $5.99/month or a one-month plan for $7.99/month. But if you're a fresh subscriber, you can get a discount of up to 60%.
In any case, if its impressive capabilities do not satisfy your needs, UltraVPN also allows you to request a refund within 30 days if it does not impress you.
Pros:

Firewall;

Apps for all devices;

256-bit AES encryption;

Lowest price: €2.99
CyberGhost

Features
Connected devices at once: 7
Automatic kill switch? Yes
One click connect: Yes
Servers: 5900 worldwide
Pros/Cons
No logs policy
24/7 live chat
Apps for mobile devices and routers
Based in Romania and away from strict privacy laws, CyberGhost has a massive 6400 plus servers located in 89 countries, including Finland. With them, you can also easily hide your IP identity to access restricted content across the world at top-speed.
CyberGhost also offers you the strongest VPN encryption that exists on earth with a 256-bit system. It allows you to customize your security protocol and pick between L2TP, OpenVPN, and IKEV2. So, if you connect to any of the newly installed public Wi-Fi in Finland, you'll remain protected from nasty cyber threats, viruses, and malware.
When it comes to your privacy, CyberGhost gets even more serious with its NoSpy servers. It adopts a stern no-logs policy that avoids data retention. The VPN also comes with an automated kill switch and a DNS and IP leak protection that keeps you safe all the time.
CyberGhost works on popular operating systems such as Windows, Linux, and Android. You can also use as many as seven devices simultaneously with a subscription. Setting up is easy as you have access to its detailed tutorial and customer care support if you encounter any challenges.
This top-notch VPN allows you to test run their service with a free trial for one day. After that, you can purchase any of their plans between $2.75/month for three years to $12.99 for one month. Also, apart from the one-month plan which has a 14-day money-back guarantee, you can request a refund within 45 days for other plans.
Pros:

No logs policy;

24/7 live chat;

Apps for mobile devices and routers;

Lowest price: €2
Internet restrictions in Finland
Finnish law allows almost everything when it comes to internet use. Regardless, there are still some restrictions when using the internet. For example, torrenting is considered illegal in Finland. As such, your Internet Service Provider would limit your access to torrent sites. You can't also stream contents on Netflix or Hulu due to geo-restrictions
However, this is no longer a cause for alarm. With a VPN, you make your internet activities private and get access to these sites.
What to look out for in a Finnish-worthy VPN service provider
Since your Finnish needs are peculiar, you need to be sure the VPN you get meets them. To be sure you're choosing rightly, here are a few things to consider when choosing a VPN for Finland.
1. Torrenting capacity: One reason why you need VPNs is so you can torrent anonymously. As such, you need to ensure that your VPN supports torrenting. Usually, a VPN can torrent if its servers have the P2P protocol. Check out for this feature on their site or contact their customer care representative.
2. Large server base: First, you need to ensure that the VPN has servers in Finland. Also, the more, the merrier as an extensive server base implies more options and faster speed. Having a server in Finland is not enough. You must also ensure that it has a large server reserve spread across all parts of the world. Preferably, your ideal VPN should have at least one hundred servers.
3. Fully private experience: Since Finnish laws allow their government to meddle into your affairs, you need a VPN that keeps them out. As such, look out for VPNs with a strict no-logs policy, DNS leak protection, and a safety net that locks your network in case your VPN connection ends abruptly. Make sure you check out their official page to be sure that you can be genuinely private with them.
4. Low risk: You need a VPN provider that offers you no risk at all, or at best, low risk. Check out for their refund policy as it as a hallmark of excellent service delivery. A free trial does the trick too. With that, you can be sure that their money is where their mouth is.
5. Excellent customer help: While you do not wish to face any difficulty, it is inevitable. You might have trouble setting up, paying, or understanding a new update. As such, you need to ensure your service provider has a team on standby ready to help whenever you go calling. You can try it out before you subscribe.
6. Simultaneous connections: You probably have more than one device that you use to access the internet. So, it'll be an utter waste of money and time if you have to open several accounts and pay for a plan on each one.
Our advice is that you check the number of simultaneous connections that the VPN allows before you commit to a provider.
In conclusion
It's okay to be worried about your privacy and security status. However, it's more satisfying to take action. And what better way to do so than with a Virtual Private Network?
VPNs make you invisible and protect your data from threats. However, as lovely as this sounds, such freedom, security, and privacy are only truly possible with a top-notch VPN. That's why we've provided the best ones to pick from and what to consider when picking one. If you want to check out free VPNs for Finland, read this article.