5 Best VPNs for UC Browser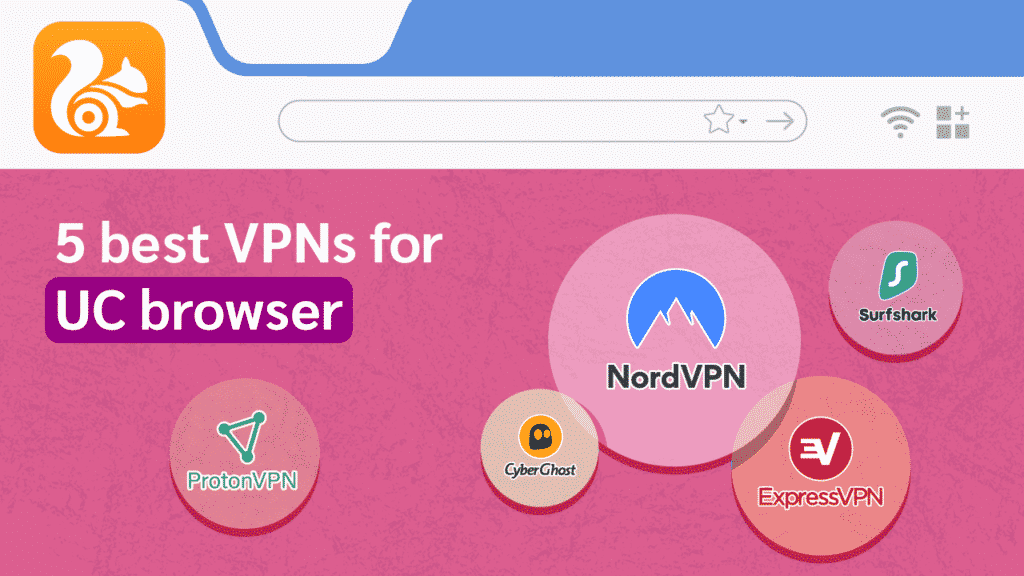 Some users swear by UC Browser. The browser is one of the most loved all over the world. It is widely popular in India, China, and other South-Eastern Asian countries. The reasons for this may not be unconnected to its speed and data-saving capabilities.
However, UC Browser has had a rough patch in the industry, especially when it comes to data breaches. There have been reports of information leaks and other such security concerns. As a user, this certainly must have rocked your confidence in the browser. You will be glad to learn that there is a means to use the browser without running into the danger of data breaches. This is through using a VPN.
In this discussion, we bring you 5 top VPNs that will ensure unimpeached security while you make use of UC Browser.
Top Recommended VPNs for UC Browser
There are scores of VPNs that currently exist. Most of them boast of having stellar features. The only means to verify this would be to use all of them before coming to a conclusion. However, that is impractical. We have done the hard part: below are 5 reliable VPNs for UC Browser.
ExpressVPN

Features
Number of servers: More than 3,000
Speeds: Unlimited
Server locations: 160 in 94 countries
Maximum devices supported: 5
24 live chat: Yes
30 day money back guarantee: Yes
Pros/Cons
Fastest VPN out there
Strict no logs policy
256-bit AES encryption
There is a near-general consensus amongst VPN users that ExpressVPN is the best out there. The reason for this endorsement is not far fetched. This provider ranks highly on any test you can think of. It is, therefore, our first recommendation if you are looking for a VPN to protect you while using your UC Browser.
ExpressVPN has more than 3000 servers in 90+ countries. These servers are remarkable because of how speedy they are. Whether you are downloading or streaming content or simply surfing content using UC Browser, you can expect no challenges whatsoever with this VPN. VPNs usually reduce your internet speed when you connect to them. However, with this VPN, the speed difference is barely noticeable.
Suppose you are interested in accessing video content on streaming platforms outside of your location. In that case, you'll be delighted to learn that ExpressVPN unblocks even the best of them without breaking a sweat. You can access Netflix libraries of any location. All you need to do isconnect to a server in the country of choice. You can do the same for HBO Go, Amazon Prime Video, BBC iPlayer, Disney Plus, and a host of others.
ExpressVPN also does well in terms of security features. It boasts of supporting the uncrackable AES 256-bit encryption. It also has a kill switch and allows split tunneling. This provider uses Perfect Forward Secrecy. This advanced feature protects previous sessions, securing them even if the VPN gets compromised in the future.
This provider supports most device types. It allows you to connect 5 devices simultaneously to one account. Its subscription plans are a little on the high side. However, it makes up for it by the quality of its services. However, this provider gives you a 30-day money-back guarantee period. In principle, this works the same as a free trial.
Pros:

Fastest VPN out there;

Strict no logs policy;

256-bit AES encryption;

Lowest price: $6.67
NordVPN

Features
Cryptocurrency accepted? Yes
Simultaneous connections: 6
Dedicated IP-addresses? Yes
Servers: 5342 in 58 countries
Pros/Cons
Lots of pricing options
Netflix support kept up to date
256-bit AES encryption
NordVPN is another strong recommendation from us. This provider is well-respected in the industry, having remained consistent with its stellar delivery over the years. Its remarkable features, especially those for security, make sure that you will have nothing to worry about when using UC Browser.
It has more than 5000 servers in 59 countries. This server list makes unblocking content on any platform quite easy. Hence, you will be able to stream, download, and watch videos from major streaming platforms such as Netflix, Hulu, Amazon Prime, BBC iPlayer, and so on. NordVPN's SmartPlay feature works exclusively to enhance users' experience when it comes to streaming content.
You need not fret about geo-blocks if you are in a heavily censored region such as China. NordVPN has the enviable record of being one of the few providers that can get around the Chinese Firewall without breaking a sweat. Whether you are a Chinese citizen, or an expat traveling for a short visit, NordVPN has you covered.
When it comes to security, NordVPN is also top-tier. It makes use of the military-grade AES 256-bit encryption. You also get DNS, WebRTC, and IPv6 leak protection. This provider allows you to pay for your subscription using cryptocurrencies. This is both hugely convenient and also great for privacy.
NordVPN has compatible apps for most device types. You can download and install its apps on iOS, macOS, Windows, and Linux devices. Although this provider does not allow for free trials, it gives you a 30-day money-back period. Within this window, you can use its service and request a refund if unsatisfied with the quality of service.
Pros:

Lots of pricing options;

Netflix support kept up to date;

256-bit AES encryption;

Lowest price: $3.71
Surfshark

Features
Free trial? Yes
Simultaneous connections: unlimited
Ad blocking? Yes
Servers: 1000+ in 61 countries
Pros/Cons
No footprints
Allows torrenting
256-bit AES encryption
Surfshark is a reliable provider that you can use to access UC Browser with no qualms at all. This provider has more than 1700 servers in 63 countries. Its servers are some of the fastest you could find in the VPN market. You can expect zero throttling or lags while connected to any of them.
Furthermore, Surfshark is great for unblocking restricted platforms. If you are interested in accessing Netflix or Hulu content outside of your location, you will have no challenges with that. Also, Surfshark can be trusted to get around the Great Firewall of China. If you are one of the millions of UC Browser users who live in the country, you can rest easy knowing that you are covered.
Security is another forte for this provider. It makes use of the standard AES 256-bit encryption model. It also supports the popular OpenVPN protocol. You can make use of its Camouflage mode to hide the fact that you are making use of a VPN. This protects you from targeted attacks from your Internet Service Provider.
Surfshark maintains a strict no-logs policy. This means that it has no obligation to retain and does not retain any information relating to your internet use. It offers support for most of the popular device types. Whether you are making use of an Android, macOS, iOS, Linux, or Windows device, this provider has you covered.
Even more remarkably, Surfshark allows an unlimited number of devices to connect to one account simultaneously. This means that you can get all of your internet-enabled devices covered with just one subscription. This provider further puts no cap on bandwidth or data usage. You can surf, download, and stream to your heart's content without any challenges whatsoever.
Pros:

No footprints;

Allows torrenting;

256-bit AES encryption;

Lowest price: €2.49
ProtonVPN

Features
P2P support? Yes
30-day money-back guarantee? Yes
Country of origin? Switzerland
Servers: 600+ in over 40 countries
Simultaneous devices: 5
Pros/Cons
Professional support
Modern interface and apps
AES-256 encryption
ProtonVPN is one provider that you can trust its claim regarding privacy. Apart from being in the industry for a long time, this company also created ProtonMail. This is an end-to-end encrypted mailing service that has been hailed for its security.
Specifically for its VPN service, ProtonVPN makes use of the standard AES 256-bit encryption. Its Secure Core feature routes your traffic through multiple servers before getting to a final destination. It has a kill switch, DNS leak prevention features and supports the Tor network. Besides, it offers support for the OpenVPN protocol.
This provider has a little over 1000 servers in 54+ countries. These servers are located in high-traffic regions, i.e., the United States, the United Kingdom, and even Japan. However, you will find servers in not-so-popular locations, too.
The versatility of this provider means that you can find apps for whatever device you are using. Whether Android, iOS, Windows, Linux, or MacOS devices, you will not be at a loss. It would interest you to know that ProtonVPN works efficiently with UC Browser. On its website, it discloses that it supports the latest version of the browser, i.e., UC Browser for Android Versions 12. 12 and above.
Pros:

Professional support;

Modern interface and apps;

AES-256 encryption;

Lowest price: €4
CyberGhost

Features
Connected devices at once: 7
Automatic kill switch? Yes
One click connect: Yes
Servers: 5900 worldwide
Pros/Cons
No logs policy
24/7 live chat
Apps for mobile devices and routers
CyberGhost is a capable VPN that delivers premium service for users worldwide. This provider has more than 6000 servers in over 90 countries. This is a high number by any standards. This gives you an inexhaustible number of connection options. Both high-traffic locations like the United States and hard-to-reach locations such as Saudi Arabia all have servers.
This provider is excellent for streaming. Geo-restrictions present no challenge as it can get around most of the blocks on Netflix, HBO, BBC iPlayer, Hulu, DAZN, and much more with relative ease. There are only a handful of servers that can boast of this capability.
For security, this provider makes use of the AES 256-bit encryption. It also supports OpenVPN TCP/UDP, WireGuard, and IKEv2 protocols. When you get connected, the app selects the best protocol to suit your needs. This is quite convenient, saving you a lot of stress if you do not have a lot of knowledge about VPNs.
With this provider, you also get a kill switch that is fully functional. The kill switch prevents a compromise of your data if the VPN momentarily falters. You also get the split tunneling feature. Here, you can route your traffic using either the VPN or your regular ISP. This will be necessary when you need to carry out transactions using your regular address.
Another stronghold for this provider is its emphasis on privacy. It has its headquarters in Romania. This country has no affiliations with the 14 eyes network. This means that the country will not request that this provider breach its privacy obligations to you. More so, CyberGhost is firm in its commitment to its no-logs policy. It does not record any aspects of your online data. You can trust to be fully protected with this provider.
CyberGhost has compatible apps for most device types. From iOS to Android to Linux to Windows devices, the provider has you covered. You get the same level of protection regardless of the device you are making use of. These apps are easy to download, install, and run. You can hook up 7 devices to one CyberGhost account.
Pros:

No logs policy;

24/7 live chat;

Apps for mobile devices and routers;

Lowest price: €2
The Importance of Using a VPN with UC Browser
There are several general benefits of making use of a VPN. Some of the specific ones relating to UC Browser will be discussed below.
Security
This is the first on the list for obvious reasons. Although UC Browser has attempted to install some great security features in its latest versions, those features still fall short of the standard. The browser comes with weak SSL protocols, and cipher cartographers vulnerable to leaks. Hence, when you make use of it, your data will be in danger of being compromised.
All of these will be bygones when you make use of a VPN. A VPN cloaks your IP address and further encrypts it. When you browse making use of UC Browser, potential hackers will only see this now-encrypted network. Given that the encryption technology used by most VPN-providers is top-notch, you will expect that your network will be impenetrable.
Furthermore, most of the providers discussed above have unique security features. These include kill switches that take you off the internet when your VPN connection is compromised, the Onion over Router connection that is quite reliable, and even Perfect Forward Secrecy, a feature that secures even past online sessions. The unique perk you get will be dependent on the provider you choose. However, with each VPN, you can rest assured of standard security at the very least.
Restriction Bypass
A VPN offers you a route to bypass online restrictions. Blocks can either be platform-based on geo-based. Geo-restrictions exist in locations where government-imposed blocks prevent users from accessing particular contents. For instance, internet users in China are unable to access social media platforms because of the Chinese Firewall set up by the government.
On the other hand, platform-based blocks refer to the blocks that prevent users from accessing certain platforms. An example might be how Netflix users in the United States cannot access Netflix libraries in the United Kingdom. While the two forms of blocks seem to have ties to users' locations, the difference is that the government does not enforce the latter.
No matter the form of restriction, a VPN helps you to escape that. You can connect to a server in any location of choice. This would throw the encryption off your scent, allowing you to access the content unhindered.
Enhanced Experience
A VPN makes for a better internet experience. One key aspect that a VPN comes in handy is regarding internet speed. Connecting to a server can speed up your connection, giving you a pleasant surfing experience. Gone are the days when VPN providers cared little about features on their networks. At the moment, you can expect only top-tier treatment, especially with the recommendations above.
Conclusion
Your fears are not unfounded if you have security concerns about the UC Browser. However, with a VPN, you can ensure that you are thoroughly protected even if there is a data breach. In this review, you will find the 5 best VPNs to use with UC Browser. Once you get on a plan, download, and install, you are good to go.