What is NordLynx? Here's Everything You Need to Know
In a world where Virtual Private Networks (VPNs) are taking over, security and privacy of connections and data are on the rise. As there are several VPNs in the cyber market today, VPN providers are working hard to develop advanced features to enhance their product and make it stand out.
NordVPN has already made a name for itself as a top tier VPN. The company is even making more effort to stay on top. They have a massive server database across the world and offer one of the very best privacy and security features. In the advancement of their services, NordVPN integrated a new protocol — NordLynx — into their VPN service.
This review sheds light on the essence and mechanisms of action of this new "NordLynx" protocol. You'll also catch a glimpse of its evolution and what makes it a big deal.
What Is NordLynx?
NordLynx is an emerging VPN protocol that is aimed at enhancing privacy and security together with breakneck connection speed. It is available for Windows, Mac, Android, iOS, and Linux users.
The speedy nature of NordLynx is built on the foundation of the WireGuard® protocol. To a large extent, a VPN's encryption mechanism determines how fast its connection will be. WireGuard is best known for its commitment to speed, and it achieves that feat due to its composition and design. It uses more straightforward encryption and decryption algorithms when transmitting data. It also traffics data through a shorter route and spends less time securing traffic information. All of these improve the connection speed.
To seal it off, NordVPN complements WireGuard's top speed by filling in its deficiency in top-class security. It combines the awesomeness of the "speed protocol" with NordVPN's security detail. NordVPN uses one of the best encryption protocols and privacy policies, so you can trust that your connection is completely secure.
Using any of the two protocols separately will obviously not be as productive because one will lack something the other can offer. That is why it is so essential that NordLynx is built based on a mutualistic relationship. So, internet users will not have to compromise speed for security or security for speed.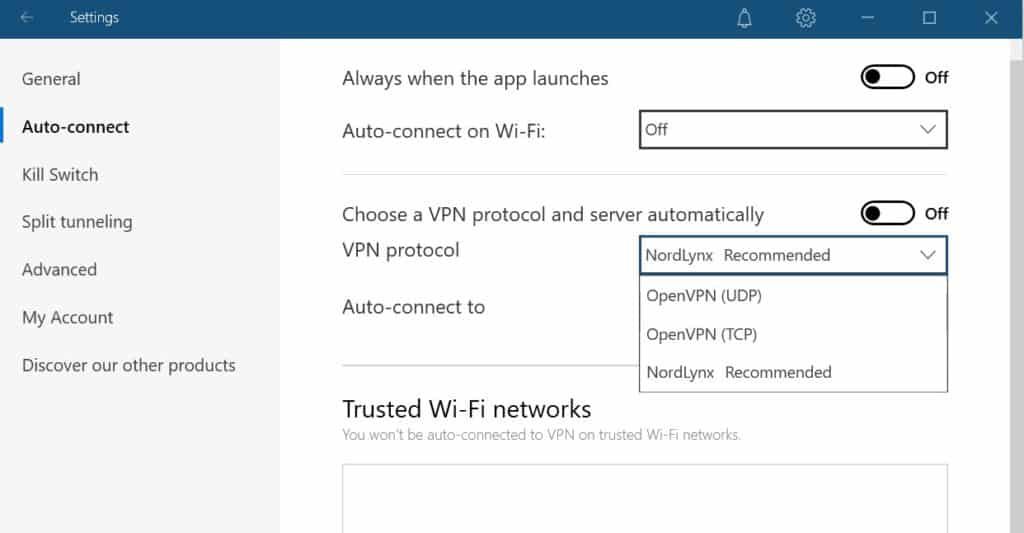 The History of NordLynx
The journey of NordVPN started in 2012. According to NordVPN, "four friends" came together with the mindset of delivering netizens from internet censorship, government surveillance, and other cyber predators like hackers.
The company experienced progressive growth over the years as they presented an Android app and an iOS app in May and June 2016, respectively. And they have continued to expand and improve with time.
In 2016, a security enthusiast, Jason A. Donenfeld, developed the WireGuard protocol. NordVPN took the innovation and integrated it into their network to eventually birth NordLynx.
The VPN company officially announced the NordLynx technology as its "latest project" in July 2019. It has been very active since then and waxing stronger to assure a speedy and secure connection.
NordVPN has since released software for various other platforms, including Google Chrome and Android TV, making the VPN service available to a broader range of people.
How Does NordLynx Work?
As the composition of NordLynx (basically WireGuard) has been discussed earlier in this article, it is essential to know what each element does. We'll also examine what it can't do, and how they both make up for it to give the fantastic protocol, NordLynx.
WireGuard comprises only 4,000 lines of algorithm code, in comparison to OpenVPN's 400,000 code lines. That vast difference points to the fact that WireGuard will execute data transmission processes more efficiently and even faster than OpenVPN. That is where your blazing speed comes in. Also, fewer codes invariably reduce the probability of an error occurring.
WireGuard is not perfect on its own. It rides in the backseat when it comes to privacy purposes because it can't actively mask IP addresses of users connected to the VPN server. As a result, the NordLynx project doesn't just stop there.
To secure the anonymity of the VPN users, NordVPN developed a double Network Address Translation (NAT) system. The system technically creates two between interfaces for individual users. The first one assigns an IP address to all connected users, while the second interface gives a unique IP address for each session. The double NAT system works in contrast with the WireGuard's process, where each user gets a uniform IP address.
Furthermore, NordVPN operates a strict no-log policy that is duly audited, which means your privacy is cemented on a whole new level.
Pros and Cons of NordLynx
This section discusses the upsides and the downsides of NordLynx. Overall, the demerit is negligible since it's based on potentiality and not actuality. Can we then say NordLynx is perfect?
Pros of NordLynx
Find below the advantages of using NordLynx.
1. Speed
Speed is the major highlight of NordLynx, owing to the fact that it is WireGuard-based. This protocol is so fast that you can connect to servers immediately you click "Connect."
NordLynx has passed various speed tests and even won by a landslide. You can run your speed test too. You'll be amazed.
2. Security
NordLynx is a fantastic blend of speed and privacy. It achieves that balance with the double NAT system and NordVPN's no-log policy. These schemes are put in place to put your security and privacy on solid rock.
Other highly secure VPN protocols are not as fast as NordLynx. So, it's best for everyone to pick the one that covers all fronts— NordLynx Protocol.
3. No Charges
As incredible as NordLynx is, it is free. It is integrated into NordVPN, and it doesn't come with extra charges. Pre-existing subscribers can enjoy its blazing speed without additional costs. Also, new subscribers don't have to pay more than the regular subscription fee.
Regardless of your NordVPN subscription plan, the NordLynx technology is accessible to you.
4. Device Compatibility
NordVPN has software apps for the five major operating systems: Windows, macOS, Linux, Android, and iOS. Therefore, devices that use any of those operating systems will be able to run NordLynx directly.
The VPN provider also supports use on routers, so it's indirectly unlimited access.
5. Extra Perks
You can't use NordLynx without using NordVPN, and that is a huge boost. You get to enjoy all NordVPN features like the Killswitch, DoubleVPN (double encryption), and CyberSec (ad and malware blocker) features.
Also, it means you can connect to any of its 5,500+ servers, giving you the freedom of bypassing content censors, especially on streaming platforms like Netflix, Deezer, Amazon Prime Video, and Hulu. Lastly, you can protect up to 6 devices with just one subscription.
6. Lightweight
NordLynx's 4,000 code lines against OpenVPN's 400,000 means NordLynx is about a hundred times lighter than OpenVPN. Since it's not as heavy, it won't consume as much power. So you can use your device's battery for more time.
It also doesn't wear your device's processor out, as its lightweight requires minimal processing power.
Cons of NordLynx
NordLynx, being a relatively new protocol based on another newbie (WireGuard), is still open to inconsistencies. So far, there are no complaints, but it might be too early to call it perfect even though it seems perfect.
How to Set Up NordLynx (Android, iOS, Linux, macOS, and Windows Devices)
Setting up the NordLynx protocol on your device is as easy as it can be. With simple click navigations, you'll get it done without any glitch.
Follow the step-by-step instructions for the respective device and enjoy the pleasure of speed and privacy that comes with NordLynx.
Android
1. Download and install the NordVPN app for Android either from the NordVPN website or Google Play Store
2. Click the App Settings icon at the upper left-hand corner
3. Scroll through and click VPN Protocol
4. Select NordLynx
5. Connect to any of the available VPN servers you want
iOS
1. Install the NordVPN app for iOS from the website or your device's app store
2. Tap to the App Settings icon you see at the upper right-hand corner
3. Click VPN Protocol
4. Select NordLynx
5. Connect to any of the servers of your choice
Linux
1. Install the NordVPN app for Linux
2. Navigate through and enable WireGuard on the NordVPN app
3. To connect to NordVPN, type in the following commands:
nordvpn set technology nordlynx
nordvpn c
macOS
1. Install the NordVPN app for macOS from the Apple App Store
2. Navigate to the app settings by clicking the App Settings icon at the upper left-hand corner
3. Click General.
4. Tap the VPN Protocol menu
5. Select NordLynx
6. Connect to NordVPN
Windows
1. Install the NordVPN app for Windows from the NordVPN website
2. Navigate to the App Settings icon in the upper right-hand corner
3. Click Auto-connect
4. Disable the Choose a VPN protocol and server automatically option
5. Click VPN Protocol
6. Select NordLynx in the drop-down menu
7. Connect, browse, stream, torrent, and download without hurdles.
Conclusion
NordLynx gives NordVPN an edge over other premium VPNs because such stellar service is a rare breed of precision, accuracy, and balance. As an active NordVPN subscriber, you can install the NordLynx upgrade at no cost at all. On the other hand, if you're contemplating getting a VPN subscription, NordVPN is placed amongst the highest rated VPNs in the world. When you're getting a bonus like NordLynx, you should look no further.