Surfshark vs NordVPN Comparison: Which is Better in 2023?
If you are in the market for a VPN, you will notice something peculiar: they all promise outstanding service! However, you know that that cannot possibly be true. They all cannot be the best.
In this review, we will be comparing two VPNs: Surfshark and NordVPN. They both are by no means average. NordVPN is a veteran in the industry and has some of the best features. Surfshark is relatively new in the industry but has quickly established itself as a provider to watch out for. We made use of several parameters, testing to find the provider that ranks best in each. At the end of this review, you shall have made up your mind concerning a provider to go with. Even if you are still unsure, we will inform you of our choice and tell you the reasons for that.
Surfshark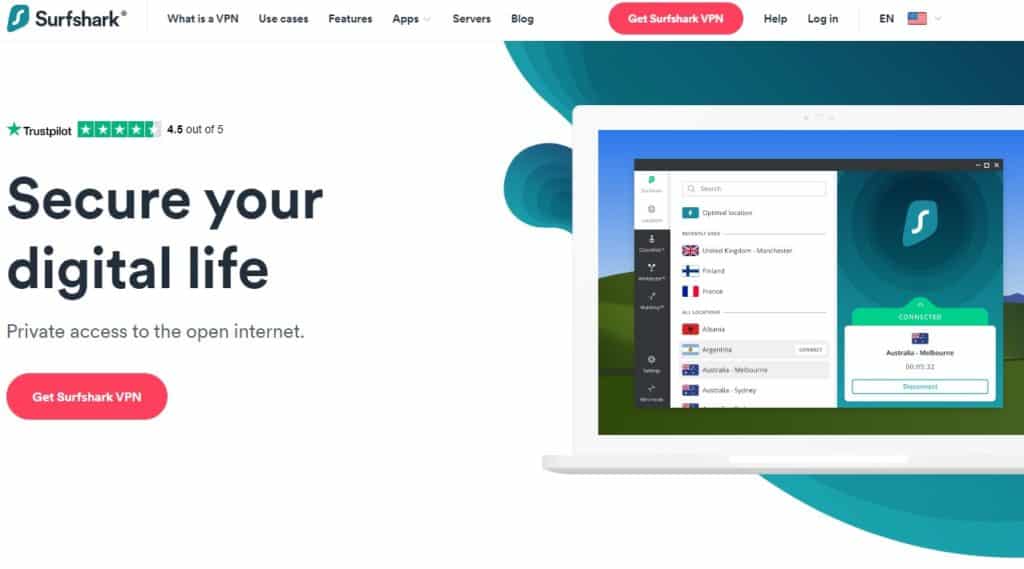 For a newbie, Surfshark makes a lot of promises. Surprisingly, it keeps to them all, measuring up to even the oldies in the industry. This provider is one of the best when it comes to streaming. With its high-end quality servers optimized for speed, you can stream content with no hassles.
What is more, it beats geo-restrictions at their own games. It gets around the location-specific blocks on platforms like Netflix, Hulu, iPlayer, etc.
This provider does not shirk when it comes to security also. You will find that it makes use of the AES-256-bit encryption. Its kill switches preserve the integrity of your connection perchance the VPN momentarily falters. It also routes your network through two servers instead of one, strengthening your security through this means. It is outfitted with a camouflage mode. This makes it appear as though you are using regular internet connections. Finally, its 'No Borders' feature is perfect for countries like China with its heavy censorship.
This provider's subscription plans are pretty affordable. It offers both monthly, yearly, and bi-annual plans. Expectedly, the cost reduces with the more months you subscribe for. Even more remarkably, it offers 7 days of free trial as long as you are a mobile user. In addition to this, it allows a 30-day money-back guarantee window for subscribers.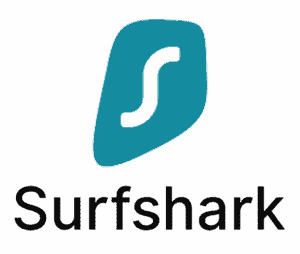 Get 81% off now
NordVPN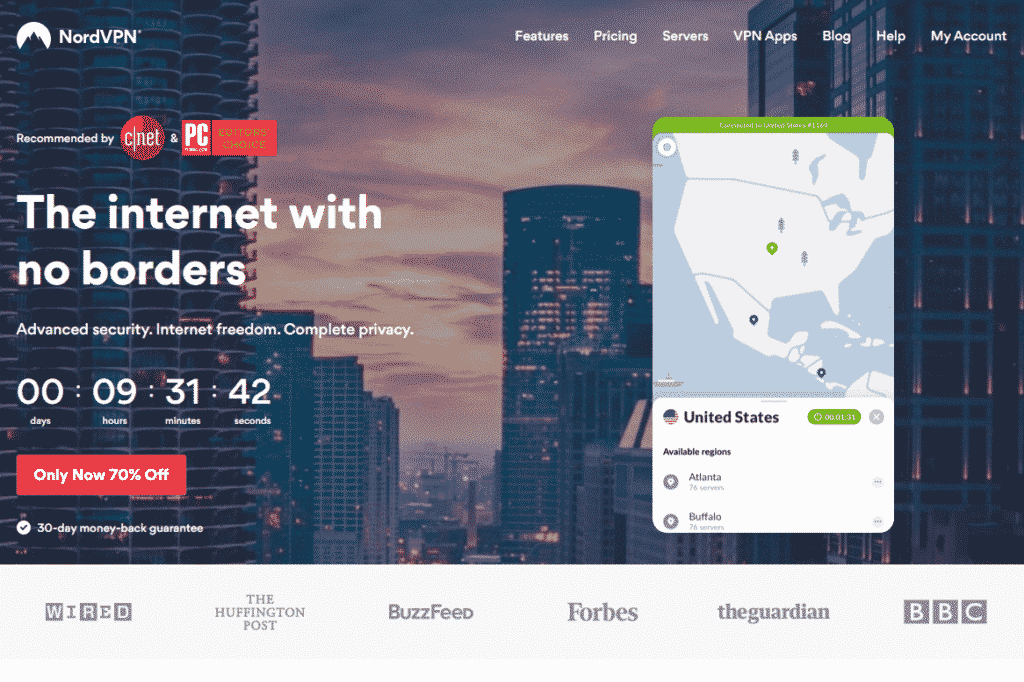 NordVPN is an absolutely fabulous provider. Over the years, it has earned its place amongst the greats in the industry. In fact, it is impossible to rank VPNs – using any metric at all – without having NordVPN in the top three. This is not without justifiable cause.
NordVPN has more than 5000 servers in over 59 countries. This easily makes it one of the leaders in the industry in that regard. These servers are optimized for speed. Additionally, you can easily connect to the fastest server in your location using the Quick Connect feature.
NordVPN's SmartPlay feature shows you just how seriously the provider takes streaming. This feature bypasses geo-blocks effectively while maintaining optimum security. It ensures that you have access to uncensored content quickly.
This provider is also excellent for torrenting. It has P2P optimized servers. This has several benefits, one of which is that it saves you precious time. You do not have to trawl through the list of servers to find the ones that work.
Finally, NordVPN excels in terms of security. Its AES 256-bit encryption hides your data. There are a host of other fabulous security features which ensure that you are perfectly safe while making use of the VPN.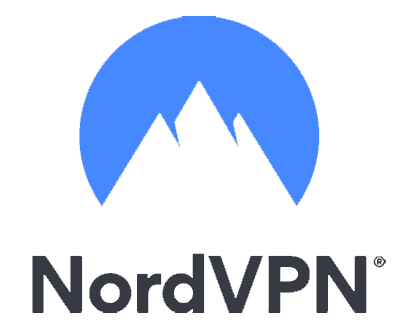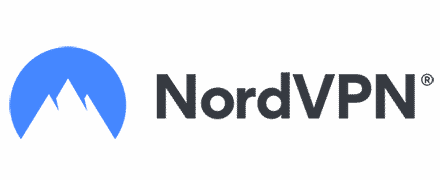 Get 66% off now
Server Coverage
NordVPN has 5,400+ servers to Surfshark's 1,700+. NordVPN's number is one of the highest in the industry. In fact, there are very few other providers that come close to its number. The advantage of this number of servers is the provision of multiple options. As a user, you can almost count on the fact that there will be a server in whatever country you pick. Thus, geo-restrictions cannot be a challenge at any point.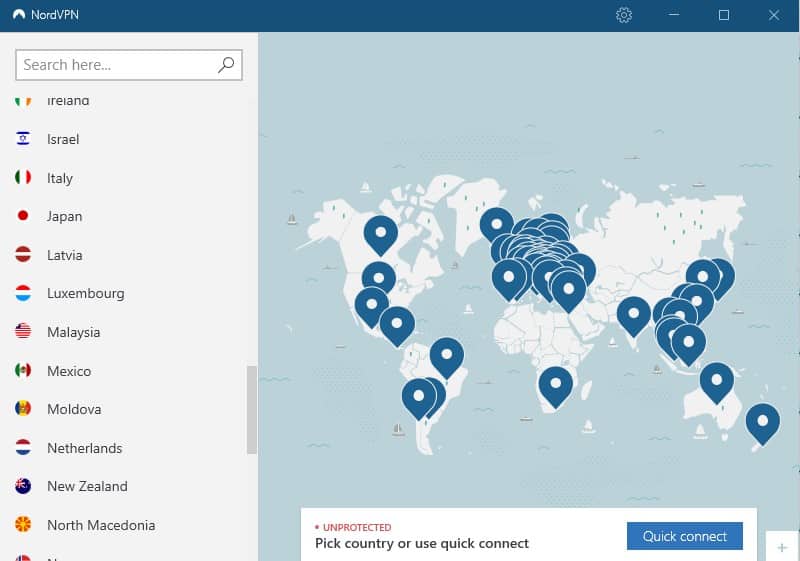 Additionally, you will be able to switch servers if you experience slow speed. You might even decide to do a speed test from the onset before settling for a VPN. It might be understandable that Surfshark does not match NordVPN in this area. This is because, as already stated, Surfshark is relatively new to the scene. Its number of servers at present is commendable and is expected to increase with the years.
Both providers are almost tied in the number of countries they have servers in. NordVPN 59 and Surfshark's 63. The importance of availability in a large number of countries is the same for servers. Providers with servers in multiple countries give you a wide range of options. Also, if you travel frequently and to different countries, you may want a provider that has a wide coverage. This will make sure that you are not in a stump if you are in any location at all.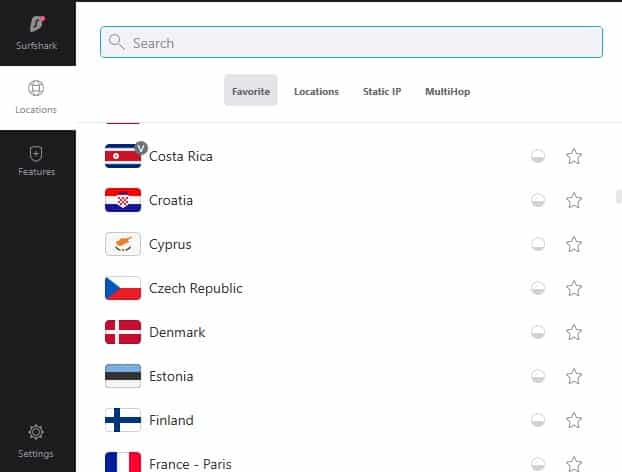 NordVPN and Surfshark fare relatively well in this area. Being available in more than 50 countries is actually pretty commendable for any provider. These countries include popular ones like the United States and the United Kingdom. If you travel to countries famous for having geoblocks such as China, you will be pleased to find that both providers have servers there too.
Speed and Performance
If you are concerned about speed while using a VPN, you have every right to be. VPNs are notorious for slowing down internet speed. Usually, when you connect to a VPN, your browsing speed drops, sometimes quite remarkably. However, the best providers do not experience this setback. Their servers are primed to make sure that their users experience the fastest browsing and download speeds available. Surfshark and NordVPN are no exceptions.
Surfshark is an impressive provider. As expected, you will experience some speed drop when you make use of it while browsing. However, the difference is quite negligible. When connected to servers in the UK, the speed reduction was only about 6%. The same can be said of NordVPN's speed too. Its servers are equipped with blazing-fast speed. If you reside in the United States, then you are doubly in luck. NordVPN's servers are fastest there. This is not to say that the servers located in other countries are slow. They just do not measure up to the speed that the US servers have. Additionally, NordVPN is faster for downloads. If you intend to use your VPN for a lot of downloads, you might want to consider this.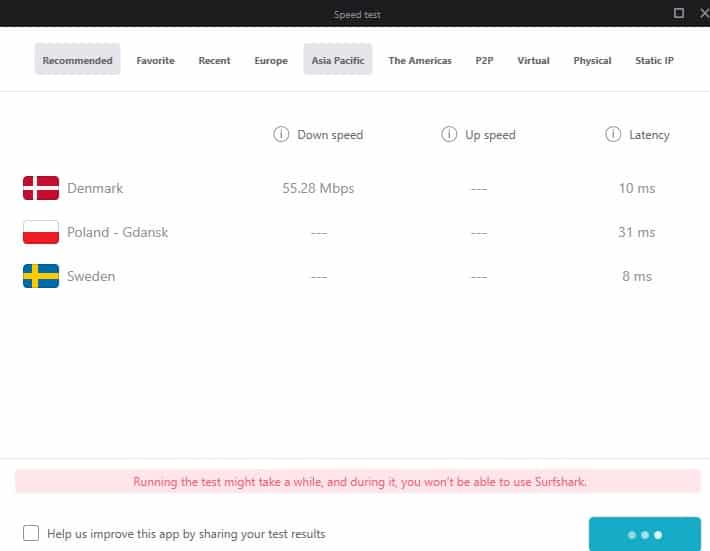 You should bear in mind that server speed may vary because of a couple of factors. For instance, the distance of the server could influence how fast its speed is. Thus, the closer the server is to your location, the faster it will be. In all, the fact that NordVPN has a wide range of servers works to its advantage. It also increases the possibility of finding fast connections to serve your needs.
Safety and Security Features
Security is one of the core functions of a VPN. It is thus not a stretch to say that a VPN without great security features is a waste. The two VPNs under review perform brilliantly in this aspect as well. They both make use of military-grade encryption, the AES 256-bit encryption. They also support some of the most popular protocols, including OpenVPN, UDP, TCP, and IKEv2 protocols.
In addition, they both are equipped with automatic kill switches. These kick in immediately the VPN connection drops. It automatically takes you off the internet, to make sure you do not become exposed either to your ISP or to the government.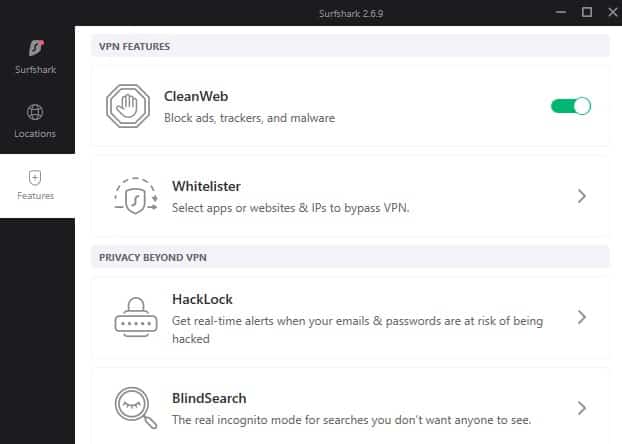 These two providers also allow for split tunneling. This is a process where you can route your traffic through the VPN and your regular network provider. This may be essential in the instances where you want to make use of some apps without the VPN's interference. For example, you may want to carry out a transaction with your mobile banking app. If you are hooked on to the VPN, that may be impossible. Mobile banking apps usually require recognized and non-encrypted network services. It might be too much hassle to turn off the VPN entirely. It could even happen that you are in the middle of streaming some content. Here, split tunneling is useful. You will be able to make use of both the VPN and your regular network with no issues.
Finally, the two providers also are equipped with DNS-leak protection. Your data cannot leak, regardless of the server you are connected to.
NordVPN has some unique security features which Surfshark does not have. One of such is the "Onion over VPN" option. This option routes your network through an encrypted NordVPN server and then through the Tor network. Tor is, perhaps, the strongest browser available. When your network gets routed through it, it bounces it through multiple locations globally. This process strengthens your security by making it harder for any tracker to pinpoint your location exactly.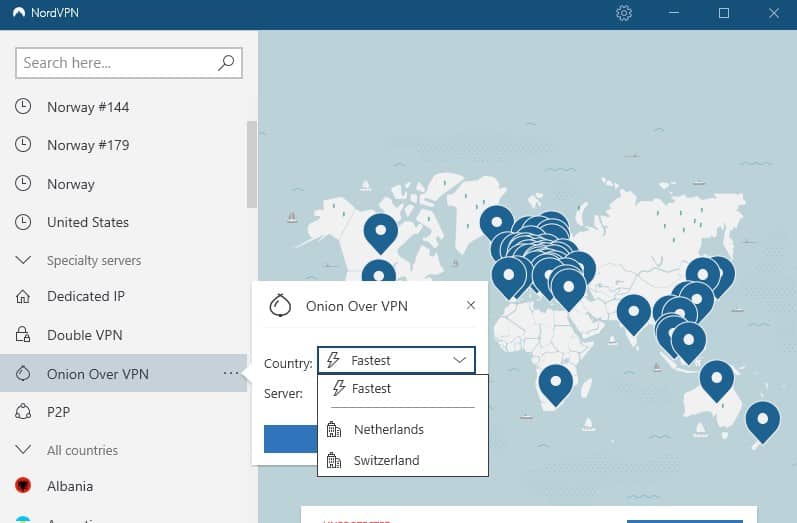 As already stated, this is a close call, as both providers have terrific security features. Settling for either will not be a bad decision, bearing in mind the other perks each possesses. However, if security is the deal-breaker for you, then NordVPN should be your destination.
Anonymity and Privacy Features
As a VPN user, privacy is probably at the top of your requirements. Thus, it is important to go with providers that do not keep logs of users' data. This is necessary to preserve your privacy. More so, it is especially important for countries with government censorship. Providers that wipe out the digital footprint of their users do so as a precautionary measure.
The two providers under review are steadfast in their no-logs commitment. They are also both based in countries that do not demand the storage of data. Surfshark is based in the Virgin Islands, and NordVPN in Panama. These two countries are also not part of the 14 eyes network. This means that they do not have an obligation to report data use in their jurisdictions.
These providers indeed claim not to keep logs. However, it is only an external party that can back up these claims. For NordVPN, the auditing firm, Price Waterhouse Cooper, has vetted them. The auditing firm confirmed that NordVPN indeed keeps no logs of users' data.
No such audit has been carried out for Surfshark yet. There was some form of an audit carried out in 2018 by Cure53. The auditing firm only vetted Surfshark's browser extension. This, of course, does not mean that the provider does not keep to its words when it comes to logging policy. However, there is something to be said for a stamp of approval by an external entity in the caliber of PWC. Hence, when it comes to privacy and non-storage of data, you may want to go with NordVPN.
Platforms Supported
NordVPN has one of the most popular apps in the market. It has more than 10 million downloads and a consistent 4.4 rating on Google App Store. One reason for its popularity is its ease of use and functionality. In the first place, NordVPN has apps for most device types. It provides NordLynx protocol for its Android and iOS users. Additional features include a Quickconnect option that links you up with the fastest server in your given location.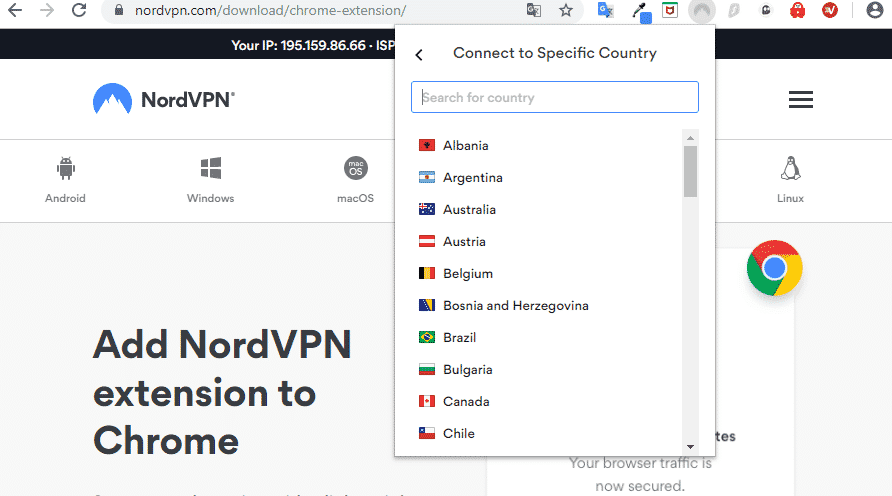 Surfshark's apps are also quite impressive. The provider boasts of apps for Android, Linux, Windows, iOS, etc. These apps are also fitted with wonderful features, including a kill switch. It even has features unique to just this provider, such as Hacklock and Blindsearch. Surfshark's apps are easy to navigate. The interface is user-friendly and does not require a lot of time to get familiarized with. Like NordVPN, it also boasts of a Quickconnect feature. In addition, it opens up the full list of servers at the tap of a button.
Most users these days have more than one device in need of a VPN's protection. Thus, they look out for providers that allow connections to multiple devices at the same time. Most providers realize this, and so allow multiple connections of varying lengths to subscribers. This is especially for providers whose subscription options are a bit pricey. It would be unreasonable to expect a user to get on these expensive subscription plans and be limited to just one device.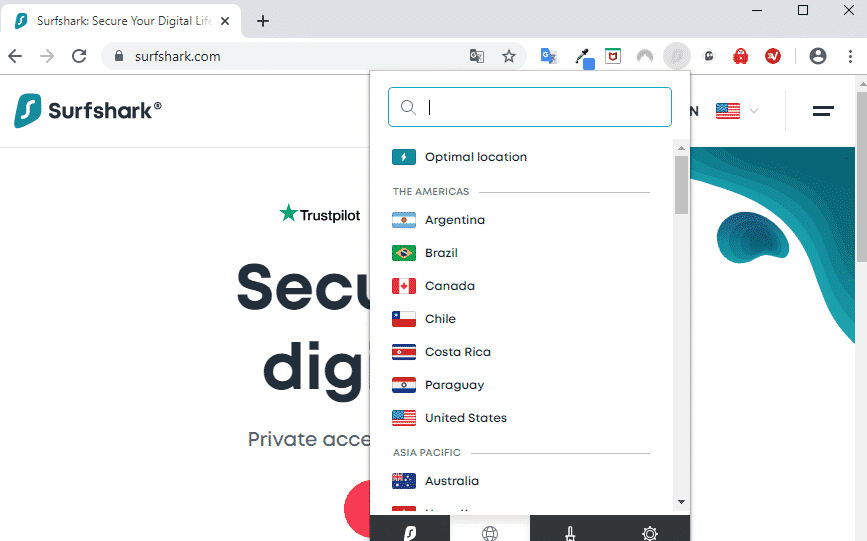 The two VPNs under review allow for multiple connections. NordVPN allows up to 6 simultaneous connections on one plan. This is not a bad offer. Most providers in the industry allow for just 5 devices simultaneous connections. With this, you can connect almost all your devices on one plan. The beauty of NordVPN's arrangement is that you will not experience lags on any of the connections. The premium offer that it provides covers all 6 devices, and at the same time, too.
However, Surfshark is king in terms of simultaneous connections allowed. It allows you to connect an unlimited number of devices to one account! This flexibility works to your advantage in so many ways. You can connect all the devices in your house, affording them VPN-protection. Also, you can decide to have an arrangement with family and friends to pool resources together for a plan. Truly, Surfshark's unlimited devices connection feature is too good to pass up.
Streaming and Torrenting
One very important use for VPNs is for streaming (restricted) content. This is because VPNs get around geo-blocks, granting you access to blocked content. Thus, with Surfshark, you can stream content from Netflix libraries of different countries. You can do that at top speed, unafraid of lags or slow speeds.
The same is applicable for NordVPN. If you want to stream content from Netflix US, Japan, Hong Kong, UK, you can do that comfortably with NordVPN. Both providers allow streaming on iPlayer. This platform is usually the hardest to crack. For Surfshark, it was easy peasy. For NordVPN, however, you will have to make use of its browser extension to access content on the iPlayer. Thus, when it comes to streaming, Surfshark is your best bet for an optimum experience.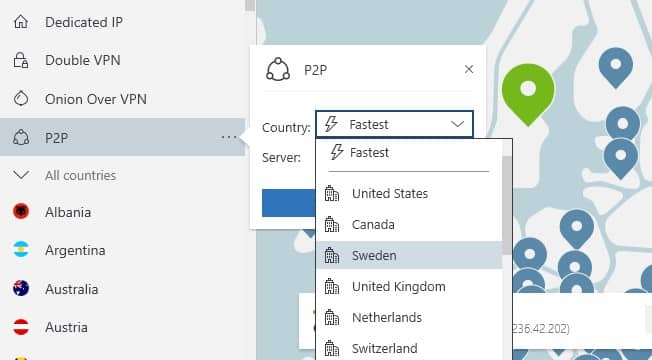 Torrenting is another area that Surfshark excels. It prides itself as the best VPN for torrenting. It provides dedicated servers for P2P connections and streaming. The connection here is automatic. Once it detects P2P activity, it immediately connects you to the best server for that purpose. NordVPN also allows for torrenting. Its connection process is similar to Surfshark's. This means that you get automatic connections to the best server for P2P file sharing.
Plans and Pricing
Both providers have identical subscription prices. They offer monthly subscription plans at the rate of $11.95 for NordVPN and $12.95 for Surfshark. However, for the yearly subscription, Surfshark does slightly better at $5.99 (per month) to NordVPN's $6.99 (per month). As you can see, this difference is truly negligible. See price comparison of different VPNs including NordVPN and Surfshark here.
Here are the different prices of NordVPN

Here are the different prices of Surfshark

Pros and Cons
Both Surfshark and NordVPN has in general a very good product- However with all products there will also be some disadvantages. We will now go through some pros and cons of each VPN.
Surfshark
In general the pros of Surfsharks product outweighs the cons. Here are some of the pros and cons in our opinion.
Pros
Some of the pros of Surfshark:
Speed
Understandably, speed could influence your choice for a VPN. The best VPNs are equipped with top-notch speed. The speed should be fast enough both for streaming and downloading. It is usually frustrating to have to battle with slow speeds. Not to worry, Surfshark is equipped with excellent speed. During the testing across several locations, the provider excelled.
Security
This provider has a range of remarkable security features as enumerated above. This includes both the popular OpenVPN, as well as others such as TCP and UDP. Apart from these, Surfshark makes use of another protocol known as Shadowsocks. This protocol is useful for VPN users in Mainland China. It is excellent for getting around the government-imposed blocks in that region. This provider also makes use of the standard AES 256-bit encryption for its servers. It also does not keep logs of activities of its users. This makes sure your data does not ever fall into the wrong hands. Security is one of Surfshark's strongest suits.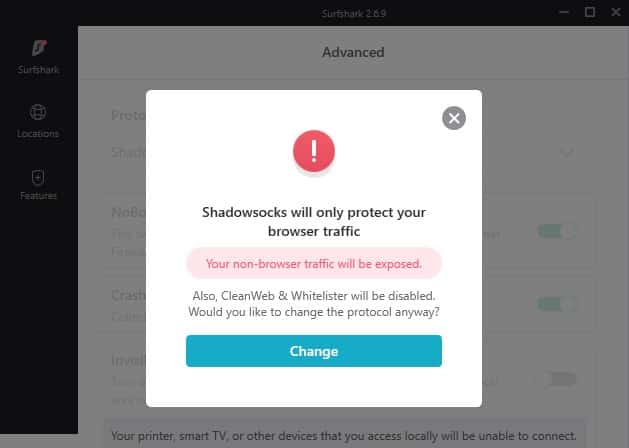 Availability of Apps
Surfshark has a wide range of apps for most device types. You can quickly download and install its apps without any trouble. Additionally, you can make use of Surfshark on smart TVs and even routers. The beauty of a router is that it allows you to connect a lot more devices. Ordinarily, this wouldn't be a challenge for Surfshark as it allows unlimited multiple connections. Additionally, you can make use of Surfshark on popular browsers like Chrome and Firefox. This is because it provides extensions for those, too.
Unlimited Connections
This is undoubtedly one of Surfshark's strongest points. You can connect an unlimited number of devices to one Surfshark plan. This provider is the only one in the industry that boasts of such a feature. This is a plus, considering that most persons have multiple devices in need of VPN protection.
Cons
Some of the cons of Surfshark:
Unreliable customer support
Surfshark's customer care personnel are not the greatest. If you run into challenges, it might take a while for it to get fixed. Even in some cases, the information they present may not be exact. Most of these problems stem from the fact that its online chat robot is unreliable. You have to send emails to their support system to have issues resolved. This is not always efficient and results in the challenges just pointed out.
Subpar P2P Service
Surfshark claims to allow for P2P file sharing and torrenting on dedicated servers. However, these servers are sometimes slow. Thus, it would take you a longer time than the average to download using torrents. This is a minor issue to overlook, especially if you are not big on torrenting.
NordVPN
In general the pros of NordVPNs product outweighs the cons. Here are some of the pros and cons in our opinion.
Pros
Some of the pros of NordVPN:
Number of servers
With more than 5000 servers, NordVPN has one of the largest number of servers for any provider. These servers are located in 57 countries, spread across the seven continents, save Antarctica. This combination makes sure that you are not at a loss when it comes to connecting to a country to fulfill whatever VPN-related need you could have.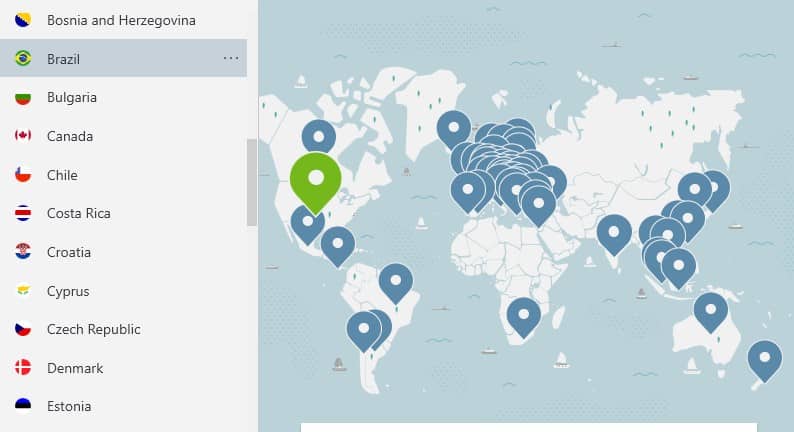 Speed
It might also interest you to know that these servers are primed for speed. They offer you seamless browsing/streaming/downloading with lightning speed. As expected, some locations might have faster speeds than others. However, generally, this provider's servers are some of the fastest you could find in the VPN market.
Great Unblocking Capability
A provider's unblocking ability is one very important factor to take into consideration when choosing a VPN. This is even more critical if you make use of streaming platforms such as Netflix or Hulu (virtually everybody does). When it comes to the ability to get around geo-restrictions, NordVPN is up there with the best. You can access content on these popular streaming platforms with no issues at all. More so, whether you are streaming or downloading the contents, the speed does not lag. NordVPN gives you a unique experience while making use of ge0-blocked websites.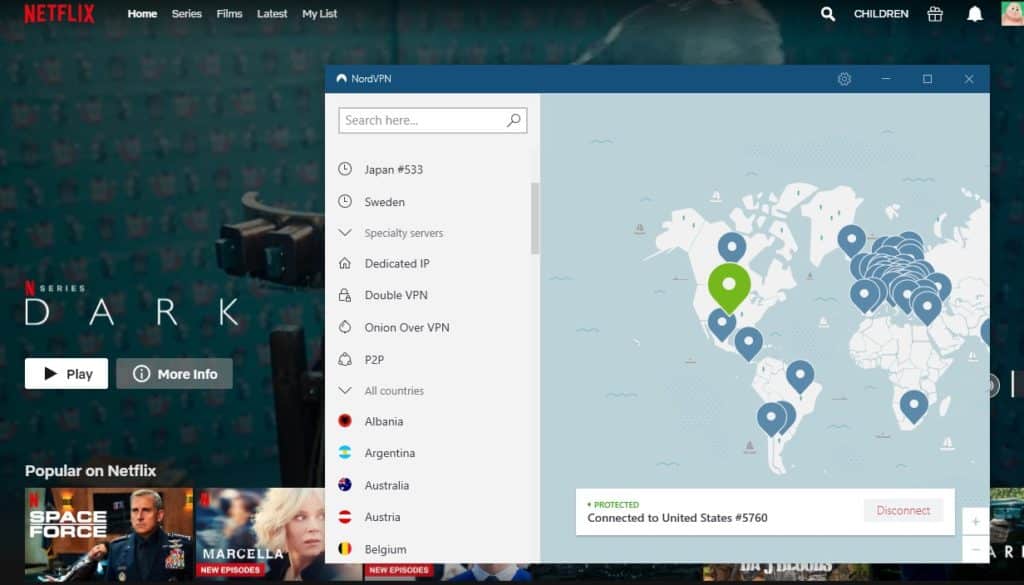 Unique Privacy and Security Features
NordVPN makes use of the standard security features such as AES 256-bit encryption, a kill switch, and a DNS-leak prevention feature. It also boasts of not retaining any user data. This claim has been tested and proven. Hence, if you make use of NordVPN, you can rest assured your details will not fall into the wrong hands. Additionally, it allows payment in cryptocurrencies. Here, you can pay for your subscription plans using either Bitcoin, Ethereum, or Ripple. This adds another layer of security for you.
Cons
Some of the cons of NordVPN:
Tedious OpenVPN Connection
The process of using the OpenVPN protocol on NordVPN is exasperating. First, you will be required to download a zip file of NordVPN's servers. Matching the files to the correct server is quite hectic, considering the number of servers NordVPN has.
Customer Support
Just like Surfshark, this is one area where NordVPN leaves much to be desired. This provider is slightly better than Surfshark since it has fully functional automated chatbots. However, there is still room for some major improvements. For instance, it does not offer phone support. Reaching support staff on the phone is the easiest means for most folks to resolve their issues. This absence of this feature makes it harder for challenges to be resolved quickly.
Our Recommendation
It is hard picking one of the two providers, seeing as they are both excellent. They have remarkable features that give you your money's worth. However, NordVPN ranks above Surfshark. This is because NordVPN has a wide range of servers that ensure stable and almost unlimited connections. It also allows you to browse and download at top speed, with little or no lag. Additionally, you can access content on geo-restricted platforms in a heartbeat. As already stated, Surfshark is not a pushover by any standards. But, when pitted against NordVPN, it simply cannot match up.