Social Media's Most Trolled Celebrities
Social media platforms such as Twitter provide a window into the personal lives of actors, artists, politicians, and television personalities. On them, celebrities can share everything from photographs of their daily activities to opinions on current events. Their fans can also respond to them with questions, compliments, and their own opinions, enabling us to have a closer relationship with our favorite celebs than ever before.
However, there is also a dark side to social media. Being in the public eye, celebrities are often the victims of trolling on these platforms, typically from anonymous accounts misusing a VPN to hide their identity. In recent months, the issue has become so severe that media personality Katie Price demanded talks with Twitter and Facebook after she and her disabled son Harvey were targeted by an online trolling campaign.
With this in mind, TechShielder has analyzed which celebrities are the biggest victims of social media trolling on Twitter. We created a list of over 70 of the most popular celebrities using the platform from the worlds of television, cinema, music, technology, and politics. From this, we analyzed 500 of the most recent tweets in which each celebrity is tagged—over 35,000 tweets overall. Each tweet was then assigned a sentiment: positive, neutral, or negative. Therefore, we were able to discover which celebrities take the most heat, and which are the internet's most beloved personalities.
The overall most trolled celebrities on Twitter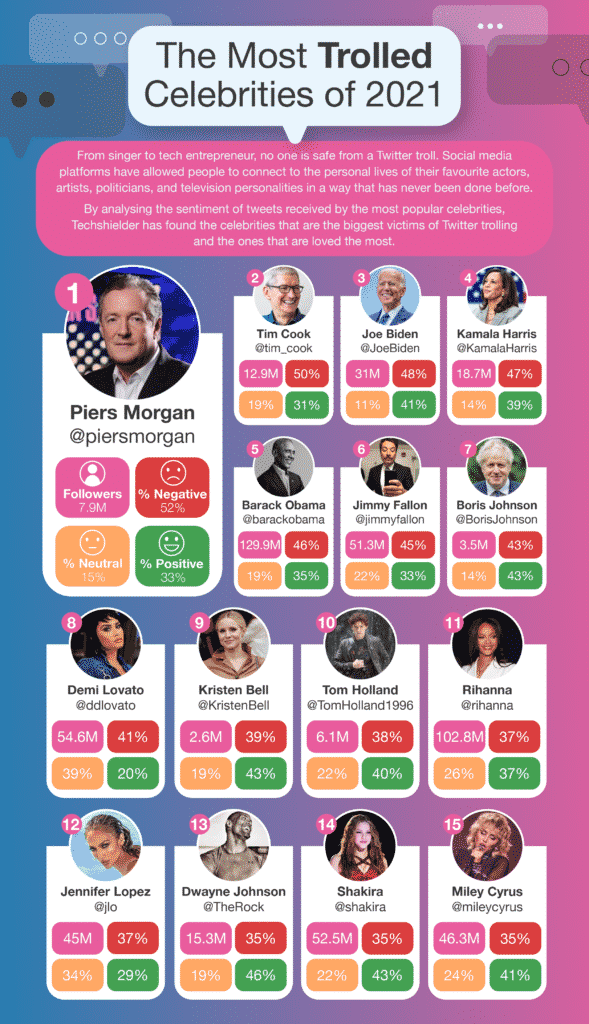 Analysis reveals the most trolled celebrity on Twitter is Piers Morgan, the former 'Good Morning Britain' broadcaster who walked off the show in March after his controversial comments about the Duchess Of Sussex, Meghan Markle. 52% of tweets sent to Piers Morgan are negative, TechShielder's study reveals, with only 33% of them being positive.
Piers Morgan is infamous for his outspoken opinions and has recently been criticized for both his tweets and newspaper column about Olympic gymnast Simone Biles, who pulled out of the women's team event after struggling with her mental health.
He was also in the firing line for a tweet about comedian Sean Lock's death, which social media users regarded as "selfish" as he quoted a joke Lock made about how "if I could have my ashes spread anywhere I wanted, I'd have them spread in Piers Morgan's eyes".
Just behind Piers Morgan is Apple's CEO Tim Cook, who took over the famous tech company after Steve Jobs resigned in 2011 prior to his death. Cook has made some bold decisions in this role and has been outspoken on issues such as disinformation, data privacy, and various social issues. This has made him a target for online trolling. 50% of the tweets about him have been negative and only 30% have been positive.
Also featured on the list of Twitter's most trolled celebrities are President of the United States Joe Biden and Vice President Kamala Harris, as well as British Prime Minister Boris Johnson and pop culture figures such as Tom Holland, Demi Lovato, and Kristen Bell.
Twitter's most popular celebrities
Social media isn't always just a cesspit of negativity though; there are celebrities who are fortunate enough to enjoy praise and positivity from their fans on Twitter. TechShielder's study found that the most beloved celebrities are K-pop stars BTS. Analyzing 500 of the most recent tweets sent to the group, TechShielder discovered that a staggering 73% of them are positive.
BTS, who on July 9th released their third English-language single "Permission to Dance", is one of the most popular acts in the world. In the last 10 months, they have had five different chart-topping hits, beating a record set by Michael Jackson in the late 1980s. That's not the only record they have beaten this year either; they also scored the longest-running number 1 debut on the Hot 100 with their song "Butter", a record previously held by Aerosmith's "I Don't Want To Miss A Thing".
Closely behind BTS is a British food writer and television cook Nigella Lawson. Her 'Recipe Of The Day' posts have left many social media users salivating, and as a result of this, 72.5% of tweets sent to her are overwhelmingly positive.
Other celebrities in the top 10 include television personality Paris Hilton; the Oscar-winning producer and actress Reece Witherspoon; and three of the Marvel Cinematic Universe's most recognizable stars Chris Evans, Chris Hemsworth, and Karen Gillan.
The most trolled artists on Twitter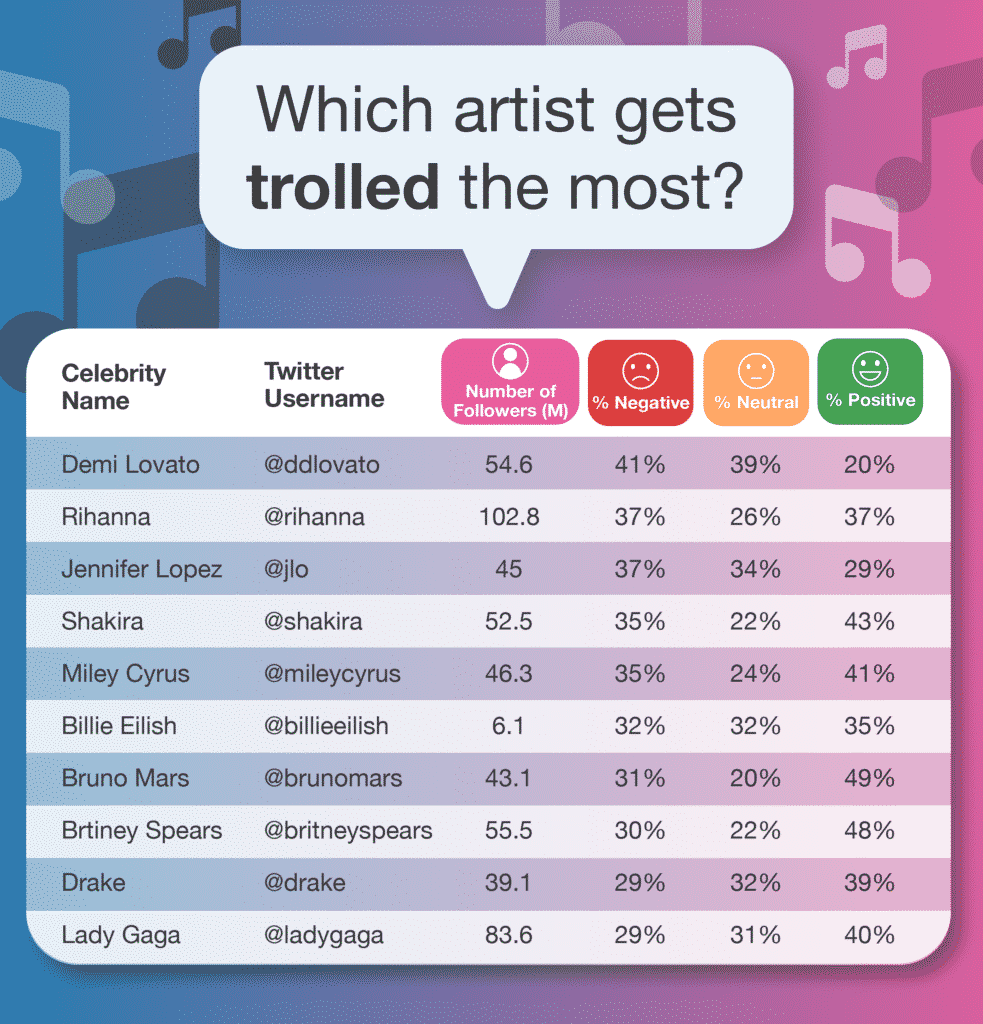 The most trolled musical artist on Twitter is Demi Lovato. 41% of the tweets they receive are negative and only 20% are positive. The 29-year-old singer had three hits last year with their songs "I Love Me", "Still Have Me" and "Commander in Chief". Lovato also launched their own podcast series, 4D with Demi Lovato, earlier this year.
Rihanna and Jennifer Lopez took 2nd and 3rd place, each with 37% of the tweets they received being negative.
As mentioned, BTS are not only the most popular musical artists on Twitter but the most beloved social media personalities overall with 73% of the tweets about them being positive. However, the second most popular musician on social media is Selena Gomez. 64% of the tweets aimed at the Texas-born singer and songwriter were positive. She is due to star in the new TV show 'Only Murders In The Building' alongside iconic comedy duo Steve Martin and Martin Short this August.
The actors that are most trolled on social media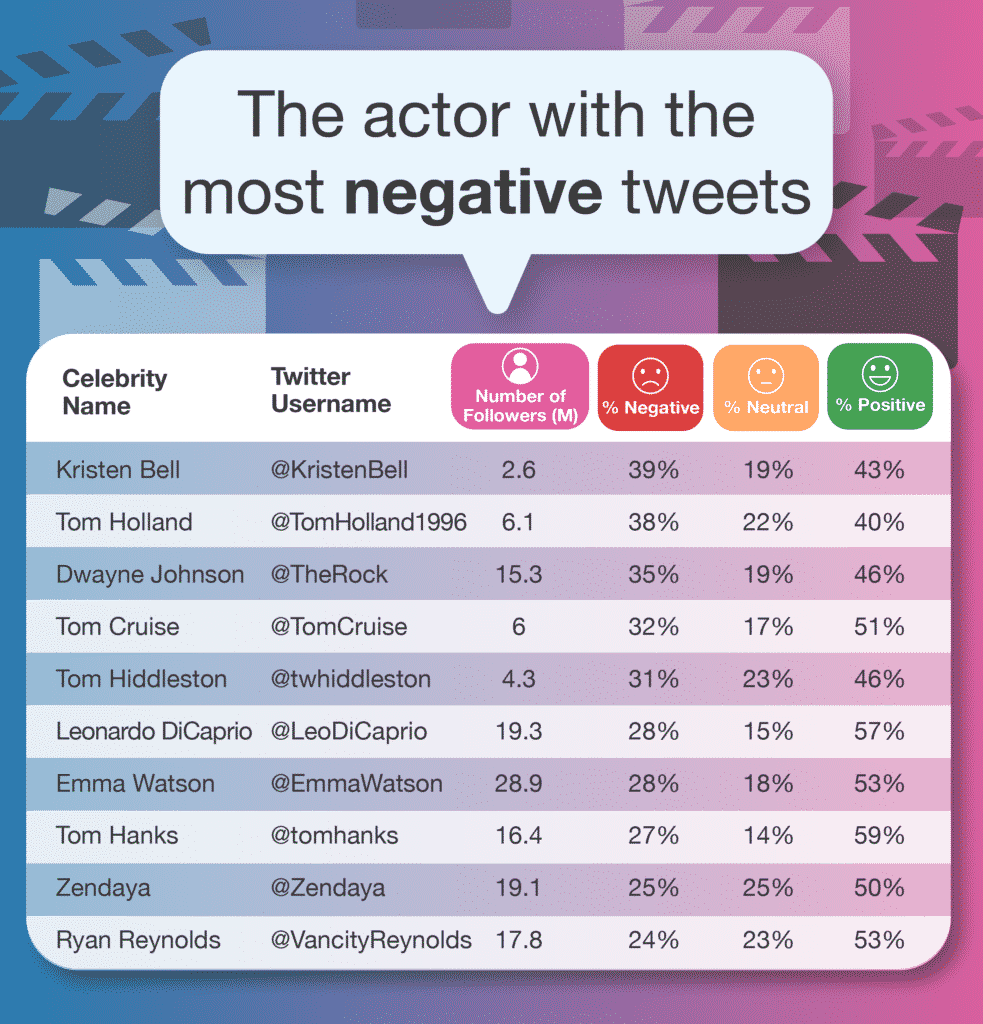 'Frozen' and 'Veronica Mars' star Kristen Bell may be a Hollywood A-lister, but she is also the most trolled actor on Twitter, according to TechShielder's research. 39% of the tweets in which she is tagged were found to be negative, whilst 42% of them were positive.
In second place is Spider-Man himself, Tom Holland. Soon to be seen in the third web-slinging adventure as part of the Marvel Cinematic Universe, 'Spider-Man: No Way Home', 38% of the tweets about Holland were negative and only 40% were positive.
Producer and actress Reece Witherspoon, alongside three of the Marvel Cinematic Universe's stars Chris Evans, Chris Hemsworth, and Karen Gillan, made up the most popular actors on social media. 69% of tweets about Witherspoon were positive, whilst Evans had 63% and both Hemsworth and Gillan had 62%.
The politicians with the most negative tweets
With former President of the United States Donald Trump banned from using Twitter after inciting violence on Capitol Hill earlier this year, the title of most trolled politician on social media now falls to his successor Joe Biden.
His handling of the Afghanistan crisis has been divisive, and it shows in the tweets he has received. 50% of them were negative in nature and 41% were positive. Similarly, Vice President Kamala Harris landed in second place with 47% of tweets being negative and 39% being positive.
The TV stars with the most negative tweets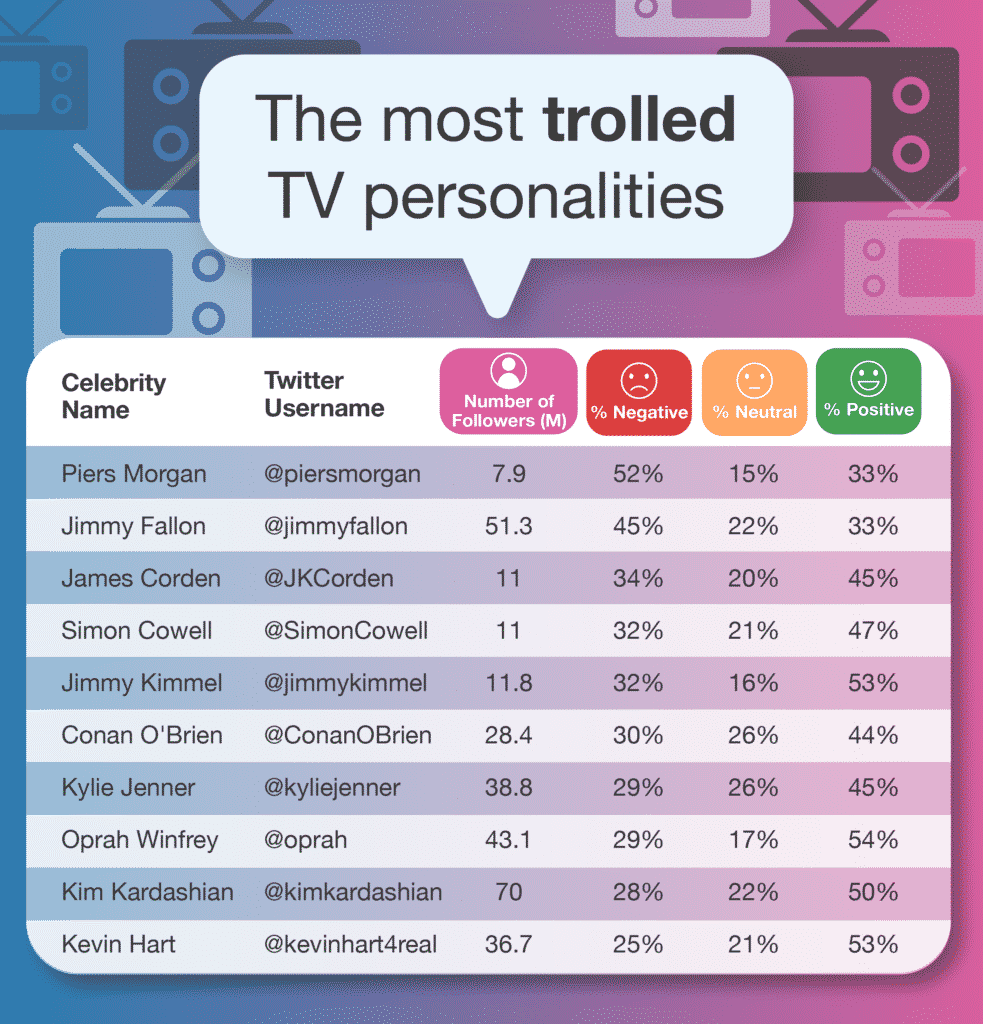 As well as Piers Morgan, who TechShielder's research reveals is the most trolled social media celebrity overall with 52% of negative tweets, late night television show hosts Jimmy Fallon and James Corden landed in second and third place.
45% of tweets about Jimmy Fallon, the host of 'The Tonight Show', were negative compared to just 33% positive. Meanwhile, Corden, the former 'Gavin And Stacey' star who now hosts 'The Late Late Show' on American TV, has 34% of negative comments and 33% positive.
The aforementioned Nigella Lawson came out top in this area of the study. 72.5% of the tweets sent to the British chef and writer were found to be overwhelmingly positive.
Tech's most trolled personalities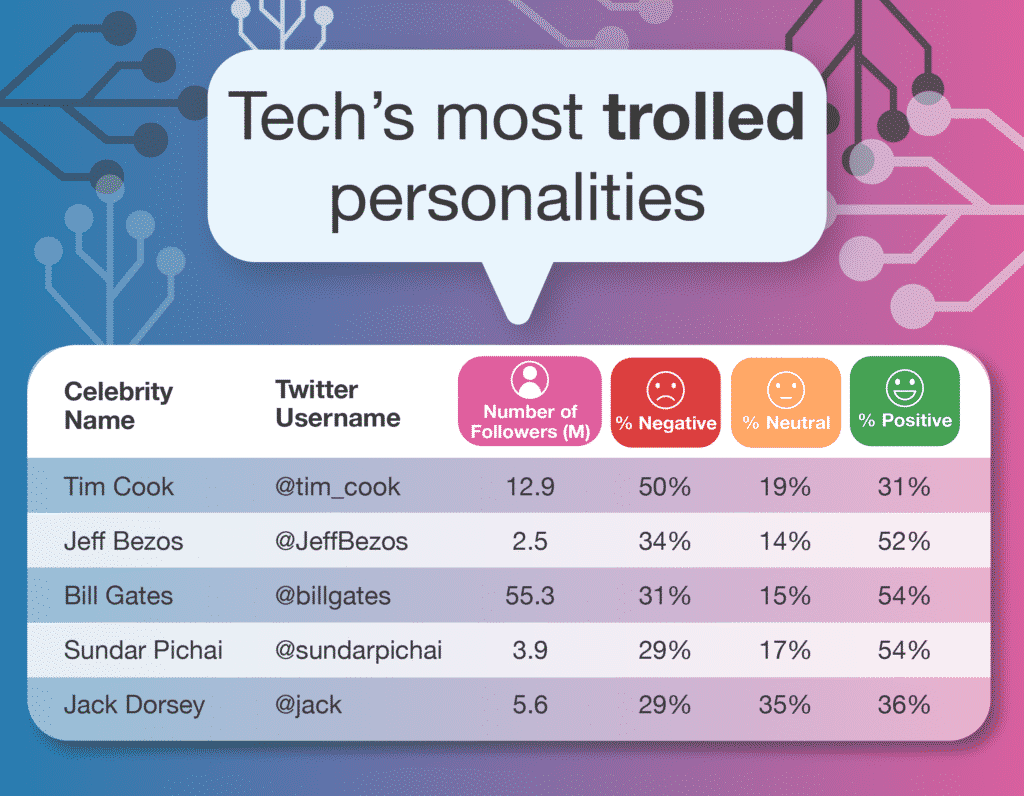 The aforementioned Tim Cook may be tech's most trolled person, with 50% of the tweets about him being negative, but not far behind is Amazon's founder Jeff Bezos.
Bezos, who recently launched to space aboard the New Shepard rocket ship, has 34% negative tweets about him and only 52% positive.
As for the most popular tech name on Twitter, it is none other than Microsoft's Satya Nadella. The CEO has 68% of positive tweets.
Sources and methodology
TechShielder created a list of the 100 most popular celebrities on social media based metrics such as followers, YouGov popularity rating, and position on the Billboard top 100 or Reality TV rich list. 500 of the most recent tweets to these celebrities were then downloaded, removing duplicates, retweets, and any of their own tweets. These tweets were then analyzed via a sentiment analysis tool which determined them as positive, neutral, or negative. Any tweets that could not be analyzed, such as those which were only images or .gifs, were removed.
yougov.co.uk/ratings/entertainment/fame/tv-personalities/all
billboard.com/charts/artist-100
thesun.co.uk/fabulous/12794826/reality-tv-rich-list-2020
en.wikipedia.org/wiki/List_of_most-followed_Twitter_accounts
yougov.com/ratings/entertainment/fame/all-time-tv-personalities/all
thefamouspeople.com/briton-reality-tv-personalities.php
vicinitas.io
Popular Articles