How to Watch Zattoo Abroad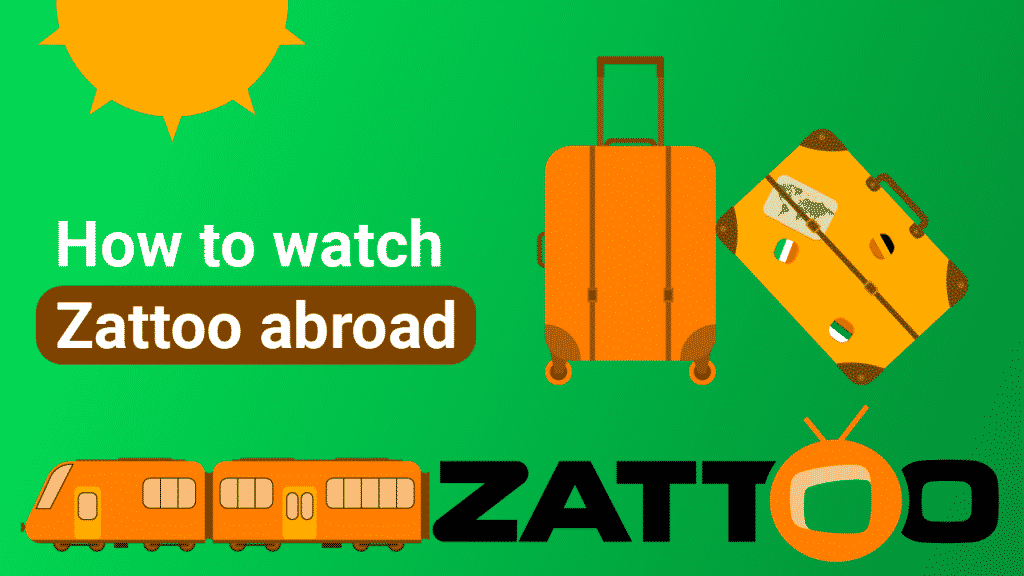 Zattoo is a live TV platform that lets you stream video content. With Zattoo, you get to watch live videos any time but not anywhere. The headquarters of this streaming platform is in Germany and Switzerland, and you only get unrestricted access to Zattoo anywhere in those two countries.
There are little tweaks to the content restrictions in those 2 locations:
To German Premium and Ultimate users, Zattoo TV live stream will be accessible for 90 days but only in other EU countries.
To Swiss Premium and Ultimate users, Zattoo live TV streams will not be accessible outside Switzerland, but users will watch content they have recorded. Recorded content will be available worldwide only for 90 days.
Why Can't I Access Zattoo Abroad?
Geo-restrictions are put in place to limit users' access to specific content. Most times, this embargo is placed on content because the streaming platform doesn't have the license to air their content in that particular region. For this article, you should note that Zattoo has permission to air only in Germany and Switzerland fully. That explains any error message that might show up if you try to stream content abroad.
Since these platforms can access your IP address, they can detect your location and either grant or deny access as the case may be. Virtual Private Networks (VPNs) offer an effective means of bypassing these geo-restrictions, This article thoroughly reviews how you can access Zattoo content abroad.
The Best VPNs for Zattoo
Below, you will find the review of 5 top VPNs for Zattoo based on features and functionalities.
ExpressVPN

Features
Number of servers: More than 3,000
Speeds: Unlimited
Server locations: 160 in 94 countries
Maximum devices supported: 5
24 live chat: Yes
30 day money back guarantee: Yes
Pros/Cons
Fastest VPN out there
Strict no logs policy
256-bit AES encryption
With 3,000+ servers in 94 countries (including 4 in Germany and 2 in Switzerland), ExpressVPN can easily boast of having one of the largest server databases in the market. These servers are super-fast, and they enhance your connection speed. The servers in Germany and Switzerland are very important for Zattoo video streaming. They hide your IP address giving you unrestricted access to all content on Zattoo even while you're abroad.
In more detail, ExpressVPN secures your data with the Advanced Encryption Standard (AES) with 256-bit keys. This security detail keeps your traffic data safe from all forms of cyber snooping. Also, this VPN service uses a strict no-logs policy and a significant kill switch. The system ensures that it doesn't log a single bit of your traffic data. As there's no record of your online activities, no one can "steal" it. On the other hand, if your VPN connection drops for any reason, the kill switch functionality immediately cuts off your internet connection to keep you anonymous.
An advanced standout feature for ExpressVPN is the VPN split tunneling. This feature allows the user to choose which apps will access the internet directly while others connect via the VPN service.
In the aspect of usability, ExpressVPN is relatively straightforward to use and has software apps for all major operating systems. Still, it allows multiple connections (up to 5) at a time.
Pros:

Fastest VPN out there;

Strict no logs policy;

256-bit AES encryption;

Lowest price: $6.67
NordVPN

Features
Cryptocurrency accepted? Yes
Simultaneous connections: 6
Dedicated IP-addresses? Yes
Servers: 5342 in 58 countries
Pros/Cons
Lots of pricing options
Netflix support kept up to date
256-bit AES encryption
Present in 59 world countries, NordVPN has over 5,300 servers and dedicates 341 to our regions of interest — Germany and Switzerland. Such abundance makes it one of the top picks for the services of Zattoo. These servers test to be effective and efficient to the peak. So, with NordVPN, you can always catch up with your favorite episodes on Zattoo channels even when you're not in the country.
To make your streaming experience more blissful, NordVPN offers you top-notch security with military-grade encryption. It also uses a special Onion Over VPN functionality. With that, you get to enjoy added encryption advantages. This VPN service also has a mechanism that routes your traffic via two different servers and, in turn, gives you double protection. NordVPN tagged it the "Double VPN encryption"; because it connects you through two servers.
Besides, you still get the kill switch feature. It is highly essential because cyber thieves could take advantage of a split-second drop in VPN connection to peep your IP address and easily trace your traffic data to you. NordVPN doesn't keep records of your online activity. With such a policy, they won't be able to sell you out even if it's the government demanding your online activity.
To top it all off, it blocks ads and malware. You get unlimited bandwidth of data, and pocket-friendly pricing plans. Their customer support service is also top of the pile. NordVPN allows up to 6 connections at a time.
Pros:

Lots of pricing options;

Netflix support kept up to date;

256-bit AES encryption;

Lowest price: $3.71
Surfshark

Features
Free trial? Yes
Simultaneous connections: unlimited
Ad blocking? Yes
Servers: 1000+ in 61 countries
Pros/Cons
No footprints
Allows torrenting
256-bit AES encryption
Surfshark has over 1,700 servers in 63 countries. With this VPN's "No Borders" feature, its servers (including those in Germany and Switzerland) are optimized to easily bypass geo-restrictions and get you unlimited access to Zattoo content. They are also swift and reliably stable. You can access content at top speed, while being secure the whole time.
Surfshark spells it out clearly on their official website that they provide the superior AES-256 GCM. In addition to that, they operate under a strict no-logs policy, so you don't have to worry about them selling you out. A more advanced MultiHop feature connects you to the internet through multiple countries' servers in a bid to give you additional security. At the same time, you watch your daily TV shows on Zattoo. Surfshark also has a feature that seems to put you in charge — The Whitelister. This feature lets you connect selected apps via the VPN while others browse the internet directly.
In conclusion, Surfshark has malware and ad blocker that cuts off ads and other interruptive pop-ups. The VPN is easy to use. You even get to ease off with the "Optimal Location" click that helps you sort of the best servers in your selected location. Surfshark allows an unlimited number of simultaneous connections. They also have very supportive customer service.
Pros:

No footprints;

Allows torrenting;

256-bit AES encryption;

Lowest price: €2.49
CyberGhost

Features
Connected devices at once: 7
Automatic kill switch? Yes
One click connect: Yes
Servers: 5900 worldwide
Pros/Cons
No logs policy
24/7 live chat
Apps for mobile devices and routers
CyberGhost has a total of 836 servers in both Germany and Switzerland. Such a significant number of servers gives you the luxury of plentiful choice. These servers are reliably fast and stable. CyberGhost optimizes their servers to support multiple protocols. To bypass geo-restrictions, they effectively hide your real IP address behind a virtual one. Masking your IP address makes the Zattoo network see you as a user in one of the "allowed" countries. As a result, it grants you access to Zattoo live shows on a platter of gold.
Furthermore, CyberGhost protects your connection with the most potent known security detail in the VPN market — the 256-bit "military-grade" encryption protocol. In a bid to further strengthen users' privacy, CyberGhost's no-logs policy and automatic kill switch help to make live Zattoo streams safer. With the no-logs policy, they claim not to keep records of users' online activities, cementing anonymity. The kill switch makes sure you don't lose your anonymity even if you lose connection with the VPN network.
In conclusion, this VPN is straightforward to use. The navigation on its website and device software apps is direct, even for someone who has never used a VPN before. You can get connected with just one click. Also, the subscription plans are relatively cheap, and you get to connect up to 7 devices simultaneously.
Pros:

No logs policy;

24/7 live chat;

Apps for mobile devices and routers;

Lowest price: €2
UltraVPN

Features
One click connect? Yes
Servers: 100+ superfast servers
Bandwidth cap? No
Platforms: Mac, Windows, iOS, Android
Pros/Cons
Firewall
Apps for all devices
256-bit AES encryption
Not as many servers as others
The growth of UltraVPN in the cyber market has not gone unnoticed. Having 11 and 7 steady servers in Germany and Switzerland, respectively, has put this VPN in the good books of users that look to enhance their Zattoo streaming experiences. Having those servers in our locations of interest puts UltraVPN in an excellent position to bypass Zattoo geo-restrictions. In addition to that, you also get to stream without restrictions as this VPN comes with unlimited bandwidth of data.
UltraVPN doesn't just stop giving you access to geo-blocked content. It also ensures you have a secure connection and remain anonymous all through your time streaming on Zattoo. The uncrackable 256-bit Advanced Encryption Standard (AES) is used to secure your traffic data. This VPN service has a Secure Firewall functionality that builds a virtual wall around your data that ensures your data stays within the VPN network. It also serves as a barrier between your traffic data and cyber crooks, protecting you while you enjoy your live Zattoo TV. To top it off, its kill switch and zero-logging policy make sure your online activity doesn't get exposed in any form. The kill switch does this by disconnecting you from the internet if the VPN connection drops at all.
The UltraVPN premium plan allows up to 3 simultaneous device connections at a time, and it comes with a 30-day money-back guarantee. You can take advantage of that while you're away from home. Since you'll get your money back after the 30-day period makes it essentially free.
Pros:

Firewall;

Apps for all devices;

256-bit AES encryption;

Lowest price: €2.99
Features That Make Up a Good VPN
Amongst the top 5 VPNs reviewed in this article, picking the one to use is not an easy task. This is because they all have their pros and cons. The best VPN for you might not be your friend's number 1 choice. It all boils down to personal preference. While you might want to stay invisible and anonymous, others might just want to access geo-blocked content.
Some of the critical features to be considered are discussed as follows;
Server Locations: This is the most essential consideration, especially for accessing geo-blocked content. There's no point considering any other feature if the VPN service doesn't have any server in your location of interest. You can easily ascertain this from the provider's website. Also, the higher the number of servers, the better potential the VPN has to serve you.
Bandwidth Limit: A restriction to the amount of data you can download or upload is a red flag for a premium VPN. All 5 VPNs reviewed here offer unlimited bandwidth of data; that explains how important it is for users to be able to stream without daily or weekly data restrictions.
Privacy and Security Features: Any VPN service without the military-grade encryption standard is sub-par. Likewise, operating a zero-logging policy and having a kill switch is necessary. VPNs that can block pop-ups might also have an edge over others.
Software: If you have multiple devices or you want your friends to be able to stream Zattoo when they come visiting, you should consider how many multiple simultaneous connections the VPN allows. Also, the apps should be easy to use to eliminate unnecessary mental stress.
Pricing: You can stay within your budget and still get an outstanding VPN service. The providers discussed above have subscriptions plans that are pocket-friendly. For most VPNs, subscribing to a long-term plan gives you a discount compared to their relatively shorter plans.
How to Set Up a VPN for Zattoo Streaming
After analyzing your shortlist, setting up the VPN of your choice is the next step. Regardless of which of the 5 VPNs you decide to bank on, setting it up is simple and similar for all. Follow the procedure highlighted below to get yourself on the road in no time.
Select a VPN service based on your preference.
Subscribe to your preferred pricing plan or select a free trial (where available).
Download and install the software application either from the official website or your device's app store.
Sign up if you're new. If you already have an account, log in to the installed VPN app.
Click your region of interest (either Germany or Switzerland) and select a server from the list.
Tweak the VPN's settings to your preference. You can also run a speed test.
Begin your Zattoo journey, and enjoy fast, stable, anonymous, and secure Zattoo streams.
Conclusion
Without a VPN, you can't access Zattoo contents except if you're in Germany or Switzerland, where Zattoo content is allowed to air freely. This review shows you the best VPN to stream Zattoo from any location in the world. We paid a lot of attention to providers with speedy servers, stellar security features and excellent user experience. After deciding which VPN you're putting your money on, follow the laid down procedure to set it up. You can be sure to get a fantastic streaming service all round.