How to Watch SRF Outside Switzerland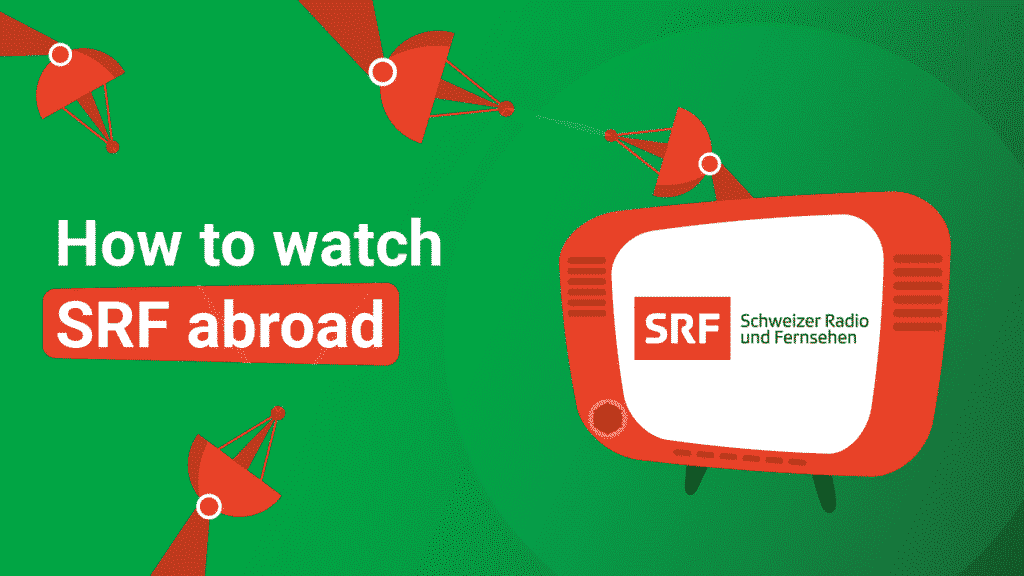 "Schweizer Radio und Fernsehen" (English: Swiss Radio and Television), SRF, is a top-rated German-language streaming platform whose availability is geographically restricted to Switzerland. Since its inception in 2011, it has grown to be a top online television platform in Switzerland.
Due to the geo-restriction on the SRF platform, SRF content cannot be ordinarily accessed anywhere outside Switzerland. With the advent of Virtual Private Networks (VPNs), you can get undiluted access to your favorite SRF content regardless of your location. This piece comprehensively reviews the what-to and how-to that is specifically targeted at giving you the best streaming experience yet on the Switzerland Radio and Television.
Why Can't I Access SRF Abroad?
Outside the Swiss borders, every time you try to watch a live stream on SRF, an error message pops up. This basically tells you that the content is inaccessible to you for legal reasons. Streaming sites come with exclusive geo-restrictions. In this case, SRF has the license to broadcast only in Switzerland, hence your inability to watch your favorite Swiss shows while you're on vacation.
Streaming platforms are able to lock you out from viewing their content via your IP address. This is because IP addresses are tied to locations. However, a VPN can trick TV sites into seeing your location as Switzerland while you're someplace else. A VPN can mask your real IP address and give you a virtual one.
The Best VPNs for SRF
Below, you will find a detailed description of each VPN to help you make an informed decision.
ExpressVPN

Features
Number of servers: More than 3,000
Speeds: Unlimited
Server locations: 160 in 94 countries
Maximum devices supported: 5
24 live chat: Yes
30 day money back guarantee: Yes
Pros/Cons
Fastest VPN out there
Strict no logs policy
256-bit AES encryption
ExpressVPN has over 3,000 servers in 94 countries, including Switzerland. This number is one of the highest in the VPN market.  The servers are super-fast. In addition to that, ExpressVPN servers are optimized for streaming purposes. This enables it to effectively unblock geo-restricted content (like SRF in London) without compromising on the qualities of your privacy and security.
In terms of privacy, ExpressVPN masks your IP address effectively via a tunneling mechanism. In this case, the virtual IP address is shared with other users connected to that server so that your traffic data cannot be used to identify you. With its network lock/kill switch, your traffic is always protected even if your VPN connection drops.
Furthermore, this VPN service operates under the umbrella of a strict no-logs policy. This, in fact, makes your online activities invisible to any snooping party. It protects your traffic data from third-party entities, including your Internet Service Provider (ISP) and hackers, using the all-secure Advanced Encryption Standard (AES)-256. ExpressVPN offers an advanced split tunneling feature that lets you decide what sites and apps you want to route through the VPN service.
In conclusion, despite having software for almost all available operating systems, ExpressVPN allows the connection of up to 5 devices simultaneously and comes with a 30-day money-back guarantee.
Pros:

Fastest VPN out there;

Strict no logs policy;

256-bit AES encryption;

Lowest price: $6.67
NordVPN

Features
Cryptocurrency accepted? Yes
Simultaneous connections: 6
Dedicated IP-addresses? Yes
Servers: 5342 in 58 countries
Pros/Cons
Lots of pricing options
Netflix support kept up to date
256-bit AES encryption
NordVPN has servers virtually everywhere. At last count, it had more than 5000 servers in 59 countries. In this area, it beats ExpressVPN.
Having over 100 servers in Switzerland makes it a hotspot for SRF, so you can switch between a lot of servers easily to fish out your best fit. These servers are fully optimized with speed and stability to give you an amazing streaming experience. You can worry less about missing your favorite Swiss episodes while you visit your family in Germany.
In order to enhance your streaming experience, NordVPN has impressive security and privacy features that put it on top of its game always. The military-grade "AES-256" encryption is further strengthened with the Onion Over VPN, which offers you the benefits that come with The Onion Router (Tor) encryption. This encryption combination channels your data through a maze of servers in an ultimate bid to protect your data. It also has a double VPN encryption that routes your data through 2 different servers, giving you twice-as-much protection while streaming on SRF.
NordVPN operates a zero-logging policy and has the kill switch feature that immediately shuts your internet connection the moment your VPN connection drops. In addition to all that, this VPN service blocks ads and malware and also prevents data leaks.
With unlimited bandwidth, excellent user interface, good customer service, and relatively cheap pricing plans, you can't go wrong with NordVPN.
Pros:

Lots of pricing options;

Netflix support kept up to date;

256-bit AES encryption;

Lowest price: $3.71
Surfshark

Features
Free trial? Yes
Simultaneous connections: unlimited
Ad blocking? Yes
Servers: 1000+ in 61 countries
Pros/Cons
No footprints
Allows torrenting
256-bit AES encryption
With excellently fast and stable servers, accessing SRF through any of Surfshark's Swiss servers is relatively swift and easy. Surfshark's "no-borders" mode gives you unrestricted access to whatever content you want regardless of your location, without you having to sacrifice privacy and security along the line.
The military-grade encryption is an essential feature for any VPN to be considered secure at the very least. Surfshark has a good rating here. This VPN service strictly adheres to its no-logs policy. That, of course, means they do not keep records of your traffic data in any form. Surfshark also has advanced features like the MultiHop feature that connects you via multiple countries, similar to the Double VPN feature on NordVPN. It also has a Whitelister feature, which is similar to the Split Tunneling feature on ExpressVPN.
Taking it to another level, Surfshark blocks ads, trackers, malware, and phishing attempts to give you a bother-less SRF streaming experience. Another standout feature is the Optimal location feature that helps you sort out servers with the best speeds. This reduces the stress of having to switch between servers to find the best one.
Surfshark doesn't have a limit to the bandwidth of data you can upload and download. Their software apps are easy to use, and their customer support team is always willing and available to help you in whatever way you might need their help.
Pros:

No footprints;

Allows torrenting;

256-bit AES encryption;

Lowest price: €2.49
CyberGhost

Features
Connected devices at once: 7
Automatic kill switch? Yes
One click connect: Yes
Servers: 5900 worldwide
Pros/Cons
No logs policy
24/7 live chat
Apps for mobile devices and routers
CyberGhost has over 6200 servers worldwide with over 140 speedy servers dedicated to Switzerland. Having so much in our desired SRF-location is of great advantage as you get more options at your disposal without leaving the Switzerland "border." These servers are very fast, and they can unblock geo-restricted streaming content easily. This VPN service efficiently masks your IP address with theirs (depending on the region you select) so that the streaming site will see you as being in an "allowed" country when indeed you're not. This makes you stream on SRF without restrictions, even in a country where it isn't initially available.
In addition to unlimited access to video content, CyberGhost puts your privacy and security on top of their priority list. Your traffic data is protected with the AES 256-bit military-grade encryption, which is the most robust VPN encryption on the market. It also uses a kill switch and operates a zero-logging logging policy. With those two features, your anonymity gets cemented real hard.
CyberGhost has been nicknamed "the beginners' VPN" because its software designs are effortless to navigate through. It is also considered inexpensive and yet allows up to 7 simultaneous connections with just one subscription.
Pros:

No logs policy;

24/7 live chat;

Apps for mobile devices and routers;

Lowest price: €2
ProtonVPN

Features
P2P support? Yes
30-day money-back guarantee? Yes
Country of origin? Switzerland
Servers: 600+ in over 40 countries
Simultaneous devices: 5
Pros/Cons
Professional support
Modern interface and apps
AES-256 encryption
ProtonVPN has over 1000 servers that are very fast and reliable. An added advantage here is: having 13 servers in Switzerland. Not only do you get to access Swiss video content on SRF, but you also get to enjoy the fast servers optimized for streaming.
ProtonVPN is well knitted with the AES-256 encryption alongside the kill switch, no-logs policy, and the Always-On features. These security and privacy features are characterized to give you the best state of anonymity every time you stream a video. "One big plus" about ProtonVPN is the situation of its headquarters in Switzerland — it matters because Switzerland as a country has very strict privacy laws. Also, she's outside the jurisdiction of the European Union and the United States. So, the government will never ask ProtonVPN for your private data, and the VPN service is under the obligation not to sell you out to any other party.
ProtonVPN offers you unlimited bandwidth of data giving you the freedom of downloading as much data as you like to stream on SRF. There are software apps for significant devices, but you can opt for the router software. It allows you to connect multiple devices hence, giving you and your family unrestricted access to SRF streams. It has a 30-day money-back guarantee, so you can use it for free for 30 days if you're on a short vacation away from Switzerland.
Pros:

Professional support;

Modern interface and apps;

AES-256 encryption;

Lowest price: €4
What to Look Out For in a VPN
We made use of several parameters to make the already discussed shortlist of VPNs for SRF. These parameters include security features, number of and speed of servers, as well as unblocking ability. As it is, the number 1 choice is always relative to each user. Some users just want to stream content without caring who keeps a log of their traffic data, while others care about other details. It is always important to know what you want, and that's why we've decided to discuss the features that make a VPN stand out. They include the following:
Server Availability: This is ultimately the first thing to consider. The number of servers a VPN service has indirectly reflects its capability. Most importantly you have to ask the pertinent question, "Does the VPN have servers in the location of interest?"
Bandwidth Limit: It'd break your heart to get stopped in the middle of your stream because "you've reached the bandwidth limit." A good fraction of VPNs offers unlimited bandwidth, which lets you stream as much as you want. You should really look out for this too.
Privacy and security features: The AES with 256-bit keys is a necessity if you need a secure passage for your traffic data. Equally important are the kill switch and no-logs policy to help seal your privacy. Ad blockers could be of added advantage.
Streaming Ability: You may want to make use of the VPN to stream other restricted content apart from SRF. Hence, you have to confirm that the VPN unblocks these streaming platforms. The popular ones include Netflix, Hulu, BBC iPlayer, and the likes. These providers would typically claim that they unblock these platforms. However, you should not take their words for it. Carry out an independent survey to confirm their claims. 
Software: An easy-to-use interface doesn't translate to sub-par; in fact, it's one of the features used to rate a VPN highly. Also, be sure if the VPN allows multiple connections.
Pricing: You don't have to break the bank to get a quality VPN service. Compare prices of different VPNs here.
How to Set Up a VPN for SRF
After reviewing the top 5 VPNs effective for "Schweizer Radio und Fernsehen" and knowing what to look out for in a VPN, the next stage will be for you to choose your preference. At the end of this, you will then have to set up the VPN for use.
As difficult as it might seem for first-time VPN users, setting up any VPN of your choice is an easy and straightforward process. Outlined below is a step-by-step procedure to get you started on your journey of security, privacy, and unrestricted access to SRF content.
Pick a VPN service amongst the five discussed earlier in this article according to your key performance indicators.
Subscribe to your preferred plan or opt for a free trial (if available).
Download and install the VPN's software app either from its official website or your device's app store.
Sign up by creating an account with the VPN service. If you already have an account, simply login to the installed VPN app.
From the available servers under the location: "Switzerland," select one or use auto-select (if available) to give you the best at that moment.
Adjust the settings on the app to your preferred options and minimize the app.
Get started on SRF and enjoy a fantastic streaming experience with no snoops and other disturbing parties.
Conclusion
This article should ultimately help you make a fully informed decision. From discussing the top 5 VPNs to the features that make them viable and setting them up, this article tells you all you need to know about beating the restriction on SRF. You just have to pick your cue, get acquainted, and stream!