How to Watch DAZN Outside Germany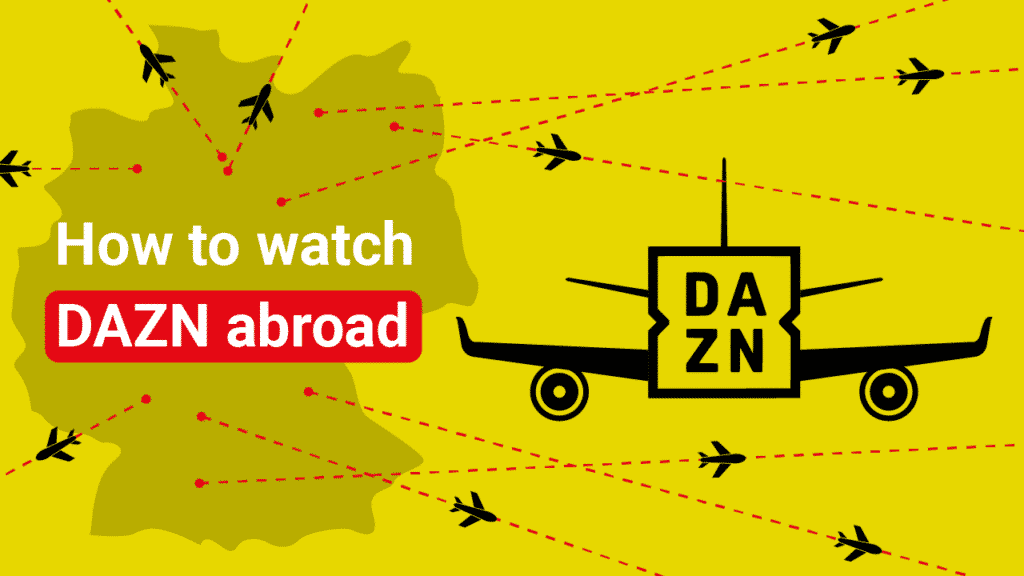 DAZN is a live streaming service taking the world by storm. It launched in Austria, Germany, Japan, and Switzerland in 2016. However, it has since expanded to include Canada, the United States, Italy, Spain, and Brazil. At last count, DAZN is available in Brazil, Spain. Germany, Austria, Switzerland, Canada, Italy, United States, and Japan.
At the launch of the site, fighting sports had been its mainstay. However, due to repeated demands from viewers, they expanded to include other sports. At the moment, you will find virtually all kinds of sports; Premier League, NFL, NBA, Formula One, etc.
However, like most streaming sites, DAZN has strict geo-restriction encryptions. The only means to get around these pesky algorithms is through using a VPN.
Why Can't I Access DAZN Abroad?
There are a couple of challenges with streaming content on DAZN. First is that it is available only in select countries. Its content will be inaccessible to you if DAZN doesn't have servers in your location. Furthermore, its live-streaming rights differ from one country to another. Thus, even though it might be available in your area, what will be available might differ from what you find in other locations.
The last challenge you could encounter is VPN incompatibility. VPNs are a dime a dozen. However, and unfortunately, a lot of them cannot unblock DAZN. In this list below, we discuss some of the best VPNs for unblocking DAZN abroad.
The Best VPNs for Accessing DAZN Abroad
We have carefully curated the best VPNs you can use for accessing DAZN abroad. You will find them below.
ExpressVPN

Features
Number of servers: More than 3,000
Speeds: Unlimited
Server locations: 160 in 94 countries
Maximum devices supported: 5
24 live chat: Yes
30 day money back guarantee: Yes
Pros/Cons
Fastest VPN out there
Strict no logs policy
256-bit AES encryption
This provider comes in highly recommended. It is the standard-setter in the VPN industry, with other providers only aspiring to be like it. It gets around geo-blocks with ease, regardless of the level and strength of the encryption on the platform. Thus, you can rest assured you can access DAZN with it wherever you are.
This provider has more than 3000 servers in 94 countries and counting. This includes all the countries where DAZN is available. These servers are primed for speed. It is so fast that you will hardly experience any buffering or throttling while making use of it. With this one provider, you will not only get access to restricted content on DAZN but also a host of other streaming platforms.
For security, ExpressVPN makes use of the AES 256-bit encryption. It also has a kill switch, DNS-leak prevention feature, and popular protocols.
It also has some additional features that make its use amazing. For instance, it allows for subscription with cryptocurrencies. Hence, you can make use of your Bitcoin or Ethereum to pay for your plans. Cool, yes? Additionally, it has an easy-to-install and use interface. You will not have a harrowing experience making use of the VPN.
This provider's offers are a little on the high side. However, all things considered, its services are more than worth it. This is one provider you can subscribe to and be absolutely assured of an unimpeached service.
Pros:

Fastest VPN out there;

Strict no logs policy;

256-bit AES encryption;

Lowest price: $6.67
NordVPN

Features
Cryptocurrency accepted? Yes
Simultaneous connections: 6
Dedicated IP-addresses? Yes
Servers: 5342 in 58 countries
Pros/Cons
Lots of pricing options
Netflix support kept up to date
256-bit AES encryption
NordVPN is one other provider you can totally trust. It has been tested and trusted over time and is in the same leagues as ExpressVPN.
It has more than 5000 servers in 59 countries. This is one of the highest in the industry. Its number of servers even surpasses ExpressVPN's. It equally fares well when it comes to streaming and downloading speed. You can totally relax as there will be no buffering or slow speeds no matter what you are doing with the VPN.
This provider provides access to DAZN as part of its SmartPlay offers. On its website, it provides directives on how to access DAZN from anywhere in the world. There, it promises super-fast speed while making use of this service. Bearing in mind that NordVPN keeps to its words in other areas, this should be no exception.
NordVPN knocks flat every other competitor with its stellar features and excellent services. This provider does not joke with security. First, it makes use of the military-grade AES-256 encryption. This is the same encryption system used by the US military. This goes to show you how impenetrable it is.
It has apps for most device types. You should be able to find one for your device on its website. Additionally, it allows for 6 simultaneous devices connections. Bear in mind that the industry standard is 5; NordVPN does one better. It also has live chat support for when you have any inquiries and offers you a 30-day window for a refund.
Pros:

Lots of pricing options;

Netflix support kept up to date;

256-bit AES encryption;

Lowest price: $3.71
Surfshark

Features
Free trial? Yes
Simultaneous connections: unlimited
Ad blocking? Yes
Servers: 1000+ in 61 countries
Pros/Cons
No footprints
Allows torrenting
256-bit AES encryption
Surfshark is the new kid on the block but is already making waves with its range of services. It is even rubbing shoulders with the greats, being one of the few VPNs to unblock DAZN from anywhere in the world. More so, it unlocks tons of Netflix libraries, as well as content on Hulu, iPlayer, etc.
This provider has 1700 servers in 60+ countries. This may not be so much, but it does suffice.
Surfshark, like the other top-notch providers, makes use of AES 256-bit encryption. This makes you almost impervious to hacks or any other cyber-attacks. 256 reflects the number of keys the hacker has to replicate to get access to your network. As stated, almost impossible. In addition, it has features that protect against DNS leaks, ad, and malware prevention features, a kill switch, and split tunneling. Additionally, it also has a 'No-borders' feature that makes it possible to avoid country-specific restrictions.
This provider has compatible apps for most device types. Hence, you will find apps for Windows, iOS, macOS, Linux, and Android. It allows unlimited simultaneous connections. This is ideal if you have a lot of devices or if you are keen on sharing with others.
Pros:

No footprints;

Allows torrenting;

256-bit AES encryption;

Lowest price: €2.49
CyberGhost

Features
Connected devices at once: 7
Automatic kill switch? Yes
One click connect: Yes
Servers: 5900 worldwide
Pros/Cons
No logs policy
24/7 live chat
Apps for mobile devices and routers
This is also another excellent choice. It unblocks streaming sites with no hassle. More so, it accesses DAZN quickly, too.
CyberGhost is based in Romania, a data-friendly country. This location is outside of the purview of the 14 eyes network. This means that the government has no international legal obligations to monitor your data. Apart from this awesome privacy feature, this provider has several others that make VPN-use a delight. First, it maintains a strict no-logs policy. Then it supports strong encryption systems – the AES 256-bit encryption, in addition to a host of other protocols. This service blocks ads and any malicious malware.
CyberGhost has more than 6000+ servers in 90+ countries. These servers are very fast, guaranteeing you speedy access to DAZN from whatever location.
You can download CyberGhost's apps for your device. In addition, its apps are easy to navigate, with a thoroughly simple user-interface. For instance, it automatically connects you to the best servers immediately you log on. Also, it makes unblocking streaming platforms straightforward. Once you click on the service you want, the provider indicates the best server for it. Similarly, it opens a browser window immediately, too.
CyberGhost allows 7 devices simultaneous connections. You also get a 45-day money-back guarantee. These are quite generous and above the industry standard on both counts. As for its subscription plan, you do not have to worry. This provider's offers are decent and will certainly be within your range. If you want to go for the kill, then go ahead to subscribe to its annual plans. You get wonderful discounts that way, and also a few extra months to boot.
Pros:

No logs policy;

24/7 live chat;

Apps for mobile devices and routers;

Lowest price: €2
Hotspot Shield

Features
Unlimited data? Yes
Simultaneous connections: 5
Military grade encryption? Yes
Servers: Over 3200 in 80+ countries
Pros/Cons
Unlimited HD streaming
Blocks malware
256-bit AES encryption
This is a mid-tier provider with decent offerings. Unfortunately, you may not be able to use the VPN to unblock DAZN in the United States or Canada. However, it grants you access to the versions in other countries. You can unblock and stream your favorite sports via DAZN in Italy, Germany, Austria, and Switzerland. The provider has impressive speed and also gives users unlimited bandwidth. This smoothens any ruffles you will find on your path to making use of the VPN.
Hotspot Shield has 3200 servers in 80+ locations. This is a pretty decent figure, higher than offers by most providers.
Security features include the AES 256-bit encryption, DNS-leak prevention features, and a kill switch. It even has a perfect forward secrecy feature. Here, your log-in key changes every time you come online. A hacker will not be able to have access to your data.
You are allowed to connect up to 5 devices with one plan. It is also available for Windows, Android, iOS, and macOS. Its friendly and responsive customer care personnel are on hand to fix whatever issues you may have. It even has 24-hour live chat support, solving issues in real-time.
Pros:

Unlimited HD streaming;

Blocks malware;

256-bit AES encryption;

Lowest price: $6.99
How to Access DAZN with a VPN
Here are the steps to follow to access DAZN abroad:
Select a VPN: Choose any of the ones discussed above. They have really affordable plans. More so, you can trust that they will be able to get you access to DAZN. This is regardless of whether you are in any of the countries where it is available. Also, if you travel outside of your location, these VPNs will make sure you have uninterrupted content.
Sign Up: The sign-up processes for most of these providers are straightforward. Basically, you get on a plan, and then, you sign up with your details. Not to worry, the details they'll demand will not be intrusive. For most, it will include just your email address and password.
Download the App: These providers typically have apps for most device types. Thus, except your device is not mainstream, you should find and be able to download an app for it. You can download the app from the provider's website. Alternatively, you could download it from an app store. The last option is downloading the apk. version of the VPN. This is when you are unable to access the apps from the other options previously discussed. Even if you cannot find the app for your device, you can download and install the app for routers. With a router, you will be able to get your device on to the VPN's coverage. Another thing: most providers allow you to use one subscription on multiple devices. You can download the apps for multiple devices, as long as you stay within the provider's limit.
Launch the App: When you download the app, the next step is installation. Just follow the prompts, and you'll be fine.
Connect to a Server: Some VPNs automatically connect you with the best in your location. However, since your content is region-specific, you have to connect to a server in the location of choice. E,g., for WWE, you'll need to connect to an American server. Open the DAZN site and log in. You should be able to access the content for that country.
Can You Access DAZN with a Free VPN?
It is almost guaranteed that you will be unable to find a free provider that can unlock DAZN. Even the paid providers – who have sophisticated servers and the likes – have difficulties getting around DAZN's tough encryption. However, in the off chance that you find such a free provider, you may still want to be very wary.
In the first place, such providers seldom have top-notch facilities. Thus, they may not have reliable security features. You might be at the mercy of hackers making use of such free providers.
Additionally, you may have to battle slow speeds and lags. It is common knowledge that free providers have slow servers. This can make for an overall frustrating experience. This is bearing in mind that you want to stream content with the VPN. Constant buffering will definitely suck the fun out of the experience.
Finally, some of these dishonest providers could mine and sell your data. They could monitor your online activities and subsequently sell to advertising companies. This, no doubt, is a massive breach of privacy, but you can hardly complain since the service is free.
Instead of going through all these with a free server, you could try out these paid providers. Most offer risk-free periods within which you can request a refund. In principle, this is akin to making use of the service for free. See comparison of different VPN prices here.
Conclusion
DAZN grants you access to live-streaming of various sporting activities. Unfortunately, you may be unable to access it from your location, or have limited access in some cases. With a VPN, however, you can have consistent, uninterrupted access regardless of your location.