Hide.me was created by a group of individuals who believed that the internet was too closed for the average user. In order to open up the internet more, the group launched the VPN service back in 2012. In addition to easing the restrictions, Hide.me was also created to give people privacy online and secure connections.
Hide.me believes that internet security is a fundamental human right, and that is why they offer a free version of their service to everyone. This ensures that Hide.me can offer a popular service that does not compromise one way or the other, so that all users can get access. In our experience, the free VPN version is one of the best in the business.
In this review we will write about what you need to know about Hide.me. We will write about the selection of servers, speed, security and privacy, pricing, user friendliness and similar subjects. In general we can say that we think Hide.me performs pretty well.
Selection of servers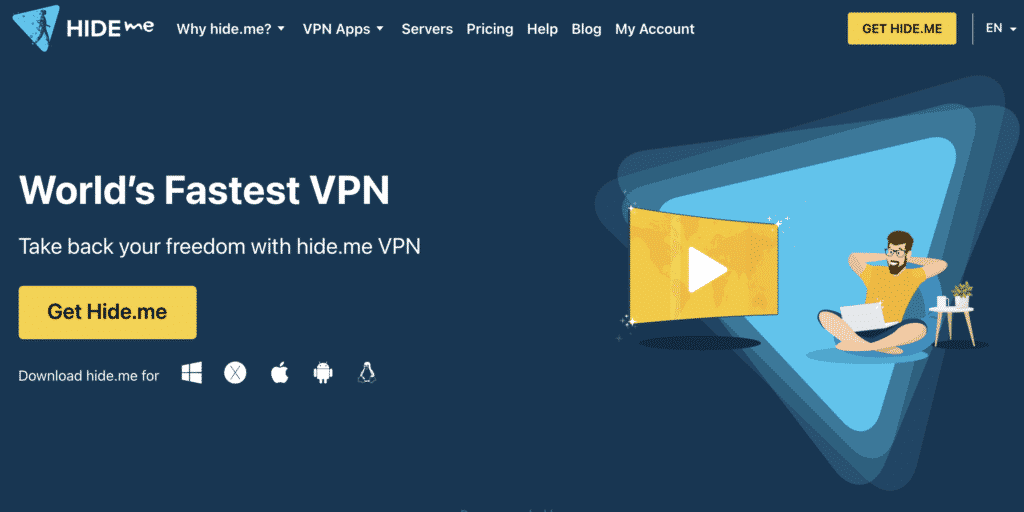 Selection of servers is important for stability and reliability. With more than 1900+ servers spread across 75 locations worldwide, you can rely on that Hide.me delivers on selection of servers. The large number of servers means that you who uses the service always can be sure that you have a good connection. The amount of servers and locations is more than the average VPN companies in the market, which is something we appreciate.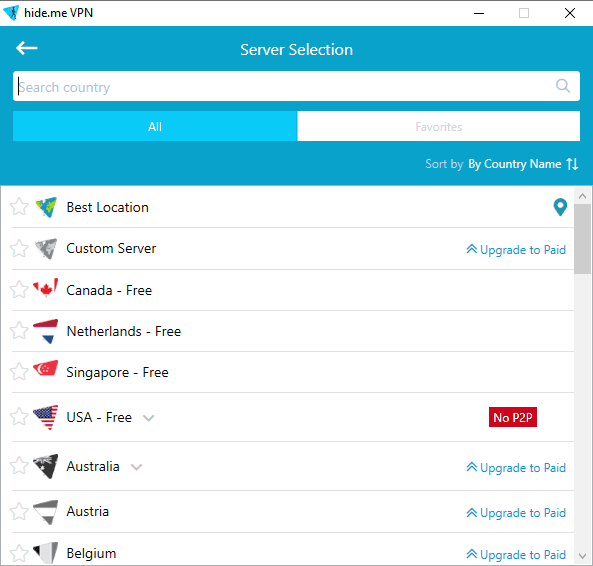 Also, the selection is important because it gives you access to online streaming services, which is discussed later in this review. Hide.me has, among other things, a range of stabile servers in USA as well as servers on all continents of the world. Whether you want to connect to Africa or Europe, Hide.me gives you the opportunity.
Like most other VPN services Hide.me has most servers in the biggest geos. This means you can Select between a wide arrange of servers in countries like USA, UK, Australia, Germany and similar geos.
Speed
As previously mentioned, a large selection of servers comes with good opportunities for fast speeds. After all, 1 of the 3 guidelines behind Hide.me´s VPN service is that the use of VPN services should not be compromised in any way. Hide.me gives you good and stable speeds.
Hide.me
Pros
Has free option
No log policy
Secure connection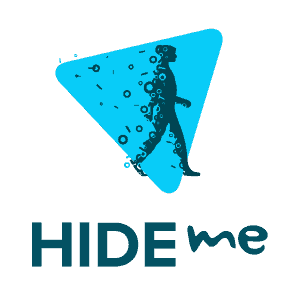 VPN will always make you lose some speed, as the traffic is routed through an additional server. Nevertheless, Hide.me makes sure to invest in some of the best servers around the world, so that you get a lightning-fast speed, even if you use VPN.
While we did not compare the speed of the paid and free service that close, our experience is that the speed of the paid version is better, especially since it has more servers to choose from. The free version also has a data cap, which can be a problem.
Security and privacy
Usually, free VPN services tend to disclose your information when governments search for it, meaning your IP-address. With Hide.me on the other hand, you don´t have to worry about this, as neither the free nor the paid service has any form of logging. This means that Hide.me can´t even release information if they are forced to.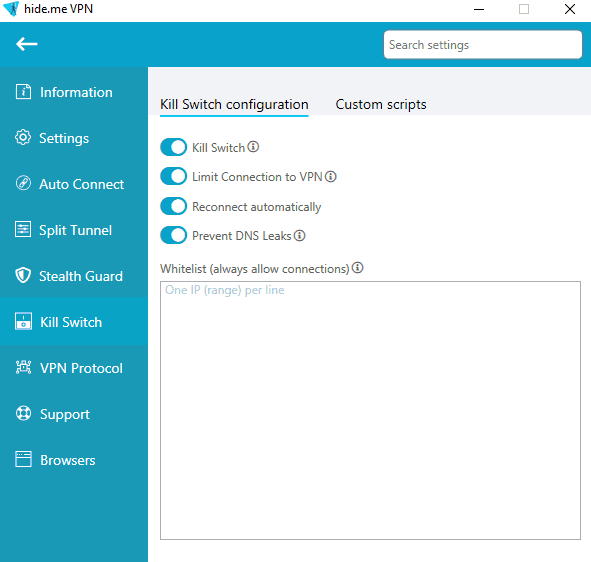 Hide.me helps you get a new IP-address easily. This way, websites you visit as well as your internet provider will have no idea who you are. This can be nice in many cases, but in general of course, this is all about privacy, and Hide.me is good at protecting it.
The service also offers very good security with 256-bit encryption. This means you keep all your communication with others completely encrypted and out of sight of others, such as third parties. Security is becoming a growing need for online users as the technology evolves and Hide.me is a very good alternative as a VPN service.
Other safety features Hide.me offers is complete protection against any kind of leaks (DNS, IPv4, IPv6, WebRTC), Uncensored DNS, IKEv2, OpenVPN, SoftEther and SSTP protocols, Kill Switch, Multihop Double VPN, etc. In other words, Hide.me offers a lot of extra functions, which we appreciate.
A huge advantage of Hide.me is that they are a privately-held company, this means they can take security very serious and not obey to some mother hub or corporation's "regulations". For example are many VPNs actually owned secretly by Chinese firms.
Geoblock removal
Although VPN is first and foremost about staying anonymous online and protecting your privacy, there are undeniably many who use the service to remove geo blockings. For example, Netflix has a massive selection of shows and movies in the USA that are not available for anyone outside of the country.
However, by using Hide.me you can get access to this content immediately. By example, if you want to watch US Netflix in Norway, you just log on to an American server. The next time you visit Netflix, the streaming service will believe you are in the USA and your Norwegian IP-address is kept completely hidden.
User friendliness
Hide.me asks you to go through a simple registration process before downloading their program or app if you are using the mobile service. You can get VPN protection on all devices and operating systems with Hide.me, which you should have, since protection on only one device does almost nothing to you.
Once the program is downloaded it does not require any kind of technical expertise on your part. All you have to do is choose a country to connect to from the list Hide.me offers. If you click on one of these countries, you are quickly connected to a server there. When you visit a website, the website will believe you are actually in this country!
Functions such as Kill Switch is also very easy to activate. This means that the VPN service automatically logs of your internet if the server stops working. In this way, your original IP-address is not given to any of the websites you visit. The VPN service always protects you in the background.
Pricing
Hide.me´s perhaps biggest advantage is that they have a very good free version. Of course, there are some compromises here, such as a reduced number of servers and limited data, but this is a perfect way to try out Hide.me. The free version also has high speed and good security, so it can be relevant for single use as well.
There are so few free VPNs out there that is actually working, and in our experience Hide.me´s free version is one of the better VPNs in the business, along with ProtonVPN.

If you are going to use VPN more often, you can register for a paid subscription. You can choose between one month, one year and two years. The latter is clearly the least expensive and there are good discounts.
Hide.me gives a 30-day money back guarantee, so you can try the paid version without any risks. The best option would probably be to try the free version first and see if you like it.
In general we think you get a lot compared to what you paid for. Our only drawback is that we think that the one month deal is quite expensive, especially compared to other paid VPN services. Even though Hide.me might have expensive Premium plans, they offer lots of extra features. For example Multihop, WireGuard protocol and even the Bolt feature, which improves the VPN speed (read more here).
Summary
Hide.me has got a few advantages in a competitive business. The biggest advantage is probably that you can try their VPN service for free. With a high encryption degree as well as over 1400 servers in 57 countries, Hide.me provides good conditions revolving anonymity, security and geoblock removal.
You can keep your IP-address hidden from third parties, as well as accessing American Netflix. Also, it is possible to upgrade to a reasonable paid version for unlimited data. We recommend that you try the free version to see what you think.