Best VPNs for Roku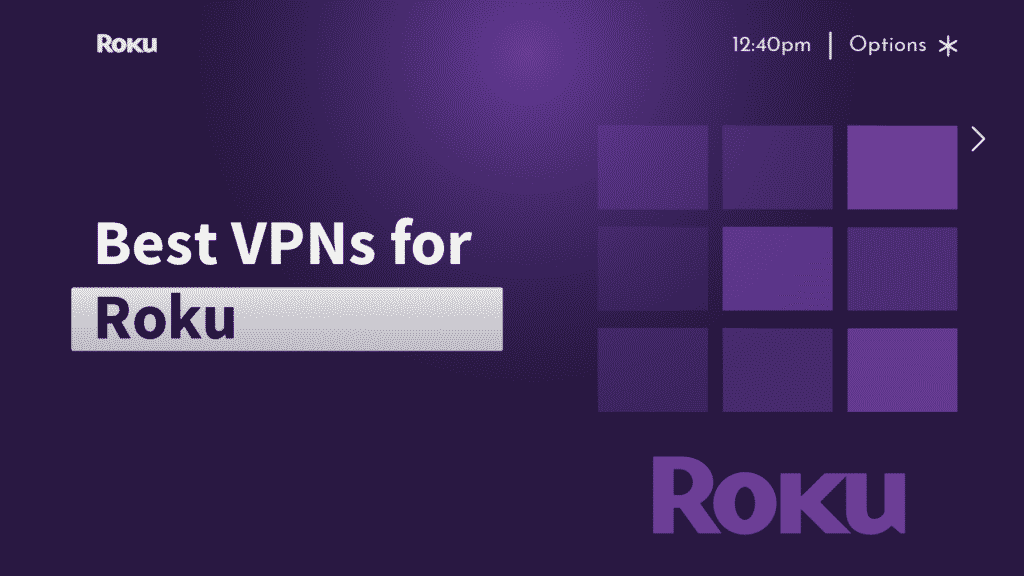 Roku is a famous and trusted name in the list of streaming devices across the world. It's quite popular for its numerous streaming services provided under the larger umbrella of Roku Inc. This is done by bringing together a collection of your favourite channels all in one space, for your streaming pleasure. Roku houses streaming channels such as Netflix, Amazon Prime, Showtime, Hulu, many premium sports channels and adds a ton of other channels every day.
Unfortunately, not everyone seems to have access to Roku and all that it has to offer. This is because of the geographical restrictions that have been placed on the sites by different laws of geographical territories governing its usage. These restrictions are called geoblockers. Geoblockers are territorial restrictions that block subscribers all over the world from having unrestricted access to the site's content.
For this reason, Roku content may be unavailable in your location and can only be accessed from specific countries only. This is where VPN comes into play. A Virtual Private Network will help you unblock and by-pass these geoblockers that are making it impossible to get to your quality shows, music, and movies.
5 Best VPNs for Roku
In this article, we'll share with you the best VPNs for accessing Roku from anywhere in the world. Let's dive in!
ExpressVPN

Features
Number of servers: More than 3,000
Speeds: Unlimited
Server locations: 160 in 94 countries
Maximum devices supported: 5
24 live chat: Yes
30 day money back guarantee: Yes
Pros/Cons
Fastest VPN out there
Strict no logs policy
256-bit AES encryption
This provider is our number one because of its extremely fast connection speed and extensive global server coverage. It claims to be 'the network that just works', and rightly so. With over 3000+ servers in 94 countries, it's bye-bye to slow browsing speed for life. Its numerous server locations ensure that you remain connected in whatever country you find yourself without any trouble. This provider is undoubtedly one of the best to use with Roku because it ensures optimum connectivity at all times, giving you unrestricted access to your favourite content always.
ExpressVPN also comes highly recommended not only because it clears off all the restrictions and gives its users free access to Roku's content, it also offers them top-quality protection services and complete obscurity from snooping internet eyes. With the ever-increasing privacy invasion in the online space today, a quality service such as ExpressVPN would be of great use. To further enhance its security measures, this provider offers a kill-switch that ensures that in a situation where the connection goes down, your information doesn't get fiddled with or leaked.
Additionally, in a bid to completely give its users total anonymity on the web, it comes with an option for users to pay with cryptocurrencies such as Bitcoin. This way, you don't have to worry about inputting your card details on the web. To access Roku content from anywhere in the world, all you need to do is connect to a server in the right location and you're good to go. ExpressVPN also allows for up to 5 devices to connect at the same time. You don't need to worry about having a safe connection when you're on the go, because the service comes with apps for all your devices, including Android, iOS, Mac, Windows, Smart TVs, to mention a few.
That's not all, ExpressVPN is also compatible with a large range of routers, so rest assured that you would be able to connect your router to the service. In case of any issues or complaints, ExpressVPN comes with a great customer service that is readily available to attend to you. These representatives are very vast in this field and they know exactly what is needed to correct any situations that may pose a challenge. The service is quite affordable, and although it does not come with a free-trial offer, it has a 30-day money back guarantee if you decide that the VPN is not exactly what you are looking for.
Pros:

Fastest VPN out there;

Strict no logs policy;

256-bit AES encryption;

Lowest price: $6.67
NordVPN

Features
Cryptocurrency accepted? Yes
Simultaneous connections: 6
Dedicated IP-addresses? Yes
Servers: 5342 in 58 countries
Pros/Cons
Lots of pricing options
Netflix support kept up to date
256-bit AES encryption
For its speed, top-level security, customer service relations. and ease-of-access, NordVPN is considered a top provider in the VPN market. With its equally large server coverage of over 5,000 servers in 60+ countries all around the globe, it is one of the right fits to access your Roku content no matter where you are. It is highly secure and reliable when it comes to unblocking Roku and other streaming sites such as Netflix. It reinforces your security and privacy using Onion-Over VPN and Double VPN to pass your traffic through two different servers and keep it locked-tight. It also works under a 'no logs' policy, giving your data only the best form of protection.
Other security measures include SmartPlay, a No DNS feature and a kill-switch that automatically comes on to prevent leakage of your data if the servers go down. In addition, NordVPN provides torrenting alongside its usual streaming feature, and it also offers an extensive variety of apps that can be used when you are on the move to ensure you are always connected. These apps are compatible on any device including Android, iOS, Windows, Mac, among others. These apps also come with a Quick Connect feature that automatically connects your device to any nearby uncluttered server.
This Virtual Private Network is complete with a very fast speed and allows users to connect up to 6 devices simultaneously. In the unlikely event that there is trouble with the service, there is a 24/7 customer support service available to attend to your needs and also a knowledge base where you can search for the information you need. Although the app does not have a free version, nor does it have a free-trial period, but it comes with a 30-day money back guarantee that puts your mind at rest, until you decide if it's perfect for you or not.
Pros:

Lots of pricing options;

Netflix support kept up to date;

256-bit AES encryption;

Lowest price: $3.71
Surfshark

Features
Free trial? Yes
Simultaneous connections: unlimited
Ad blocking? Yes
Servers: 1000+ in 61 countries
Pros/Cons
No footprints
Allows torrenting
256-bit AES encryption
With a little over 1000 servers in 50 countries, Surfshark may not seem like the most impressive VPN there is, but with its excellent customer service and 'NoBorder' global unblocking feature that can unblock even the toughest geoblocks, it's very hard to resist. It is also quite suitable because it supports a wide-range of devices, Roku inclusive. Although server locations is way less in comparison with other VPNs, Surfshark strategically places its servers in great locations; this means that they didn't come to play in unblocking geo-restricted content on streaming platforms such as Roku, Netflix, and tons of others.
Surfshark is top in its game and boasts of high-end privacy and protection features. It prides itself in its military-level encryption that safely protects data being passed through the VPN from internet snoopers. It has ad-blocking features and a kill-switch option that locks your data tightly in the service's firewall. It also offers a no-logs policy that does not record any of your activities online. It even comes with an option to pay in cryptocurrencies like Bitcoin so you leave no trace of yourself on the web.
Its brilliantly fast speed is of utmost benefit to its users because, you can skip the ordeal of waiting so long for content like music and videos to buffer. HD videos can be played in the shortest time possible. Surfshark also comes with mobile apps, as well as apps for your personal computer, so you can remain connected wherever you are, whenever you want. Compatible devices include iOS, Android, Mac, Windows, Linux, Smart TVs, and others.
Unlike other VPN services, Surfshark generously allows an unlimited connection for as many devices as you have, all at the same time. Another uncommon feature is its split-tunnelling tool that allows routing of some apps outside the VPN channel, and allows you to create a VPN connection to another server that then transfers your traffic to a second VPN server, just to make sure that your data is 100% secure.
Pros:

No footprints;

Allows torrenting;

256-bit AES encryption;

Lowest price: €2.49
HideMyAss

Features
Speeds: 20 Gbps
Money-back guarantee: Yes
Activity logs? No
Locations: 190+ countries
Pros/Cons
Best server database on the market
No-logs and kill switch policy
Multiple device protection
Expensive short term plan
This VPN, also known as HMA, is a 100% secure service that allows complete anonymity on the internet. It has the highest number of locations worldwide, with over 1000 servers in a whopping 190+ countries! It boasts of a thorough and one-of-a-kind 256-bit AES encryption that is designed to shield its users from spyware and nasty site trackers looking to pilfer their information.
The security measures are also fortified with a kill-switch that is permanently activated, and a 'no logs' policy that ensures they keep no track of your activity data. This VPN, is cheap and easily affordable, and also comes with a 30-day money back guarantee at the end of your first month. However, you must note that to be eligible, you must not exceed a 10gb download usage, and you must only purchase the VPN directly from HMA. Bitcoin payment is however not available.
In all subscription plans, HMA users are allowed to connect a maximum of 5 devices at a time. There is a customer support system available, which can be accessed via live chat, as well as an online form available on the site.
Pros:

Best server database on the market;

No-logs and kill switch policy;

Multiple device protection;

Lowest price $2.99
UltraVPN

Features
One click connect? Yes
Servers: 100+ superfast servers
Bandwidth cap? No
Platforms: Mac, Windows, iOS, Android
Pros/Cons
Firewall
Apps for all devices
256-bit AES encryption
Not as many servers as others
This Virtual Private Network is the 'ultra-safe', 'ultra-fast' and 'ultra-secure' network that is one of your surest bets. Its ease-of-access makes it a favourite among the numerous list of VPNs touring the internet today. Once you get a paid subscription, its users have unlimited access to all Roku content all around the world. It has a very large server coverage and locations in every continent of the world, unrestricted to all the network's users.
It also comes with an unlimited bandwidth so its users are free to download, browse and stream content from Roku without fear of being cut off for exhausting their allotted bandwidth. Security measures taken by this VPN are also very tight; it comes with an Ultra Secure protection of a strong 256-bit encryption that keeps user info safe inside the network. This helps to keep the prying eyes of hackers and site trackers away from the user data.  This VPN is great for Roku because it allows users to easily bypass the geoblockers and gives you a free automatic protection via an inbuilt firewall.
The Virtual Private Network also guarantees users of a lightning fast connection that does not delay while downloading or buffering your desired content. For easy accessibility, the service has been made available on different app services that caters for different devices. These include iOS, Android, and other common devices. The service is very affordable, and luckily, you get a cheaper deal the longer you subscribe for, with the cheapest being the year-long subscription plan.
Pros:

Firewall;

Apps for all devices;

256-bit AES encryption;

Lowest price: €2.99
Step-by-Step Guide to using a VPN with Roku
Unlike your usual websites, using a VPN with Roku may seem a little difficult at first. This is because Roku doesn't originally support VPNs, so you may have to install the VPN on a virtual router before you can access content on Roku. Setting up your VPN on a virtual router is easier than doing it on a physical router.  Here, all you would need is a laptop; any fairly recent model would do the trick. The laptop is used to create a Wi-Fi hotspot to connect to.
Here is how it is done:
Subscribe to a VPN and set up a connection. This way, Roku will share the VPN connection as long as you remain connected to your Wi-Fi network. You may however want to note that not all routers are compatible with Roku.
Connect your device to the VPN.
Select a VPN server that is closest to the location you want to stream from.
Be sure to connect your Roku device to the VPN-secured router. Your traffic now routes through the VPN connection that has been created
You may then begin to stream your favourite content.
Conclusion
With any of these great VPN choices, it's no telling the wonders that can be discovered on your Roku as you open yourself to great content from all across the globe. In addition to great content, you also shield yourself from the internet eyes when you make use of a good VPN. The above are a few of the best there are, feel free to go for one that suits you.