Best VPNs for Minecraft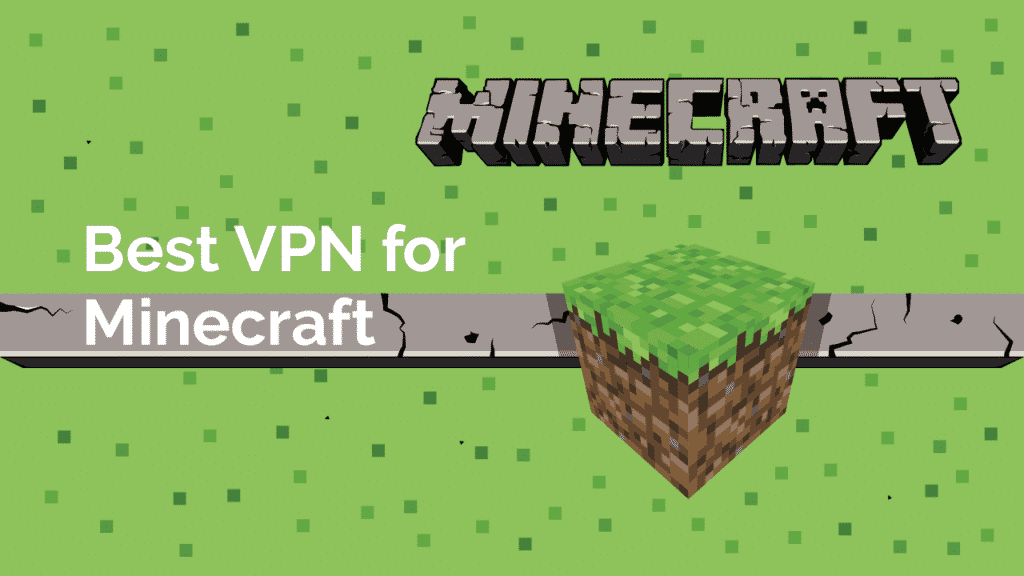 One thing gamers like about Minecraft is that they can create a unique experience. There are many things to do, like wage wars, gather resources, and explore different parts of the world.
Sometimes, you might be denied access to a world you are interested in simply because you are gaming from a particular location. This can be frustrating. But there's good news. You can use a VPN to get around that Minecraft geo-restriction.
VPNs cloak your IP address and grant you access to the Minecraft world you want. But you can't just get any VPN. Mojang has detectors that can spot when you're using one.
You'll need the best VPN you can find, and we'll help you with your search.
Top 5 working VPNs for Minecraft
Here are 5 VPNs that won't give you any issues.
ExpressVPN

Features
Number of servers: More than 3,000
Speeds: Unlimited
Server locations: 160 in 94 countries
Maximum devices supported: 5
24 live chat: Yes
30 day money back guarantee: Yes
Pros/Cons
Fastest VPN out there
Strict no logs policy
256-bit AES encryption
Express is a top-rated VPN that can improve your Minecraft experience. That's because ExpressVPN has not fallen short of delivering the best VPN service to its subscribers over the years. Many subscribers have had excellent reviews to give regarding their ExpressVPN experience and it's easy to see the reason for this.
ExpressVPN is one of the few VPNs with a robust server base. It has about 3000 servers placed in 160 locations in 94 countries across the world. This means you can connect to a server that can bypass your Minecraft restriction. You also get to access and stream any geo-restricted content you want!
Another advantage is the location of its headquarters. It operates within the British Virgin Islands, a place where there are presently no policies on online data retention. The VPN also has military-standard encryption that secures your privacy from third-parties.
Also, ExpressVPN has servers that are fast enough to play Minecraft and downloading other files. The VPN has no data caps or any bandwidth limits at all. Your security and privacy are protected with the Kill Switch feature, which shuts down your connection immediately you disconnect from ExpressVPN.
You have the luxury of connecting any device to your ExpressVPN account. It is compatible with several operating systems like Linux, Windows, macOS, Android, among others. You can also connect up to five of these devices to an account at the same time.
The subscription plan ranges from $8.32/month (12-month plan) to $12.95/month (monthly plan). But perhaps the best feature is that you can get your money back if you request a refund within 30 days of using the service.
Pros:

Fastest VPN out there;

Strict no logs policy;

256-bit AES encryption;

Lowest price: $6.67
NordVPN

Features
Cryptocurrency accepted? Yes
Simultaneous connections: 6
Dedicated IP-addresses? Yes
Servers: 5342 in 58 countries
Pros/Cons
Lots of pricing options
Netflix support kept up to date
256-bit AES encryption
Second on our list for VPNs suitable for Minecraft experiences is NordVPN. It has proven to be up there with other top-notch VPNs in dishing out quality service to its users. If you need a VPN to help you access any Minecraft world you want, NordVPN is top-seed.
NordVPN has an extensive network of over 5900 servers spread across 59 nations. Like every public choice VPN, it operates with an advanced encryption standard of 265 bits. This means it can sneak under the VPN trackers of Minecraft and grant you the access you need.
The Double VPN further enhances your gaming security. It makes it twice as hard for detectors to track your activities as the encryption is done twice. You need not worry if this would affect your connection. NordVPN has blazing speeds that are suitable for playing games with Minecraft.
This VPN has a CyberSec feature that prevents auto-play ads from popping up each time you are connected. It also has a kill switch to keep your connection secure at all times.
NordVPN has its headquarters in Panama, a place with no data retention policies. Your online records are safe and protected from your ISP and even the government.
You get to connect a wide range of different operating systems like macOS, iOS, Android, Linux, and Windows. It is also compatible with game consoles like PlayStation and routers. As many as six devices can be linked concurrently to your account.
Payment plans vary depending on the length of the period you want to subscribe for. Its exclusive deal costs $3.49/month if you opt for the 3-year plan. But you can settle for the monthly plan that costs $11.95/month. NordVPN also allows you to pay anonymously using cryptocurrencies.
Like ExpressVPN, you can get a refund from the VPN if you request one within the first 30 days of using the VPN service.
Pros:

Lots of pricing options;

Netflix support kept up to date;

256-bit AES encryption;

Lowest price: $3.71
Surfshark

Features
Free trial? Yes
Simultaneous connections: unlimited
Ad blocking? Yes
Servers: 1000+ in 61 countries
Pros/Cons
No footprints
Allows torrenting
256-bit AES encryption
Next on the list of the best VPNs for your Minecraft experience is NordVPN. The VPN helps you surf boldly and without fear. Surfshark might be a new kid in the VPN block, but it has gone far in giving its users value.
SurfShark has a wide range of servers, with 1040 of them in 61 countries. Just like ExpressVPN, SurfShark is located in the British Virgin Islands, a place without laws on data retention. So, ExpressVPN doesn't record your browsing history, network traffic, or used bandwidth.
SurfShark has a couple of security protocols you can switch to; IKEV2 and OpenVPN. It also has military-grade encryption of 265 bits. Also, features like MultiHop and Whitelister are available on every subscription. You are protected from ransomware, malware, ads, and phishing attacks with the CleanWeb feature.
A kill switch is available to protect you every time. It is compatible with many devices, which include Android, Windows, Linux, iOS, macOS, PlayStation, Apple TV, and FireTV. The VPN operates a no-logging policy that keeps your connection private as no gaming history is recorded.
Surfshark can accommodate connecting to an unlimited number of devices to one account at the same time.
The payment plans on Surfshark are quite affordable. You can get one as high as $11.95/month (the monthly plan). However, the best deal is the 24-month plan that costs $1.99/month. There is a 30-day refund guarantee to your subscription, which makes the VPN risk-free.
Pros:

No footprints;

Allows torrenting;

256-bit AES encryption;

Lowest price: €2.49
UltraVPN

Features
One click connect? Yes
Servers: 100+ superfast servers
Bandwidth cap? No
Platforms: Mac, Windows, iOS, Android
Pros/Cons
Firewall
Apps for all devices
256-bit AES encryption
Not as many servers as others
If you need to connect to your favorite world on Minecraft without any problem, then UltraVPN can do the work. It is a privacy-centered VPN that operates on a no-logs policy. Third parties cannot gain access to your gaming records because there are absolutely no records whatsoever.
UltraVPN has a network of servers in over 60 countries in the world. This means you can connect to any server that can bypass the IP ban or geo-restriction that Minecraft has placed. It also has an advanced encryption standard of 265bit similar, which is the standard military encryption to safeguard your online activities.
There are also different protocols you can switch to in ascertaining your security. It has the OpenVPN, which is the most secure protocol you can use, as well as IKEV2, USP, and TSP. The VPN also has DNS servers and uses a firewall called the Kill Switch to secure your device each time there is a network shutdown.
UltraVPN offers unlimited bandwidth to its subscribers and does not have data caps. It is compatible with operating systems like Windows, macOS, Android, Linux, and devices like routers, game consoles, and TVs. Three gadgets can connect to your UltraVPN account simultaneously.
You have access to a customer support system filled with tech-savvy agents that can help you conquer any difficulty. The subscription plans vary from $3.75/month (12-month plan) to $7.99/month (monthly plan). There is also a money-back policy of 30 days so you can get your money back if you aren't satisfied with the service.
Pros:

Firewall;

Apps for all devices;

256-bit AES encryption;

Lowest price: €2.99
CyberGhost

Features
Connected devices at once: 7
Automatic kill switch? Yes
One click connect: Yes
Servers: 5900 worldwide
Pros/Cons
No logs policy
24/7 live chat
Apps for mobile devices and routers
If you want to play Minecraft anonymously, then this right here is a good option. You can bypass any Minecraft ban by merely connecting to a suitable server. CyberGhost gives you value by providing you with optimum security and privacy.
CyberGhost's top-notch encryption standard of 265bits keeps you safe from spies, trackers, malware, phishing attackers, hackers. No one can spy on your activities, not even your internet service provider.
The VPN has a broad global network of 6400 servers in about 90 countries. This means you can cloak your IP address and take on a new one by connecting to a distant server. From the comfort of your room, you can connect to Sweden if that's what it takes to bypass the Minecraft ban.
Once you subscribe, CyberGhost allows you to connect up to seven devices to a single account at the same time. It gives users features like malware blocker, Kill Switch, ad blocker, and IPv6 leak protection.
This VPN has suitable apps for Windows, macOS, iOS, Android, and Linux, so you need not worry. There is also a standby customer service platform that aids you throughout your Minecraft experience.
The price for a monthly subscription on CyberGhost isn't on the high side. It can be as low as $2.75/month (three-year plan) and as high as $12.99/month (monthly plan). You can pay risk-free and get 45 days to test the long-term plans or 14 days for a short-term plan.
Pros:

No logs policy;

24/7 live chat;

Apps for mobile devices and routers;

Lowest price: €2
How to use a VPN with Minecraft
Although the installation process differs across operating systems, here are the basics.
Connect to the website of any of the VPN mentioned above and subscribe to a payment plan.
Download and install the VPN apps on the device that is compatible with Minecraft.
Fill in your details into the VPN app and log in.
Connect to any server of your choice.
You're free to play Minecraft and access your favorite world.
Does Minecraft ban VPN usage?
Mojang hasn't released an official statement to state whether or not they ban VPN usage with Minecraft. However, many times, its servers restrict the IP address that a VPN provider uses.
However, with the VPNs we've listed above, you can rest easy knowing that you can play Minecraft without any interruptions.
Can a free VPN work with Minecraft?
The truth is that it is almost certain Minecraft servers would detect a free VPN. That is because most times don't have quality VPN services. You would be dissatisfied because not all free VPNs can cloak your connection properly or guarantee your privacy.
Many free VPNs do not have the features you'll need to bypass Minecraft IP bans or give you the speed to have a smooth experience. The majority also have bandwidth limits and put data caps on users' connection.
Another issue is that most VPNs place users on queues to connect to specific servers. That is because they do not have enough servers for their subscribers. If you don't want delays in playing your game at any point, a risk-free VPN is your best bet.
Also, there is no assurance that a free VPN is indeed free. Your details and personal information might be at risk of divulsion. Also, many ads pop up while using a free VPN. This is not the best for any gaming experience. So, we'll advise that you avoid using free VPNs with Minecraft.
What should I do if my Minecraft account gets banned?
First, you have to understand the reason behind that ban. Many times, Minecraft doesn't place its players under permanent bans unless they've committed an unlawful act. This could be buying the game from a third-party seller that perhaps has payment information that's stolen.
Sometimes, it might not be something of that sort that led to the ban. If this happens, all you have to do is connect to another server. This will give you a new IP address that will allow you to play your Minecraft game.
Occasionally, you might not be able to play the game with that banned Minecraft account. This is why you should be careful about your actions so it won't happen anymore.
Conclusion
Minecraft is a top-rated game that's loved by everyone. Its popularity is one reason it's restricted in some places like workplaces or schools. However, slipping through a Minecraft IP ban is a walk in the park if you use an outstanding VPN.
You need to invest in a VPN that will guarantee your privacy, security and offer top speeds for a better gaming experience. With one, you can bypass restrictions and avoid any security glitch that can happen.
Few VPNs can help you with this, which is why we recommended the five we've listed above. Get around any Minecraft world with them!