5 Best VPNs for WeChat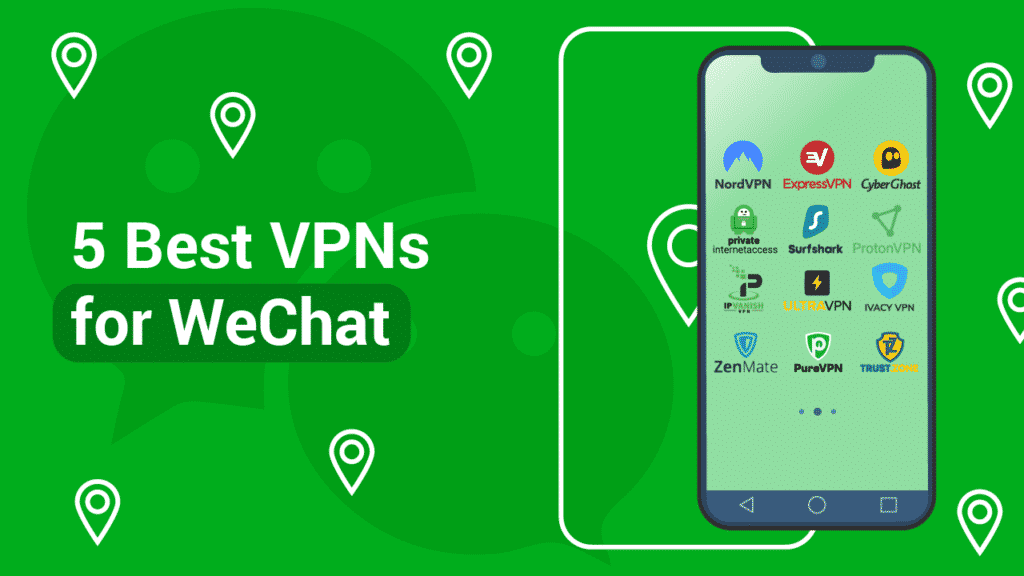 WeChat is a social media messaging platform owned by Tencent Technology. It is perhaps one of the few social media apps still available in China. The Chinese government heavily censors the internet. Thus, platforms like WhatsApp, Facebook, Instagram, and YouTube are unavailable for citizens' use. WeChat occupies a unique place, providing a viable alternative and hence is used by millions in China. Furthermore, Chinese citizens in the diaspora also use this tool to keep in touch with loved ones in the country. The app's attraction includes the fact that it even allows users to book flights and hotel accommodations.
The intrusive censorship laws employed by the Chinese government affect this app too. Additionally, the app is not available in certain countries, cutting off Chinese citizens in those locations. One way to get around this challenge is with a VPN. In this discussion, we will be showing the top 5 VPNs for accessing WeChat.
Top Recommended VPNs for WeChat
Chinese encryptions are some of the toughest to beat. If you want to use a VPN to bypass the notorious Chinese firewall, you need a strong and unimpeachable provider. In this list, we give you 5 of such providers.
ExpressVPN

Features
Number of servers: More than 3,000
Speeds: Unlimited
Server locations: 160 in 94 countries
Maximum devices supported: 5
24 live chat: Yes
30 day money back guarantee: Yes
Pros/Cons
Fastest VPN out there
Strict no logs policy
256-bit AES encryption
ExpressVPN is the industry leader when it comes to the provision of VPN services. It has both security and privacy features that place it well ahead of the pack. Even more remarkably, it is one provider you can trust to grant you access to WeChat from any location and shield you while you use the application.
ExpressVPN has more than 3000 servers in 94 locations. This gives you an impressive number of servers to choose from, especially if you are looking to mask your locations. This provider can beat even the most challenging blocks on streaming platforms. It is no news that Netflix has really tough encryptions on its platforms. Hence, if you are outside of the permitted location, you will be unable to access the related content. However, this is no challenge for ExpressVPN. This provider can get you access to Netflix, regardless of your location. The same goes for every other streaming platform, including Hulu, BBC iPlayer, etc.
This provider equips you with the AES 256-bit encryption. You also get a kill switch that protects you if the VPN fails. You can split your traffic, allowing some apps to connect to the internet and for others to work only through the VPN directly. It also keeps to its no-log policy, making sure that no one tampers with your online information.
You can connect up to 5 devices using one ExpressVPN subscription. Thus, you can bypass WeChat's block on 5 devices simultaneously. You do not have to worry about device compatibility. This provider's apps are compatible with a wide range of operating systems. You are covered on all fronts with this VPN.
Pros:

Fastest VPN out there;

Strict no logs policy;

256-bit AES encryption;

Lowest price: $6.67
NordVPN

Features
Cryptocurrency accepted? Yes
Simultaneous connections: 6
Dedicated IP-addresses? Yes
Servers: 5342 in 58 countries
Pros/Cons
Lots of pricing options
Netflix support kept up to date
256-bit AES encryption
NordVPN sets a target the most providers seek to attain. It is a pacesetter, with its slew of remarkable features that make VPN-use a delight. This provider has more than 5000 high-speed servers spread across 59 countries. The servers are remarkable because of their speed. They allow you access to an unprecedented number of locations without the slightest hitch.
NordVPN is especially useful for WeChat because of its provision of specialty servers. In this list, you will find servers ideal for a host of activities, including hiding the fact that you are making use of a VPN. Its obfuscated servers make sure that the Chinese authorities are none the wiser about your use of the VPN. Additionally, it has a multihop feature that routes your traffic through several layers to hide the fact that you are using a VPN.
NordVPN further tightens your security using its fantastic security features. This provider makes use of the unbeatable AES 256-bit encryption. It also makes sure there are no DNS, WebRTC, and IPv6 leaks. It maintains a strict no-log policy. This ensures that your details do not fall into the wrong hands. Even more so, this provider allows you to make payments using cryptocurrencies. Thus, you can anonymously subscribe using Bitcoin, Ethereum, and Ripple. This way, no detail can be traced back to you.
You do not have to worry about device compatibility because NordVPN is compatible with most device types. It also offers you affordable subscription plans. Hence, you would not need to break the bank to subscribe to its services. Even more impressive, it gives you a 30-day money-back guarantee window. Here, you will be able to make use of the service and request a refund if unsatisfied.
Pros:

Lots of pricing options;

Netflix support kept up to date;

256-bit AES encryption;

Lowest price: $3.71
Surfshark

Features
Free trial? Yes
Simultaneous connections: unlimited
Ad blocking? Yes
Servers: 1000+ in 61 countries
Pros/Cons
No footprints
Allows torrenting
256-bit AES encryption
Surfshark is another provider you can rely on for access to WeChat. Whether you are in China or are using the app from any other location, this provider has you covered.
Surfshark provides 1700 speedy servers in 63 countries. The primary function of these servers is to protect your identity. Hence, they route your traffic through several locations. This cinches your security, ensuring that no one has access to your details. Not only that, these servers are equipped with blazing-fast speed. Thus, streaming or downloading content, even from geo-restricted sites, will be relatively easy.
This provider is no slacker when it comes to security. It accommodates the standard security features. These include the AES 256-bit encryption, as well as popular security protocols. It has a NoBorders mode that is ideal for bypassing censorship, such as the one you'd experience in China. Surfshark has a CleanWeb feature. This blocks ads, malware, and any other popups that disrupt your browsing experience. This makes for a seamless experience, whether you are making use of your PC or mobile.
Surfshark makes available apps for different device types. You will find apps for Android, iOS, Linux, macOS, and Windows devices. This provider even has extensions for Chrome and Firefox. You can even take it a notch higher and set up the VPN with a router. This allows you to cover your devices such as PS4 and Xbox since the Surfshark app cannot be directly installed on those.
Pros:

No footprints;

Allows torrenting;

256-bit AES encryption;

Lowest price: €2.49
IPVanish

Features
One click connect? Yes
Bandwidth cap? No
Servers: 100+ superfast servers
Platforms: Mac, Windows, Linux, Chrome OS, iOS, Android, Routers
Pros/Cons
Firewall
Apps for all devices
40,000+ shared IPs, 1,300+ VPN servers in 75+ locations
Not the cheapest out there
IPVanish is another of our recommendations for accessing WeChat globally. Although this provider offers mid-tier services, you can expect to access WebChat seamlessly. It has more than 1500 servers in 75+ countries. These include high-traffic locations such as the United States, the United Kingdom, and others. If you want to access content meant strictly for these regions, IPVanish is a go for that.
IPVanish is strong when it comes to security. You can expect to be protected with its AES 256-bit encrypted servers. It also provides support for different protocols, including IKEv2, OpenVPN,  and L2TP/IPSec protocols.
This provider's server speed is decent. You can chat with friends in distant locations with no buffering. More so, it makes it relatively easy to both stream and download content from platforms such as Netflix.
One key attraction for this provider is its cheap subscription offer. Its 1-month plan goes for $5. This is far below what many other providers allow. You get to use one subscription on as many devices as you want. The provider allows 30 days within which you can try out the VPN after subscription. You can obtain a refund within this window.
Pros:

Firewall;

Apps for all devices;

40,000+ shared IPs, 1,300+ VPN servers in 75+ locations;

Lowest price: $2.62
CyberGhost

Features
Connected devices at once: 7
Automatic kill switch? Yes
One click connect: Yes
Servers: 5900 worldwide
Pros/Cons
No logs policy
24/7 live chat
Apps for mobile devices and routers
With more than 6000 servers in 90+ countries, CyberGhost has the highest number of servers of the providers on this list. In fact, there are just a handful of providers who can beat this record in the VPN market. You get an unprecedented level of access with this number.
What is remarkable about CyberGhost's servers is not just their number, but their capabilities, too. CyberGhost VPNs are excellent for browsing, streaming, and downloading content. They are primed for speed, thus that you can download large files in the space of minutes. Additionally, CyberGhost gets around geo-blocks with ease. It is of little moment the strength of the encryption on the platform; you can trust CyberGhost to break through. Even more importantly, you can trust CyberGhost to provide access to WeChat.
For security, CyberGhost secures its servers using the unbeatable AES 256-bit encryption. It also guides against IP and DNS leaks. It supports the best protocols, including the popular OpenVPN. You can expect to have a hitch-free internet experience because this provider blocks ads and any other malware that you may routinely find on the internet. You can trust its no-logs policy. This provider only keeps the basics about your login information. It only requests your email address and password upon signing up. This does not reveal your activities with the VPN.
CyberGhost has apps for macOS, iOS, Android, Windows, and Linux devices. You can also install it on a router for wider coverage.
Pros:

No logs policy;

24/7 live chat;

Apps for mobile devices and routers;

Lowest price: €2
Why Do You Need a VPN for WeChat
No doubt, WeChat occupies a unique place for Chinese social media users. For mainland users, it offers them a means to keep in touch with one another. Residents outside of the country can easily keep in touch with their loved ones using this means. For instance, in the wake of the coronavirus pandemic, when travel to China was all but banned, WeChat was quite helpful. Individuals could keep up with the latest happenings using this platform.
Tencent Technology, which owns WeChat, is affiliated with the Chinese government. This is quite problematic. What this association means is that the platform is open to interference by the Chinese authorities. In fact, messages and posts that are interpreted to go against the government's established standards are flagged and taken down. Also, there have been reports of deleted posts resurfacing and being handed to the police. What this comes down to is that essentially, you are unsafe if you make use of WeChat in China.
Additionally, the app is blocked in certain countries. This is because the authorities in such locations – Russia for one, and the United States recently – believe that the censorship would affect their citizens. These security concerns are not unfounded, taking into consideration China's stance on censorship and surveillance. However, it means that Chinese citizens, who are the main users of the app, will be unable to keep in touch with loved ones outside of China. This leaves the option of making long-distance phone calls, which can be quite expensive in the long run.
A VPN gives you the flexibility to get around these challenges. If you are in mainland China, a VPN can beat the censorship of the government. You will be able to make use of the app free of interference. A VPN is also massively useful if you are outside China. Even if the app is banned in your location, you will still be able to bypass the challenges, download and make use of it.
How to Download and Set Up WeChat with a VPN
If WeChat is blocked in your location, your best bet to access the app is through using a VPN. If you haven't done so before, it may be a little foreign to you. Not to worry; the guide below shows you how to download and set up WebChat with your VPN.
1. Sign up with any of the VPNs discussed above. 
Every VPN on the list is compatible with WebChat, so you can rest assured of a seamless connection.
2. Download and install the VPN's application.
The easiest route to achieving that is through downloading from the provider's website. Alternatively, you can download it from your device's app store.
3. Connect to a server outside of your location.
This will automatically put you outside of the purview of your country's internet laws.
4. Navigate to your device's app store. You may have to activate your browser's incognito mode.
5. Search for WeChat and click to download.
6. Follow the prompt to input your email password.
7. Install and run.
Conclusion
Regardless of the heavy censorship that exists with making use of WeChat in China, a VPN bypasses all that. Additionally, if you intend to make use of the app in a location that it is prohibited in, a VPN makes this possible. This review shows you the VPNs you can trust for these tasks.