Best VPNs for Line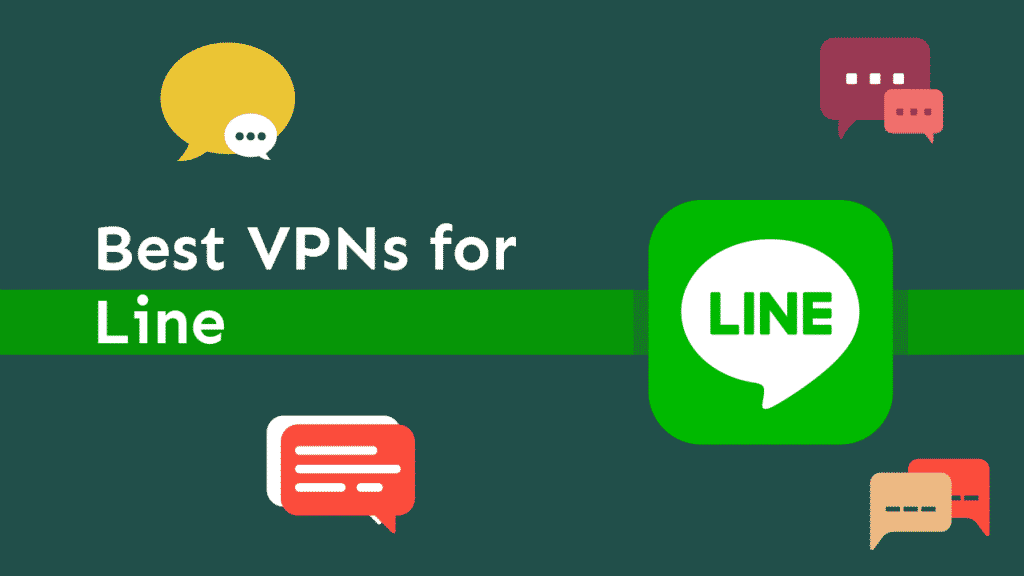 Line is an instant messaging application that is used by hundreds of millions of people in Asia. It has much of its appeal in its free voice calls and catchy stickers, to mention a few. Sadly, in spite of all that it offers, it is blocked in some countries like China. Even on the app, there are certain features like stickers/emojis that aren't available if you're in some other parts of the world.
A Virtual Private Network (VPN) allows you to change/mask your IP address. It does so by connecting you directly to the server located at the part of the internet you want to access through a tunnel. This means that if used correctly, you can gain easy access to the Line app regardless of where you are. And what's more, you won't be restricted on your use of stickers or emojis any longer.
The best VPNs for Line
The limits of what you can do with a VPN are not very much. However, not everyone can create their Virtual Private Network. As such, quite several companies with the technical know-how have taken that responsibility upon themselves. Just like any other service provided, however, some beat the competition and provide almost unarguably excellent services.
In no particular order, below are six of the best VPNs that would give you unrestricted access to the popular messaging platform, Line:
ExpressVPN

Features
Number of servers: More than 3,000
Speeds: Unlimited
Server locations: 160 in 94 countries
Maximum devices supported: 5
24 live chat: Yes
30 day money back guarantee: Yes
Pros/Cons
Fastest VPN out there
Strict no logs policy
256-bit AES encryption
This VPN service was established in 2009 and has since then remained in uninterrupted existence. It is located in the British Virgin Islands and operates a whopping 3000+ servers across 160 locations in 94 different countries around the globe. Statistically speaking, that would mean that it has roots in approximately 50% of the world. Its servers are located in five major continents, including North America, South America, Asia, Europe, and some parts of Africa. Having been in existence for about ten years now, it has done well for itself and has gained popularity as well.
ExpressVPN is ranked in the top ten of several websites around the world. It is known for its reliability and ultrafast speed. It is a premium VPN service, which means that it has to be paid for. You can choose to make the payment monthly or yearly. However, there is the option of a free trial for some mobile devices. Alongside this is that there is a thirty-day money-back guarantee. This means that if after paying for a monthly subscription, you are not satisfied with the services rendered, you can opt-out and get your initial subscription money back.
As though they aren't tired of putting their customers first, the service also includes a 35% discount on subscription for a yearly plan. That is, whatever it would cost you to pay for the service every month for a year would be slashed by 35% if you choose to pay for a year at once.
The service is available on Mac, iOS, Android, Linux, and Windows devices, among others. It provides unlimited bandwidth and allows you to connect up to five devices at once to the network. ExpressVPN has a strict no-logging policy, military-grade encryption, and a kill switch, which would give you the necessary privacy and speed to be able to use the Line app without any restrictions.
Pros:

Fastest VPN out there;

Strict no logs policy;

256-bit AES encryption;

Lowest price: $6.67
NordVPN

Features
Cryptocurrency accepted? Yes
Simultaneous connections: 6
Dedicated IP-addresses? Yes
Servers: 5342 in 58 countries
Pros/Cons
Lots of pricing options
Netflix support kept up to date
256-bit AES encryption
This Virtual Private Network makes it to number two on our list, and for good reasons too. It was established in 2012 by four childhood friends. NordVPN has over 5200 servers in 59 different countries around the world. This VPN giant has been featured on many notable platforms/media outlets like Buzzfeed, Yahoo Tech, Forbes, The Guardian, The Huffington Post, among others, for its excellent service delivery.
It offers unlimited bandwidth and unlimited speeds all around the world. Just like ExpressVPN, it is also a paid service and has a thirty-day money-back guarantee. It allows you to connect up to six different devices to be protected with a single account. It is also available on Android, MacOS, iOS, Android TV, etc. The service is not only renowned for its massive amount of servers but their quality as well. In 2017, the VPN service launched obfuscated servers. These types of servers essentially help to gain access to heavily restricted internet spaces like Saudi Arabia and Iran. It is even known to be able to bypass the Great Firewall of China, which is just another huge internet censorship system. That is, in spite of how strict China's restriction system is, this VPN can actually get you access to Line and have you texting your loved ones in no time.
It has an application available for download on Android, Windows, iOS, and other platforms. The prices for this VPN are relatively fair, and discounts are available for long-duration subscriptions.
Pros:

Lots of pricing options;

Netflix support kept up to date;

256-bit AES encryption;

Lowest price: $3.71
Surfshark

Features
Free trial? Yes
Simultaneous connections: unlimited
Ad blocking? Yes
Servers: 1000+ in 61 countries
Pros/Cons
No footprints
Allows torrenting
256-bit AES encryption
Surfshark is a relatively young Virtual Private Network in the internet privacy industry. This VPN has servers across five different continents. Perhaps the most notable thing about this particular provider is that it allows you to connect not five, not six, but an unlimited number of devices to an account! In our book, that is very impressive. While you might not need to text people with unlimited Line accounts on different devices, it is still a cool feature to have.
Asides the above-stated feature Surfshark provides, it has many other remarkable features. There is the Cleanweb, which means that the service is free of trackers, malware, phishing attempts, and ads. That last part must be such a relief, seeing as nobody wants to have their texting interrupted continuously by ads.
Also, there is the Whitelister. This allows for certain, user-specified apps/websites to bypass the VPN. This feature, in particular, is quite useful because while using the messaging application, you wouldn't want your bank, which doesn't even have a branch in that part of the world, to think that someone somewhere has hacked their system.
Another notable feature is the Camouflage Mode. This is similar to NordVPN's obfuscated server feature. It does not allow for anyone/system to discover that you are using a VPN easily. Surfshark is, of course, a premium service, which basically means that it has to be paid for. The prices, however, are quite affordable, especially in comparison with the services it is offering in return.
Pros:

No footprints;

Allows torrenting;

256-bit AES encryption;

Lowest price: €2.49
UltraVPN

Features
One click connect? Yes
Servers: 100+ superfast servers
Bandwidth cap? No
Platforms: Mac, Windows, iOS, Android
Pros/Cons
Firewall
Apps for all devices
256-bit AES encryption
Not as many servers as others
The fourth and perhaps youngest on our list is UltraVPN. This Virtual Private Network was established in 2018, and it launched its first VPN product in August of the same year. In terms of security, it uses a 256-bit encryption system just to ensure that you have total coverage while texting on Line. Just like some of the other big boys on this list, it also provides a 30-day money-back guarantee where you'll be refunded in full if you are unsatisfied with their service in the first month.
The Virtual Private Network is available on Android, iOS, Mac, and Windows devices. Even with its newness in the industry, it gives the older companies a run for their money with exciting features like its rock-solid connection, for example. That is, the speed of the internet connection does not get reduced when you connect to the VPN. Also, there are no bandwidth caps. This is perfect if you are one to share heavy amounts of data on Line.
Asides that, it is also private and safe in that it does not allow for traffic to pass outside the VPN itself. Finally, UltraVPN enables you to unlock all of the internet without any restrictions whatsoever.
The VPN has servers worldwide. They can be found in 57 locations in North America, 20 in Europe, 17 in Asia, 9 in Africa, 13 in South America and 7 in Oceania.
Pros:

Firewall;

Apps for all devices;

256-bit AES encryption;

Lowest price: €2.99
CyberGhost

Features
Connected devices at once: 7
Automatic kill switch? Yes
One click connect: Yes
Servers: 5900 worldwide
Pros/Cons
No logs policy
24/7 live chat
Apps for mobile devices and routers
The fifth one on our list is CyberGhost, and its position here is backed by fifteen solid years of experience. That, however, is not the only reason that this VPN is on our list. They offer not a 30-day money-back guarantee but a 45-day money-back guarantee. This gives even more time for you as a customer to decide whether or not you want to use their services.
Apart from the above, they also offer a free trial for twenty-four hours before you start using their services properly. If this isn't customer care, we do not know what is. The company hosts a community of over 30 million users and continually provides them with reliable services. In 2011, they were the first-ever VPN company to publish a transparency report.
Cyberghost has over 5600 servers in 81 countries all over the world. That is so far the largest amount of servers any VPN on our list here has. It doesn't stop there as its applications are available on Windows, MacOS, Linux, Android, iOS, Chrome, Firefox, etc. The VPN allows for the connection of about seven devices to it at once. More screens for your Line app!
This just might be the best provider here considering their level of usage, customer care, etc.
Pros:

No logs policy;

24/7 live chat;

Apps for mobile devices and routers;

Lowest price: €2
HideMyAss

Features
Speeds: 20 Gbps
Money-back guarantee: Yes
Activity logs? No
Locations: 190+ countries
Pros/Cons
Best server database on the market
No-logs and kill switch policy
Multiple device protection
Expensive short term plan
The last but definitely not the least here on our list of VPNs is HideMyAss. If the name does not automatically put a smile on your face, then maybe the ensuing facts would. This Virtual Private Network was founded in 2005 in the United Kingdom. The initial intention of its founders, which was to bypass school restrictions on games, would explain the humor behind the name.
Like pretty much every other VPN, this one routes the users' internet traffic through a remote server. Its ease to use and excellent customer service pale severely in comparison to the fact that it has servers in 190+ countries. Also, it provides 20gbps server speeds. HMA gives users complete privacy and does not track their activities on the internet for whatever reason. That means whatever you do or send while texting on Line is entirely private.
HideMyAss allows for the connection of five devices at once upon subscription. That, however, is not the end of it as it is also available on Android, iOS, Windows, Linux, etc. In spite of all these features, they still thought of adding a 30-day money-back guarantee. How about that?
Pros:

Best server database on the market;

No-logs and kill switch policy;

Multiple device protection;

Lowest price $2.99
So, which one exactly is the VPN to choose for Line?
Unfortunately, we would not be able to make that decision for you. The VPNs mentioned above are six of the best around the world for accessing Line. However, to make your selection process easier, you could consider different factors such as cost, location of the server, data limits, accessibility, ability to bypass geographical restrictions, etc. It is best to keep in mind that there is no pressure because most of these companies allow you to request a refund.
In conclusion
In this article, we have provided you with the much-needed information as to which VPNs are the best for Line. We also briefly discussed factors to be considered before you choose to spend your hard-earned money on a Virtual Private Network.
With that being said, the next and best thing to do would be to pick up your device, access the internet, and start taking the required steps to set up your VPN and start texting on your Line app!