5 Best VPNs Reddit Users Recommend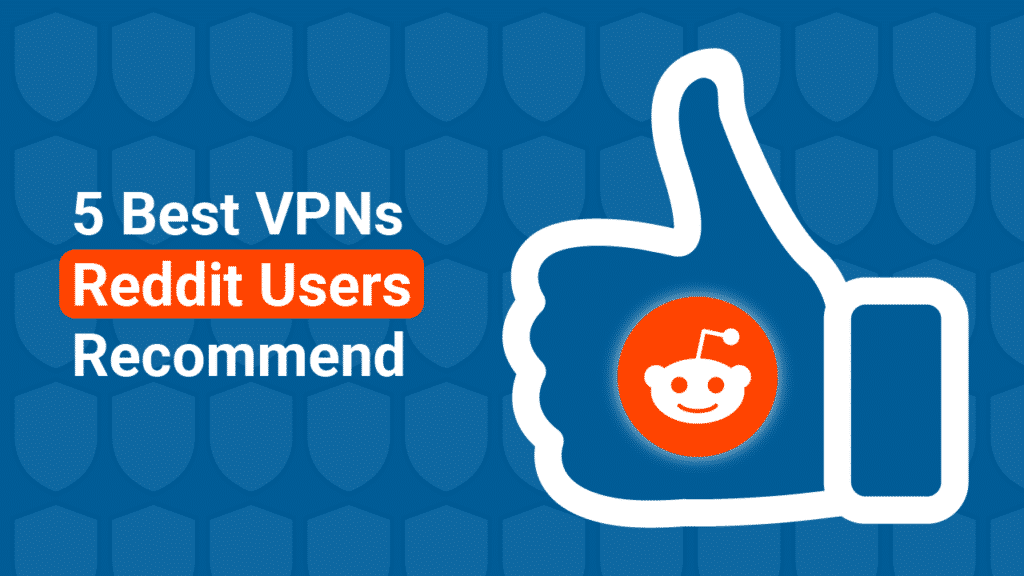 Given the prevalence of VPNs in the market today, it is generally important to check out each provider before settling for one. This can be arduous and sometimes impractical. You will hardly find it convenient to use each VPN in turn before making a decision.  An alternative then is seeking opinions from people who have used VPNs and coming to a conclusion based on the aggregate of opinions. One unique place where you can find such reviews is Reddit.
Reddit is a self-regulated platform where users share opinions. You can find (unsolicited) reviews about any product, ranging from mobile devices to TV shows and even VPNs. If you need to find information on any subject, Reddit is the sure path to tow. 
Reddit users are often harsher than most – this makes them exactly the source to be trusted. Also, there are several fake reviews — users who are sometimes paid to promote one VPN over the other. But those are rare, few and far between. Moreover, there are also scores of genuine reviews. It is from this latter group that we bring you the top recommendations from Reddit users. Enjoy!
Top Recommended VPNs from Reddit
As to be expected, Redditors have diverging opinions regarding the best VPNs. Below, we have aggregated the most consistent VPNs that are regarded as the best. Here goes:
ExpressVPN

Features
Number of servers: More than 3,000
Speeds: Unlimited
Server locations: 160 in 94 countries
Maximum devices supported: 5
24 live chat: Yes
30 day money back guarantee: Yes
Pros/Cons
Fastest VPN out there
Strict no logs policy
256-bit AES encryption
ExpressVPN is the king of VPNs – if Reddit reviews are anything to go by. This provider is immensely popular within the community, earning praise from most reviewers. It is almost as though it has no faults, with most concerns being about its subscription options. In all, ExpressVPN is an amazing VPN endorsed by Reddit users.
This provider has more than 3000 servers in 94+ countries. With these, it carries out the task of masking your IP address effortlessly. It also encrypts your network, routing it through its servers several times to throw off any snoop that may be on your tail. ExpressVPN is so good that even your ISP is shut out from your network.
This provider certainly pays attention to security. As several Redditors noticed, it has a slew of privacy features that cinch up your security. Leading the pack is its AES 256-bit encryption protocol that it uses on all of its servers without exception. Furthermore, it supports other powerful protocols such as OpenVPN. This provider has a Perfect Forward Secrecy feature that preserves the past session, even if your current one gets compromised.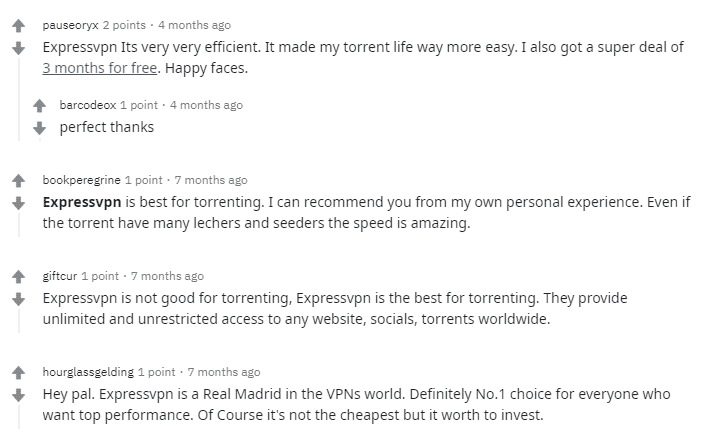 When it comes to torrenting, ExpressVPN is an excellent choice, as the Redditors above confirm. The same applies to streaming and unblocking content. If you want to stream and download content on platforms such as Netflix, Hulu, BBC iPlayer, and Deezer, you can do so freely with ExpressVPN. Geo-blocks offer no barriers as ExpressVPN can get around even the toughest ones without breaking a sweat.
You can download ExpressVPN's apps for whatever device you are using. The provider has a 24/7 customer response team to handle any questions you may have.
Pros:

Fastest VPN out there;

Strict no logs policy;

256-bit AES encryption;

Lowest price: $6.67
NordVPN

Features
Cryptocurrency accepted? Yes
Simultaneous connections: 6
Dedicated IP-addresses? Yes
Servers: 5342 in 58 countries
Pros/Cons
Lots of pricing options
Netflix support kept up to date
256-bit AES encryption
NordVPN is a top recommendation by all counts. It consistently ranks as one of the best service providers due to the multiple excellent features it possesses. Thus, it comes as no surprise that most Redditors speak highly of it.
One area where users heaped praises on NordVPN is about its speed. This provider has no less than 5000 superfast servers in 59 countries and counting. Given NordVPN's affinity for constant improvement, the expectation is that the server count will only continue to rise. With NordVPN's strategically placed servers, you can expect to have access to geo-locked content with little or no problems. Its speed also makes sure you experience no buffering or lags while streaming, downloading, or simply surfing. You only need to take a look at the review below for confirmation.

NordVPN even does better when it comes to security. This provider uses the popular AES 256-bit encryption to protect your data. It also offers a double encryption option. Here, it runs your network through the traffic twice, ensuring that you have a deeper layer of security. Even more so, you get the dedicated IP address option. Here, the provider gives you an IP address that is unique to you. Redditors were specifically fond of this feature, lauding its effectiveness in shielding from cyber snoops.
Another area of strength for this provider is its attention to privacy. The provider is headquartered in Panama. The region is notorious for being privacy-friendly. NordVPN maintains a strict no-logs policy. It also abides by an open-door policy and has even invited auditors to verify its claims. Needless to say, it passed with flying colors. This provider also has a CyberSec feature. This is useful for blocking annoying malware and ads.
NordVPN is compatible with most device types. You can download and install the apps for iOS, macOS, Linux, Windows, and Android devices. As noted by some Reddit users, this provider's subscription plans are on the high side. However, considering all of the benefits you get with it, it is more than worth it. Furthermore, this provider gives you a 30-day money-back period. Within this window, you can request a refund from the VPN if you are unsatisfied with its quality of service.
Pros:

Lots of pricing options;

Netflix support kept up to date;

256-bit AES encryption;

Lowest price: $3.71
Surfshark

Features
Free trial? Yes
Simultaneous connections: unlimited
Ad blocking? Yes
Servers: 1000+ in 61 countries
Pros/Cons
No footprints
Allows torrenting
256-bit AES encryption
In several circles, Surfshark is considered a premium provider. Hence, it comes as no shock that Reddit users find it impressive, too. The general consensus is that with its great subscription offers and excellent services, Surfshark is one VPN provider to watch out for.
This provider has more than 1700 servers in 63+ countries. This is not as much as the two others previously discussed but should suffice for most users. One thing you can be assured of, as Reddit users pointed out, is that the servers are equipped with blazing-fast speed. Whatever your VPN needs are, you can rest assured in the knowledge that this VPN will fulfill them. From the comment of the Redditor below, you can surmise that Surfshark does indeed keep to its part of the bargain.

This provider gives you easy access to geo-blocked platforms. For instance, it has access to 16 different Netflix libraries. These libraries include popular ones like Netflix US and UK. In addition, the provider also grants access to Hulu, BBC iPlayer, Deezer, and so on. Blocks will no longer stand in the way of your enjoyment of your favorite video content.
For security, this provider does not shirk its responsibilities. It makes use of the standard AES 256-bit encryption. This is backed by a stringent no-logs policy. It also has some other unique features specific to this provider. These include its CleanWeb feature that locks ads and any other malware. It also boasts of a kill switch and a Whitelister feature that lets some specific apps bypass the VPN-provided network.
This provider is compatible with most device types. Worthy of note is the fact that you can connect an unlimited number of devices to one account. With Surfshark, you do not ever have to worry about exceeding the maximum number of connections allowed.
Pros:

No footprints;

Allows torrenting;

256-bit AES encryption;

Lowest price: €2.49
ProtonVPN

Features
P2P support? Yes
30-day money-back guarantee? Yes
Country of origin? Switzerland
Servers: 600+ in over 40 countries
Simultaneous devices: 5
Pros/Cons
Professional support
Modern interface and apps
AES-256 encryption
ProtonVPN is much loved by Reddit users because of its affordable subscription plans. In the first place, this provider is one of the few that offer completely free services. Although its free version comes with limited functionalities, it is still impressive. Then, for its paid subscription option, you get the optimum features and all-around excellence when you use this provider.
This provider makes use of the much-lauded AES 256-bit encryption. This encryption pattern is virtually uncrackable and is even used by the United States' military, too. Thus, you can expect only top of the line protection when it comes to this provider. In the comment below, a Redditor vouches for the privacy policies of ProtonVPN.

ProtonVPN also supports some of the best protocols in the market. You get the protection of IKEVv2/IPSec and OpenVPN when you sign on to the network. Other features include a kill switch that automatically kicks in once the VPN connection drops and a split tunneling feature that splits your traffic through the VPN's and through your regular server.
ProtonVPN's headquarters is in Switzerland. This is particularly important for users concerned about privacy. Switzerland's privacy laws are robust and specifically protect citizens. The country is well outside the purview of the 14 eyes network. This means that it is under no international obligation to reveal the identity of users. Thus you can rest assured that this provider will not give up your identity to third parties.
This provider is available across multiple platforms. You can download its apps from its website or from your phone's app store. These apps are available for Windows, macOS, Linux, Android, and iOS devices. It supports 10 simultaneous connections. This is higher than the industry standard of 5. You also get unlimited bandwidth, which gives you ample room to surf to your heart's content.
Pros:

Professional support;

Modern interface and apps;

AES-256 encryption;

Lowest price: €4
CyberGhost

Features
Connected devices at once: 7
Automatic kill switch? Yes
One click connect: Yes
Servers: 5900 worldwide
Pros/Cons
No logs policy
24/7 live chat
Apps for mobile devices and routers
One key attraction for Reddit users to this VPN is its server count. CyberGhost has more than 6000 servers spread across 112 locations and 90 countries. Users report that these servers always aid access to even geo-restricted platforms. This is because CyberGhost has dedicated servers ideal just for streaming content. If you have been experiencing challenges unblocking certain heavy-duty sites, then CyberGhost should be your destination VPN.
Below, a Redditor summarizes our thoughts about CyberGhost.

CyberGhost fares well when it comes to security, too. This provider uses the AES 256-bit encryption on all of its servers. Furthermore, it has an in-built kill switch and an integrated firewall to keep out snoops. CyberGhost has its headquarters in Romania. This makes it ideal for those interested in privacy. Romania is exempt from the regulations binding countries in the 14 eyes network. Thus, there would be no government-sanctioned breach.
Even more so, this provider employs a strict no-logs policy. Most Redditors found this reassuring. The provider does not retain logs of your activities on the internet. Thus, there would be nothing to steal, even if there is a breach.
CyberGhost has apps for major operating systems. If you make use of Android or IOS devices, macOS, Linux, or Windows computers, you are perfectly covered. It also has extensions for most of the popular browsers, too.
Pros:

No logs policy;

24/7 live chat;

Apps for mobile devices and routers;

Lowest price: €2
How Do Reddit Users Rate Free VPNs?
It is seldom easy to get a majority of Reddit users to agree on any one thing. Hence, it is always remarkable where there is a consensus about any topic. That said, one area that most users always agree on is the fact that free VPNs are quite unsafe to use. 
Most users agree that free VPNs have the unique problem of interference from ads. Thus, you will be inundated with ads that will surely make for an unpleasant experience. However, what most users don't know is that those targeted ads usually signal a much bigger problem: the fact that your data may have been compromised. 
Ideally, maintaining a VPN service is an expensive enterprise. Providers have to regularly update their servers and incorporate other features. As technology evolves and paid providers step up their services, free providers would have to keep up. One way they gather funds to maintain a semblance of decent service is through selling users' data. The appearance of targeted ads while you make use of the service is evidence that that is most likely the case. 
Furthermore, Reddit users are consistent about the subpar services most free providers give. These providers usually have a limited number of servers. These servers are typically congested, leading to slow speed. It is usually nightmarish using a free provider for high-speed activities like streaming. 
Reddit users recommend using the free trial period of premium providers. A few providers have completely free trial periods. Others have a risk-free period. For this latter group, you will have to sign up and get on a subscription plan. However, you can request a refund within the window you are afforded. This ranges from 30 days to 45 days in some cases.
Conclusion
One of the great things with a forum like Reddit is the increased possibility of getting genuine reviews. Unlike paid reviewers who may not even have used the product beforehand, the reviews here are mostly authentic. This is seen in the recurrence of certain VPNs as the top fliers. We have curated these providers for you. Hopefully, this list will be quite helpful for you to come to a decision.