VPNs have become the go-to security application for internet users. In 2010, a small group of hacktivists created AirVPN. It has since gone on to become a trustworthy VPN service provider. What initially started as a free service is now a premium service with premium features. This article focuses on AirVPN and the services it offers.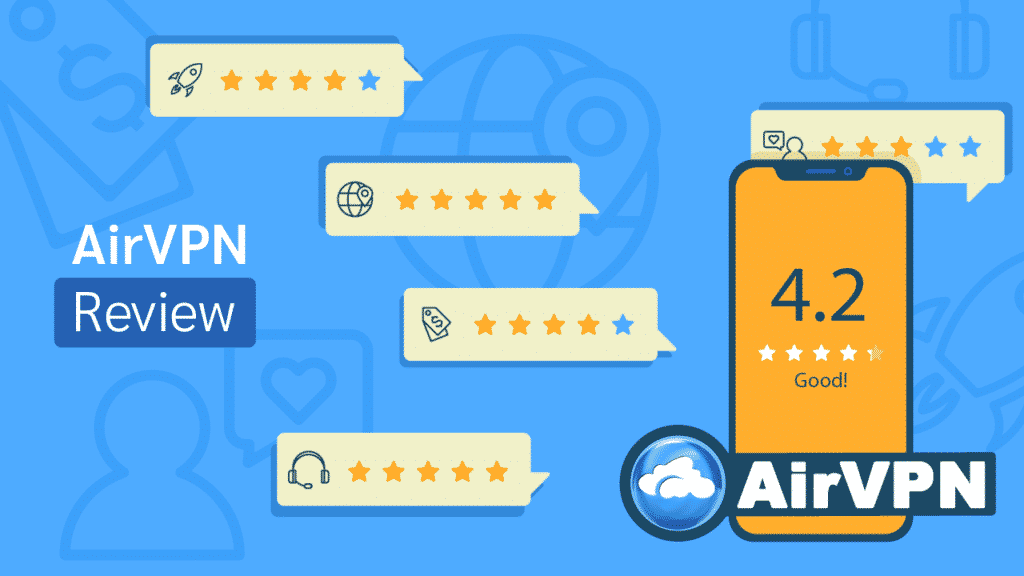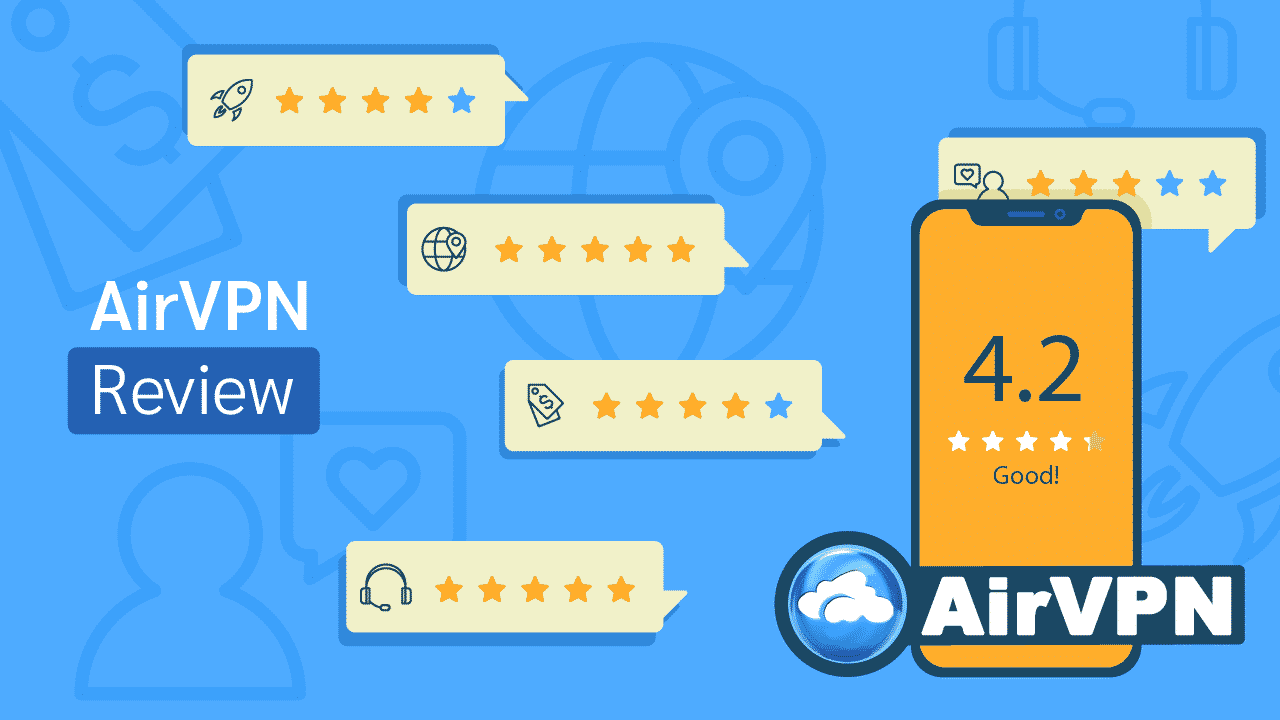 Overview
AirVPN has more than 200 servers in 22 countries. It usually is faster than the average VPN service, but distance can sometimes be a determining factor in speed. Its streaming capabilities are average as it works with Netflix, HBO Go, Hulu, and Disney +. Still, it cannot unblock BBC iPlayer despite having a significant number of servers in the UK. Security-wise it boasts adequate security features and advanced configurations, giving you control over your security structure.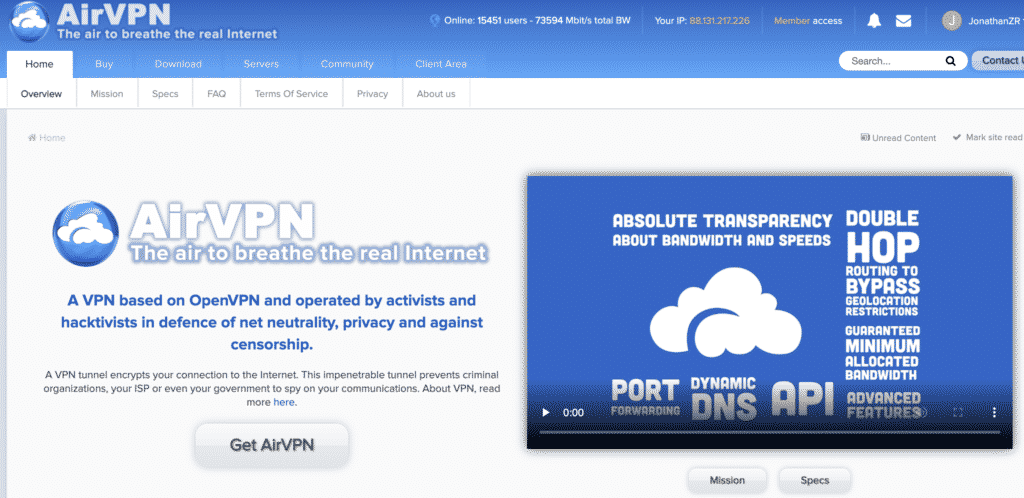 AirVPN's open-source applications, cryptocurrency payment option and strict No-Log Policy give it a firm stand when it comes to privacy. However, its headquarters located in a member country of the 14 Eyes Alliance undermines all that. Affordable subscription packages and support for several devices make it an attractive choice for VPN users. It lacks always-available support and tries to make up for it with an online community and a ticketing system. As a subscriber, you can connect to five devices at the same time.
Server Coverage
AirVPN's server network is small compared to most of the premium VPN services. It has over 200 servers spread across 22 countries. Due to the small size of its server network, individual servers are more likely to be congested in times of heavy traffic. Thankfully, on its website and application, it has a section for servers with the highest traffic. So users can check to see servers with heavy traffic.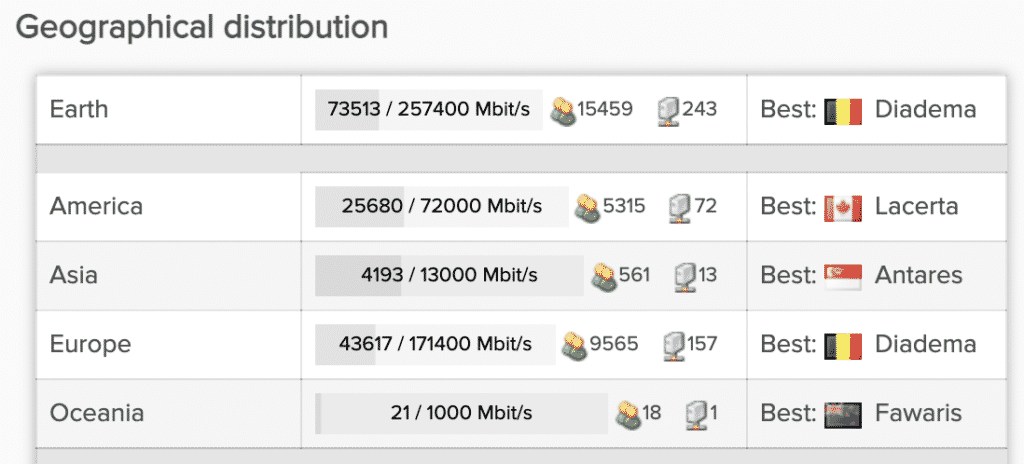 Its 37 servers spread across ten cities in the United States include locations like New York City, Chicago, Los Angeles, and Miami. Other countries with servers in more than a single city include the UK, Germany, Canada, Spain, and Sweden. The European region has the most servers (153 servers in 15 nations), while Brazil is the only country representing South America. Servers in Japan, Singapore, and New Zealand cover the Asia-Pacific region, while Africa is the only region without a single server.
Speed and Performance
Despite its small network, AirVPN meets the needs of users looking for a fast connection. It does not reach exceptional speeds like some of the quickest VPN service providers, but it's definitely above average. Your experience is going to mostly depend on how fast your local connection is without a VPN. If your ISP offers a high speed and unlimited bandwidth, you will likely enjoy fast connections using AirVPN. Otherwise, it's not going to be an enjoyable experience.
Despite the speed reduction that comes with using a VPN, AirVPN is fast on local and international connections. However, the farther the server, the more likely your speed is going to take a hit. Overall, it's a good choice for people who like to stream and download torrent files. Gamers, on the other hand, might need a faster VPN service provider.
Streaming and Torrenting
Netflix has become the benchmark for streaming services. Most premium VPN services unblock Netflix libraries with ease. Fortunately, AirVPN can unblock Netflix's US library. It also unblocks HBO GO, Hulu, and Disney + with ease but struggles with other platforms. Despite having 16 servers in the UK, AirVPN cannot get past BBC iPlayer's geo-restriction. It also has the same problem with Amazon Prime Video.
Unlike premium VPNs with several specialty servers, AirVPN dedicates only a few servers for its Double VPN or DoubleHop feature. Despite not having any special servers for torrenting, AirVPN is a good choice for any P2P activity. All servers support anonymous torrenting. Advanced torrent users will be happy to hear that it supports port forwarding with a limit of 20 simultaneous port connections. Overall, AirVPN is excellent for torrenting, but it can do better when it comes to unblocking streaming platforms.
Security
Security is the fundamental purpose of any VPN service, and AirVPN performs excellently in this aspect. It uses military-grade AES-256 encryption to ensure a secure connection. This encryption cipher has no known record of penetration. AirVPN only uses OpenVPN (UDP/TCP) because of its reliability and security. It also uses perfect forward secrecy to ensure that the encryption key does not always remain the same, as it changes every 60 minutes.
Other notable features include Split Tunneling, Tor over VPN, and DoubleHop. Its Tor over VPN and DoubleHop features are critical in areas of heavy censorship. There is also adequate protection against any form of DNS/IPv6/WebRTC leaks, and its Network Lock feature prevents IP address leaks when the VPN connection is inactive. Unfortunately, if you're looking to block ads, AirVPN is not the VPN with a solution to that problem.
AirVPN
Pros
Unlimited and free server switches
Five simultaneous connections per account
Servers in 22 countries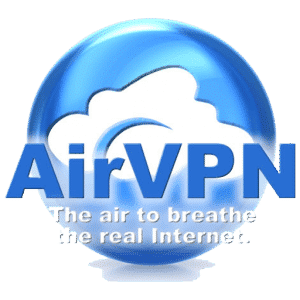 Privacy
In terms of privacy, AirVPN guarantees your anonymity. It keeps no log of your online activities according to its No-Log Policy. However, its headquarter is in Italy–a member of the 14 Eyes Alliance. It is also under the European Union, and its privacy policy states that its data protection measures comply with the EU's data protection laws. So far, you can trust AirVPN with your data.
You can extend your trust to its applications, as they are all open source. Its cryptocurrency payment option also permits users to stay completely anonymous while using its service. Overall, AirVPN is a brilliant choice for anyone looking to maintain privacy.
Platforms Supported
When it comes to cross-platform compatibility, AirVPN is remarkable. It has support for several devices, including Windows, macOS, Linux, Android, iOS, ChromeOS, and routers. Some of the router firmware it supports are DD-WRT, Tomato, AsusWRT, and pfSense.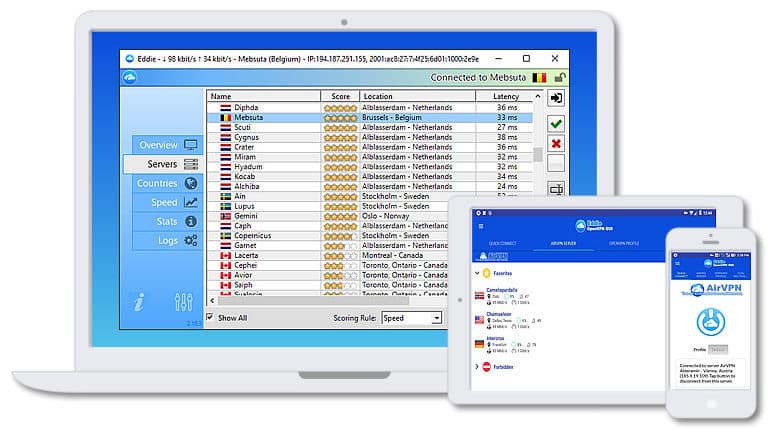 This VPN has more client applications for Windows than most VPNs. For example, the download page has options for different Windows OS versions, including XP, Vista, 7, 8, and 10. Overall, it's going to be challenging to find a device that AirVPN does not support.
Plans and Pricing
AirVPN's several affordable subscription plans make it an attractive VPN. Its plans range from three days to three years. Its 3-day plan usually costs $2.36, but as a first-timer, you can use AirVPN for three days free to test its services. The longer the subscription, the cheaper it gets.
AirVPN's best deal, its three-year plan, only costs $3.25 per month, while its monthly plan goes for $8.26 per month. You can see the massive difference between those two subscription packages. It also has a six-month, one-year, and two-year plan between its monthly and three-year plan.

All plans have a 30-day refund policy provided you have not violated its terms of service. AirVPN supports several payment methods; it will be difficult for you not to find a payment method you need. You can establish only five simultaneous connections per account.
User Experience and Customer Support
AirVPN's desktop GUI application is not as graphically attractive as other premium VPN services, but it gives users more control over features. It can be overwhelming for beginners, but it's still easy to use. It has a sidebar menu that gives you access to all its features. You can connect to a server immediately by clicking on a "Recommended Server" button. It then shows you the server's location, upload and download speeds, IP address(es), and connection time.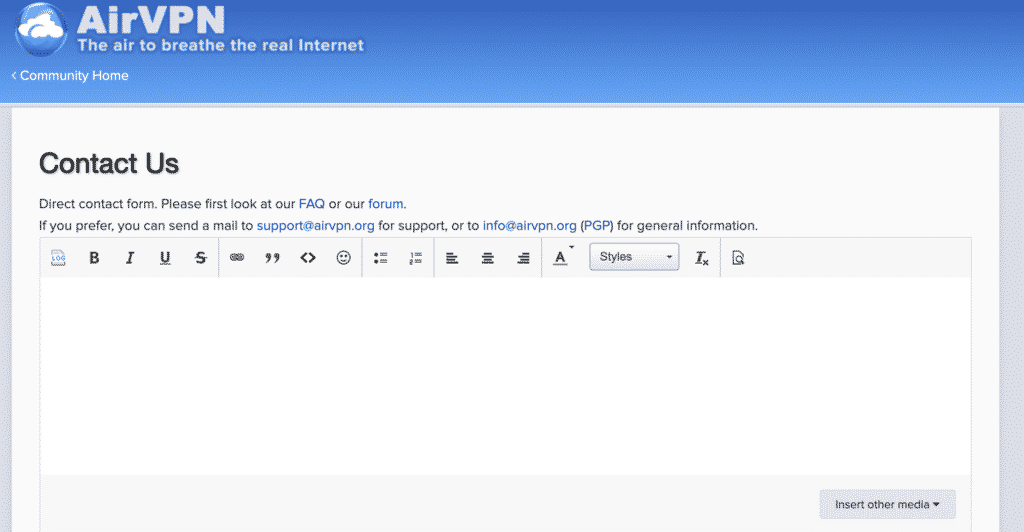 Using the GUI application gives you access to some of the most comprehensive settings we have seen on a VPN application. The VPN selection process can be cumbersome because of the naming system. Furthermore, it does not have a search feature. Overall, advanced VPN users will enjoy using it, but inexperienced users will prefer a better user interface.
It was extremely disappointing to discover that AirVPN does not have a 24/7 live chat system. It only has an online ticketing system (which can be time-wasting), and a forum users can communicate with themselves and support staff. Support guides and FAQs are also available on its website.
Does AirVPN Work in China?
AirVPN had servers in Hong Kong until it removed them due to China's heavy surveillance requirements. There are not many VPN service providers who can work in China because of its great firewall. The Chinese government wants to keep tabs on all online activities of its citizens. Fortunately, AirVPN has a way users in China can connect to its servers without the Chinese government detecting the connection.
Using the OpenVPN protocol over SSL ensures that Chinese ISPs cannot detect you're using a VPN connection. You can do this easily on desktop applications, but you need to import OpenVPN configuration files to an OpenVPN client application if you want to do it on mobile devices. AirVPN has support guides on its website that can help you.
Pros and Cons
Like every VPN service, AirVPN has its advantages and disadvantages. Let's take a look at some of them.
Pros
1. Advanced Security Features
AirVPN's advanced security features make it attractive to users who want high-level control over their connection. Its desktop applications especially are full of basic and advanced settings you can tweak to your pleasure.
2. Cross-Platform Compatibility
In the league of VPNs that support several platforms, AirVPN undoubtedly stands out. Apart from the major platforms, it goes out to support several router firmware and other devices.
Cons
1. Small Server Network
AirVPN's small server network is a limitation. It doesn't allow you to explore the global entertainment industry fully. Asides from that, in situations of heavy traffic, individual servers are likely to be overwhelmed.
2. Lack of Always-Available Support
The fact that there is no 24/7 live chat option is a huge disappointment. VPN users are looking for VPN services with immediate responses to any issues they might have. AirVPN needs to look into implementing an always-available support team.
Recommendation and Conclusion
AirVPN is a brilliant choice if your concern is privacy, security, and torrenting. Its comprehensive security features on its desktop applications appeal to the advanced VPN user but can be complicated for anyone else. Overall, it's very secure, supports several platforms, protects your privacy, delivers fast connection speed, and is budget-friendly. Its limitations as regards streaming and limited server network can be a deal-breaker for some VPN users.