The Best Cities For A Cybersecurity Job
With cyber-attacks on the rise, cybersecurity jobs remain in high demand around the world and that number is set to grow. From Singapore to Athens, we have analyzed the data to find the best cities to land a career in cybersecurity to see where you should consider moving to in 2021.
Cybersecurity is an ever-growing field. Worldwide reliance on technology rises by the day, and as a result, our digital security is becoming more important than ever.
With the field continuing to grow, cybersecurity jobs are in high demand — in fact, in the UK the cybersecurity industry now employs nearly 50,000 people. However, there is still a glaring skill shortage in the field. Figures from the global information security workforce state that there are set to be around 100,000 vacant cybersecurity jobs in the UK by 2022.
The good news is that if you have the right skills, then you are in demand.
Nowadays, every city now has its own tech hub, but it seems that some are better than others if you are looking for a career in cybersecurity. So which ones are the best? And what skills are most sought after?
Looking to find the answer, Techshielder has analyzed several metrics including average salary, job availability, and cost of living to find the best place to live for cybersecurity experts.
Washington D.C, US has been named the best city for cybersecurity jobs
Washington D.C sits at the top of the ranking – which may not come as a surprise to many, as the capital is the headquarters of government agencies that employ many cybersecurity professionals.
Scoring a total score of 17.58 overall, the city rank in the top two for job availability for those looking to work in the cybersecurity sector, balanced with a high average salary of £84,628 this city is a great contender for those looking to work in tech.
Singapore comes in second place. Known for its cultural sights like the Marina Bay Sands and the Singapore flyer, this southeastern Asia city has the highest job availability out of all the cities examined. However, the average salary of £55,577 and the high cost of living at an average of £3,267 brings it down.
London ranks 8th in the table, losing points because of its lower average salary compared to other cities, and paired with the high cost of living, the English capital fails to make the top 5.
Take a look below to see what other cities made the list.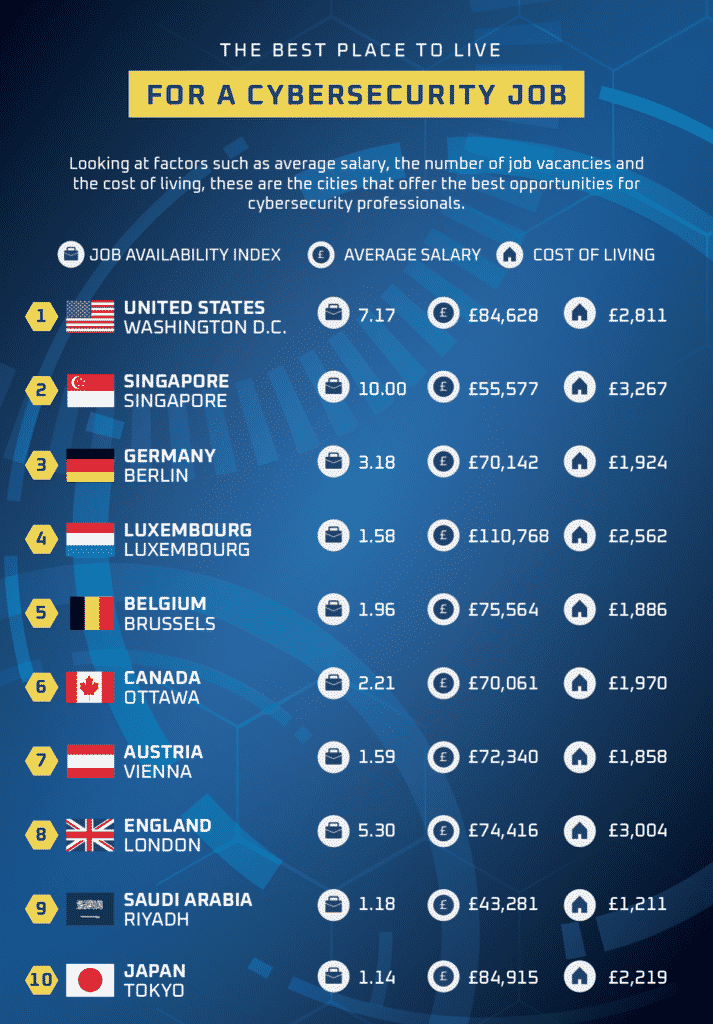 Singapore has the most cybersecurity jobs available
Recent graduates and any job seekers looking for a new role can increase their chances of getting hired by looking for cities with the largest number of job openings.
We analyzed the amount of cybersecurity-related jobs available on Indeed and Glassdoor to reveal the cities with the most cybersecurity jobs.
Singapore (10.00 Job availability score)
Washington D.C (7.17 Job availability score)
London (5.30 Job availability score)
Cybersecurity experts in Luxembourg earn the highest salaries
Cybersecurity is a booming field with the potential to grow immensely. Although there are many positions to choose from within the industry – most if not all are well paid due to the importance they play in our society.
If you are interested in joining the field, you may want to narrow your choices by top-paying jobs.
If you would like to get the most bang for your buck, it is also important to consider the cost of living. Any increase in salary can be swiftly consumed by the differences in the price tag of everyday costs such as food and rent.
Knowing the true value of a salary in different locations is just as crucial as knowing the pay.
| | | | |
| --- | --- | --- | --- |
| Rank | City | Average Salary | Cost of Living |
| 1 | Luxembourg, Luxembourg | £110,768.11 | £2,562.39 |
| 2 | Denmark, Copenhagen | £86,337.17 | £2,665.18 |
| 3 | Japan, Tokyo | £84,915.14 | £2,219.01 |
| 4 | Switzerland, Bern | £84,653.91 | £2,761.52 |
| 5 | US, Washington D.C | £84,628.38 | £2,810.69 |
As the table shows, the city of Luxembourg has the highest average salary. While you can make a six-figure wage when working in this city, the high cost of living means that your money may not go as far as it would in other cities.
At the end of the scale, sits Abuja in Nigeria. With a salary of just £1,758.30 annually, this city has the lowest income for cybersecurity specialists.
Brazil ranks as the best country for remote jobs
2020 was the year of remote working. Many of us learned — and, more importantly, companies learned— that we can work from just about anywhere in the world as long as we have power and a steady Wi-Fi connection.
Countless of us have adopted the life of a digital nomad, and just the thought of going back into the office gives us the chills.
Here are the top 5 countries offering the best opportunity for cybersecurity remote workers: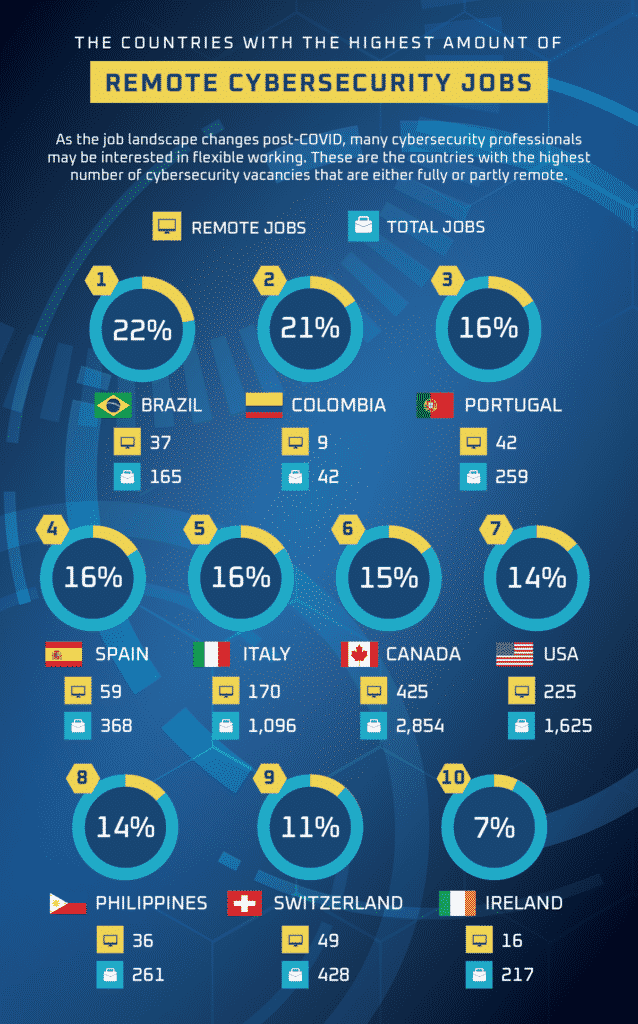 Brazil comes out in first place. Out of the 165 cybersecurity job available, 22% of the positions offer the option of remote working. Best known for its many white sandy beaches and for the annual carnival, this destination presents a great opportunity for remote workers due to the numerous co-working spaces.
Colombia follows Brazil as the second-best country for remote jobs. 21% of jobs listed offer to work remotely. The warm weather makes it an easy choice for many, but the country also offers plenty of coffee shops that serve some of the world's best Java.
Rounding up the top three is Portugal; 16% of the job listed propose remote working. The country is an excellent place for digital nomads as it has great year-round weather with well over 300 days of sunshine, low cost of living, and adequate Wi-Fi speeds for which the country ranks 24th for average broadband speeds globally.
The most in-demand skills to learn in 2021
Whilst there is a high demand for jobs, you can't start a career within the cybersecurity sector without the right expertise. There are certain skills you'll need in order to thrive in the field.
Finding a proficient applicant to fill one of the many available jobs during a skill shortage is one of the hardest challenges for HR personnel.
In order to help you get ahead of the curve, below we have highlighted some of the most in-demand skills, so you can know exactly what organizations are looking for.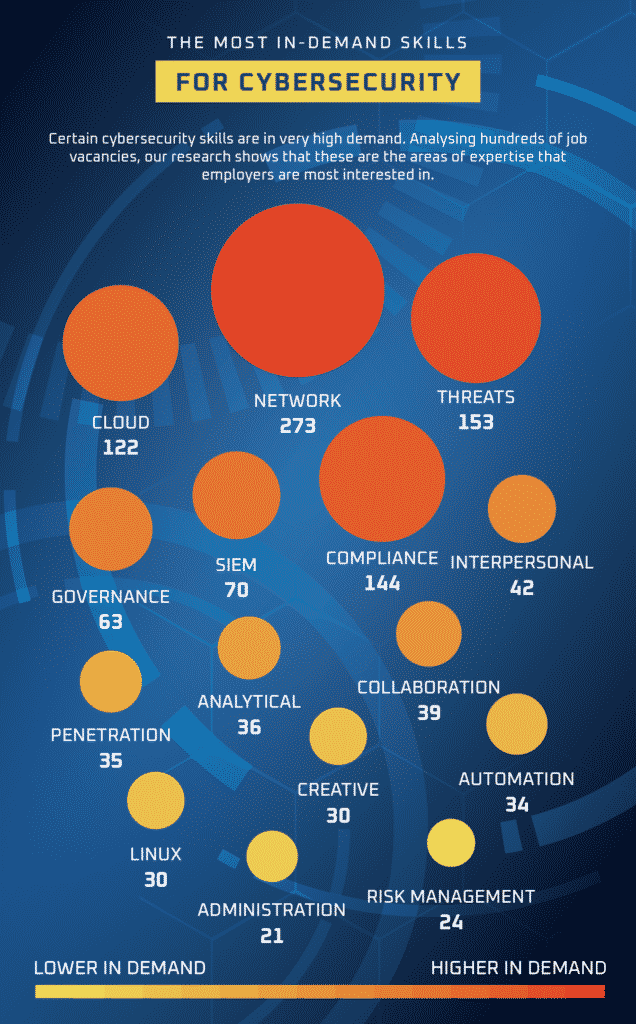 1. Network
One of the most in-demand skills, and perhaps one of the most important ones for anyone in cybersecurity, is networking. Understanding how networks work allows you to get a better comprehension of how to defend them, how routers work, what the firewall logs mean as well as the knowledge of intrusion detection and prevention.
Learning this hard skill will give you transferable knowledge that will open the door to a surplus of job roles in the cybersecurity field.
2. Threats
Threat intelligence ranks as the second most in-demand skill in 2021. Being able to evaluate threats and prevent or mitigate cyberattacks is a highly sought-after ability.
Threat Intelligence skills require a blend of creativity, analytical skills, and technical expertise as you will need to create both short-term and long-term reports demonstrating recommendations needed to reduce and neutralize any prospective threat.
Most companies have tools in place to identify these threats, however, these tools are useless without the right professionals.
3. Compliance
Businesses need people who are familiar with various data privacy regulations. From the European Union's GDPR to the California Consumer Privacy Act, companies need employees who are able to assess the risk and understand the paperwork and the security protocols are needed in order to keep personal data safe.
4. Cloud
More companies are moving to a cloud-based infrastructure and therefore the need for cloud-savvy professionals are on the rise. These experts need to be able to arrange, organize and monitor a virtualized environment such as SaaS, PaaS, or IaaS so that they are able to protect data from being deleted, leaked or even stolen.
As the number of cloud attacks continues to increase, the need for cloud security equally rises.
5. SIEM
Security Information and Event Management (SIEM) is software that is mostly used by public companies and large organizations where compliance with regulations is a strong factor in day-to-day operations.
SIEM combines the analysis of logs and event data for threat monitoring, event correlations, and incident response of security events (SEM) with the analysis of reporting on log data from security information management (SIM).
The main focus of SIEM platforms is on security-related incidents and events, such as failed logins and malware activities. The program is there to help security professionals identify and track the records of incidents, anomalies, and vulnerabilities through historical logs and real-time events.
On average, less than 1% of UK companies hire cybersecurity specialist
In today's society, we understand that cybersecurity plays a huge role in our day-to-day lives. As the world shifts more to the online space, we all become more vulnerable to attacks on our sensitive data.
The rise of cyber criminals and cybercrimes has had a huge impact on businesses as they need professionals to protect their online presence and assets of not only themselves but also their customers.
Examining the top UK companies in the Fortune 500 to see how many cybersecurity specialists they employ, Techshielder found that on average just 0.6% of staff are cybersecurity experts.
The table below shows the UK companies with the highest percentage of cybersecurity employees:
| | | | | |
| --- | --- | --- | --- | --- |
| Rank | Company | Number of employees | Number of cybersecurity employees | Percentage of cybersecurity employees |
| 1 | International Airlines Group | 361 | 14 | 3.88% |
| 2 | BT Group | 66884 | 998 | 1.49% |
| 3 | Prudential plc | 2336 | 32 | 1.37% |
| 4 | Lloyds Banking Group | 54019 | 331 | 0.61% |
| 5 | Barclays | 67506 | 370 | 0.55% |
International Airlines Group also known as IAG is a multinational airline holding company. Owning airlines like British Airways, Vueling, and AER Lingus – IAG is responsible for a huge amount of passenger data.
In fact, in 2008, British Airways suffered a huge breach attack that affected 420,000 people and they have only recently agreed to compensate the victims involved.
IAG employs 361 people, with 14 of those employed being cybersecurity specialists.
Although the BT Group only comes in second place with a percentage of cybersecurity employees of 1.49% – the company has the highest amount of cybersecurity professionals (998) employed, followed by HSBC and Vodafone (956 and 828 respectively).
Owning over 400 brands such as Dove, Hellman's, Lynx and PG Tips ranking at the bottom is Unilever. Only 108 out of the 134889 Unilever workers are cybersecurity specialists – that works out to just 0.08%!
As technology continues to play a vital role in our lives, the need for business to expand their cybersecurity departments grows, and the experts needed to fill those positions surges. But where in the world is the right city for you?
Tips for Companies Without a Cybersecurity Specialist
Even in the absence of a cybersecurity specialist, you can still keep your company safe. It will require deliberate monitoring and conscientious planning. Here are some tips you could try out:
1. Back-Up Your Files
This is a simple yet effective way to stave off attacks. The possibility of recovering essential data if you get attacked could depend on whether you backed up your files or not. Do not have just one copy of your files, especially essential ones. There are several options to store files, both online and offline. Use any to stay safe.
2. Use Firewalls
Even China uses firewalls. So, should you. This could mean having a cybersecurity person come in at least once to set up the system. However, once this happens, you are good to go. Firewalls prevent authorized third parties from being able to hack your systems.
3. Employ a VPN
A VPN (Virtual Private Network) gives you the best of everything in terms of cybersecurity. It encrypts your traffic, prevents third-party interference, stops viruses and other malware, and can also help you generate passwords. There are several options available, each with its specialties. Determine the best VPN for you and use it to bolster your cybersecurity.
4. Use Antivirus Software
There is always the risk of a virus or other malware infecting your device. Hence, use antivirus software to prevent that from happening. Also, make sure to update the software as frequently as possible. Outdated antivirus software is as useless as not having any protection at all. You may have to pay to use some of the strongest antivirus software available. However, that is a small price to pay for improved security.
5. Use Strong Passwords
Passwords serve as gateways into your device. The stronger the password is, the harder it will be for hackers to break through. So make it compulsory for workers to have strong passwords on all devices. Thankfully, there are password generators now that will ensure your passwords are not weak and easily discernible. You can use any of those.