Surfshark vs ExpressVPN (2023): Speed, Streaming, Logs, Safety
It is easy to get confused about a VPN choice in the face of the many options available these days. You could easily sort out any confusion by looking at the features of each. However, that can be a time-consuming exercise. In fact, it could be both impossible and impractical.
In this guide, we look at two of the best VPNs in the market. We analyze their features, having them go head to head. ExpressVPN is an industry leader. It easily finds its place in any top 5 rankings. Surfshark is a new entrant in the industry, but remarkable still. At the end of this review, you will be able to make an informed choice between the two providers.
Surfshark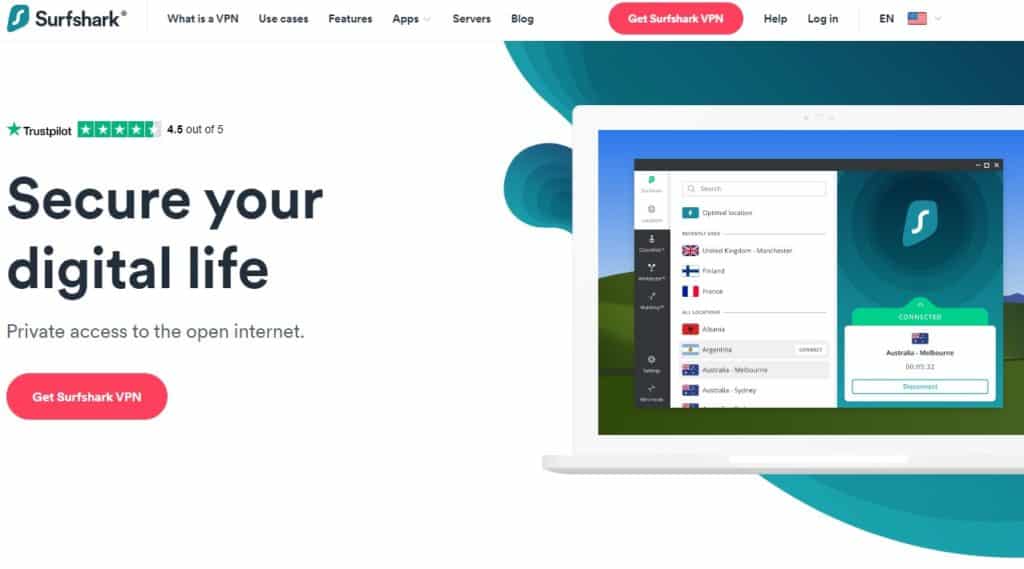 Surfshark is one provider that has consistently surpassed expectations. It is a recent entrant in the VPN market, but do not let this fool you. This provider has shown that it has all it takes to slug it out with even the best in the industry.
Surfshark has a modest 1700-server list. However, these are spread across over 160 locations and 63 countries. You can expect your location to be on the server list. These servers are superfast and will meet your needs with ease.
This provider is based in the British Virgin Islands, a hub for privacy enthusiasts. It also has other great security features such as the AES 256-bit encryption, a kill switch, DNS-leak prevention features, and allows split tunneling.
Surfshark is available for most device types. If you have multiple devices or want to share your subscription with others, you can do this easily. You can find apps for Windows, macOS, iOS, Android, and Linux. More so, it affords you the luxury of connecting an unlimited number of devices simultaneously. With just one Surfshark account, your entire family could enjoy VPN coverage.
ExpressVPN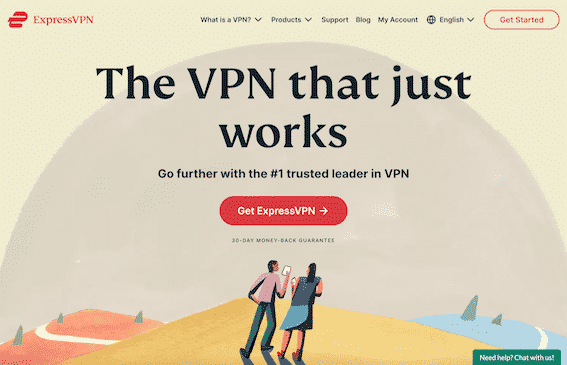 ExpressVPN easily takes the prize of the best all-round VPN. It is one of the oldies and has managed to maintain its position even though new VPNs keep springing up.
This provider has more than 3000 servers across multiple countries. These servers are famous for being ridiculously fast. More so, they can beat even the strongest geo-blocks. Hence, they bypass restrictions on Netflix, Hulu, iPlayer, etc. For countries like China with massive censorship laws, you can still count on ExpressVPN. Whether you intend to have access to social media or access restricted content, you can get all of that with ExpressVPN.
As you can expect, ExpressVPN has top-notch security features. It makes use of the standard AES 256-bit encryption. It also has a kill switch that protects you when your VPN connection drops. Its split tunneling feature routes your network through ExpressVPN servers and your regular ISP server, keeping each distinct. Finally, it maintains a strict no-logs policy. Its location in the British Virgin Islands also means that it has no obligations to demand or divulge users' data.
You can find ExpressVPN apps for any device you use. It allows you to connect 5 devices simultaneously. Additionally, you can take advantage of its money-back policy to request a refund if you are unsatisfied with its service.
Server Coverage
One very important consideration when choosing a VPN is server number and locations. You want to go with a provider with a large number of servers. This gives you the flexibility to switch between multiple locations. A VPN masks your regular IP address. It gives you that of the country whose server you connect to. Hence, if you want to access content specific to, say, the United States, you need to connect to servers located there.
Additionally, fast speed is better guaranteed when your provider has a large number of servers. You will be able to test the multiple ones in your location. If you have a need to switch, it will be easier. You must bear in mind that as more people sign up with a provider, the slower the speed becomes. This is also one reason to go with providers with multiple offers. If the numbers are evenly spread out, your browsing speed will hardly be compromised.
Servers are mostly physically located in these countries. However, some providers have taken to creating virtual servers. In principle, they perform the same functions. If a server is 'virtually' located in a given country, it still gives you access to content in that location. However, there may be problems related to the speed and efficiency of these servers. It appears a virtual server may not be able to actually match up to an actual server. This is an area you may want to pay attention to.
That said, let's examine the number of servers each of these providers has.
Surfshark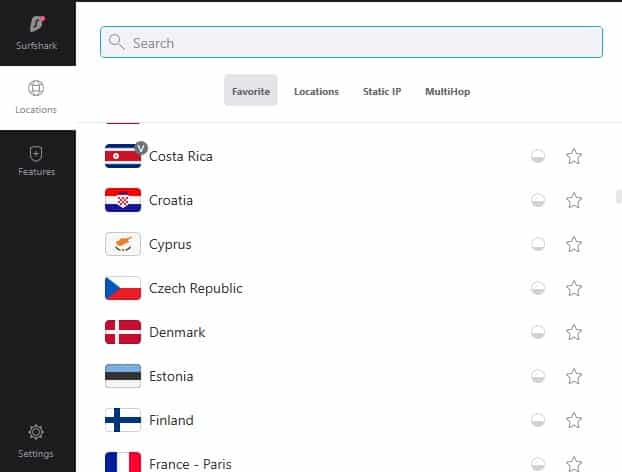 Surfshark has 1700 servers in 66 countries ( Some countries have multiple locations. In total, the locations come to about 112.) The server locations are spelled out below.
North America – 28 locations.
Europe – 52 locations.
Oceania – 6 locations.
Asia – 16 locations.
Central America – 1 location (Costa Rica)
South America – 5 locations.
Africa – 3 locations.
ExpressVPN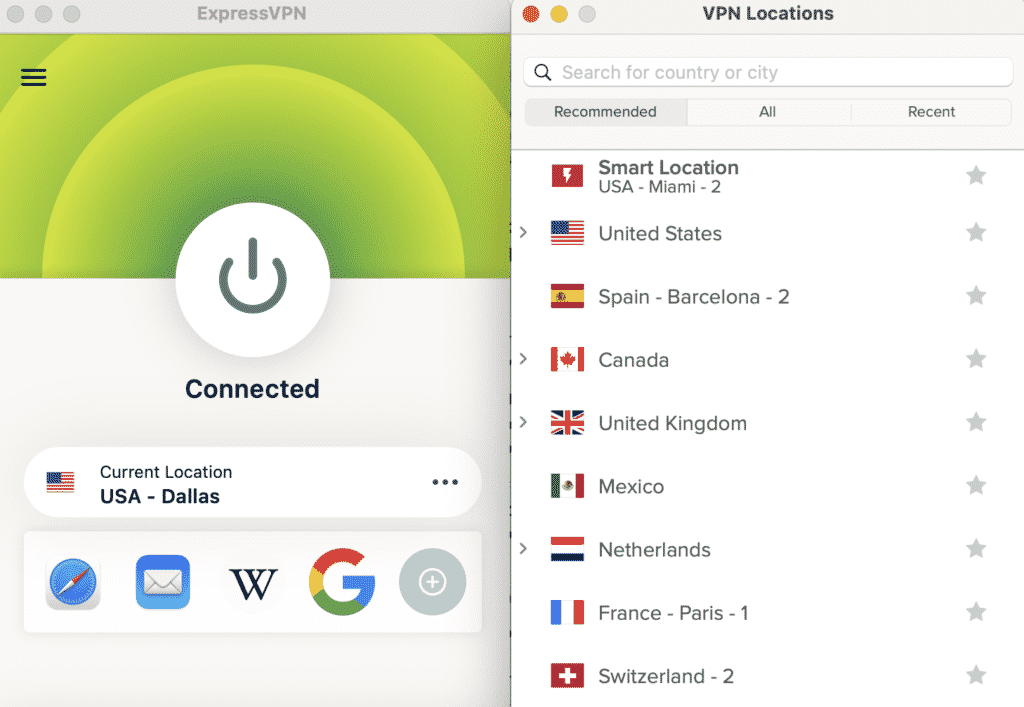 ExpressVPN, on the other hand, has more than 3000 servers in 94 countries (160 locations in total.) Find out below the manner the servers are spread out.
North America – 18 locations (The highest is in the United States with more than 20 locations. Canada has about 8 servers, while Mexico has 1)
Europe – 54 locations (The highest is in the United Kingdom, with more than 8 servers)
Asia – 34 locations (You'll be glad to know that ExpressVPN has servers in Hong Kong and Japan, two locations with very stringent data laws. If you live, work or intend to travel to these two locations, ExpressVPN will provide you with unmatched service.)
Central America – 3 locations.
South America – 8 locations.
The Caribbean – 1 location.
Africa – 4 locations.
Evidently, ExpressVPN takes this one. However, you have to bear in mind that ExpressVPN is an oldie in the industry. With 1700 servers, Surfshark is not doing badly. This is especially considered against when it came into existence. Additionally, Surfshark has servers in locations where ExpressVPN does not. These locations include Paraguay, Libya, United Arab Emirates, and Nigeria. These servers are virtual. However, if you wish to access those locations, it is a plus for Surfshark.
Speed and Performance
Generally, when using a VPN, your browsing speed reduces. This is because your data has to travel first to a server. Then it will get routed back to your device. This journey reduces your sleep. Additionally, the time your VPN takes to encrypt and decrypt your data factors in, too. The time it takes might just be seconds, but it all adds up to reduce your browsing speed generally.
Surfshark's speed is quite fast. However, its speed is impacted by the proximity of the server you use. If the server is located in a nearby country, the speed picks up. However, if the server is farther away, the speed slows down. This, of course, does not mean that the VPN is slow – far from it. Surfshark has one of the best speeds for any VPN. More so, considering its size, it does quite well.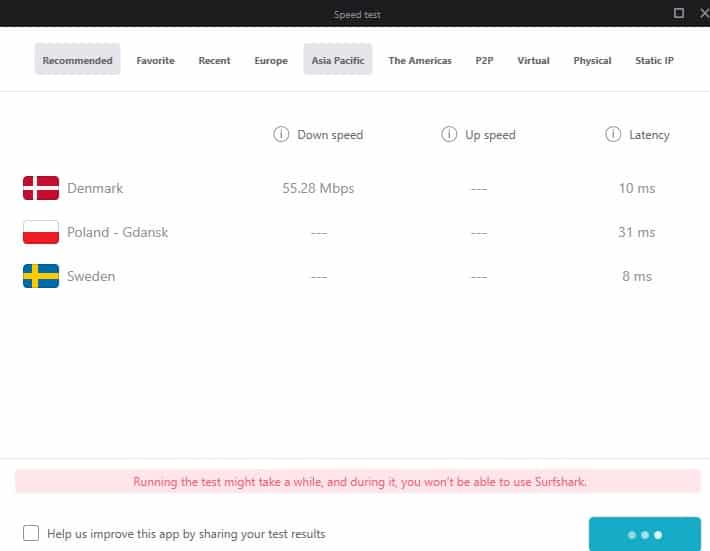 ExpressVPN is the industry leader in terms of speed. With it, you will hardly notice any difference in your regular browsing speed. Whatever you need the VPN for – browsing, streaming content, downloading videos – this provider is reliable. You can rest assured that ExpressVPN will deliver consistently on its promise of premium speed.
In this criterion, ExpressVPN triumphs effortlessly. In its years in the industry, it has developed a reputation for providing unparalleled speed. Hopefully, Surfshark would catch up soon.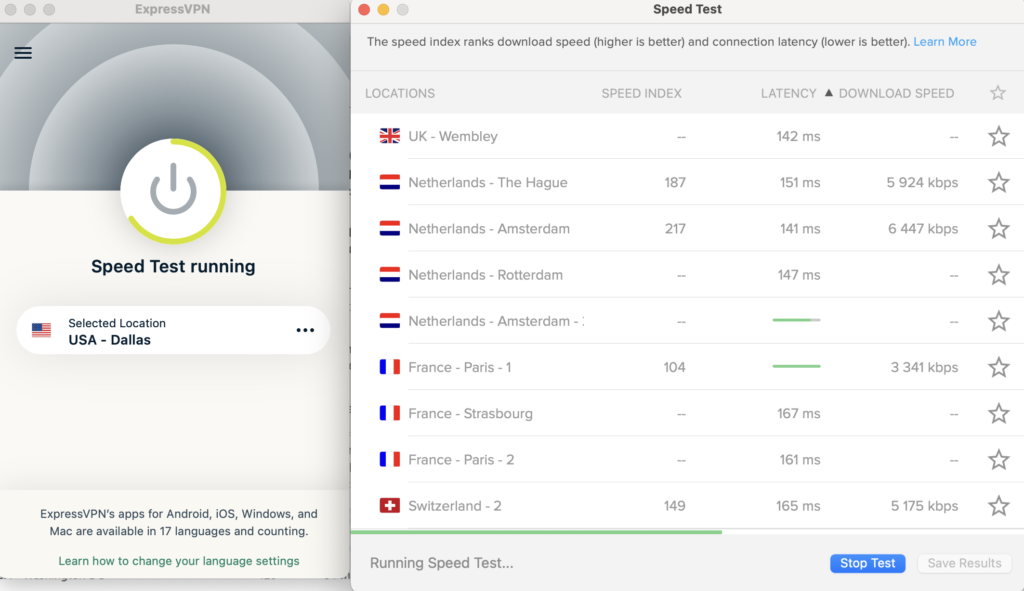 Safety and Security Features
Security is such a big issue when choosing a VPN. In fact, it could be the lone decider of the suitability of a provider. This is because a VPN's primary function is to keep users secure. First, users want to be safe from hackers and other nefarious elements. This is especially as cyberthreats multiply by the day. Top-notch security features will keep a user safe while making use of the internet. Also, users want to be kept safe from government surveillance. Individuals located in regions with repressive governments often prioritize this. Lastly, Internet Service Providers are the final group that a VPN provides protection against. Unscrupulous ISPs snoop on their users. They mine users' data and sell to the highest bidder. With a VPN, they cannot do this.
The importance of a VPN's security features makes the other perks the provider makes available secondary. It is for this reason that providers spend a lot to improve their security apparatus. In this regard, the two providers under review fare quite well.
Surfshark incorporates all the standard security features. This includes the popular 256-bit AES encryption. It is also outfitted with the best protocols; OpenVPN, UDP, TCP, and IKEv2. For desktop apps, OpenVPN is the default protocol for the desktop app, while IKEv2 is the default for mobile users.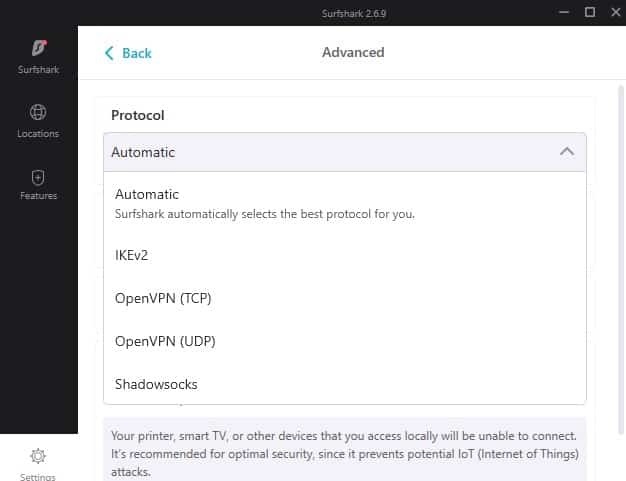 This provider has some other pretty awesome security features. The first is the Multi-Hop tap. This passes your traffic through several servers. Here, if the hacker manages to hack into one, the other still protects your data. Surfshark offers more than 13 servers enabled to carry out this function. Additionally, it has a No-Border feature. You will be able to make use of it in countries like China. Servers here are specifically designed to beat geo-restrictions in countries like that. It also offers private DNS servers. With this feature, you will be able to make use of private DNS servers exclusively.
Similarly, ExpressVPN makes use of standard security features. Just like Surfshark, it is equipped with 256-bit AES encryption. Here, it combines the AES 256-bit cipher with a 4096-bit RSA key and SHA-512 HMAC encryption. All of these alphabets and numerals simply show the quality of the encryption. It is so impenetrable that even the fastest supercomputer in the world cannot break it.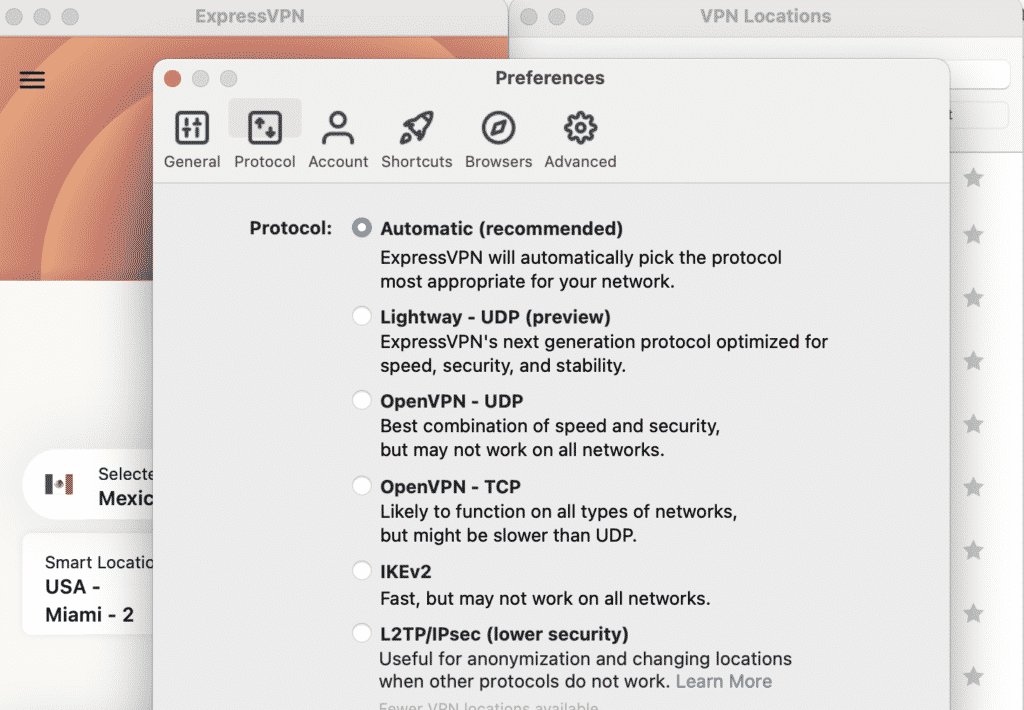 In addition, this provider makes available multiple protocols. The default is OpenVPN. The provider connects you with it immediately you log on. The other offerings include TCP, PPTP, and L2TP/1Psec. Features peculiar to ExpressVPN include a perfect forward secrecy feature. This switches your encryption key any time you come online. It also has a Kill switch. It protects you if the VPN connection ever falters. Finally, this provider offers split tunneling and Leak prevention. With split tunneling, you will be able to encrypt only certain parts of your network. You will be able to leave the others to make use of your regular network. This provider prevents DNS leaks while browsing. This guarantees total anonymity.
When it comes to security, these two providers are almost at par. They both offer standard security features.
Anonymity and Privacy Features
Many providers are quick to assure users of privacy. However, you may be well advised to take these assurances with a pinch of salt. A careful look at these privacy policies will show a lot of sharp practices. Some providers store certain aspects of your data. This means that it could fall into the wrong hands if care is not taken.
Both ExpressVPN and Surfshark have their headquarters in the British Virgin Islands. There is no doubt that these two providers deliberately chose the location. The British Virgin Islands is a privacy-friendly country. It is not under the purview of the 14 eyes network. Thus, these providers will not have an obligation to share data with the government.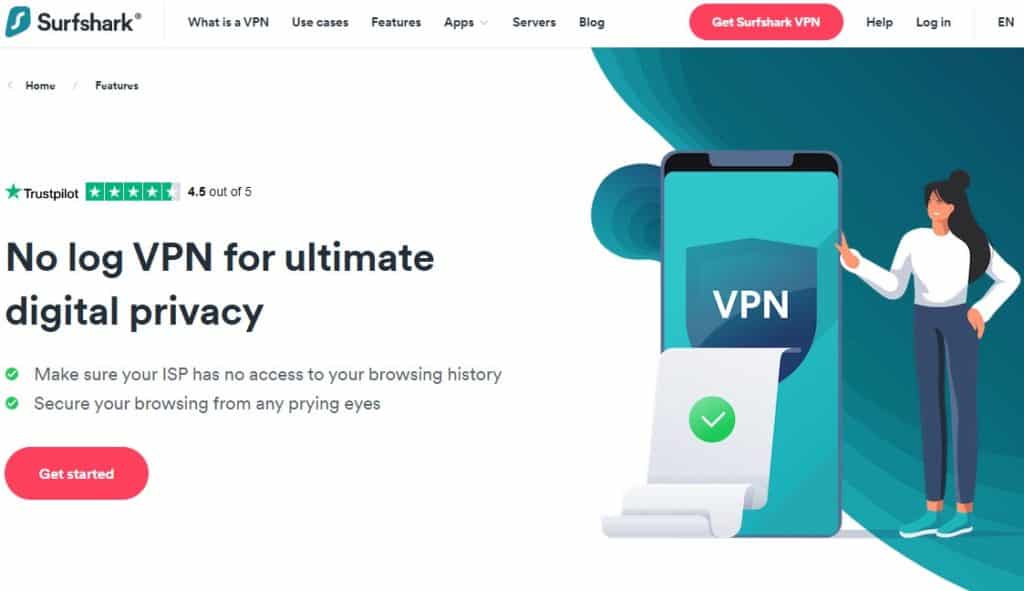 Concerning logging, both providers also insist that they do not keep logs of user' activities. ExpressVPN affirms that log-in details, online traffic, website visited, and data content are completely protected. It, however, states that it collates only the data the user makes available when signing up. The details here include just the email address and payment details. Since it allows for payment in cryptocurrencies, you could avoid this latter requirement.
Similarly, Surfshark states that it does not also keep logs of users' activities. On its websites, it reveals that it does not collate information relating to the user's entire activities online. Like ExpressVPN, it also claims it retains only the email address and billing information a user uses to register. However, it then adds that it also compiles aggregate stats, including frequency of use of system, performance information, etc. the scope of this is not fully explained.
No doubt, both providers claim to have great privacy rules. However, we do go with ExpressVPN on this one.
Platforms Supported
The number of operating systems a VPN allows is one other important factor to consider. Typically, as an average user, you may have more than one device. You may also want to share your VPN connection with family and friends. Thus, it might be a good idea to confirm that the provider has apps for the devices you own before subscribing.
ExpressVPN is compatible with almost all device types. It has dedicated apps for Android and iOS devices. The process of downloading and installing them is easy and straightforward. With a few clicks, you will have the apps up and running on your device. The Android and iOS apps do not match up to the desktop apps, however. This is because they fail to have the full range of features that it carries. For instance, the mobile versions are not compatible with Tor. To enjoy the increased protection Tor provides, you should make use of the desktop versions.
You can also install ExpressVPN on routers. This provider makes it easy to download and configure your routers. You will find a complete step-by-step guide on the process on the ExpressVPN website. The beauty of the router is that it increases your coverage. You can potentially protect every device in your house with just one router.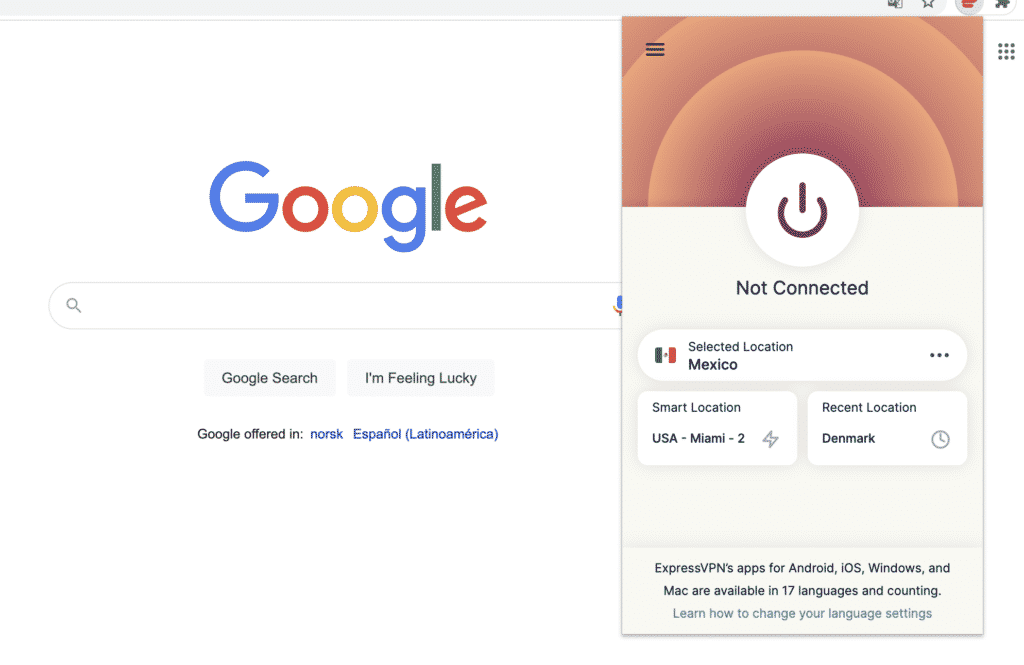 Finally, ExpressVPN has browser extensions for both Chrome and Firefox browsers. This encrypts the traffic from the browser, making it impenetrable. Like everything ExpressVPN, the process for download here is fast and easy. You just have to install the chrome extension to begin using it.
ExpressVPN allows you to connect 5 devices simultaneously on one account. This is actually the industry average. As already pointed out, you can increase the reach of the VPN by making use of a router.
Surfshark also has native apps for most device types. Thus, you can download and install Surfshark apps for Windows, macOS, iOS, Android, Linux, and Amazon Fire TV. Like ExpressVPN, it also boasts of extensions for Google Chrome and Mozilla Firefox. Please do not forget that when making use of the extension on your browser, your phone is not entirely protected. It is similar to what happens when you are split tunneling. The network that will be encrypted will only be that proceeding from the browser.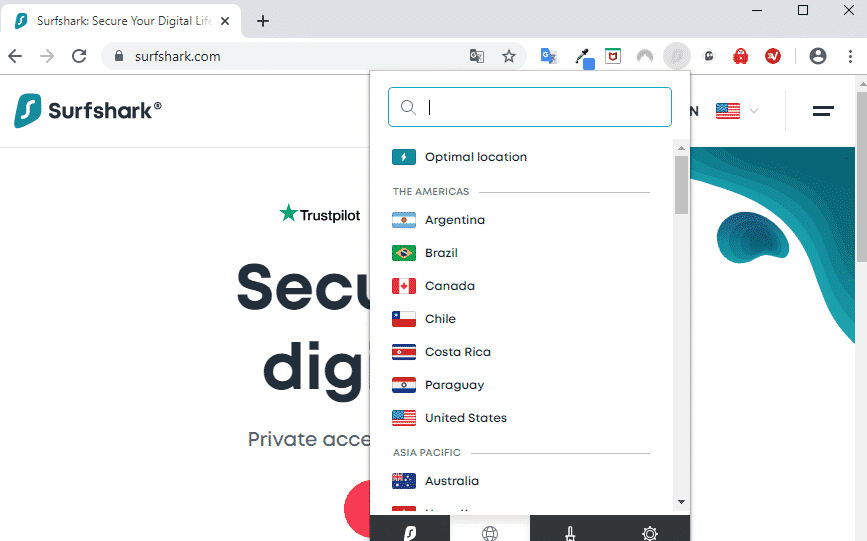 Surfshark allows an unlimited number of simultaneous connections. In this area, it is unmatched by any other VPN, including ExpressVPN. This feature is so cool because it affords you limitless flexibility. You can share the connection with as many people as you like. The great thing is that the same level of protection is afforded all connected devices. More so, you will not experience any lags or slowed speed the entire time.
On this one, Surfshark hits a home run.
Streaming and Torrenting
The ability to stream content is one feature every cool VPN ought to have. Generally, most providers allow you to stream content from any site you want. However, formidable providers take it a notch higher. They grant you the ability to access restricted content. Some platforms have restrictions in the form of geo-blocks. These prevent you from accessing content not meant for your location.
With Netflix, for instance, a resident in the US cannot access the UK Netflix library. This can be quite frustrating, especially when a favorite show is streaming in another location. As pointed out, top-notch providers get around these blocks easily.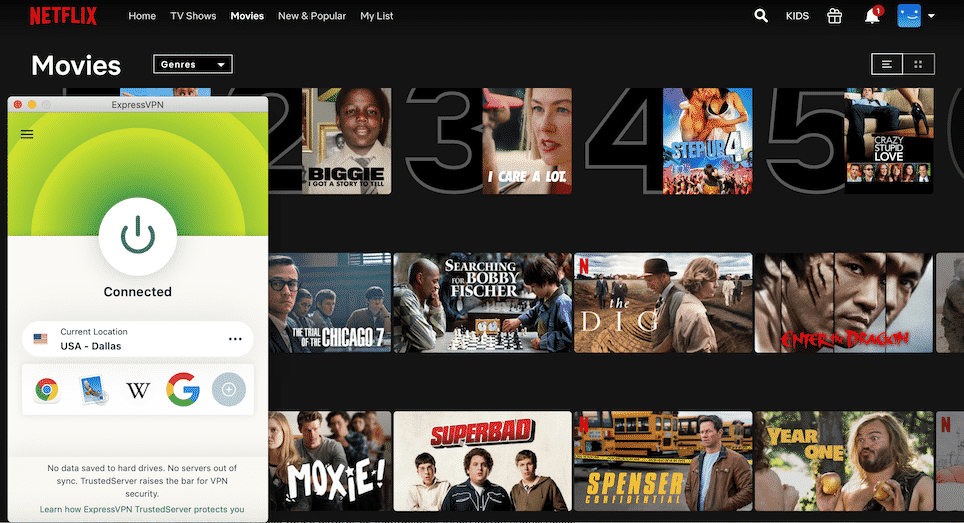 ExpressVPN lists the platforms it can unblock. On its website, it states that it can unblock content on Netflix, Hulu, iPlayer, Disney Plus, Amazon Prime Video, HBO Go, etc. Remarkably, it is able to keep to its word in this area. With ExpressVPN, you do not have to worry about restrictions ever again.
Surfshark is not as transparent as ExpressVPN in listing the sites it can unblock. However, it has the remarkable ability to grant you access to these restricted libraries with no hassles. Even for BBCiPlayer, which arguably is the hardest to unblock, Surfshark triumphs.
Torrenting is another feature that ramps up a provider's ranking. This is because a VPN's ability to torrent files is extremely important. There are files you can not download anywhere else except through torrents. Thus, users who are into P2P file-sharing or are looking for a specific file find it useful. If you are such a person, it will interest you to know that the two providers discussed here are excellent for torrenting.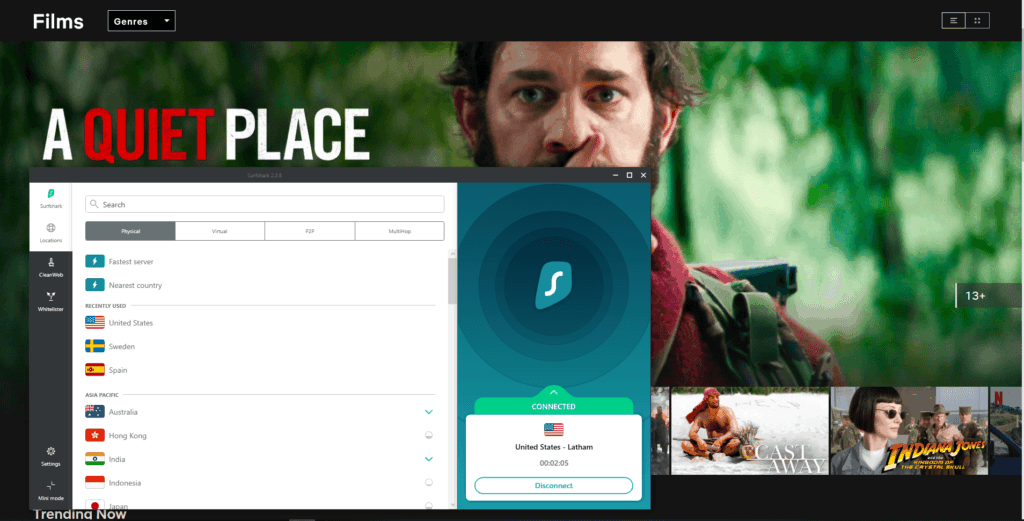 Surfshark holds itself out as the best VPN for torrenting. It certainly strives to make sure that it lives up to this claim. It has several dedicated servers for P2P file-sharing and torrenting. As soon as the VPN notices that you are torrenting traffic, it immediately connects you to a server optimized for that purpose.
Similarly, ExpressVPN has several dedicated P2P servers. It equally automatically connects you to those servers. Its process is, however, more seamless than Surfshark's. Furthermore, the fact that it boasts of more servers means that you'll have more P2P-enabled servers to use.
Plans and Pricing
These two providers have similar plans and almost identical costs for their monthly subscriptions.
Surfshark

Monthly plan – $12.95
6 months plan – $6.49 per month
12-month plan – $5.99 per month
ExpressVPN

Monthly plan – $12.95
6 months plan – $9.99 per month
12-month plan – $8.32 per month
Surfshark offers free trials on its 10S, macOS, and Android applications. However, on the other apps, you will not be granted a free trial.
Both providers offer a 30-day money-back guarantee. Within this window, you can request a refund of your subscription fees. They are both known as risk-free providers. Simply put: you will not run into any challenges while asking for a refund. This is a smart way to make use of the VPN free of charge.
Although the two providers have the same monthly plan, Surfshark's gets better as the months go on.
Pros and Cons
Both Surfshark and ExpressVPN has in general a very good product- However with all products there will also be some disadvantages. We will now go through some pros and cons of each VPN.
Surfshark
In general the pros of Surfsharks product outweighs the cons. Here are some of the pros and cons in our opinion.
Pros
Excellent privacy rules: Surfshark maintains that it does not keep logs of users' data. Also, the fact that it is located in the British Virgin Islands is a huge plus.
Wide range of apps: You will not have to worry about device compatibility with this provider. It provides apps for almost all device types.
Unlimited simultaneous connections: With Surfshark, no one else around you needs to get on a separate plan.
Fair Subscription Plans: Surfshark's subscription offers are not cut-throat. It gets even better if you subscribe for 6 months and above.
Cons
P2P servers are not reliable: Surfshark's P2P servers can be unreliable, even though Surfshark holds itself out as the best VPN for torrenting.
Weak Social media presence: Surfshark does not have a strong social media presence like the established providers.
ExpressVPN
In general the pros of ExpressVPNs product outweighs the cons. Here are some of the pros and cons in our opinion.
Pros
Fantastic speed: ExpressVPN sets the pace when it comes to VPN speeds. No other provider comes close.
Powerful security features: This provider's security features are water-tight.
Greater coverage: With its 3000+ servers, ExpressVPN makes sure you always have a server for your VPN needs.
No Logs policy: ExpressVPN maintains a strict no-logs policy. It routinely wipes down users' history as soon as a session ends.
24/7 life-chat support: Whatever the issue is, whenever it is, you can reach out to ExpressVPN and have it fixed.
Unmatched Unblocking ability: You can access content on platforms like Netflix at the snap of a finger. With all of the platforms tested, ExpressVPN was able to unblock all easily.
Cons
Lesser number of simultaneous connections: ExpressVPN offers 5 simultaneous connections to Surfshark's unlimited connections.
Expensive: This provider's plans are a bit pricey.
Our Recommendation
After a thorough examination of both providers, our choice is ExpressVPN. Although Surfshark has absolutely lovely features, ExpressVPN trumps it in several key areas. When it comes to streaming and unblocking speed, server coverage, access to restricted content, and customer support, ExpressVPN wins. Surfshark gives users unlimited simultaneous connections. However, with the modest number offered by ExpressVPN, which is 5, a user's needs will be mostly met.