How to Watch TV4 Play Outside Sweden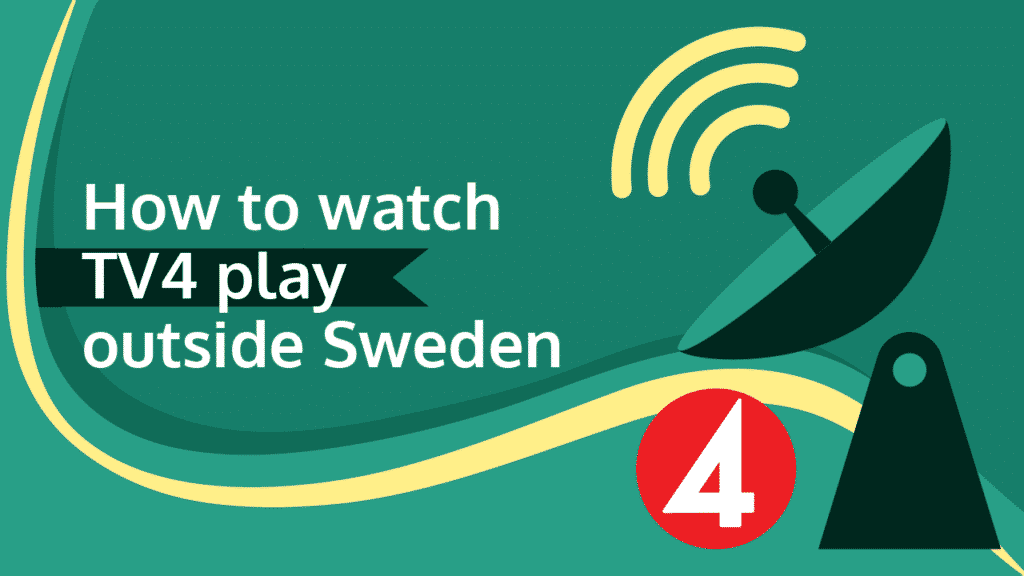 TV4 needs no introduction to die-hard fans of Swedish on-air content. Since the television network started broadcasting in 1990, it has cemented its place as one of the top providers of entertaining content. TV4 televises many programs ranging from news to sports and even drama series.
Today, the television network is no less of a stunner than what it was some three decades ago. Currently, it is ranked as one of the most popular television networks in Sweden. This is thanks to classics like Solsidan, Bingolotto, and, more importantly, TV4 Play: its video-on-demand (VOD) platform.
However, the tough pill to swallow is that only viewers that stay in Sweden have access to TV4 Play. Bad news, right? Well, not so much. We've found a way around this restriction, and the solution is in Virtual Private Networks (VPNs).
Why is TV4 Play blocked outside Sweden?
Many media companies are subjected to strict regulations in the countries where they are located. This is the same for TV4 Play, which is based in Sweden. The VOD platform cannot air its programs beyond Swedish borders due to the country's broadcasting laws.
Now, you may be wondering how this works for a country that has a significant percentage of its population living abroad. Swedish locals who travel a lot have no choice but to be side-lined from watching their favorite broadcasts.
However, as we mentioned earlier, VPNs can help you solve this problem. With these networks, it doesn't matter if you're traveling or permanently away from Sweden. You'll never have to worry about missing out on your favorite TV4 Play programs!
The best VPNs for watching TV4 Play outside Sweden
So, which VPN works best with TV4 Play?
Here's is a list of the best ones for TV4 Play and all the amazing features that come with them:
ExpressVPN

Features
Number of servers: More than 3,000
Speeds: Unlimited
Server locations: 160 in 94 countries
Maximum devices supported: 5
24 live chat: Yes
30 day money back guarantee: Yes
Pros/Cons
Fastest VPN out there
Strict no logs policy
256-bit AES encryption
ExpressVPN is one of the top providers of VPN services in the world. The VPN has several premium products and features to offer, which is one of the reasons why it has many users. Fortunately, that includes an impressive 190 server locations spread around 94 countries globally, and a handful of them are in Sweden.
This means you can set your location to Sweden and access TV4 Play programs even if you are far away from the Scandinavian country. However, ExpressVPN's incredible services do not just end at that. The VPN provider has several other benefits that offer you the best streaming experience on TV4 Play. Some of the perks include optimized connection speed, top-notch data protection features, and user-friendly subscription plans.
Firstly, ExpressVPN offers you one of the best VPN connection speeds with advanced server facilities. It has features like AES-256 encryption, Network Lock Kill Switch, and Zero-knowledge DNS. With their combined effort, your data will always remain hidden from external parties like your ISP, hackers, and the government.
ExpressVPN also has flexible subscription plans to choose from. The exclusive deal, which is its 12-months plan, costs $6.67/month. You'll get a three-month bonus if you opt for this plan. On the lower end, the VPN's monthly plan at $12.95/month.
It doesn't matter if you're out of Sweden for a month or a few years. With ExpressVPN, you can keep up with your favorite TV4 Play shows. ExpressVPN is also a great choice for watching shows such as SVT Play.
Pros:

Fastest VPN out there;

Strict no logs policy;

256-bit AES encryption;

Lowest price: $6.67
NordVPN

Features
Cryptocurrency accepted? Yes
Simultaneous connections: 6
Dedicated IP-addresses? Yes
Servers: 5342 in 58 countries
Pros/Cons
Lots of pricing options
Netflix support kept up to date
256-bit AES encryption
NordVPN is a Panama-based VPN that'll help you watch your favorite TV4 Play shows abroad. The VPN provider has several features and tools that'll guarantee you unlimited access to TV4 Play. Like other top alternatives, this VPN includes an intriguing number of servers.
Currently, NordVPN has over 200 servers in Sweden. Better still? These servers are optimized for streaming services. So, it doesn't matter if you want to watch a live-broadcast or see a classic episode. You can catch up on them with NordVPN.
This VPN is an expert in ensuring the safety of your information as you stream. It provides your web traffic with top-grade encryptions and offers DNS Leak Protection and Kill Switch features. Both of these tools will make sure your data doesn't get into the wrong hands, even if your connection drops.
NordVPN complements its cool features with a reliable 24/7customer support. You can get its 3-year plan at $3.49 per month. However, it has two-year, yearly, and monthly subscription plans.
NordVPN offers a 30-day money-back guarantee. So, you'll get a complete refund if you aren't satisfied with the VPN. However, we don't think this is likely. NordVPN is a world-class VPN.
Pros:

Lots of pricing options;

Netflix support kept up to date;

256-bit AES encryption;

Lowest price: $3.71
Surfshark

Features
Free trial? Yes
Simultaneous connections: unlimited
Ad blocking? Yes
Servers: 1000+ in 61 countries
Pros/Cons
No footprints
Allows torrenting
256-bit AES encryption
Surfshark is another excellent VPN provider. Although it was launched a few years ago, it has grounded itself as a top player in the VPN industry. In terms of facilities, Surfshark has about 1000 servers in 61 different countries. This includes a decent number of Swedish servers.
Surfshark offers its users top-quality VPN features like IP encryption, DNS leak protection, a Kill Switch, amongst others. However, it also has innovative tools like the MultiHop, Camouflage Mode, Whitelister, and CleanWeb.
The MultiHop is a cool feature that allows you to pass your traffic through two servers instead of one, which will make your internet connection more secure. The Camouflage Mode will enable you to keep your internet activities private from snoopers like hackers and your ISP. On the other hand, Whitelister allows you to bypass and regulate VPN services on your device.
Surfshark also has an impressive feature called Cleanweb that shields you from visiting malicious websites.
Surfshark's monthly plan costs $11.95 per month. However, you can get its two-year plan that costs $1.99 per month. And with one subscription plan, you can keep all your devices secure while you watch your favorite shows on TV4 Play.
The VPN has a reliable customer support platform that works round the clock in helping you resolve any technical issue you may experience.
Pros:

No footprints;

Allows torrenting;

256-bit AES encryption;

Lowest price: €2.49
UltraVPN

Features
One click connect? Yes
Servers: 100+ superfast servers
Bandwidth cap? No
Platforms: Mac, Windows, iOS, Android
Pros/Cons
Firewall
Apps for all devices
256-bit AES encryption
Not as many servers as others
Surfshark is not the only young VPN making strides. UltraVPN is another top-quality VPN provider that has offered excellent services to users over the past years. For TV4 Play lovers, UltraVPN is their knight in shining armor as its services are optimized for streaming. But that's not all the VPN has to offer.
Like most top VPNs, UltraVPN offers you top-grade features like military-grade AES 256 encryption, DNS leak protection, and an automatic Kill Switch.
Users of this VPN get unlimited bandwidth to stream as many TV4 Play content as they want. It also has a social media unblocking tool that allows you to access restricted social media pages. With it, you can find out what other Swedish locals think about the show on TV4 Play.
UltraVPN's monthly plan costs $7.99 per month. But the VPN's best deal is its yearly plan where you can get a 50% discount. The VPN has apps for virtually every operating system. But perhaps its best feature is that you can connect unlimited devices to a single Surfshark account.
Pros:

Firewall;

Apps for all devices;

256-bit AES encryption;

Lowest price: €2.99
CyberGhost

Features
Connected devices at once: 7
Automatic kill switch? Yes
One click connect: Yes
Servers: 5900 worldwide
Pros/Cons
No logs policy
24/7 live chat
Apps for mobile devices and routers
CyberGhost has over a decade of experience, offering premium VPN services to users. It has expertise in bypassing geo-restrictions, censorships, and closedowns. These are some of the reasons PlayTV 4 lovers find it useful in watching their favorite shows abroad.
Apart from providing unrestricted access, CyberGhost offers you other cool services. These include unlimited bandwidth, blazing fast Internet speed, no throttling & buffering, and top-quality connection strengths.
For service subscriptions, CyberGhost's prices cost $2.75 per month for its 3-year plan. However, you can pay $12.99 every month. The VPN also offers you the opportunity to request add-ons for a fair extra-charge.
CyberGhost's services and products are compatible with most operating systems out there. Impressively, you can connect as many as seven devices to a single CyberGhost account.
This VPN has a 24/7 customer support system and a 45-day money-back guarantee if you are dissatisfied with the service. However, we don't envisage that you won't like the VPN.
Pros:

No logs policy;

24/7 live chat;

Apps for mobile devices and routers;

Lowest price: €2
Is it legal to use a VPN?
Interestingly, there's no direct answer to this question. This is because the legality of VPNs usually depends on your location and what you use the VPN services to do.
However, we'll let you know that VPNs are allowed in most countries. This isn't surprising because they are tools that'll ensure you stay private and anonymous on the internet.
Nevertheless, some nations are strongly against them. These include countries like China, Iraq, Turkey, and a few others. Also, some countries have partial bans on VPNs by only allowing approved providers. Here, we have nations like Oman and Iran.
Moving on, in countries where you can use a VPN, there are legal sanctions on inappropriate use. So, anything that is illegal without a VPN is still illegal if you use one.
For example, cyberbullying is a crime in most countries. So, you can't hide under the fact that VPNs are legal in your country or region to cyberbully someone. It is still a crime.
Will free VPNs work with TV4 Play?
You must have noticed that you must pay before you get any of the VPN services we included above. So, it may seem appealing to new users to opt for free VPN services, especially as there are a lot of them all over the web. In this article you can see the best free VPNs for Sweden in general.
We don't think getting a free VPN is the best option for you and here are our reasons:
1. Most free VPNs are not regulated
Top VPNs spend a lot to hire tech-experts, build facilities, and so on, and they fund this through user subscriptions. On the other hand, many free VPNs do not have such facilities in place.
Although free VPNs do not charge you, most of them always have another way to get back their operational funds and profit. Often, they do this by selling user information to third parties.
Who knows what these external parties do with such information!
2. Most free VPNs will disturb you with ads
Sometimes, free VPNs may not sell out your information. However, they still need money to support their activities. Another way that free VPNs raise funds is by hosting ads. And while they may offer you essential services, the disturbances created by these ads can be unbearable.
For VOD services like TV4 Play, this can be more inconvenient for you. Many free VPN services have unsolicited ad pop-ups that'll disturb your match or show.
Also, these ads further affect your streaming speed and connection strength. How? Most times, free VPNs give priority to ad-traffic rather than your browsing traffic just so you can click the ad.
3. Most free VPNs are less secure
The basic thing any VPN can offer you is online security and privacy. Ironically, using many free VPN makes you susceptible to more security threats and cyberattacks.
Building up a robust VPN services requires a lot of resources which free VPNs do not have. Some features of top-provides such as those listed above include IP address masking, AES-256 encryption, DNS leak protection, among others.
Most free VPNs do not come close to matching these features. So, they are not reliable.
4. Most free VPNs have bandwidth caps
Another reason why we do not recommend free VPNs is that they have bandwidth caps. So, you could get cut-off halfway through your favorite TV4 Play model.
Buffering is also another problem you could experience if you use a free VPN.
5. Most free VPNs are not compatible with a lot of devices
You could get lucky and find a VPN that does not have any of the setbacks we've listed above. But there's no escaping this one.
Most free VPNs aren't compatible with a number of operating systems out there.
In conclusion
It's no news that you can't watch TV4 Play content abroad without a VPN. However, that doesn't mean you have to miss out on your favorite content.
VPNs (like the ones we've listed above) promise unrestricted access to TV4 Play content. So, go get one (or a couple) of them.