How to Watch SVT Play Outside Sweden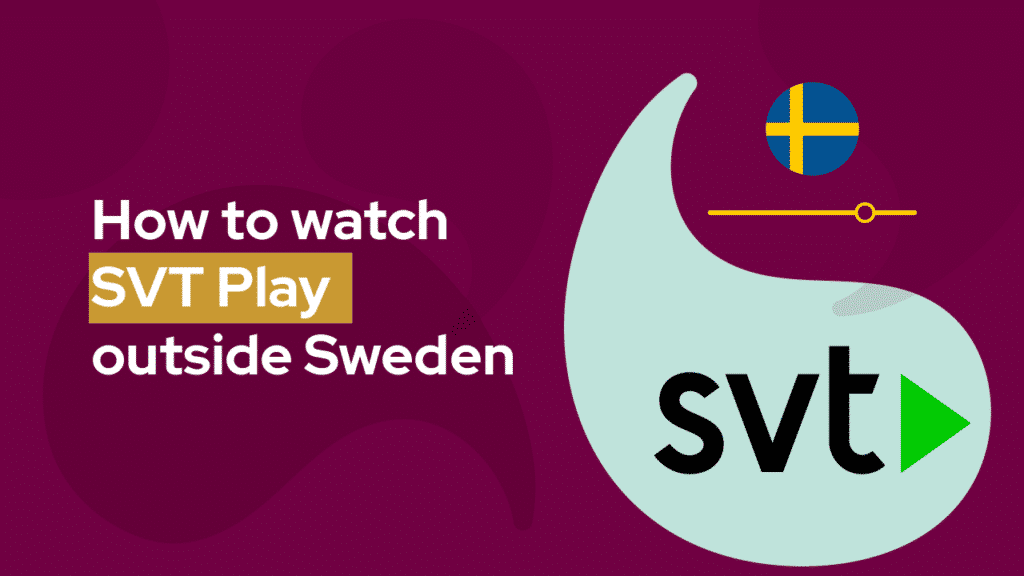 It's no news that SVT Play restricts anyone that's not in Sweden from accessing most of its content. But we've found a way to get past this roadblock.Virtual Private Networks (VPNs) will do the trick for you!
VPNs hide your device's IP address and replace it with that of one of its servers. So, anyone that's on the network will think you're in Sweden, even if you are miles away.
In this article, we'll present you with top VPNs you can use to enjoy unlimited content on SVT Play.
Why is SVT Play blocked outside Sweden?
Well, the reason is simple. SVT Play is under a strict set of Swedish laws. So, to comply with them, the platform has geographical restrictions. If you're not in Sweden, the video-on-demand service automatically stops you from enjoying its full content.
Well, the good news is that all you have to do is find an excellent VPN and make SVT Play think you're in Sweden.
Top VPNs for SVT Play
Here are five VPNs that you can use to access SVT Play outside Sweden:
ExpressVPN

Features
Number of servers: More than 3,000
Speeds: Unlimited
Server locations: 160 in 94 countries
Maximum devices supported: 5
24 live chat: Yes
30 day money back guarantee: Yes
Pros/Cons
Fastest VPN out there
Strict no logs policy
256-bit AES encryption
ExpressVPN has a whopping 3000+ servers placed across 94 countries, including Sweden. The Swedish servers give you an IP address to access SVT Play, and they are compatible with a lot of operating systems. So, you can use the VPN with almost any device.
With ExpressVPN, you can switch from watching SVT Play on your smartphone to your PC without having to log out on either one of them. That's because the VPN allows you to use up to five gadgets simultaneously.
ExpressVPN goes a step further and promises to keep you safe and anonymous. All you need to do is subscribe. Then, you can enjoy its ground-breaking TrustedServer Technology. With it, you'll never have to worry about people stealing your information.
This VPN uses AES 256, the industry-standard encryption. With it, you don't have to worry about phishing attempts or other cyber threats.
Another feature that you'll enjoy on ExpressVPN is its network lock kill switch. It ensures you stay safe even when your VPN connection disconnects.
ExpressVPN comes at reasonable rates. You can subscribe to a one-month plan for $12.95. However, if you want to save money, you should subscribe to either the 6-months plan at $9.99/month or the 12-months plan at $8.32/month.
ExpressVPN also promises to give you a 100% refund if you request one before the 30th day of using the service. However, we doubt you'll want to stop using this VPN once you get it on your devices.
Pros:

Fastest VPN out there;

Strict no logs policy;

256-bit AES encryption;

Lowest price: $6.67
NordVPN

Features
Cryptocurrency accepted? Yes
Simultaneous connections: 6
Dedicated IP-addresses? Yes
Servers: 5342 in 58 countries
Pros/Cons
Lots of pricing options
Netflix support kept up to date
256-bit AES encryption
NordVPN gets the next huge nod in the VPN service delivery. It has an outstanding 5842 servers spread across 59 countries, and a handful of them are in Sweden.
More impressively, its Swedish servers support P2P, Double VPN, and Obfuscated functionality. In turn, they'll enable you to enjoy unrestricted access to SVT Play videos.
Also, you never need to worry about slow speed when watching The Bridge or The Split on SVT Play. All its servers are super-fast. So, you'll never have to choose between security and speed as NordVPN adequately provides both.
NordVPN also comes with an advanced CyberSec technology that fights flashy ads, hackers, and malware for you. The VPN works on Windows, Mac, iOS, and Android, among others. So, you don't need to worry that your gadget might not be compatible with it. You can easily download the NordVPN app and be three clicks away from SVT Play.
In any case, you are also assured of top-notch 24/7 customer assistance if you encounter difficulties in setting up.
Nord VPN comes at an affordable rate of $4.99/month for 2-years. However, you can decide to pay $6.99/month for a year, and $11.95 for one month. You can also subscribe to its exclusive deal at $3.49/month for three years and enjoy NordVPN on up to six gadgets simultaneously.
Like ExpressVPN, you can get the VPN service risk-free for thirty days.
Pros:

Lots of pricing options;

Netflix support kept up to date;

256-bit AES encryption;

Lowest price: $3.71
Surfshark

Features
Free trial? Yes
Simultaneous connections: unlimited
Ad blocking? Yes
Servers: 1000+ in 61 countries
Pros/Cons
No footprints
Allows torrenting
256-bit AES encryption
Although third on the list, SurfShark is just as good as the two VPN's we've mentioned. It has an impressive 1700 + servers located across 63 +countries. The VPN has the NoBorders mode that unblocks contents across the internet by replacing your IP address. As such, you never have to see the error message when you try to access SVT Play.
SurfShark also comes with a wide array of cool features. It has the Camouflage mode that ensures your ISP has no idea what you're using the VPN to do. It also has a strict no-logs policy that cleans up your internet print as you browse. Even more, it kills any risk that may occur when your VPN connection fails with the latest kill switch feature.
This VPN provides maximum security with its AES-256-GCM encryption and IKEv2/IPsec secure protocol. As such, you can be sure that your online activity never will remain secure.
It also has a Whitelister that allows you to select apps and sites that should not connect through SurfShark.
Also, once you subscribe, there is no limit to the number of devices you can connect at once. The VPN is also compatible with operating systems like iOS, Linux, macOS, and Android.
The best part is that you'll get it at a ridiculously low price. With it, you can save 83% when you subscribe to its 2-year plan at $1.99/month. You can also pay $5.99/month for a year or $11.95 every month, all with an option to seek a refund within 30 days
Pros:

No footprints;

Allows torrenting;

256-bit AES encryption;

Lowest price: €2.49
UltraVPN

Features
One click connect? Yes
Servers: 100+ superfast servers
Bandwidth cap? No
Platforms: Mac, Windows, iOS, Android
Pros/Cons
Firewall
Apps for all devices
256-bit AES encryption
Not as many servers as others
Although relatively new to the VPN industry, UltraVPN is one of the best VPNs you can get. It has a massive server pool across 100 locations of the world, including Sweden. This will help you fake a Swedish location. As such, you can connect in seconds and enjoy the best content on SVT Play with no bandwidth limit or speed loss.
Also, UltraVPN grants you solid protection and privacy through its 256-Bit encryption and zero-logging policy. It also constructs a secure firewall around you so that every action you take is under the shadow of UltraVPN. Similarly, it is compatible with all devices, including Smart TVs, and when you subscribe, you can use it on up to five gadgets simultaneously.
You also get access to their world-class customer care platform that you can call, email, or chat to get quick solutions to any problem you might face.
Even with all this, UltraVPN goes one better and allows you to save money on all its plans. You'll get a 50% discount on its 1-year plan that costs 3.75/month. However, you can get a 40% discount on its 6-months plan at $5.99/month.
You can rest easy knowing that you'll get a full refund if UltraVPN does not impress you within the first 30 days.
Pros:

Firewall;

Apps for all devices;

256-bit AES encryption;

Lowest price: €2.99
CyberGhost

Features
Connected devices at once: 7
Automatic kill switch? Yes
One click connect: Yes
Servers: 5900 worldwide
Pros/Cons
No logs policy
24/7 live chat
Apps for mobile devices and routers
With almost a decade of experience, CyberGhost gets our final recommendation. It has over 6400 servers spread across 90 countries. But the best part is that it newly installed 60 new servers in Sweden. So, with the VPN, you are truly one click away from SVT Play.
CyberGhost also compensates you for trusting the service with its military-grade encryption. So, you'll have nothing to worry about when watching SVT Play outside Sweden. Even with that, it takes no risk with your privacy through its strict no-logging policy and advanced leak protection. So, when you browse, it's like you were never there. Even more, it creates a balance between your speed and privacy so you can enjoy on all fronts.
It is compatible with various devices like iOS, Windows, Android, and Linux gadgets and offers you an easy-to-use interface. Also, with one subscription, you can enjoy CyberGhost on up to 7 devices simultaneously. And if you have any problem setting up, you can contact their friendly customer care service to give you a helping hand.
CyberGhost also comes with a one-day free trial package. So, you can enjoy their premium service delivery, and we are pretty sure you'll end up loving it.
This VPN has flexible and affordable subscription plans. You could pay $2.75/month for three years. But it also has a one-month plan for $12.99.
We doubt that you would be dissatisfied with the service. But you can opt-out within the first 45 days if you pay for a long-term plan or 14-days for any of its short-term plans.
Pros:

No logs policy;

24/7 live chat;

Apps for mobile devices and routers;

Lowest price: €2
Is using a VPN illegal?
This question isn't a one-answer-fits-all as it depends on your location and the rules guiding VPN usage there. Some governments outrightly frown on the use of VPNs. For instance, countries like China, Belarus, and Russia have made laws restricting how you can use VPNs.
However, there are some countries with strict censorship laws but have not made a clear decision on VPN Usage. For instance, countries like Egypt, North Korea, and Bahrain have no existing legal ban on VPNs. However, using a VPN may come with some threats, especially when their use doesn't follow censorship laws.
Regardless, VPNs are legal in most countries, including the USA and Sweden. As such, it's up to you to decide if you will use a VPN or not. Also, while VPNs are not illegal, they could still be used in committing internet crimes!
Key reasons to use a VPN
Although a VPN allows you to unblock and bypass restriction to SVT Play, there are more things you can use one to do.
Here are other things a VPN can do for you:
Unblock content: A VPN also helps you to bypass geo-restrictions beyond SVT Play. Hence, if you're someone that enjoys traveling or learning other cultures through their content, then a VPN might be perfect for you.

With it, wherever you are, you can stay connected to the culture of your choice with no restriction.
Improve your security: You usually enjoy a minimum level of security when you access the internet. However, this is not enough, as hackers are constantly upgrading their skills and malware, as well as adapting to system securities. So, you need new security capabilities.

A VPN provides top-notch security, and most of them run the most secure encryption you'll find. This is why they are widely regarded as impenetrable. Hence, a VPN ensures that you're not the victim of cybercrime.
Ensure your Privacy: A VPN ensures you surf with no internet print and does this through the most recent privacy technologies. These include a kill switch, an advanced leak-protection technology, and a strict no-logging policy. These technologies ensure that your valuable data is not mined and sold to others.
Increasing your savings: Usually, online stores attach discriminatory prices to products based on location. However, with a VPN, you can defeat this. You can change your IP address to other locations, then find the cheapest deals and save some money in the process.
Should I use a free VPN?
Now that you know the benefits of a VPN, you might be wondering why you have to pay for one. After all, there are free VPNs out there. The reason is simple. Usually, nothing good comes free, and this is the case with VPNs.
A VPN requires an expensive infrastructure consisting of servers across the globe. Hence, VPN service providers need to make money to maintain the infrastructure. So, when you don't have to pay, it simply means someone else is paying them to maintain the VPN, or they've found other ways to make money from you.
This person is usually a third party who buys your data and erodes your security. As such, while a free VPN should work, we don't recommend that you use one. Check out the best free VPNs for Sweden in this article.
In conclusion
You must have seen the error prompt when trying to watch SVT Play abroad. But with a VPN on your gadget, you have all you need to enjoy all your favorite content on SVT Play.
However, to fully enjoy your SVT Play experience, you need a great VPN with outstanding features, and that's where this guide comes into play.
Select any of the VPNs above and start watching SVT Play from anywhere around the globe.