How to Watch NRK Outside Norway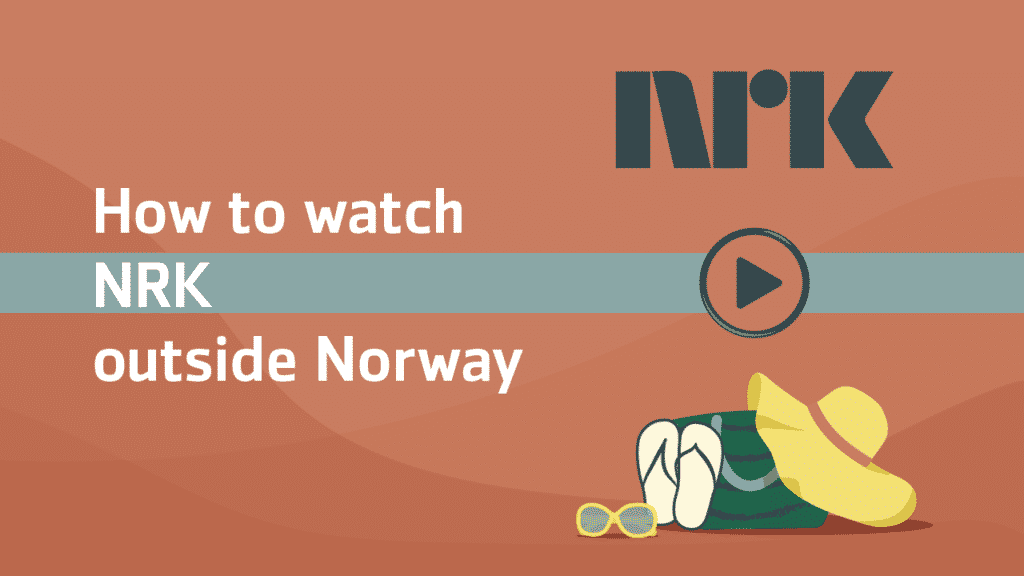 NRK is perhaps the best radio and television broadcasting company in Norway. Since its inception in 1933, NRK has given its competitors a good run for their money.It's the largest media organization in the country, and you'd expect nothing less.
When you try to listen to NRK's radio shows or watch its TV channels from outside Norway, you'll get an error message. But we've found a way to go about it.
In this article, we'll explain how to watch NRK outside Norway with a Virtual Private Network (VPN).
Why is NRK blocked outside Norway?
NRK, like many other broadcasting companies around the world, only has rights to broadcast programs in Norway. So, keeping up with your favorite shows can prove difficult if you don't know what to do.
However, with a reliable VPN, you can have access to NRK's content and amazing productions in no time.
A VPN masks your IP address. So, when you use one and connect to a server in Norway, nobody on the network will know that you're miles away.
The best VPNs to use with NRK
There are many VPNs out there, which is why we selected the best five that you can use with NRK.
ExpressVPN

Features
Number of servers: More than 3,000
Speeds: Unlimited
Server locations: 160 in 94 countries
Maximum devices supported: 5
24 live chat: Yes
30 day money back guarantee: Yes
Pros/Cons
Fastest VPN out there
Strict no logs policy
256-bit AES encryption
ExpressVPN is perhaps the best VPN service provider out there, and there's good reason to support this reputation. The VPN has stood the test of time in delivering top-class services to thousands of customers for many years.
ExpressVPN boasts of a vast network with over 160 server locations spread across 94 countries. A decent number of these servers are in Norway. So, you can easily access NRK content from abroad.
This VPN is located in the British Virgin Islands (BVI), where there are no data protection laws. So, the VPN provider is under no obligation to provide information or data on its users. To add to that, the VPN service operates a zero-logging policy. This means that your traffic and activities will never be stored.
Another advantage of using ExpressVPN is that you can connect up to five devices at the same time. It supports a broad scope of operating systems, including macOS, iOS, Android, Windows, Linux, Raspberry Pi. Gadgets and media players like game consoles, Apple TV, Kodi, Roku, and many others are also in this package.
Hackers and spies have got nothing on you while you stream on NRK because ExpressVPN works on AES-256. This is the industry-standard encryption, and no known physical attack can break through it. The VPN also has an automatic kill switch that ensures that you are always protected, even when you lose your connection.
ExpressVPN is quite affordable, and you can get its 12-month plan for $8.32 per month. You'll be billed $12.95 per month on its one-month plan, but you can beat down the cost down by subscribing for an extended period.
This top-class VPN has a 30-day money-back guarantee if you are dissatisfied with the service. However, we think that'll be highly unlikely.
Pros:

Fastest VPN out there;

Strict no logs policy;

256-bit AES encryption;

Lowest price: $6.67
NordVPN

Features
Cryptocurrency accepted? Yes
Simultaneous connections: 6
Dedicated IP-addresses? Yes
Servers: 5342 in 58 countries
Pros/Cons
Lots of pricing options
Netflix support kept up to date
256-bit AES encryption
NordVPN is another excellent VPN you should consider when choosing a VPN to use in accessing NRK shows. The VPN provider has its headquarters in Panama.
With NordVPN, streaming on NRK is a walk in the park as it has a strong server base in Norway. It works on almost every device, including Android, iOS, macOS, Windows, and Linux gadgets.
NordVPN has features like an automatic kill switch that makes sure you always stay protected from security breaches. Its Onion-over-VPN and DoubleVPN features are also useful in ensuring your online activities on NRK stay hidden. Also, no third-party agency can get access to your internet records because of the no-logs policy it has.
You can connect up to 5 different devices to a single NordVPN account, and your internet speed will be lightning-fast in all of them.
NordVP's subscription plans are affordable. The least payment plan is $3.49/month, which is for its 3-year plan. However, there are also short-term options to choose from.
NordVPN has a 30-day money-back refund policy that you can rely on if you find out it's not what you're looking for. Its reliable customer support team would be happy to process it for you and resolve any other complaint you may have. NordVPN is also a good choice for other Norwegian TV channels such as TV2 Sumo.
Pros:

Lots of pricing options;

Netflix support kept up to date;

256-bit AES encryption;

Lowest price: $3.71
Surfshark

Features
Free trial? Yes
Simultaneous connections: unlimited
Ad blocking? Yes
Servers: 1000+ in 61 countries
Pros/Cons
No footprints
Allows torrenting
256-bit AES encryption
Surfshark is another VPN that works well with NRK. It's one that makes surfing the net one with no hassles by giving you optimum speed, protection, and security. The VPN provider has won many awards in its industry, which is one of the reasons why many people trust its service.
With over 1040 servers in about 61 countries in the world, accessing NRK with this VPN is hassle-free. Instead of exposing your device to hackers, trackers, and spies, SurfShark provides you with encryption to cloak all your internet activities on NRK. It also shields you from data breaches and holds no records of your browsing history.
Surfshark makes your connection secure with an Advanced Encryption Standard of 265bit. It has features like DNS, IPv6 leak protection, Multihop, and Whitelister. All these work hand-in-glove to give you a seamless, secure connection.
SurfShark also has apps that work with most operating systems, including iOS, macOS, Windows, and Android. It also has browser extensions for Firefox and Chrome. So you don't need to get the app on your device.
Speed tests carried out on SurfShark's servers have all come out great.
Subscribing to SurfShark doesn't cost a fortune. You can get the monthly plan for $11.95 and its two-year plan at $1.99 per month. Surfshark has an active customer support service you can reach out to on any problem you encounter.
Pros:

No footprints;

Allows torrenting;

256-bit AES encryption;

Lowest price: €2.49
UltraVPN

Features
One click connect? Yes
Servers: 100+ superfast servers
Bandwidth cap? No
Platforms: Mac, Windows, iOS, Android
Pros/Cons
Firewall
Apps for all devices
256-bit AES encryption
Not as many servers as others
UltraVPN allows you to access NRK programs from anywhere around the world. It has gotten a lot of accolades in providing top-notch security to its subscribers. Speed is a top feature to consider while opting out for a VPN service provider, and this VPN is perhaps the fastest you'll find.
If you don't want your programs to buffer while watching a production on NRK, then UltraVPN might be the VPN you've been looking for. To access content on NRK, you need to bypass censors and restrictions, and the VPN is particularly good at doing this. It works on AES 265 that ensures your online activities on NRK remain secure.
There is a wide range of servers to connect to, as UltraVPN has servers in about 60 countries. It is also 100% safe to browse with UltraVPN as it keeps no logs of your internet activities. This means if any government agency subpoenaed its records, there would be nothing to present.
UltraVPN has a couple of security protocols you can switch to like IKEv2, TCP and UDP. You can connect to an UltraVPN server on Android, iOS, macOS, Windows, and Linux devices. The VPN also supports gadgets like game consoles, Apple TV and FireTV, and it allows you to connect up to three devices to your UltraVPN account.
UltraVPN 24/7 customer support system is filled with agents that can help you navigate any issue you might encounter. The VPN also offers a 30-day refund policy if you get discontented with the service.
Pros:

Firewall;

Apps for all devices;

256-bit AES encryption;

Lowest price: €2.99
CyberGhost

Features
Connected devices at once: 7
Automatic kill switch? Yes
One click connect: Yes
Servers: 5900 worldwide
Pros/Cons
No logs policy
24/7 live chat
Apps for mobile devices and routers
Lastly, here is another VPN service provider that gives you optimum value for your money. It is based in Bucharest, Romania, and was released in 2011. To access NRK's premium content, you need a good VPN like CyberGhost to stream.
It has a software that can't be breached. So, you can expect much of the same when using this VPN. It hides your IP address and connects you to a server of your choice. So, if you need to connect to a Wi-Fi, you can be safe from hackers and spies by connecting to CyberGhost.
CyberGhost boasts of a large network of over 6400 servers in about 90 countries, and you can connect as many as seven devices at a time.
The VPN offers features like a kill switch, malware blocker, IPv6 leak protection, and an adblocker. All these features are default, and you need a little configuration to proceed. It has apps for Mac, Windows, Linux, Android, Android TV, Fire TV, and many more.
CyberGhost has affordable subscription plans that only cost a few dollars. The VPN has a 24/7 live customer support platform you can reach out to if you encounter any trouble.
It also has one of the best money-back guarantee policies you'd find. All you have to do is request a refund within 45 days for a long-term subscription and 14 days for the monthly option. However, we don't think you'd use this feature because you'll love using the VPN to watch NRK from abroad.
Pros:

No logs policy;

24/7 live chat;

Apps for mobile devices and routers;

Lowest price: €2
Are VPNs Legal?
There's no need to be worried about using a VPN to cloak your IP address. VPNs are legal in many countries, including the US, Canada, and the UK. As there are many legitimate reasons people use VPNs, there are also illegal ones.
When you use a VPN to perpetrate an unlawful act, its usage becomes unlawful. Illegal activities can be buying unauthorized arms online, selling illegal substances, torrenting materials that have copyright claims, and using the darknet.
Nevertheless, VPNs are frowned upon in countries like China, North Korea, Russia, and Turkey.
Many VPN service providers can engage in dubious practices, but it is advisable to use any of the five VPN service providers that were suggested. You should be wary of free VPNs. They may seem attractive because they don't require a payment. However, these VPNs can sell details of your internet record to third parties agencies.
What to look out for in a VPN?
We've listed five of the best VPNs that'll make accessing NRK outside Norway easier. However, choosing one can be challenging if you don't know what to consider. So, here are a couple of things to look out for when getting one.
1. Number of simultaneous connections: It's an utter waste of money if you have to buy a VPN plan for all your devices. So, you should check if the VPN you intend to get allows simultaneous connections to a single account.
Look for VPNs that allow you to connect at least three devices at a time.
2. Bandwidth: It's annoying when you get cut off in the middle of your radio or television show. So, ensure you get a VPN that has unlimited bandwidth.
Most free VPNs have bandwidth caps, which is one of the reasons we don't recommend them.
3. Number of servers: The server base is another feature to keep in mind when getting a VPN. To watch NRK from outside Norway, you'll need Norwegian servers. So, not every VPN that has a rich server base will help you access NRK.
The VPNs we've included above have a decent number of servers in Norway.
4. Presence of money-back guarantee: It's a sign of goodwill if a VPN promises that you'll get your money back even after using the service for a while. However, many VPNs don't offer such a guarantee.
So, you should check if you can get a VPN risk-free before committing to it.
5. Security and privacy features: Watching NRK is important. However, you wouldn't want to leave your online footprint while you're at it. So, you should get a VPN that has top-notch security and privacy features.
Industry-standard security and privacy features include AES-256 encryption, an automatic kill switch, a double VPN, and an ad-blocker.
6. Price: Lastly, always consider the price of a VPN before you get it. Our advice is that you shouldn't pay through the nose in getting a VPN.
Most VPNs cost as low as $3 per month. However, if you opt for a long-term subscription, you could be billed less.
In conclusion
Watching quality programs on NRK is something that shouldn't be taken away from you. With a VPN, you don't have to miss episodes to your favorite tv or radio shows anymore.
If you also need to take your internet security and privacy up a notch, a VPN is your best bet. You can register or download any of the VPNs mentioned above and start watching NRK from anywhere around the world.