How to Watch NRK Outside Norway (Updated for 2023)
NRK is perhaps the best radio and television broadcasting company in Norway. Since its inception in 1933, NRK has given its competitors a good run for their money.It's the largest media organization in the country, and you'd expect nothing less.
When you try to listen to NRK's radio shows or watch its TV channels from outside Norway, you'll get an error message. But we've found a way to go about it.
In this article, we'll explain how to watch NRK outside Norway with a Virtual Private Network (VPN).
Why is NRK blocked outside Norway?
NRK, like many other broadcasting companies around the world, only has rights to broadcast programs in Norway. So, keeping up with your favorite shows can prove difficult if you don't know what to do.
However, with a reliable VPN, you can have access to NRK's content and amazing productions in no time.
A VPN masks your IP address. So, when you use one and connect to a server in Norway, nobody on the network will know that you're miles away.
The best VPNs to use with NRK
There are many VPNs out there, which is why we selected the best five that you can use with NRK.
Are VPNs Legal?
There's no need to be worried about using a VPN to cloak your IP address. VPNs are legal in many countries, including the US, Canada, and the UK. As there are many legitimate reasons people use VPNs, there are also illegal ones.
When you use a VPN to perpetrate an unlawful act, its usage becomes unlawful. Illegal activities can be buying unauthorized arms online, selling illegal substances, torrenting materials that have copyright claims, and using the darknet.
Nevertheless, VPNs are frowned upon in countries like China, North Korea, Russia, and Turkey.
Many VPN service providers can engage in dubious practices, but it is advisable to use any of the five VPN service providers that were suggested. You should be wary of free VPNs. They may seem attractive because they don't require a payment. However, these VPNs can sell details of your internet record to third parties agencies.
What to look out for in a VPN?
We've listed five of the best VPNs that'll make accessing NRK outside Norway easier. However, choosing one can be challenging if you don't know what to consider. So, here are a couple of things to look out for when getting one.
1. Number of simultaneous connections: It's an utter waste of money if you have to buy a VPN plan for all your devices. So, you should check if the VPN you intend to get allows simultaneous connections to a single account.
Look for VPNs that allow you to connect at least three devices at a time.
2. Bandwidth: It's annoying when you get cut off in the middle of your radio or television show. So, ensure you get a VPN that has unlimited bandwidth.
Most free VPNs have bandwidth caps, which is one of the reasons we don't recommend them.
3. Number of servers: The server base is another feature to keep in mind when getting a VPN. To watch NRK from outside Norway, you'll need Norwegian servers. So, not every VPN that has a rich server base will help you access NRK.
The VPNs we've included above have a decent number of servers in Norway.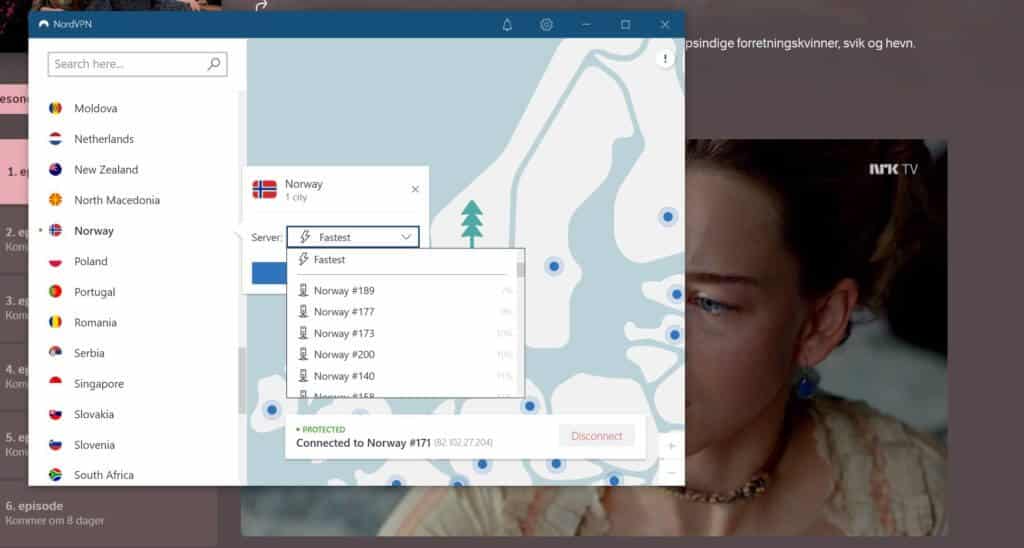 4. Presence of money-back guarantee: It's a sign of goodwill if a VPN promises that you'll get your money back even after using the service for a while. However, many VPNs don't offer such a guarantee.
So, you should check if you can get a VPN risk-free before committing to it.
5. Security and privacy features: Watching NRK is important. However, you wouldn't want to leave your online footprint while you're at it. So, you should get a VPN that has top-notch security and privacy features.
Industry-standard security and privacy features include AES-256 encryption, an automatic kill switch, a double VPN, and an ad-blocker.
6. Price: Lastly, always consider the price of a VPN before you get it. Our advice is that you shouldn't pay through the nose in getting a VPN.
Most VPNs cost as low as $3 per month. However, if you opt for a long-term subscription, you could be billed less.
In conclusion
Watching quality programs on NRK is something that shouldn't be taken away from you. With a VPN, you don't have to miss episodes to your favorite tv or radio shows anymore.
If you also need to take your internet security and privacy up a notch, a VPN is your best bet. You can register or download any of the VPNs mentioned above and start watching NRK from anywhere around the world.