The name isn't just for show – FastestVPN is known for their speed and reliability. Millions of people are currently subscribed to FastestVPN and it is for a couple of reasons. If you've been on the lookout for the best VPN services for the past couple of years, chances are, FastestVPN would sound new to you. Well, in fact, it is one of the newer players in the industry.
In this review, we will be detailing FastestVPN's features and functionalities that captured millions. After you read this review, hopefully, you get a better sense at what FastestVPN is.
FastestVPN History
FastestVPN is one of the newer players in the industry. A team of highly-skilled I.T. specialists and Software Engineers manage and maintain the service every single day. By looking at the features they offer, it's definitely one of the VPN services with the best functionalities at the lowest price.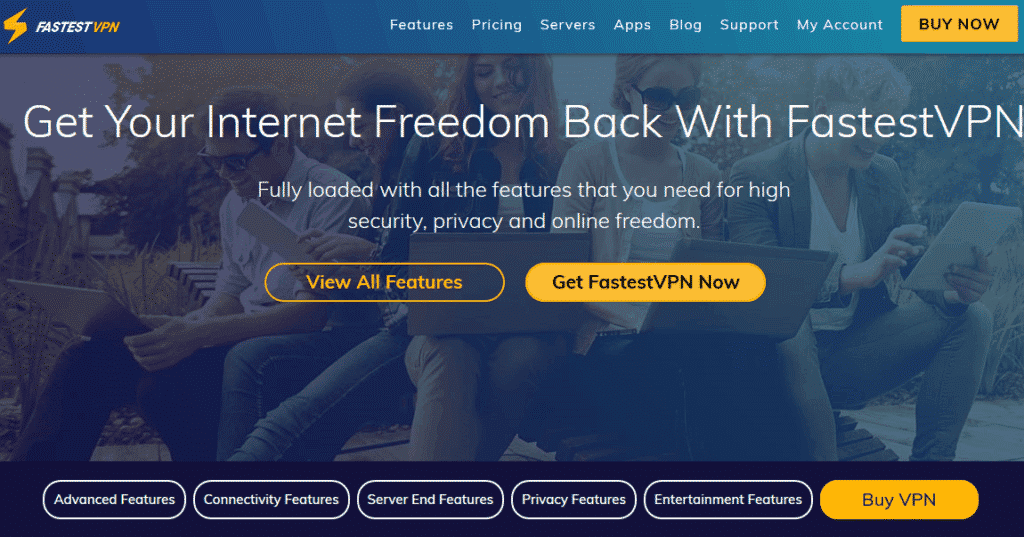 Of course, we can't avoid having negative things, right? Given its price, would you expect much from it? But we guarantee that whatever drawback FastestVPN has, it'll be largely covered by the things it can provide its users.
With FastestVPN, you can ensure a stress-free time while you're on the internet. No one will be spying on you, no one will be able to infiltrate and steal your personal information. With a team of dedicated specialists, programmers, and Engineers, you can lay back and enjoy your freedom while being protected.
Security and Protection
With all VPN providers promising optimum security, it's quite difficult to tell apart. With FastestVPN, you can be sure that not even a trace of your history will be logged. FastestVPN utilizes 256-bit AES military-grade encryption on OpenVPN to make sure that you remain hidden while you're online.
Along with that, FastestVPN also offers a built-in Network Address Translation (NAT) Firewall. The NAT Firewall is an added layer of security which rejects all unrequested traffic; unknown and unrequested traffic could contain malware and other unwanted software.
"We do not log any of your information in any way," is the promise of all VPN providers. While we have no way of knowing whether or not this is legitimate, FastestVPN has proven theirs. Millions of people have put their trust on them.
All your internet traffic including DNS queries, traffic destinations, received traffic, and IP addresses will remain anonymous and hidden. Not even your Internet Service Providers (ISPs) will know what you've been up to.
Another good thing about FastestVPN is that they have a kill switch. A kill switch is an extra added security feature that automatically drops your connection when there's a problem with the server you're connected to. So, it doesn't compromise your identity – it'll keep you safe 100% of the time.
Connections Speeds and Performance
With claims of being safe from DNS and IP leaks, our tests were able to confirm that they are. We failed in finding any evidence of a possible IP and DNS leak to happen with FastestVPN. One of their strongest protections is coming from the ad blocking feature.
Have you ever come across a website filled with nasty ads? Were you bothered by these ads because they're blocking the content of the website you're in? We were actually surprised by the ad blocker offered by FastestVPN. It revealed the content of some of the ad-filled websites today.
Speed-wise, we were able to confirm that most, if not all, of the servers were faster than the normal. Considering the fact that encryption can cause delays in responses, FastestVPN covered that with fast and reliable connection speeds.
With faster secure internet connections, you'll definitely love using FastestVPN. They also have unlimited bandwidth and 99.99% of the time, you're going to be up and online!
Networks and Server Locations
FastestVPN currently has about 100+ servers in 29 countries which is typically small compared to other VPN providers. However, the good thing about it is that their servers are regularly monitored and observed; meaning, they're less likely to experience any type of infiltration or leaks.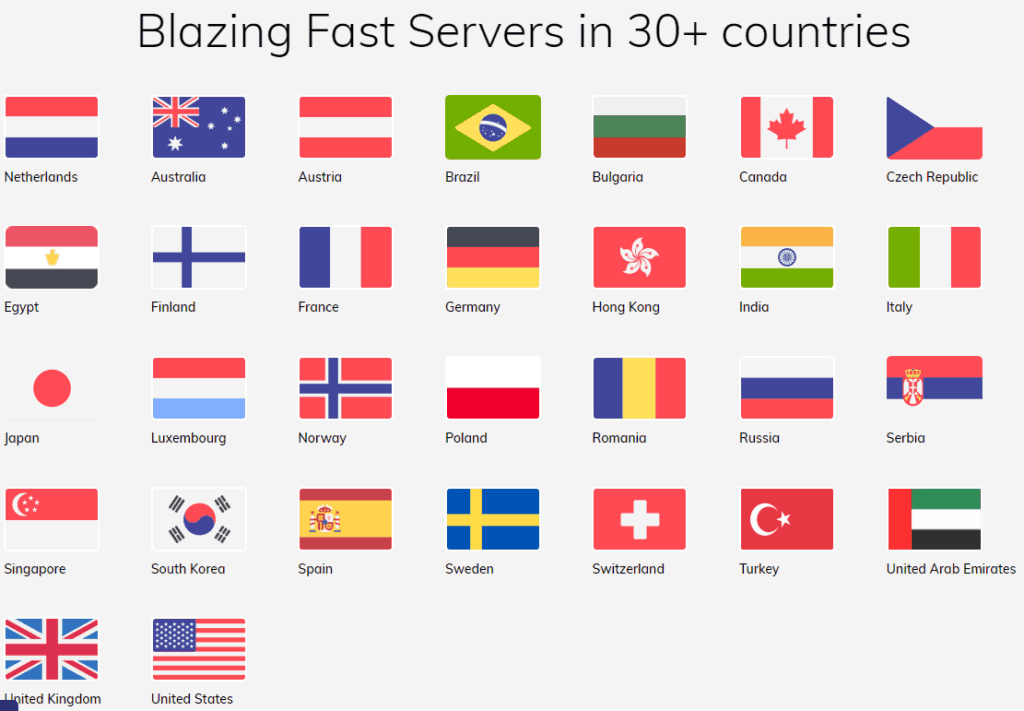 You can choose to connect in any server of your choice. Doing so will allow you access to whatever geographically-blocked and restricted website you want to visit. For instance, if you want Hulu but you can't because you're in a restricted country, you'll be able to.
From the servers FastestVPN has, you can be more flexible in terms of what you want to access; there can be no restrictions in choosing and accessing a website that is not allowed wherever you are.
Access to Restricted Websites and Content
As we've mentioned above, connecting to FastestVPN will give you access to restricted websites. Similar to what other VPN providers offer, but what's astounding with FastestVPN is its ability to access special US content on YouTube.
FastestVPN
Pros
10 simultaneous Connections
Dedicated VPN Apps
Split Tunneling
Cons
Not the longest money-back guarantee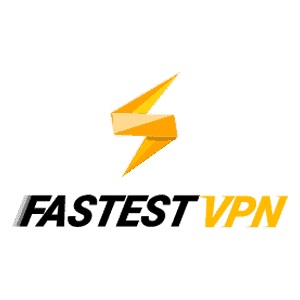 FastestVPN works great on streaming services such as Netflix and BBC iPlayer, which is something you can not say for all VPNs. FastestVPN actually have an own server called US Netflix, so it is very easy to watch American Netflix with FastestVPN
Some of the servers that we've tried were able to allow us to do P2P or torrenting. This is especially good as most VPN providers didn't allow this on their platform. With FastestVPN, it's allowed and it can be enjoyed with unlimited bandwidth from selected servers.
Customer Feedback and Reviews
A majority of the users were more than contented with what FastestVPN has to offer. One user made a review and said that his original speed was 15 Mbps; when he was using the service, it went up to 17 Mbps.
This was good because if we consider encryption, it'll exponentially slow the connection down. An increase of even 2 Mbps is an essential thing.
Another user had said that the enjoyed FastestVPN because of its P2P allowance. He said that he has long been a fan of torrenting and wanted to use VPN with it for security. Unlike other providers who block P2P or torrenting, FastestVPN promotes it without the risk of IP and DNS leaks.
Many users are admiring the fact that FastestVPN offers such a premium service at a low rate. More than 70% of its current users are happy with it and are willing to continue their journey with FastestVPN.
Multiple Devices and Compatibility
If you're tired of getting hooked to get more subscriptions, then switching to FastestVPN might amaze you. FastestVPN allows a total of ten (10) simultaneous connections from ten (10) different devices, too! So long as the device you're using is compatible with FastestVPN, you're good to go!
Moreover, FastestVPN is compatible with a wide range of devices such as Windows, Mac, Android, iOS, Routers, Linux, PlayStore, and Kodi. I know, it's surprising to know that a VPN service is compatible with routers and with Kodi; but FastestVPN allows this.
No TV? Sorry we missed that out; it actually is compatible even with PlayStations 3 and 4, XboX, and the AppleTV. Users are allowed to use one FastestVPN account to five (5) devices ALL AT THE SAME TIME. How good is that?
Pricing
FastestVPN gives its potential customers a chance to pay on a monthly basis, annual, or every two (2) years. Of course, the monthly plan would be the most costly at $10 per month. Getting it for one (1) year would require you to pay upfront of $29.95, totaling to just $2.49 per month. Lastly, subscribing to it for two (2) years drops the price for just $1.11 per month; requiring you to pay $39.95 upfront.

It's definitely cheap and affordable considering the security you'll be getting from FastesVPN.
FastestVPN does not come with a trial period, though. However, all packages are subject to a 7-day money-back guarantee. Yes, if you try it and you're not happy with the services, you'll be getting a full refund.
No limit on the usage in terms of getting a refund unlike other VPN providers. So long as the seven (7) days are not up, you can request for a full refund. Of course, you would have to provide feedback as to why the service did not meet whatever your standards or qualifications are.
Final Verdict
For its price, it really doesn't matter what you can or cannot access. The simple thought of being protected at such a cheap price is more than enough. Plus, you'll be able to have faster connection speeds compared to what you have right now? It's really a gem, if you ask me.
FastestVPN works very well with streaming services such as Netflix and BBC iPlayer; and you can be sure that whatever activity you have over the internet, it'll be secured and confidential. FastestVPN doesn't store logs or record any activity you might have.
Paying less than $10 per month in getting a one (1) year plan would be the best option if you want to try it out. We definitely recommend subscribing to FastestVPN; and remember, the name is not just to lure people in, it's fast and it's reliable.