ExpressVPN Lightway Protocol Explained (Updated for 2023)
ExpressVPN is one of the most popular VPN apps available on all major operating systems. It is also one of the fastest VPN services available as it has more than 3000 high-speed servers at numerous locations over the globe.
Though ExpressVPN has offered users the option to choose from a standard set of protocols, the company recently launched a new next-generation protocol which allows for a better and faster VPN service. This new protocol is known as Lightway, and is currently available to beta testers on the app for Android, with additional support to be released soon.
In this article, we'll consider what a VPN protocol is, the features of this newly developed protocol, and the advantages it offers.
What is a VPN Protocol?
A VPN protocol is a set of encryption protocols that determine how data is encrypted and how the encrypted data moves between the servers and the devices. It is important to consider the type of protocol a VPN service uses as it directly affects the data transmission speed and how safe the service will be.
The VPN protocol determines the connection speed and safety of your internet activity. A VPN protocol can be explained as a tunnel which accommodates online traffic.
There are a number of VPN protocols available, each with its peculiarities. Some offer amazing speeds while others offer better security. Also, some VPN protocols are best used on mobile devices while others can be used on a variety of devices. Each VPN protocol secures and transfers data in a different way.
The following are the VPN protocols currently available: Open VPN, Layer 2 Tunnel Protocol (L2TP), Internet Protocol Security (IPsec), Point-to-Point Tunneling Protocol, Secure Socket Tunneling Protocol, Internet Key Exchange Version 2 (IKEv2), Secure Socket Layer, Transport Security Layer, Wireguard, and SoftEther.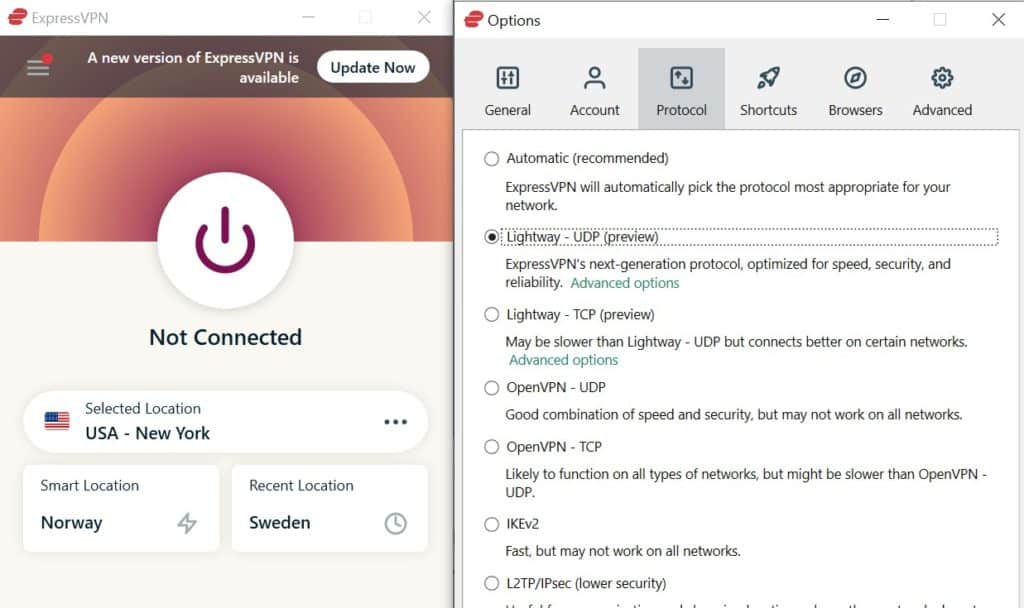 The Lightway Protocol
While a lot of VPN services rely on one or more of the protocols we've mentioned above, ExpressVPN has created a new protocol from scratch, to make up for the shortcomings of the standard VPN protocols. Though it is still undergoing beta testing, these are some of the official features.
First, the new protocol has been designed to allow for instant connectivity as it is not affected by any of the legacy features of the standard protocols. This allows for faster load time, which could be as fast as a fraction of a second, though this depends on the user's network. Regardless, this new feature greatly boosts the speed.
Another feature of the Lightway protocol is the power saving feature. It does not require as much processing power as the legacy protocols. This reduced processor load results in improved battery life. The smaller codebase of the Lightway protocol also adds to the quality of performance.
Apart from the improved speed and quality of performance, another feature the Lightway protocol offers is uninterrupted connectivity. While most protocols lose connectivity when there is a network interruption or if the user switches between networks, ExpressVPN has developed a workaround with the newly launched protocol. So, if there is a switch from Wi-Fi to 4G or from 4G to Wi-Fi, your connection still remains intact. This means you do not need to reestablish the link or change the default settings to use your previous connection.
Lightway uses wolfSSL, a well-established cryptography library which has been tested and approved by third parties and follows the FIPS 140- standard. Lightway also provides advanced options to use the ChaCha20, a feature beneficial on mobile devices. The ChaCha helps to deliver fast encryption on mobile devices that do not support AES acceleration.
The minimalist codebase of the Lightway protocol leaves less room for vulnerabilities and bugs. It also makes it easier to maintain and audit. After the ongoing beta test, the library will soon be made open-source, allowing for new improvements to be added easily.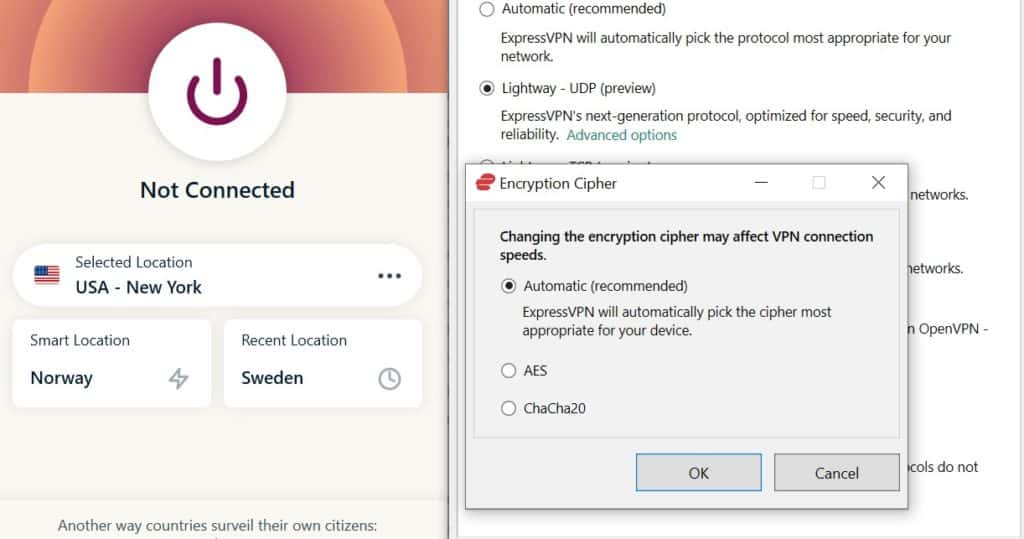 Since Lightway is still under testing, beta testers may encounter some bugs, all of which would be fixed before the full release.
Advantages of the Lightway Protocol
The Lightway protocol has been built in such a way that it is significantly faster than the legacy VPN protocols. The ChaCha encryption on supported mobile devices offers 3x more speed than the AES. With the Lightway protocol, the connection is almost instant. The connection is also preserved when you switch from data to Wi-Fi or if the network connection drops.
The low processor load helps to conserve battery life.
The wolfSSL cryptography library makes the connection secure. The protocol is built to maintain the privacy and security ExpressVPN is known for.
Once the core library has been open-sourced after the beta testing period, adding new features and improvements will be made easy and fast.
Lightway Aces Independent Security Audit
ExpressVPN says its Lightway is an excellent addition to the existing VPN protocols, but who wouldn't say the same about their product? Thankfully, though, you don't have to take their word for it. We have independent audits for verifying such claims. Firstly, ExpressVPN has published Lightway's source code under an open-source license.
This means that many more people can scrutinize the code's security. Then, suppose such analysts notice any security bugs, they can notify ExpressVPN to fix the bug. Furthermore, ExpressVPN states that you could get a reward for pointing out such issues. Top cybersecurity firm, Cure53, has also assessed and graded Lightway's security.
Cure53 performed a penetration test and also audited the source code. After the audit, the security company concluded that Lightway's code follows consistent coding patterns. In addition, the auditors stated that Lightway's code is of high quality and has a robust security structure. Cure53 identified some weaknesses, though. Fortunately, ExpressVPN has taken the necessary steps to mitigate these risks.
Frequently Asked Questions on the Lightway VPN Protocol
Is Lightway available on other VPNs?
No, you cannot get the Lightway protocol on other VPNs. Instead, you can only use this VPN protocol on ExpressVPN apps. The protocol is available on ExpressVPN apps for Android, iOS, Windows, Mac, and Linux devices. In addition, you can choose the Lightway protocol while setting up ExpressVPN on routers. So, if you love Lightway's features, it'll be best to buy an ExpressVPN subscription.
How many devices can you use the Lightway protocol on?
ExpressVPN allows multiple simultaneous connections on one subscription plan. Consequently, you don't need a new subscription for all your gadgets. Instead, five different devices can simultaneously use one ExpressVPN account. All simultaneous connections also enjoy the ExpressVPN features available in the device's apps. So, since the Lightway protocol is available on all ExpressVPN apps, it means that you can use it on all your five simultaneous connections.
Can Lightway improve my gaming experience?
Yes, ExpressVPN's Lightway protocol can significantly improve your gaming experience. Firstly, remember that ExpressVPN built this protocol to be faster than the regular protocols. Consequently, its ping rates are pretty low. Ping rates refer to the time it takes a website or server to respond after clicking a link. Gamers already deal with sometimes slow ping rates. So, a slow VPN would inevitably increase gaming delay. Fortunately, Lightway's fast connectivity solves this issue.
Is Lightway safe for VPN users?
Yes, Lightway is one of the safest VPN protocols currently available. ExpressVPN is generally trusted for its security features. So, it extended that standard to its pioneer VPN protocol. Notably, Lightway uses wolfSSL while you also enjoy ExpressVPN's AES 256-bit encryption when using the protocol. Lightway's core codebase is also open-sourced and short. A short code means that it's easier for audits to identify and fix any problems with the protocol.
Conclusion
The newly launched Lightway protocol is an important innovation that sets ExpressVPN apart. It is the start of a vastly improved VPN experience and can only get better. Once the beta testing stage is over, users can enjoy the amazing features of this new VPN protocol. It is sure to make a huge difference to ExpressVPN users all over the globe.