In our world where security and safety should be the priority, you need to consider using VPN. A VPN or a Virtual Private Network is a type of secure connection that encrypts all your internet activity. Other than that, using it has different perks, too depending on the VPN provider you're using.
We will be discussing everything good about CactusVPN in this review. In addition to that, we'll also be giving you a too few ideas about what it is.
CactusVPN History
Similar to how other startups started, CactusVPN was envisioned by three friends in the late 2011. They started as a small business based in the country of Moldova; and they had the vision to provide heightened security with excellent services to people.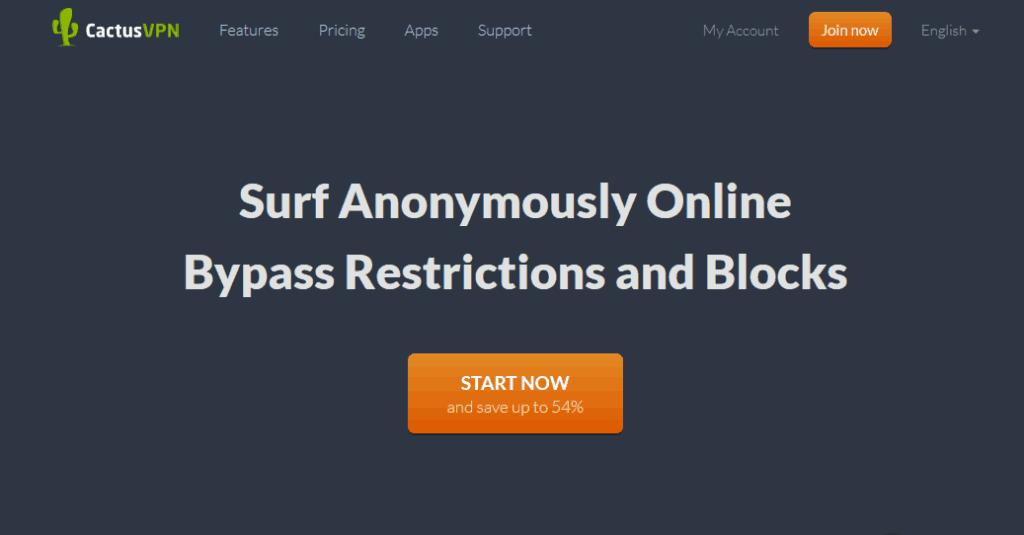 The founders of CactusVPN were extremely well-versed in e-commerce. Meaning, they have knowledge on how they'll be running the business. In fact, they said that they had envisioned CactusVPN to be like a restaurant that is run by a family – where everyone from the owners to the staff and the clients will know each other at a deeper level; that everything will personally be dealt with.
Everything started to grow by 2013. This was when they had few touches of clients from all around the globe. The founders felt the need to hire people to help them deal with inquiries and concerns worldwide. Although this is the case, they still have that "family-run restaurant" business model; this is for them to be able to connect with their clients on a passionate, personal level.
Up until today, they have the same goal they've had when they first started – to provide freedom and privacy. They believe that the internet is something that should be safe for everyone; that no one should be afraid of using the internet. Why? Because everyone deserves to be safe, respected, and private even while online.
With countless VPN services available today, why should you choose CactusVPN? Unlike other VPN clients and providers CactusVPN offers some features that would astound you. Here are some of the features you will not miss with CactusVPN.
High Level of Protection and Security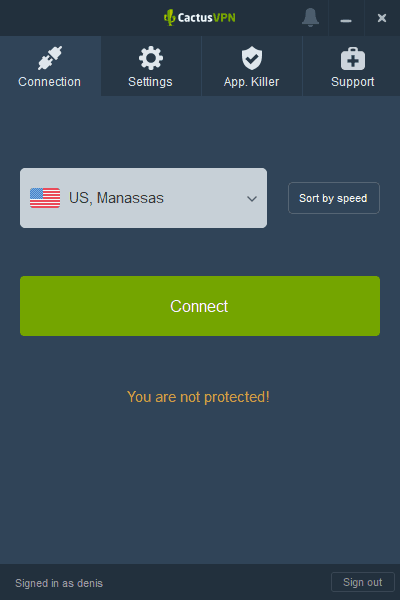 Similar to most, if not all VPN providers, CactusVPN promises utmost protection and security. CactusVPN gives another layer of security by totally hiding your real IP address; what it'll do is it will replace it with the server you're connected to. So, the websites you visit, even Google, will see the servers and IP addresses of CactusVPN, keeping you totally anonymous.
In addition to that, CactusVPN also does thorough encryption to all internet traffic. Meaning, everything you do will be hidden and encrypted; no one will be able to access your private and personal information with CactusVPN. They're known to not store logs of their users, keeping everything safe and confidential.
CactusVPN
Pros
Internet Kill Switch
Sort servers by speed
DNS Leak protection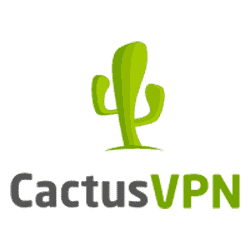 For further protection, CactusVPN also has a kill switch. A kill switch is a feature that automatically disconnects a user from the internet when a problem with a CactusVPN server occurs.
Some VPN providers do not offer a kill switch which is the gap for protection and security. When a VPN server fails, it automatically reverts the user to the DNS servers of their provider, allowing the IP address and activity of the user exposed.
In terms of protection and security, you can definitely bank on CactusVPN. They run on a 256-bit AES encryption and a DNS leak protector.
Smart DNS
In addition to security, some of the perks of using a VPN is accessing websites that are geographically blocked. Due to copyright issues, some websites cannot be accessed by people and users in certain countries. With CactusVPN, you can definitely save yourself from that.
They have access to over 300+ websites that are geographically blocked. So, you can definitely enjoy your favorite TV shows and movies without worrying about it being blocked.
BBC iPlayer, Netflix, and Amazon Prime Video are just some of the examples of unblocking geo-blocked websites. Meaning, even if you're in Japan, you'll definitely be able to watch US Netflix with CactusVPN.
Although it doesn't unblock Hulu, you're sure that you'll be able to have access to other geo-blocked websites through Netflix, BBC iPlayer, and Amazon Prime Video. Without changing the time on your device, you'll get through the access restrictions.
Device compatibility and stability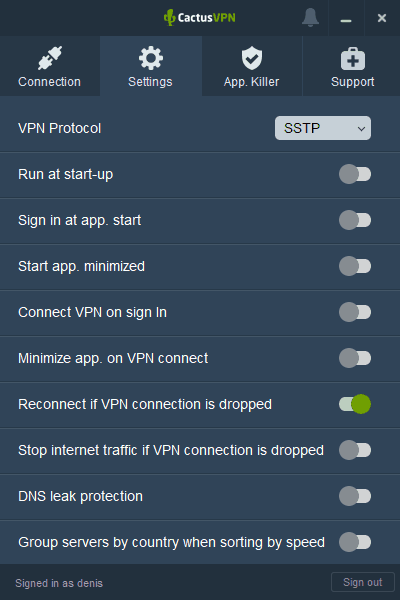 Choosing to subscribe to the full CactusVPN plan, it'll allow you a total of five (5) devices simultaneously. Another good thing about CactusVPN is that it's compatible to different devices such as Android and iOS and their desktop programs, Windows and MacOS, respectively.
Furthermore, you can rely on CactusVPN in terms of speed and allowances because they don't have data caps. Currently, they only have a total of 28 servers in 16 different countries. It's not that much but you're sure that it's secure as they won't have a hard time configuring and fixing servers.
Ever heard the warning that you need to refrain from torrenting while connected to VPN? Well, CactusVPN allows P2P on eight (8) of their 28 servers. Meaning, users can abuse torrents all the while and while being safe and protected. With various physical servers circling the globe, you can be sure that all of your private information are safe.
Speed and performance
As we've mentioned above, about 28 servers in 16 different countries are operating under the command of CactusVPN. Although this is small compared to other well-known, international VPN providers, it does provide a stable connection for users because it is more focused. Some of their servers can be physically seen in the Asia Pacific region while most of them are based in Europe.
They regularly check up on each of their servers to ensure that everything is the way it's supposed to be. No complications and leaks, and no log-keeping from users.
Should you need higher connection speeds, you can toggle it and sort the speeds out through your CactusVPN profile. Everything you need to know about a specific server (e.g. speed, security, location, etc) can be seen in your CactusVPN account, you just have to log-in to it after you're done subscribing..
In a test, all servers provided fast and stable internet connections. Streaming, browsing, playing online medium-to-heavy games were seen to be at their optimum performance without issues in connectivity. We were able to browse normally and watch HD videos without lagging and buffering.
CactusVPN's servers are reliable as users won't experience sudden drops with their connection. If you use the internet for browsing, watching videos, and playing games, you'll love what CactusVPN has to offer.
Pricing
CactusVPN is known to be one of the most inexpensive VPN services out there. For only $4.89 per month, you can definitely feel safer and more secure when you go online. Getting it for three (3) months, however, it's going to decrease to just $4.19 per month.

Getting the 12-month or the one (1) year plan would save you about a dollar per month because it'll only bill you $3.20 per month. Instead of being billed $83.88 for a year, it'll only be $34.49. How good of a deal is that?
30-day money-back guarantee
Most, if not all VPN providers offer a 30-day money-back guarantee if the system is not something they were expecting. With CactusVPN, though, they'll allow a money-back only if the service doesn't work. For instance, when you subscribe with CactusVPN, you will know whether or not you'll be able to connet to its Smart DNS Services or to its VPN Servers. Only then will they be able to return your money.
Technically, unlike other providers, you won't be able to use CactusVPN for a "trial" first before you actually purchase it. There is, however, a 24-hour free trial for those who are interested in subscribing with CactusVPN.
Customer Feedback
Most of the clientele of CactusVPN are businesses and professionals. Oftentimes, the types of clients they have are CEOs, Directors, Programmers, and the like. In their testimonials, all of them say one (1) thing: that CactusVPN has been helping them with their needs for both their careers and their personal lives.
A majority of customers love CactusVPN's features as well as what they offer. Especially when the speed of the connection is the one in question, they're downright impressed with what CactusVPN can offer its clients.
Final Verdict
Unlike other top-rated big players in the VPN industry, CactusVPN is perfect for people who have little-to-no experience in the field of cybersecurity. With minimal servers, rest assured that the servers are looked at more often and are tested on a regular basis.
There also are minimal risks in being infiltrated because it's not as big as other VPN providers. It is, therefore, safer than other VPN providers because of their low-server count and maximum promotion of security.
If you are looking for a reliable, fast, and secure VPN provider, CactusVPN might just be what you're looking for. They do not keep logs; they immediately purge them. With CactusVPN, you would not have to worry about security and confidentiality anymore. You can be sure that everything you do online is now safe at a much affordable rate.