Best VPNs for TikTok in 2023: Beat the TikTok Ban
TikTok is a Chinese-owned video-sharing social networking service. Rated as one of the most used social apps in the world, TikTok has had an increasing number of downloads. It is primarily used to create short music videos, dance, comedy, and talent videos that span between 3 to 60 seconds.
Due to its popularity and growing fan base, several countries have opened an inquest into its use. Of particular note is India's claim that the app is a threat to its national security, and this has caused its ban and restriction in many locations. As a result of this, several users have opted to use VPNs to access the app for gaining access from a restricted location or to protect their privacy and remain anonymous.
With a good VPN, you can continue to enjoy the app regardless of your location. A good VPN will allow you access to all the features of TikTok, as well as provide you with enough cover to prevent you from being tracked or blocked.
6 VPNs that Work with TikTok
TikTok is a mobile and web app, and that means that you have to be careful in choosing the right VPN. For the mobile app, you must be sure that the VPN works for it, while on the web app, the VPN must support whatever browser you intend to use.
Since TikTok is geo-restricted, you need to find a VPN that can protect your privacy and connect to a location where TikTok is allowed. You must also pay attention to the connection speed and how easy it is to set up. To make things easier for you, detailed below are the best VPNs for TikTok.
Quick Guide
Below is a brief introduction to the selected VPNs that work well with TikTok. This quick guide will give you an honest one-sentence assessment of each VPN.
Do VPNs Really Unblock Access to TikTok?
Yes, they do. However, you must be sure that your selected VPN has a secure server in a country where TikTok is not banned. As stated earlier, users in India must look for stable servers from countries like the United Kingdom or Canada. While you can also gain access by connecting to a server from the United States, it's important to note that the US government is planning to ban TikTok too due to privacy issues.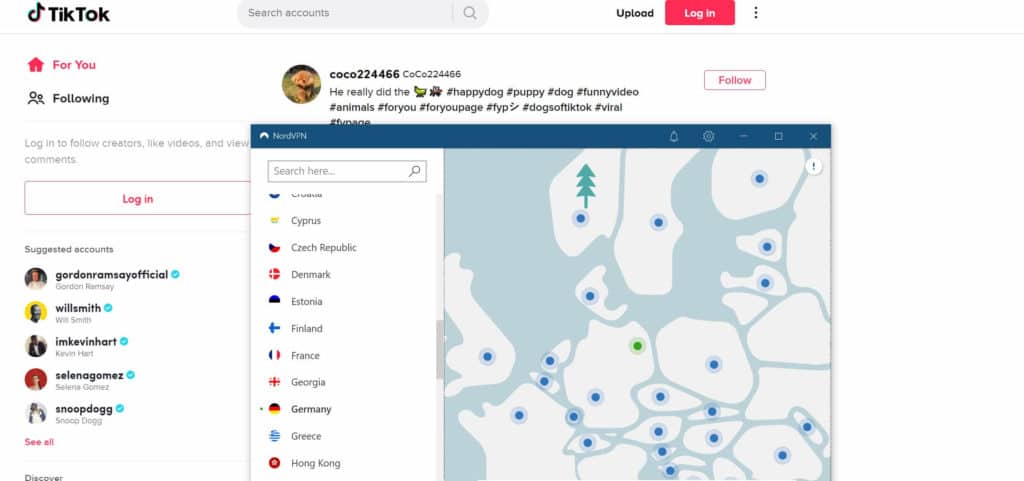 How to Set Up a VPN for TikTok
If you're a mobile user, you can download any VPN you choose on the App Store or the Play Store, depending on your device. When you're done downloading, open the app, get a preferred subscription, and connect to your chosen server. When you're connected, you can check your current location through websites like whoer.net.
For PC users, you can either download the app to your PC or install a browser extension. Once you choose your preferred subscription, all you have to do is connect to your preferred server, and you're good to go.
Why is TikTok Illegal in Some Countries?
Several governments banned TikTok for different reasons. For example, the US accused the Chinese app of funneling users' data back to servers in China. Therefore, there were moves to ban the app to restrict the Chinese government's access to such data. However, the TikTok ban has been shelved by the current Biden administration.
Using TikTok is also illegal in some countries because its makers have been accused of planting surveillance tech in their apps. Pakistan and India are two other countries that have successfully banned TikTok. For Indian users, TikTok became illegal following a skirmish between Indian and Chinese troops in June 2020.
India banned many other Chinese apps because of this conflict. Conversely, Pakistan banned the app for moral reasons. TikTok's content was described as indecent, immoral, and unethical. As a conservative country, the TikTok videos often offend their culture and beliefs.
Frequently Asked Questions on the Best VPNs for Tiktok
Is it legal to unblock TikTok with a VPN?
No, it's generally not unlawful to unblock TikTok with a VPN. Countries institute Tiktok bans. Consequently, ISPs and app stores were to comply with the new regulations. So determining the legality of bypassing TikTok geo-restrictions could be challenging. However, if VPN usage was previously legal in a country, a TikTok ban doesn't make using VPNs unlawful. However, it'll help to check your country's laws on this issue properly.
Are free VPNs good for TikTok?
No, accessing TikTok with a free VPN is a terrible idea. Indeed, unblocking TikTok with a free VPN sure looks attractive. However, there are many pitfalls to such a decision. For example, free VPNs are notorious for selling users' data to third parties, including governments. It's thus very likely that your TikTok connection data would get into the hands of unfavorable third parties. Furthermore, enjoying TikTok videos with a free VPN may also make you susceptible to security threats if the VPN doesn't have solid encryption.
Will a VPN slow down my TikTok video uploads?
Yes, a TikTok VPN can slow down your TikTok uploads. However, this upload lag would only be for a few seconds. This would be the case if you used any of the excellent VPNs above. Furthermore, there's a valid reason for these slow uploads. It's that a VPN has to route your TikTok traffic through its encrypted servers. This process is what slows down your internet connection. However, choosing a VPN server that's close to your location can reduce this delay.
What if I want to use a VPN for only TikTok?
Some TikTok users may only want a VPN for unblocking TikTok. Fortunately, a good VPN can allow you to make this choice. You just need a VPN that has the split-tunneling feature. Split tunneling allows you to route particular internet traffic through a VPN. Then, your other device apps can directly access the internet. Notably, though, only your TikTok app would enjoy your VPN's secure encrypted connection.
What if my VPN doesn't unblock TikTok?
Suppose your VPN doesn't grant you Tiktok access; it could be that you aren't using a solid option. Therefore, you'll need to switch to any of the better VPNs above. Even with these, unblocking TikTok may still be difficult. You'll thus need to check some settings on your phone. For instance, you can check your phone's location settings. If it contradicts your new VPN location, unblocking TikTok would be impossible. Finally, you may need to clear your device's browser caches.
Conclusion
Getting a good VPN for TikTok can be challenging, but thanks to the reviews above, you can now choose from at least seven different VPNs. TikTok is a social media rave with enjoyable features, and geo-restrictions can make you feel left out from the rest of the world. By choosing one of these VPNs, however, there can be no more worries about getting access to the app and protecting your information while doing so.