Best VPNs for Synology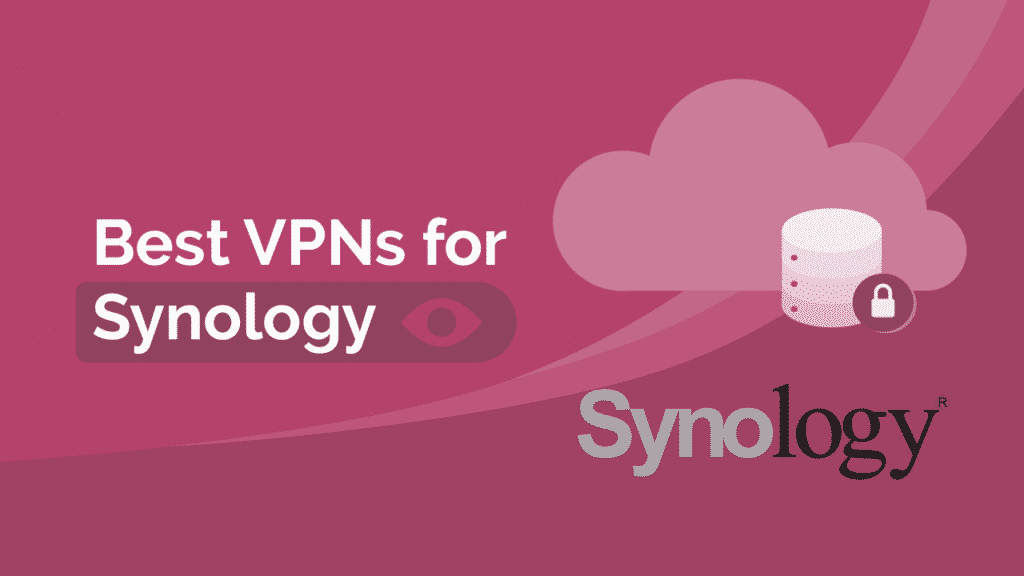 Synology offers some of the most secure network-attached storage (NAS) services you can get. However, it doesn't entirely encrypt your data when you transfer them from one device to another.
While this doesn't appear troubling, the internet has cyberbullies looking for the slightest opportunity to invade your network. So, your data isn't as safe as you might think it is. Thankfully, you can improve Synology's security with a Virtual Private Network.
VPNs provide extra encryption for your data and allow you to remain private. So, when you transfer a file, it reaches its destination without any security breach. You can also rest assured that there's no trace of your transfer activities.
However, there are loads of VPNs out there, and you need only the best to get a truly secure and private experience.
Top 5 VPNs for Synology
Based on our research, here are five VPNs that offer airtight security framework and many other top-quality features:
ExpressVPN

Features
Number of servers: More than 3,000
Speeds: Unlimited
Server locations: 160 in 94 countries
Maximum devices supported: 5
24 live chat: Yes
30 day money back guarantee: Yes
Pros/Cons
Fastest VPN out there
Strict no logs policy
256-bit AES encryption
Located in the British Virgin Islands (BVI), this VPN is perfect for Synology and has one of the best security frameworks. It is easy to install and configure.
It has the top-notch 256-bit Advanced Encryption Standard that creates a protective tunnel for your data. ExpressVPN also protects your data history after every restart with its TrustedServer technology.
ExpressVPN provides anonymity for your work or home activities. It has over 3000 optimized servers that mask your IP address so hackers and spies can't pin your digital identity. Your web activities are also never logged. And, if your VPN connection suddenly drops, you can rest easy knowing that there's an automatic kill switch to protect you for data breaches.
This VPN gives you top speed and unlimited bandwidth so you can upload and download files on Synology with ease.
ExpressVPN allows you to unblock web restrictions on your device if you decide to use Synology as a VPN client. You get easy access to a 24/7 support crew, and there's a detailed instruction guide put you through everything you need to do.
This VPN allows multiple connections, and you can link as many as five devices a time. Doing this would not reduce your connection speed and your devices would be protect by all its premium features.
ExpressVPN subscription plans are affordable. They cost between $6.67/month to $12.95/month, depending on how long you want to subscribe for. But the best part is that you can get this VPN risk-free for 30 days.
Pros:

Fastest VPN out there;

Strict no logs policy;

256-bit AES encryption;

Lowest price: $6.67
NordVPN

Features
Cryptocurrency accepted? Yes
Simultaneous connections: 6
Dedicated IP-addresses? Yes
Servers: 5342 in 58 countries
Pros/Cons
Lots of pricing options
Netflix support kept up to date
256-bit AES encryption
NordVPN is another perfect fit for Synology, thanks to its state-of-the-art security structure and features. It uses the 256-bit AES system that encrypts your private conversations and emails, making it difficult for hackers and spies to decipher. The VPN is also easy to install.
It has a Double VPN function that encrypts your data using two servers, so you get an extra layer of security. You can also enjoy CyberSec feature that blocks unwanted ads, phishing attempts, and malware if you get this VPN.
This VPN also grants you complete privacy from ISPs and trackers. It avoids data retention with its no-logs rule and prevents DNS leaks on your device. It also ensures there's no security breach with its kill switch feature. With its Onion Over VPN feature, you'll have extra layers of protection and security.
NordVPN has well over 5700 servers in 59 countries. The VPN supports P2P and Obfuscated functions that allow you to torrent and stream at full speed. There's also no bandwidth limit with this VPN.
If you decide to use Synology as a router, then NordVPN should be one of your top-choice to stay secure. You can connect up to 6 devices simultaneously, so you don't have to keep logging in and out. You'll also get full customer support to help you with any issue you might have.
NordVPN offers different subscription plans. Its cheapest plan cost $3.49/month for 3-years. But you can get its monthly plan, which costs $11.95 every month. You'll also enjoy a 30-day refund policy regardless of which subscription plan you decide to go for.
Pros:

Lots of pricing options;

Netflix support kept up to date;

256-bit AES encryption;

Lowest price: $3.71
Surfshark

Features
Free trial? Yes
Simultaneous connections: unlimited
Ad blocking? Yes
Servers: 1000+ in 61 countries
Pros/Cons
No footprints
Allows torrenting
256-bit AES encryption
SurfShark is another choice that guarantees formidable security on Synology. It is easy to installation and supports OpenVPN, one of the most secure protocols.
SurfShark has the AES-256-GCM encryption system that protects your files transfers. With the VPN, you can also enjoy a stress-free internet experience by avoiding ads, malware, trackers and phishing attempts.
This VPN has over 1700 servers placed in more 63 countries. These servers offer several layers of protection on Synology when on the internet. It also keeps your real IP address hidden.
SurfShark also has a great privacy infrastructure. It keeps your VPN use hidden from your ISP with its Camouflage mode and has a DNS and IP leak protection. Your web activities are also never retained due to SurfShark's no-logs rule.
Furthermore, there's a kill switch that secures your device by restricting internet access when your VPN connection fails. The VPN allows you to connect as many devices as you want to a single subscription. And if you ever run into trouble, you can contact its reliable customer support system to help you out. The platform is available all through the day and night.
SurfShark has perhaps the most affordable VPN subscription plan. You can get its monthly plan for $11.95/month. However, its best deal costs only $1.99/month for two years.
The great news is that you get a refund if you request one within 30 days of using this VPN's services.
Pros:

No footprints;

Allows torrenting;

256-bit AES encryption;

Lowest price: €2.49
UltraVPN

Features
One click connect? Yes
Servers: 100+ superfast servers
Bandwidth cap? No
Platforms: Mac, Windows, iOS, Android
Pros/Cons
Firewall
Apps for all devices
256-bit AES encryption
Not as many servers as others
UltraVPN is another VPN that works well for Synology, thanks to its impressive security provision. It has the credible 256-bit Advanced Encryption Standard that encrypts your files, making it unreadable to hackers. It also has a secure firewall that ensures every single action on Synology stays protected.
The VPN supports the OpenVPN protocol so you can install easily then enjoy total privacy on Synology.
It guarantees your privacy through its zero-logging rule. Furthermore, it also comes with additional DNS leak protection that prevents your private information from falling into the wrong hands.
This VPN has over 1000 superfast and 1000 highspeed VPN servers in over 100 locations that provide 24/7 rock solid web access. These allow you to enjoy fast and steady transfer speed. There's also no bandwidth limit, so you don't have to worry about downtime.
UltraVPN has an excellent customer support platform. There's also a detailed knowledge base on its page where you can access relevant instructions with ease.
Based on the subscription duration, UltraVPN's subscription package cost between $3.75/month to $7.99/month. Also, this VPN has a 30-day money-back guarantee.
Pros:

Firewall;

Apps for all devices;

256-bit AES encryption;

Lowest price: €2.99
CyberGhost

Features
Connected devices at once: 7
Automatic kill switch? Yes
One click connect: Yes
Servers: 5900 worldwide
Pros/Cons
No logs policy
24/7 live chat
Apps for mobile devices and routers
CyberGhost is a Romania-based provider that guarantees total security on Synology. It supports the secure OpenVPN and IKEv2 protocols that allow you to install CyberGhost on Synology easily.
It also comes with an AES 256-bit military encryption that secures all transfers on your Synology. But that's not all. It also provides top-notch connection speeds.
This VPN has outstanding privacy features. With CyberGhost, none of your files or data will ever get logged on to its server. Your DNS is also protected from leaks so hackers and spies can't identify your IP address. It also comes with an instant kill switch that ends your web access if your VPN connection fails.
CyberGhost has well over 6000 servers located in 89 countries. These servers are P2P-friendly, and they allow you to unblock your favourite streaming sites if you decide to use Synology as a router.
You don't have to worry about logging out each time to use CyberGhost because it allows simultaneous access on seven gadgets. You can also rely on the VPN provider's extensive support guide or contact their customer support crew if you run into trouble.
CyberGhost's subscription plans cost between $2.75/month to $12.99/month depending on how long you decide to get the VPN.
The icing on the cake is that you can get a refund on its monthly plan if you request one within 14 days of using the VPN. However, you can test-run other plans risk-free for 45 days.
Pros:

No logs policy;

24/7 live chat;

Apps for mobile devices and routers;

Lowest price: €2
Why should you get a VPN for Synology?
If you're looking for a reason to get a VPN on Synology, then here are some:
1. Security: If you transfer confidential data from your Synology device, then you need to make sure that no one intercepts it. However, Synology doesn't provide you with world-class encryption to prevent security threats. Thankfully, VPNs offer this with their 256-bit AES encryption system and many other security features.
2. Privacy: Your pictures and files should remain your business. Unfortunately, Synology doesn't guarantee this when connected to the internet. Luckily for you, most paid VPNs have a no-logs rule and DNS leak protection that keeps you private.
3. Unrestricted web access: This is particularly useful if you decide to use your Synology as a router. With a VPN, you'll get access to multiple locations that allow you to enjoy unrestricted web access.
4. Simultaneous use: A VPN also allows you to extend its protection and benefit to several gadgets.
How to install VPNs on Synology
To install a VPN on Synology, the VPN must support the OpenVPN protocol. However, you don't need to start searching. All the VPNs above support OpenVPN.
Step 1: Download an OpenVPN configuration file. Check out your preferred VPN's page to do this.
Step 2: Navigate to your Synology's Control Panel. Then, select Network and create a VPN account on Synology.
Step 3: Upload the OpenVPN configuration file you downloaded in step 1 above.
Step 4: Enter your VPN credentials and connect to a server.
To get a detailed installation guide, navigate to your VPN's page and check out their OpenVPN installation guide.
Can I choose a free VPN for Synology?
So far, we've recommended only paid VPNs to you. You may be wondering why there's not even a single free VPN on the list. So, here's are some reasons you should avoid using free VPNs:
1. Most VPNs lack good security infrastructure: Free VPNs don't come with all the security perks listed above. So, using them means you don't get full encryption or DNS leakproof.
2. Most free VPNs don't keep your activities private: Another downside of using free VPNs is your actions will most likely not be kept private. Most providers sell your data and most VPNs that have an automatic kill switch or no-logs policy.
3. Most free VPNs do not have enough servers: They usually have under a hundred servers in limited locations. You'll find out there's no server in Japan when you need to watch Japanese TV. So, with free VPNs, your web access is still restricted.
4. Free VPN servers are not optimized for speed: Slow connection speed is another hitch when it comes to free VPNs. Due to congested servers and bandwidth limits, it takes forever to transfer files from Synology to other devices with free VPNs.
5. Most free VPNs do not have reliable customer support platforms: Another deal-breaker about most free VPNs is that they don't offer any form of customer support. So, you might have to resolve any technical challenge you experience by yourself.
6. Most free VPNs don't allow you to use the VPN services on more than one device at a time: You'll have to install the VPN on every device, which might be time-consuming.
Now, you can see that free VPNs don't offer you a premium experience on Synology. They are not the best choice, especially if you consider that you can get a paid VPN for as low as $1.99/month.
Is it legal to use VPNs on Synology?
Using a VPN on Synology is legal in most countries. However, a few others like Oman, Iraq, and Belarus have outrightly come out to prohibit their use.
As long as you don't use a VPN to commit crimes, then you shouldn't get in trouble for using it on Synology.
In conclusion
Synology offers a friendly NAS experience. However, there are still some security threats to be wary of, which is one of the reasons you need a VPN.
VPNs prevent these risks easily. However, the hard task is picking the right one for Synology.
In this article, we've introduced you to the best VPNs for Synology. We've also shown why you need one and highlighted the reasons you should stay away from free VPNs.
All that's left is for you to pick one of these VPNs above and stay safe on Synology.