Best VPNs for Sweden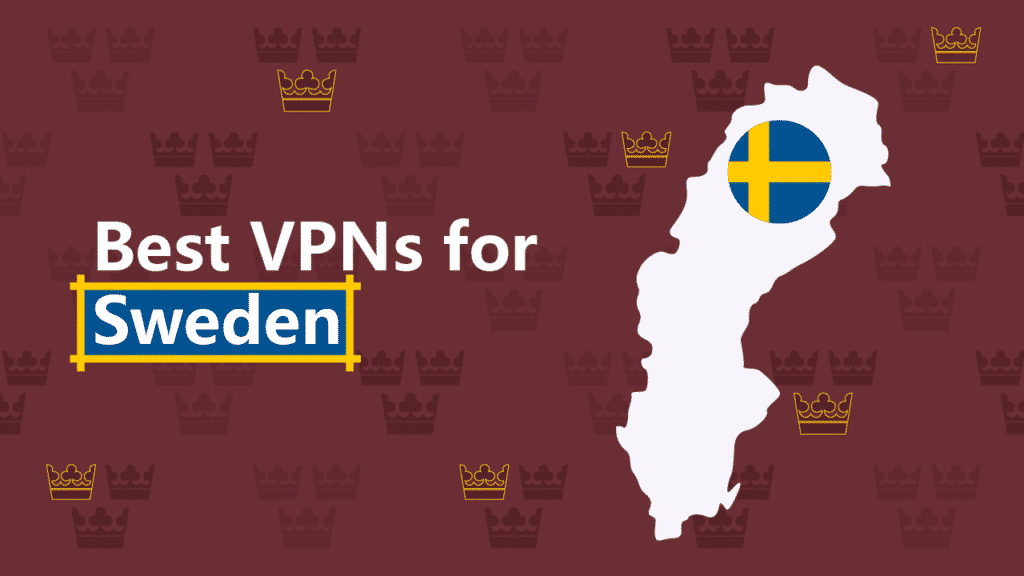 Sweden is, in more ways than one, an excellent country to be in. The internet space too isn't quite as restricted as some other countries in the world. However, it does have its problems. For one, many of its internet service providers are known to keep data logs for up to six months. 
Besides that, it is a member of the 14 Eyes, which means your internet privacy isn't very guaranteed here. Perhaps the worst of all are the numerous geo-restrictions. With all of these hindering comfortable web surfing, the importance of a VPN cannot be overstated.
What are the best VPNs to use in Sweden?
Several Virtual Private Networks offer internet security services today. However, very few of them give you your money's worth. We've compiled a list of the best VPNs that you can use in Sweden. They are:
ExpressVPN

Features
Number of servers: More than 3,000
Speeds: Unlimited
Server locations: 160 in 94 countries
Maximum devices supported: 5
24 live chat: Yes
30 day money back guarantee: Yes
Pros/Cons
Fastest VPN out there
Strict no logs policy
256-bit AES encryption
Standing apart from the multitude of Virtual Private Networks that offer the potential of being useful in Sweden is ExpressVPN. It was established about eleven years ago in 2009. Since then, ExpressVPN has been able to outgrow many other VPNs.
One of the great reasons it is an excellent choice for Sweden is its sheer number of server locations. In about ninety-four different countries, ExpressVPN has 3000+ servers. Firstly, with that many servers scattered across that many locations, you have the luxury of choosing which one works for you. Also, you can rest assured that you have multiple IP addresses to choose from, and consequently bypass geo-restrictions.
Additionally, something that makes ExpressVPN a great choice is its strict no-logs policy. Unlike some of the regular service providers in Sweden, ExpressVPN does not keep logs of your data. That means your privacy is secure.
This Virtual Private Network goes a step further by protecting your security as well as your privacy. In that regard, it has an Advanced Encryption System with precisely 256-bits keys. This system is the most secure encryption system in existence such that banks and even governments use it.
Additionally, they make use of virtual servers, which are generally a great idea if you have a government clamping down on internet freedom in one way or the other. The lack of physical servers makes it harder for the government just to confiscate something because some of the servers aren't physically there.
ExpressVPN comes with a simultaneous connection limit of five devices. It's perfect if you and the members of your family want to use it in Sweden. To cap it all, within thirty days of subscribing to a plan, you get to decide whether or not you like their service. If you don't, you get your money back.
Pros:

Fastest VPN out there;

Strict no logs policy;

256-bit AES encryption;

Lowest price: $6.67
NordVPN

Features
Cryptocurrency accepted? Yes
Simultaneous connections: 6
Dedicated IP-addresses? Yes
Servers: 5342 in 58 countries
Pros/Cons
Lots of pricing options
Netflix support kept up to date
256-bit AES encryption
The second Virtual Private Network on our list, NordVPN, was established in 2012. It is comparatively newer than some other Virtual Private Networks in existence today. However, when you consider all it has achieved during the period of its existence, you will be convinced about why it has made our list.
This VPN's headquarters sits comfortably in Panama. Now, unlike Sweden, this country does not have any laws which require that your data is retained. This perk comes right next to their own zero-logs policy. Basically, apart from their unwillingness to snoop around your personal life, your privacy is also supported by Panama's government's unwillingness to do the same.
It is also worthy of note that this VPN has 5600 across more than 59 countries in the world. As a result, there are a lot of options you can choose from, especially when it comes to getting new IP addresses.
Speaking of IP addresses, one particularly handy thing about this VPN is its dedicated IP address feature. To prevent your bank app, among others, from flagging your account for suspicious activity due to excessive amounts of IPs used to access their platforms within a duration, this VPN assigns your very own IP address to you. This is backed up by the extra security measure it takes in tunneling your device twice to ensure your privacy.
Once you subscribe, you can share NordVPN among six devices. If you have a family of your own, your kids can stream Disney+ on their screens. This would not disturb yourself and your spouse from surfing the web with your security guaranteed.
Finally, NordVPN also allows you to test them out for thirty days, risk-free. If you do not like them, you can ask for your money back, and you will be refunded.
Pros:

Lots of pricing options;

Netflix support kept up to date;

256-bit AES encryption;

Lowest price: $3.71
Surfshark

Features
Free trial? Yes
Simultaneous connections: unlimited
Ad blocking? Yes
Servers: 1000+ in 61 countries
Pros/Cons
No footprints
Allows torrenting
256-bit AES encryption
The third spot on our list is occupied by none other than SurfShark. For starters, its servers number in over a thousand and forty across a whopping sixty-one countries in the world today. With it, you can gain access to those treasure palaces of content that are often geo-restricted. Additionally, it is one of the few VPNs that can bypass the Great Firewall of China.
Apart from the standard 256-bit keys Advanced Encryption System, SurfShark packs quite a few tricks up its sleeves. Three that just have to be mentioned are the Cleanweb, Whitelister, and the Killswitch.
Cleanweb is a feature on SurfShark that ensures that your device is protected from pretty much everything that you'd hate to see on the internet. Among others, it makes certain that you don't have to bother about those nasty unwanted ads. Alongside that, you get protection from malware and phishing threats.
Whitelister helps you decide which applications you want to tunnel. That is, if you are tunneling your Disney+ app and you really don't need your browser to think you're in Japan, you can decide that. All you'll need to do is push around a few buttons.
The kill switch is a bit more common among Virtual Private Networks. It is a feature that goes a step further in protecting you when the network is down. Occasionally, VPNs stop working for various reasons. When that happens, you revert back to your normal IP address. Between the time you accidentally disconnect and reconnect, depending on what you're doing, you are vulnerable. As such, to protect you, the Kill Switch ensures that no data comes in or goes out of your phone.
It has an unlimited amount of simultaneous device connections per subscription. Despite its user-friendly prices, it still comes with a thirty-day money-back guarantee.
Pros:

No footprints;

Allows torrenting;

256-bit AES encryption;

Lowest price: €2.49
CyberGhost

Features
Connected devices at once: 7
Automatic kill switch? Yes
One click connect: Yes
Servers: 5900 worldwide
Pros/Cons
No logs policy
24/7 live chat
Apps for mobile devices and routers
The final Virtual Private Network service provider for Sweden on our list is CyberGhost. After being around about fifteen years, we'd say that its presence on our list is well-deserved.
It has 5700+ servers across the world. Put in the simplest terms possible – that's a lot! Every last one of these servers is designed to provide its users with excellent service. That includes everything from proper security with its 256-bit keys Advanced Encryption System to privacy and everything else in between.
CyberGhost has excellent customer care that is always there to tend to the needs of its users all hours of the day for 7 days a week. This is in addition to letting you connect seven devices to one subscription. What's great about this service is that you can try out their premium service for an entire day before deciding if you want them or not. You don't have to pay at all. During that period, you can conduct speed checks, reliability checks, etc.
Pros:

No logs policy;

24/7 live chat;

Apps for mobile devices and routers;

Lowest price: €2
UltraVPN

Features
One click connect? Yes
Servers: 100+ superfast servers
Bandwidth cap? No
Platforms: Mac, Windows, iOS, Android
Pros/Cons
Firewall
Apps for all devices
256-bit AES encryption
Not as many servers as others
UltraVPN is another great way to go if you are in Sweden, and you think you need a bit more privacy. While it is coming in at number four on our list, it has proven time and again to be a force to be reckoned with in the internet privacy industry. So much so that it can crack through some of the strongest geo-restrictions in the world.
It has a coverage that spans across every continent in the world. Well, every continent except Antarctica, of course. With more than a thousand servers worldwide, numbers aren't too much of a problem for it. It offers the standard when it comes to providing excellent VPN services. This includes everything from a zero-logs policy which doesn't retain your data to an Advanced Encryption System and everything else in between.
Its prices are rather user-friendly. This is especially so when you consider that it allows you to connect about five different devices to one subscription. Apart from that, all OS platforms – Android, Linux, macOS, iOS, etc., are fully supported by this VPN service provider. Also, within the first thirty days, you can decide if you want to use them or not without losing money. Their money-back guarantee gives you that much luxury. What more could you possibly ask for?
Pros:

Firewall;

Apps for all devices;

256-bit AES encryption;

Lowest price: €2.99
Is it legal to use a VPN in Sweden?
For some people, the entire act of going anonymous and hiding your identity might seem a little shady and/or disturbing. However, the truth is that the Swedish government really does not have any problem with it. While some countries in the world restrict their citizens' internet freedom, Sweden is not one of them. As such, you don't particularly face any legal penalties by trying to protect yourself online, even if it means going dark with a VPN.
However, you should note that using a VPN for illegal activities is entirely wrong. Just because a Virtual Private Network is legal doesn't mean that you won't be persecuted if you use it to commit cyber fraud. 
Are free VPNs a better choice?
While free VPNs cost much less, they are not necessarily the way to go. In the business world, generally, services that you pay for are often better than those you get for free. The same applies to the internet privacy industry. It might seem like a good idea to get a VPN that costs nothing. However, in the long run, you just might find yourself dealing with more problems. 
For example, some free VPNs are well-known for disturbing their users with ads. This is largely so because they aren't making quite as much money as they should from subscriptions. As such, they try to make up for the lack of a major source of income by opening themselves up to alternative sources. So, they sell advert space to companies and brands to the detriment and annoyance of their users. In cases where you choose to tunnel your whole device while using a free VPN, ads pop up and pause what you're doing. It could be so bad that you'd have to wait till a 30-second video finishes playing to resume your surfing.
Other VPNs don't keep your private details so private. NordVPN, for example, once went toe to toe against the government and took down all its servers within Russia. This happened because Russia's government was asking them for access to their users' data. 
Even though it was the government, it would've compromised the safety and privacy of its customers. Instead of bowing to the will of the "higher power," they chose a different route and simply went out of Russia. A free VPN might not be so noble. This is even more so when there is money involved. Some are suspected of selling out users' online habits to advert agencies looking for data.
Apart from the problems we've mentioned above, some free VPNs just offer poor services. From low speeds to a very limited range of servers and everything else in between, you never really get what premium quality. The only real advantage you have with a free VPN is that it's free. However, is that really worth sacrificing your security for? If you truly want value, it is a lot more advisable to pay for it. Read more about free VPNs for Sweden in this article.
In conclusion
With the right Virtual Private Network, getting the most out of Sweden's internet space shouldn't be too much of a problem. What we've primarily done for you here is that we have listed five of the best VPNs that you can use. At this point, the ball is in your court to choose which is best for you based on pricing and other personal preferences.