Best VPNs for Apple TV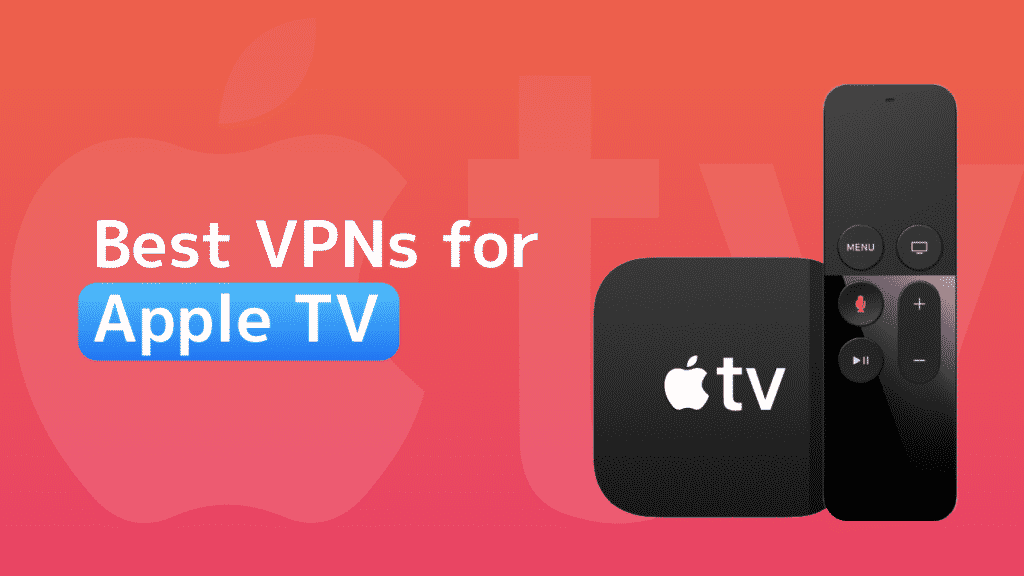 In its industry, Apple undoubtedly occupies the front seat, and the company is miles ahead of its competitors.
Apple TV is one product that is slowly gaining popularity in the market. The security of this device and many other Apple products is impressive, but it poses a problem in disguise; the incompatibility with many third-party apps.
Therefore, to really enjoy using Apple TV, you need Virtual Private Networks (VPNs).
VPNs mask your original IP address, providing you with that of its server. This allows access to content you otherwise wouldn't have gotten.
The best VPN services to use with Apple TV
Having established the tight security that Apple devices boast of, not all VPNs will be compatible with Apple TV. Here are the top 5 VPNs in the market for Apple TV.
ExpressVPN

Features
Number of servers: More than 3,000
Speeds: Unlimited
Server locations: 160 in 94 countries
Maximum devices supported: 5
24 live chat: Yes
30 day money back guarantee: Yes
Pros/Cons
Fastest VPN out there
Strict no logs policy
256-bit AES encryption
ExpressVPN has been around for a pretty long time. Founded in 2009, the VPN has garnered an impressive influence across as many as 160 locations across the globe. ExpressVPN's positive response to industry changes since its inception has been one of the reasons that have kept them standing.
With 3000+ VPN servers in 160 server locations and 94 countries, ExpressVPN grants its users access to geo-restricted content in a breeze. It doesn't matter where you are around the world; there is an ExpressVPN server that is close to you. But you don't have to pick one by yourself. You're automatically connected to the nearest server in the country the desired service exists.
Such a wealthy server base also implies that slow servers will not be a problem for you. Live streaming has never been smoother. With the removal of annoying buffers, content almost seems pre-recorded with this VPN. And unlike many other VPNs, there's a server test to determine its speed.
You should use a VPN that guarantees you top-notch security features, and ExpressVPN is one of the leaders in terms of security and privacy. The VPN operates the AES 256-bit encryption system. This is military-grade and the most secure form of protection a VPN can have. So, you can rest easy knowing that you are safe from hackers, annoying ads, and malware when accessing the internet through ExpressVPN.
On a final note, ExpressVPN allows you to connect up to 5 devices to a single subscription plan. The VPN also has active customer support to walk you through whatever problems you may face.
Pros:

Fastest VPN out there;

Strict no logs policy;

256-bit AES encryption;

Lowest price: $6.67
NordVPN

Features
Cryptocurrency accepted? Yes
Simultaneous connections: 6
Dedicated IP-addresses? Yes
Servers: 5342 in 58 countries
Pros/Cons
Lots of pricing options
Netflix support kept up to date
256-bit AES encryption
With over 5847 servers in 140+ server locations in 59 countries, NordVPN is another VPN you can use with Apple TV. An intelligent algorithm automatically selects the server that's closest to you, so you do not need to worry about handpicking one.
NordVPN has different server types, which include Double VPN, Onion Over VPN, Obfuscated, and P2P servers. DoubleVPN, for instance, links your connection through two servers, affording you double encryption.
NordVPN has a KillSwitch feature, and it kicks in at worst-case scenarios. This means once it detects a breach in privacy, the whole connection is disrupted, and you lose access to the internet. In other words, you're better safe than sorry. With measures like this and the AES 256-bit encryption system this VPN runs, you'll not need to worry about hackers, your ISP, or the government.
Still, on its impressive security details, NordVPN operates a strict and credible no-logging policy. With this in place, know for sure that no records whatsoever of your internet activities are monitored or stored.
You can enjoy uninterrupted video streaming with NordVPN on your Apple TV. If you are dissatisfied with the service, you can always get a refund if you request one within 30-days of using the service.
NordVPN offers unlimited bandwidth to stream content on Apple TV.
Pros:

Lots of pricing options;

Netflix support kept up to date;

256-bit AES encryption;

Lowest price: $3.71
Surfshark

Features
Free trial? Yes
Simultaneous connections: unlimited
Ad blocking? Yes
Servers: 1000+ in 61 countries
Pros/Cons
No footprints
Allows torrenting
256-bit AES encryption
SurfShark is another VPN that you can use for Apple TV. The service has lots of privacy and security features that make it easier to stream geo-restricted content. However, it isn't doing badly with its number of servers. At the moment, it has over 1040 servers in more than 61 countries.
While many VPNs can block ads, none of them are as effective as SurfShark. With the CleanWeb feature, you can browse through the internet without worrying about ads or phishing attempts.
Apple TV has several apps, and you might need the VPN service for only a select few of these, say Netflix. With Whitelister, one of SurfShark's features, you'll be able to decide which apps to bypass when streaming or browsing through the internet. Such a feature immensely jumps the speed.
SurfShark has a Camouflage Mode that makes it easy to go under the radar while using Apple TV.
It is awe-inspiring that you can use a maximum of 5 or 6 devices with top quality VPNs. However, with a single SurfShark subscription, you can use an unlimited number of devices!
All these features are available at affordable subscription plans. There's also a money-back guarantee and customer support platform to help you through any technical problem you might experience.
Pros:

No footprints;

Allows torrenting;

256-bit AES encryption;

Lowest price: €2.49
UltraVPN

Features
One click connect? Yes
Servers: 100+ superfast servers
Bandwidth cap? No
Platforms: Mac, Windows, iOS, Android
Pros/Cons
Firewall
Apps for all devices
256-bit AES encryption
Not as many servers as others
With about 100+ super fast servers, it is remarkable that UltraVPN has risen to this level of widespread acceptance.
A peculiar feature of UltraVPN's servers is the incredible speeds they can reach. With only a handful of them, it is amazing how they still have pretty fast and reliable internet connections. Therefore, browsing through websites and streaming content is as swift as it gets with this VPN.
With many servers in the USA, UltraVPN is perfect for Netflix, and unblocking social media content. You can equally enjoy sporting events on your sleek Apple TV screen.
UltraVPN operates a strict no-logging policy that assures you none of your data or online activity will be stored in any location. The VPN has the AES-256 encryption that ensures you never experience security breaches.
Then there's the fantastic customer support team that you can contact through email and phone calls. Since they are always within reach, they can navigate your way out of problems you might encounter during use.
UltraVPN does not have bandwidth caps, and it operates a strict no-logging policy.
Pros:

Firewall;

Apps for all devices;

256-bit AES encryption;

Lowest price: €2.99
CyberGhost

Features
Connected devices at once: 7
Automatic kill switch? Yes
One click connect: Yes
Servers: 5900 worldwide
Pros/Cons
No logs policy
24/7 live chat
Apps for mobile devices and routers
CyberGhost is the last on this list of the best VPNs for Apple TV. It's a top-quality VPN with lots of features that will break almost all the restrictions that Apple TV has.
CyberGhost has 5800+ servers in over 89 countries of the world. The servers are pretty fast and are designed especially for torrent downloading and live streaming. CyberGhost has spared no cost in developing its servers with state-of-the-art technologies. For one, their servers use the fastest VPN protocols around. These are the L2TP and the IKEV2.
With Split Tunnelling, you can limit the number of apps on your TV that uses the VPN service. This streamlined usage improves connection speed.
On its security features, CyberGhost is up there with the top guns of its industry. It spots the AES-256 encryption as well as the DNS leak protection and a kill switch.
A supportive customer care team is always at your beck and call to help you out with any challenge you may face when using the VPN. However, the icing on the cake is that you can get a 100% refund even after using the VPN for some time. The catch is that you have to request a refund within 45 days of using the service.
CyberGhost offers unlimited bandwidth and allows you to connect as many as seven devices at a time to an account.
Pros:

No logs policy;

24/7 live chat;

Apps for mobile devices and routers;

Lowest price: €2
How to pick the right VPN for Apple TV
With a list of the top five VPNs for Apple TV like the one we've included above, it can be difficult picking one, especially if you don't know what criteria you should look out for.
Here are some questions to get answers to before picking any VPN for Apple TV:
What's the server base of the VPN, and how are they spread: Without a server to connect to, you cannot use a VPN service. So, before you get any VPN, ensure you know where its servers are located and how they are spread across the countries of the world.
What is the VPN's privacy policy? A VPN's privacy policy is an essential factor to consider before getting a VPN. The standard is for top VPNs to operate a strict no-logging policy, but you need to confirm that this is what is on the table before committing to a provider. You should not go below this standard.
Are the servers fast? To get a similar or even better connection speed than when you are not using a VPN, we advise that you ask how fast the servers of the VPN are.
Is there a free trial? Although you need to pay a subscription fee to get any of the VPNs we've listed above, we recommend that you ask if there is a free trial. You'll find that some of them may be risk-free.
How many simultaneous connections are allowed? You'll save money if you get a VPN that allows multiple logins instead of one that only allows a single device.
Why you should not use a free VPN
Before you get persuaded by free VPN providers, here are some dangers of using this type of VPN:
Most of them will sell your data to third-parties: You should suspect any free VPN that promises all the features you would have gotten from a paid option. They usually have a way of making money from you. Sadly, most free VPNs sell their users' data and logs to advertisers and third-parties.
Most free VPNs will bug you with ads: Most free VPNs will bug you with ads until you have no choice but to click on them. These ads can sometimes be infested with malware.
Most free VPNs don't have enough servers: Server congestion is inevitable when a VPN doesn't have enough servers for all its users. Unfortunately, this is a common problem for most free VPNs.
Most free VPNs don't have the best features: You shouldn't expect to find top-notch security and privacy features like AES-256 encryption and an automatic kill switch in free VPNs. Most of them offer substandard features.
Many free VPNs have slow server speed: The server speed is perhaps the most important factor to consider when streaming a video. However, most free VPNs have a hard time measuring up to the standard that their paid counterparts have set.
Virtual Private Networks: Good or Bad?
Legality has always been a question behind the use of Virtual Private Networks. Different parties have come up with different points to justify their opinions.
Virtual Private Networks afford what the regular internet connection cannot. It offers you enhanced user experience, defying protocols. There's nothing wrong, for instance, about blocking ads, or ensuring tight security when browsing, or protecting your privacy.
It does no harm equally protecting your location, and data, from the ever-prying, anonymous eyes on the internet. However, using a VPN becomes bad when it helps you carry out malicious acts like cyberbullying, hacking, and many other crimes anonymously.
It is important to note that VPNs are frowned upon in Arab nations like Saudi Arabia and Qatar, Russia, and North Korea. In these countries, you can get a huge fine or jail time for using a VPN.
Ultimately, you are responsible for how you use a VPN.
In conclusion
Apple TV is a magnificent device in a class of its own, even with its restrictions. Fortunately, VPNs can help you unlock most of these barriers.
In this article, we've covered the top 5 VPNs for Apple TV in detail. We've also walked you through some of the questions you need to ask before getting a VPN and the challenges of using free VPNs.
Use any of the 5 VPN services listed above and start enjoying unlimited content from all over the world. There is indeed so much more you have been missing out on, and you are about to find out.