Atlas VPN is one of the newest VPN (Virtual Private Network) services on the market and has continued to impress its users with outstanding benefits. Unfortunately, it is easy to come across several providers that don't live up to expectations, but as research has proven, that's not the case with this fast-rising VPN.
Founded on the idea of building a safer digital world for everyone online, Atlas VPN is a great app to have on any of your devices, especially in 2022, where cybercrime is on the rise and hackers keep trying new tricks. Also, if you're in the market for a way to bypass geo-restrictions and stream videos, Atlas VPN is an excellent option to consider.
In this review, we'll take a closer look at Atlas VPN, so you can see why it is a worthy contender in a market full of underwhelming VPN services. Then, who knows, maybe you might download the app yourself!
Introduction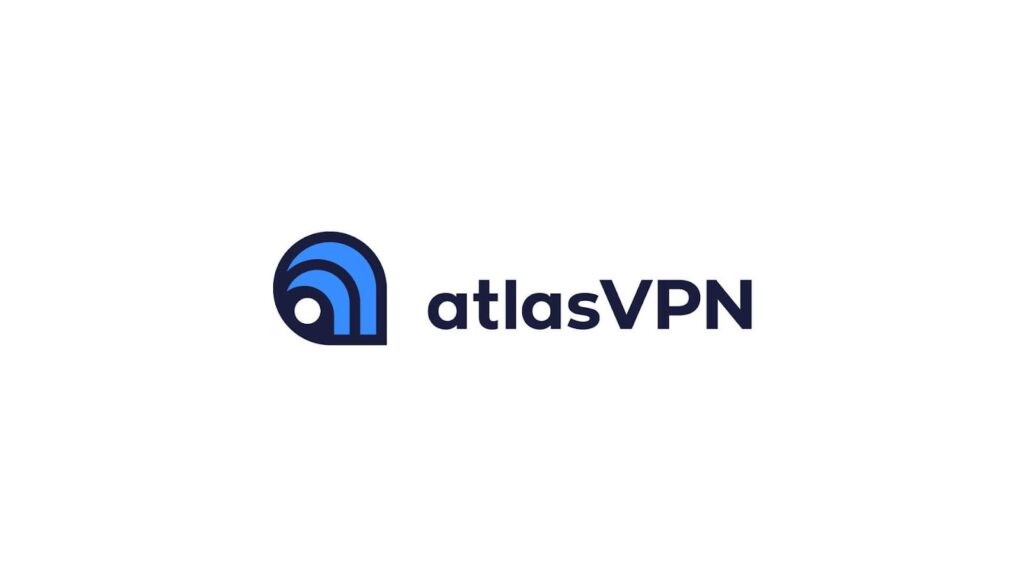 Atlas VPN was founded in 2019 as a secure freemium VPN service. The company's goal is to create a more secure and accessible internet space for everyone. Atlas VPN impressed users and critics right off the bat. In 2021, it became a part of Nord Security (One of the leading names in digital security and privacy solutions globally). Because of its remarkable record so far, Atlas VPN already has over 6 million users connected to its network globally.
Furthermore, Atlas VPN shows its commitment to providing a secure, private, and accessible internet for everyone by offering affordable VPN plans through simple apps. In addition, it provides a limited free version that you can try to test out some of its features.
The company promises to continue providing the latest reliable and innovative services for its users, to help them stay ahead of the looming threats on the internet. So far, Atlas VPN is one of the few VPN providers that offer the state-of-the-art WireGuard protocol. In addition, it can hide your IP address and connect you to secure servers across the world, which gives you the ability to do a lot of activities online without worrying about your privacy and security.
This review will discuss all the essential aspects of Atlas VPN, such as security, privacy, logging, speed, server count, ease of use, and customer care. Additionally, we'll consider how Atlas VPN performs when bypassing geo-restrictions and other advanced features.
Privacy and Security
Anonymity is one of the most important reasons people use VPNs. The freedom to surf the web without someone, a business, or an organization monitoring your every move is one thing internet users value globally. However, although many people believe that people use VPN for nefarious acts, VPN providers such as Atlas VPN stand against illegal activities.
Atlas VPN provides a stable connection and hides your IP address, and VPN traffic like the top-tier services do. In addition, the company maintains a strict no-log policy. A no-log policy is essential when using a VPN because you don't want your record saved on some server without your knowledge.
Furthermore, Atlas VPN is based in the United States. Although the US is known to sanction companies to provide certain information, Atlas VPN will have nothing to turn up because it doesn't keep users' sensitive data. The VPN does not log user activity data, DNS queries, or other information that directly identifies a user. It only collects basic billing information for transactions.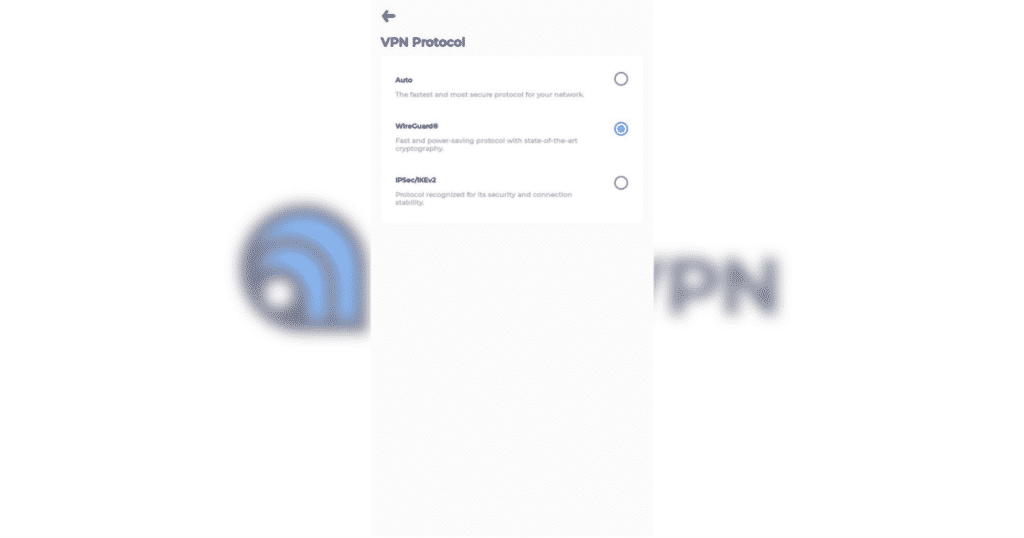 Atlas VPN is equipped with AES 256-bit encryption, and it also supports WireGuard and IPSec/IKEv2 protocols. You can choose any of the protocols yourself or let the VPN automatically select one for you. In addition, the VPN offers protection from IP, DNS, and WebRTC leaks.
Security and privacy are important for VPN connections, and Atlas VPN takes both seriously. The apps come with built-in 2FA login, and the company recently completed an independent security audit by VerSprite (a global leader in cybersecurity consultancy). Fortunately, the audit didn't reveal any vulnerabilities in the VPN's app.
Server Network
Atlas VPN operates more than 750 servers in 31 countries located across the world. The server count may not be as high as other top-tier VPN providers, but these servers are strategically located to ensure that users get the best coverage and options.
The VPN isn't the fastest in the market, but it offers fast and reliable connections, perfect for unblocking and streaming videos of the highest quality available. Atlas VPN also provides unlimited bandwidth and server switching.
You will have no problems using Atlas VPN to bypass geo-restrictions on popular streaming platforms such as Netflix, HBO Max, BBC iPlayer, ORF, Hulu, YouTube, Amazon Prime Video, Disney+, Hulu, Pandora, and so on. Furthermore, you can choose a server in any location you like to experience unrestricted internet access to unlimited libraries of movies, TV shows at home or abroad. In addition, Atlas VPN ensures that you don't experience buffering and lags while you're browsing.
Furthermore, users can choose to connect to any of Atlas VPN's SafeSwap servers. These servers route your data traffic through several IP addresses before it gets to its destination. This makes it very difficult for anyone to track you.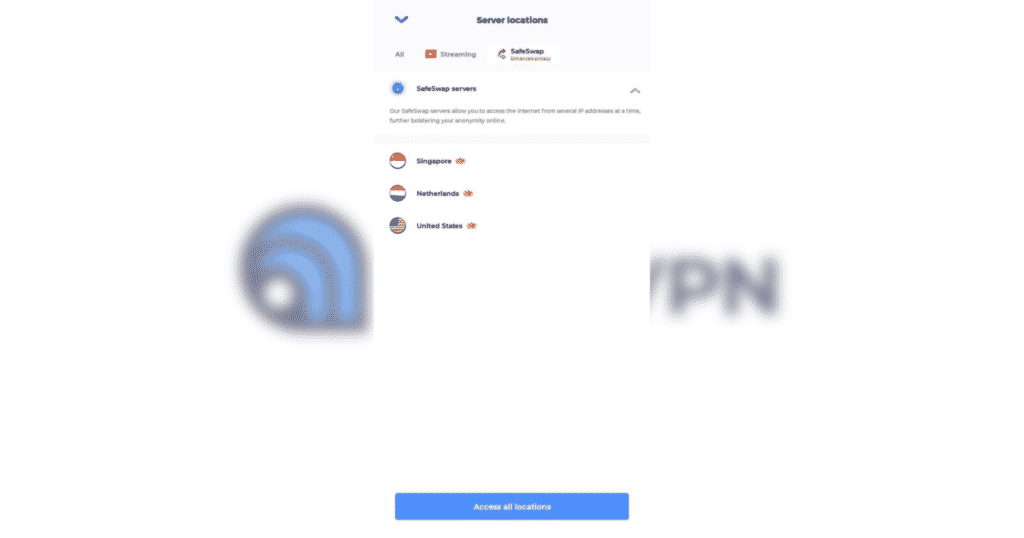 Speed and Stability
VPN services tend to lose some speed, and even though the loss of speed is unavoidable, some perform better than others. However, Atlas VPN is equipped with WireGuard tunneling protocol, which offers fast internet speeds. Although this protocol is currently only available on the Windows and Android versions of the Atlas VPN, the company is expected to add it to other versions soon.
However, you're likely to experience slower connections when using the IKEv2 protocol. Overall, this VPN doesn't offer lightning-fast connections, but it is ideal for gaming, torrenting, and streaming videos in 4K quality. In addition, the VPN doesn't provide a lot of options in terms of tunneling protocols.
Atlas VPN also offers reliable internet connections. If there's ever any disconnection, there is an automatic network kill switch to ensure that your actual IP address is not exposed in the process.
Regardless, Atlas VPN is still relatively new to the scene. So, it is expected that the company will operate more servers in the coming years, which will mean less congestion and faster connections. Also, the speed levels will improve as the VPN continues to grow.
Pricing and Trial Period
Apart from being one of the fast-rising VPN services, Atlas VPN is also one of the best budget-friendly options available. The company offers three subscription plans. First, there's a three-year plan that costs $1.39 monthly or $50.04 for the entire period. This plan is excellent because it saves you a lot of money in the long run.
However, if you're not ready to commit long-term or can't afford to spend that much on a VPN plan, you can choose the yearly plan that costs $2.49 monthly and $29.88 for the whole subscription period. This also saves you some extra cash. Lastly, if you are in the market for a monthly subscription, you will have to pay $9.99 for a single month.
You can pay for the subscription plans via credit cards, Google Pay, and PayPal. Also, you get a 7-day free trial on all paid plans.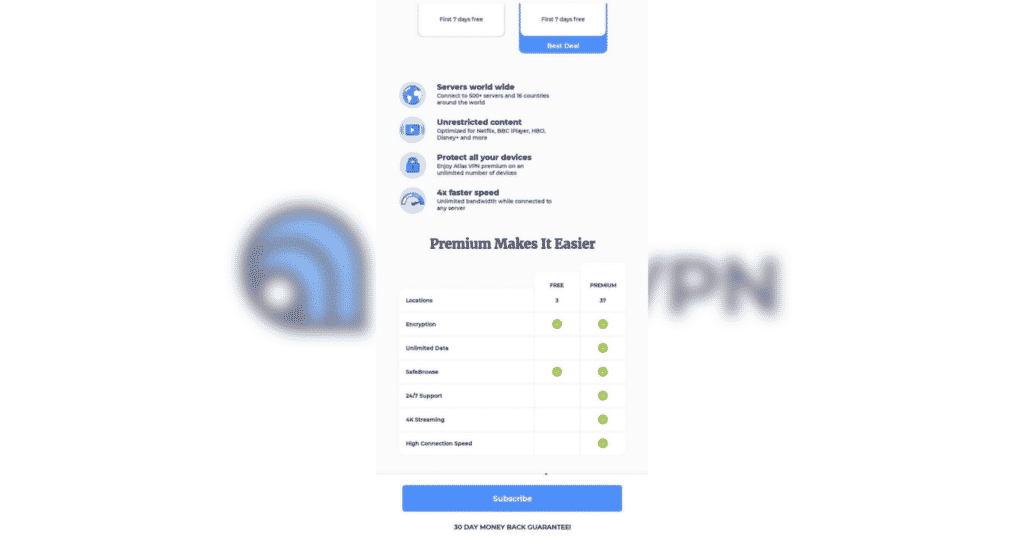 A 30-day money-back guarantee covers all the subscription plans available. Every user can take advantage of this refund policy if their payment isn't older than 30 days. So, if you decide to request a refund for any reason, you can contact the support team via email at support@atlasvpn.com. However, if you make a payment through the Apple App Store, you will have to get their support team to process your refund.
Free Version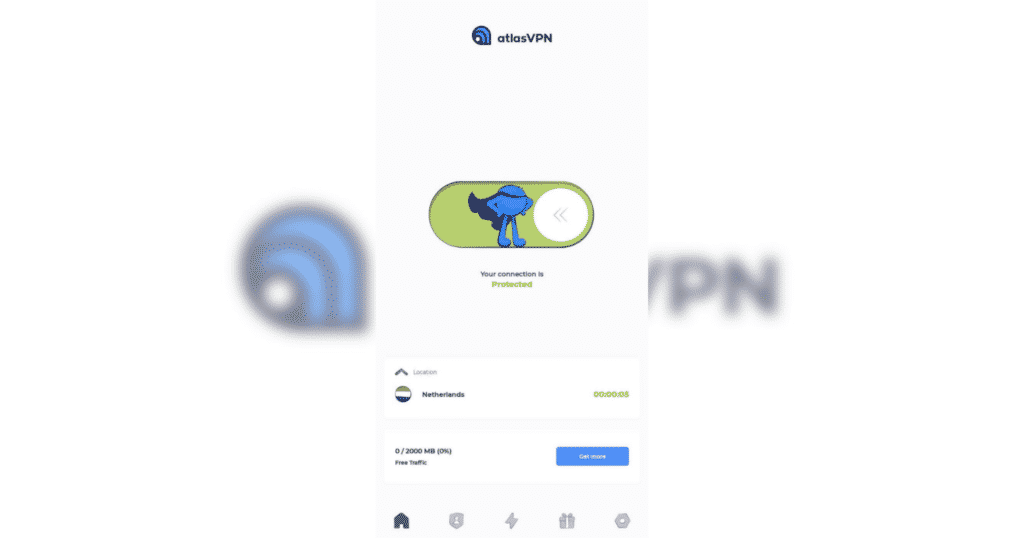 Atlas VPN is one of the few providers that provide a free version as well. Although many free VPNs are not reliable, Atlas VPN's free version is excellent despite its limitations. For example, free users are limited to only 2 GB of data, which means that you won't be able to download large files or stream high-quality videos as you'd like. However, you can get seven days of free Premium service for each friend you refer to join Atlas VPN, and the friend also gets three days of free Premium.
Furthermore, as a free user, you can only connect to three servers in the United States and the Netherlands. This is not impressive, but the servers are reliable, and they can unblock most streaming services. Also, the free version of Atlas VPN won't give you access to special features such as Tracker Blocker, SafeBrowse, unlimited simultaneous connections, streaming-optimized servers, and 24/7 support.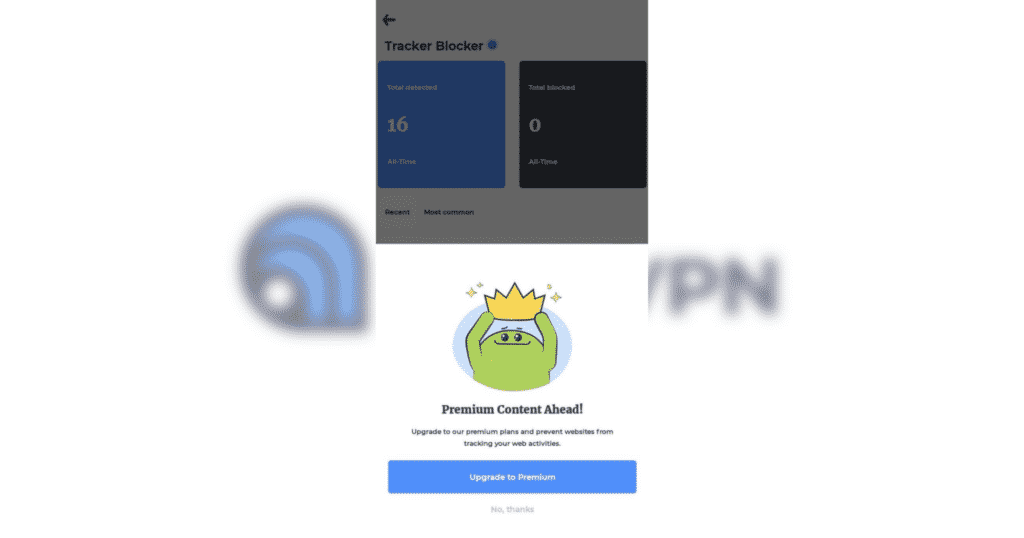 User Friendliness and Customer Service
The Atlas VPN website and the available apps share a clean and straightforward interface that's very easy to navigate. It's easy to find what you're looking for on the menu. In addition, you can connect to a VPN server with just a click.
Additionally, it is easy to locate and use the advanced features of Atlas VPN. If you face any difficulty, you can navigate to the Help Center from the mobile and computer apps. There, you'll find helpful articles and the most popular questions that cover topics like how to get started, installation guides, and so on.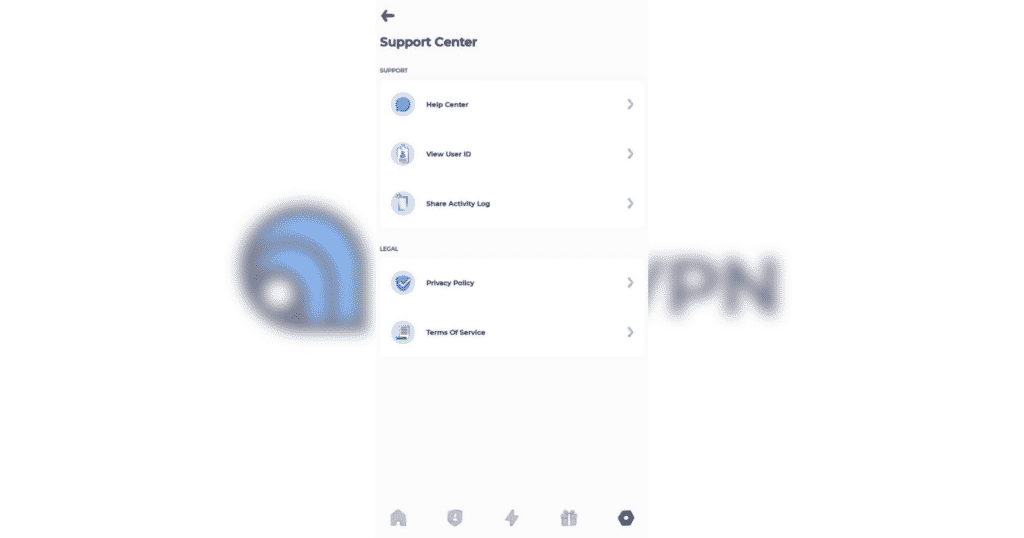 Atlas VPN has 24/7 customer support that's available via email at support@atlasvpn.com. Generally, the customer support agents respond fast, and they provide valuable and clear information to assist you.
Atlas VPN for Streaming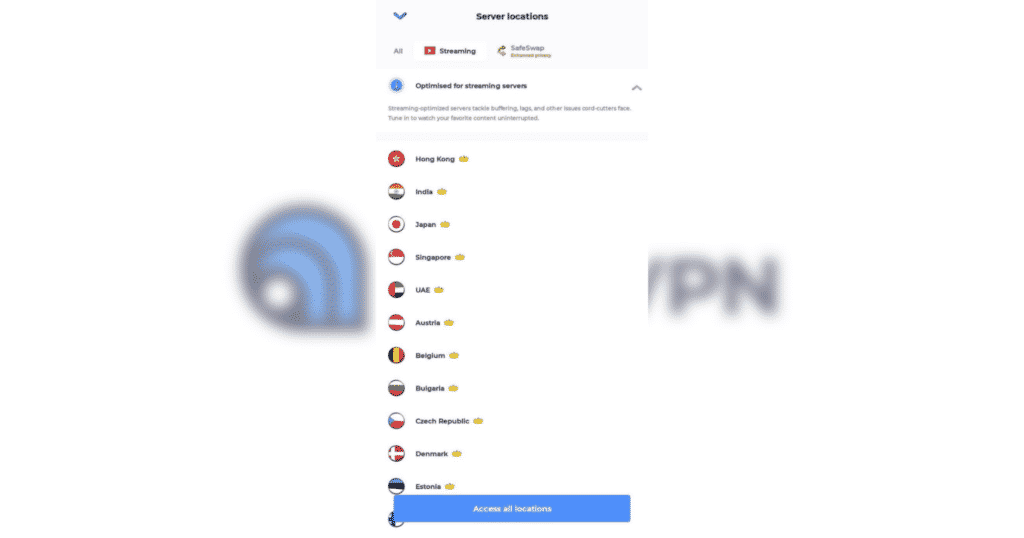 Atlas VPN is excellent for streaming. It offers several optimized streaming servers you can connect to for secure and private connections to popular streaming platforms. However, these servers are only available on the premium version of Atlas VPN. Nonetheless, all the servers allow you to enjoy a smooth experience streaming your favorite videos.
Furthermore, the ability to access international content locally is essential. Atlas VPN allows you to bypass the geo-restrictions on most platforms. So, you won't miss out on exciting content because of your location.
Advanced Features
Atlas VPN offers a variety of innovative features that improve your online experience. These features include
SafeSwap
The SafeSwap feature allows you to connect to special servers that let you access the internet from multiple IP addresses. This feature is available for Android and iOS apps only.
Tracker Blocker
Atlas VPN is an effective tracker blocker that blocks ads, suspicious websites, malware, and phishing links.
Data Breach Monitor
You can also use the VPN's data breach monitor to check if your details have been exposed online. At the moment, this feature is only available for mobile apps.
Devices Compatibility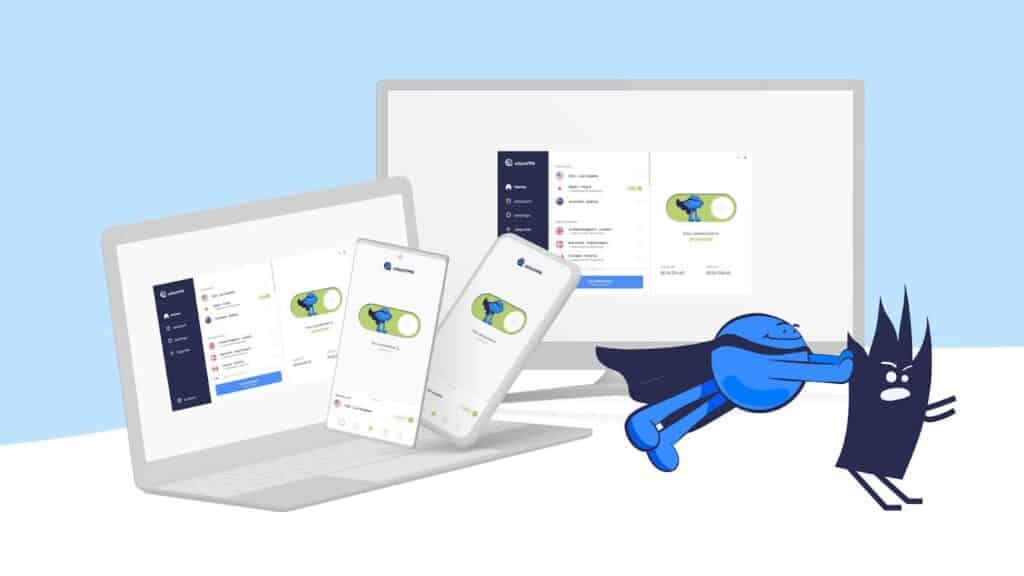 Atlas VPN is available on Android, iOS, Windows, and macOS devices. Also, you can have an unlimited number of simultaneous connections with one account. Additionally, all the apps share a simple beginner-friendly interface and icons that help you navigate seamlessly.
You can download the VPN right off the company's website, or you can check your device's app store. These apps are straightforward to install and use.
Summary
Atlas VPN has not been on the market as long as the current top performers. However, it is already making a name for itself. Going by all the features it offers, it is an excellent VPN service.
As this review has shown, Atlas VPN offers budget-friendly plans and a free version. These options give you access to a safer, more accessible private internet. So, it's up to you to decide if this service is what you need.