VPN Unlimited is one of the many VPN service providers that have started about a decade ago. As per the company, their mission before they began and now has been the same – and that is to improve, develop protection and security; as well as to make sure that the public's information is kept to themselves.
But is VPN Unlimited a VPN service that we can trust and bank on? Could we trust VPN Unlimited to give and provide the security and the protection that we're looking for? That's what we'll be discussing today!
We'll try to find and figure out what VPN Unlimited is, in a thorough and an in-depth manner.
About VPN Unlimited
VPN Unlimited is a VPN service provider based off of New York. It's been founded in 2013 and they're among the many providers that actually know what they're doing.
They're located in the United States, which basically means that they're part of the Five Eyes jurisdiction; and we already know what that means. But are they really going to keep all of your data, information, and your activity private?
We're about to find out.
Security, Privacy, and Anonymity
For starters, VPN Unlimited utilizes a bunch of protocols, making it allowable and eligible to work on a wide range of platforms and devices; all the while keeping the activities and the transactions of people connected to it safe, private, and secure.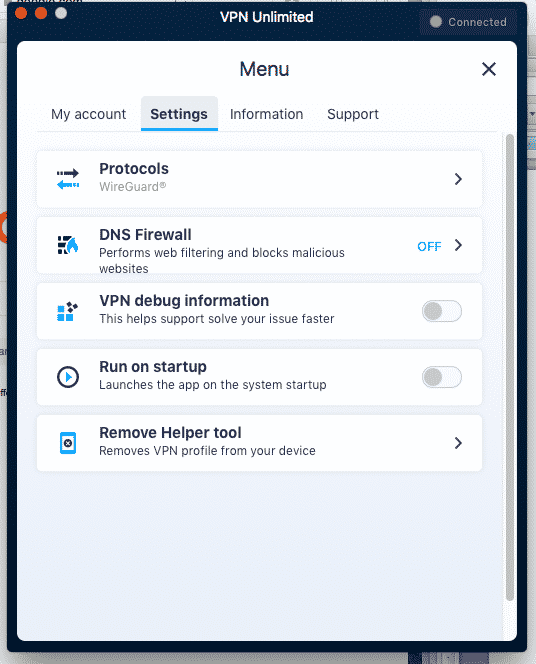 Furthermore, VPN Unlimited also encrypts all your traffic using the cutting-edge and the more advanced AES-256 bit encryption. This is the type of encryption that many other VPN providers are actually looking to have.
It's deemed and considered as the strongest type of encryption, that not even the most advanced and the most seasoned hacker can get past it. It uses OpenVPN, IPSec, and other more protocols, but one thing was the one that caught our attention – the KeepSolid Wise extension.
KeepSolid Wise is an extension that is attached to the OpenVPN protocol, which makes your connection challenging, or rather impossible to detect.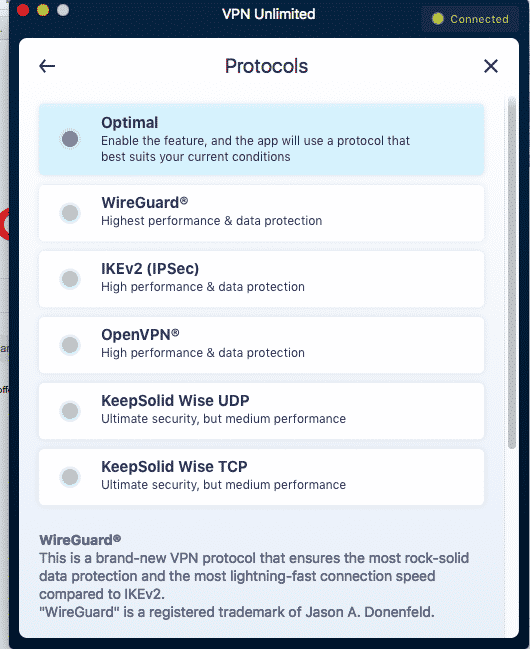 In simpler terms, wherever you are, you would really have unlimited bandwidth while you're connected to VPN Unlimited because of the fact that you're hidden under the arm of KeepSolid Wise; it'll make everyone who sees your connection appear that you're just like a regular user from a local source.
Hats off to the privacy and security that VPN Unlimited offers. They stay true to their words because we tried testing out if there could be any DNS leaks and viruses from downloads; and fortunately, we weren't able to find any. No malware was detected that could have threatened our connection from the start – good start!
We give it 10 out of 10 with security – but what about other factors? Are they able to keep up with other VPN services that are within the same league as them?
VPN Unlimited
Pros
Good for unblocking content
Fast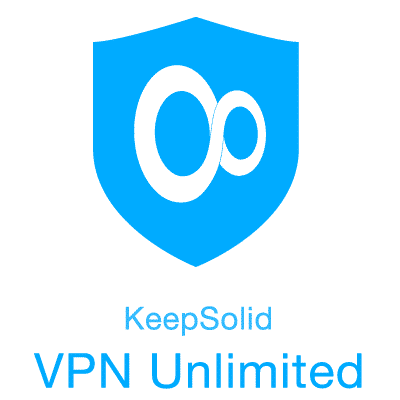 Do They Keep Logs?
Logs are, in fact, part of the primary concerns of people when using VPN providers.
VPN Unlimited does a good job in keeping your connection and your network secure from any type of external threat and danger. But what about your activity while you're connected? Do they keep any type of logs or traffic from you?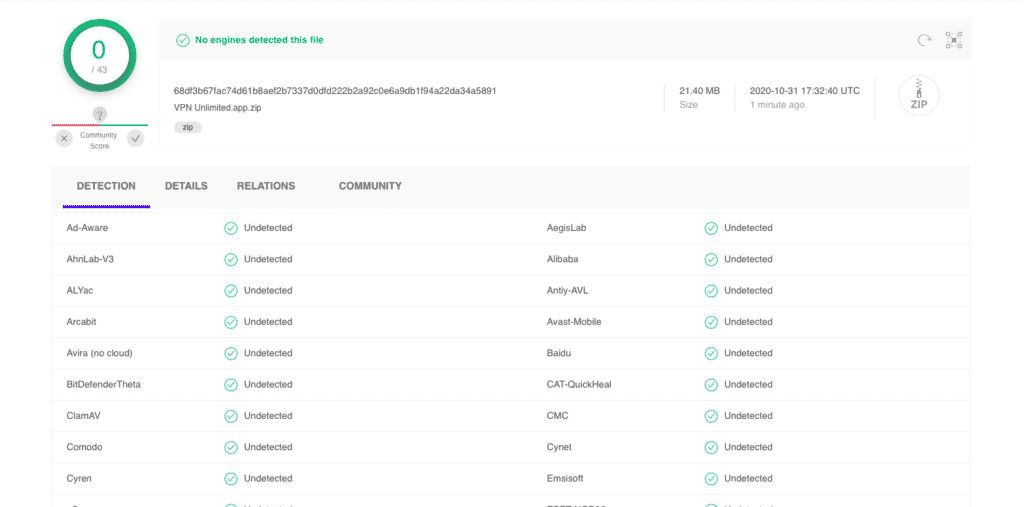 Though many VPN service providers are transparent with what they keep from you (because of maintenance and bandwidth distribution purposes), VPN Unlimited are also transparent, but not in that case.
With VPN Unlimited, they're tracking not just your usage, but also the number of clicks that you make and do within their software or their program. According to them, this is to stabilize the interface and to ensure that they're giving the best possible experience they can to their users and subscribers.
Another is that VPN Unlimited is willingly also tracking the bandwidth usage of their users; and to their defense, they said that this is for the provision of data and information for each of their member.
This might seem harmless to you, we're not sure – but the fact that they keep those records and those information? There might be something going on about it that we're not fully aware of.
If you're all for keeping your privacy all to yourself, VPN Unlimited might fail in giving that to you.
Server Count and Locations
Unlike the usual VPN providers that we know controlling over 2,000+ servers from all around the world, VPN Unlimited only has a few.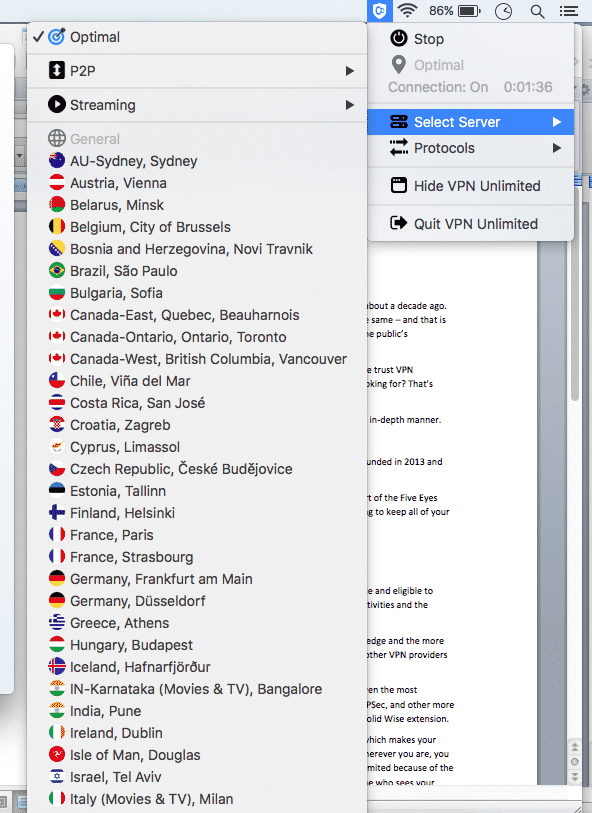 As of the latest update, they have and control about 420+ servers across 72 or more countries. This wide range of servers is great for bandwidth distribution, ensuring that each connection would be seamless and flawless without any problems attached to it.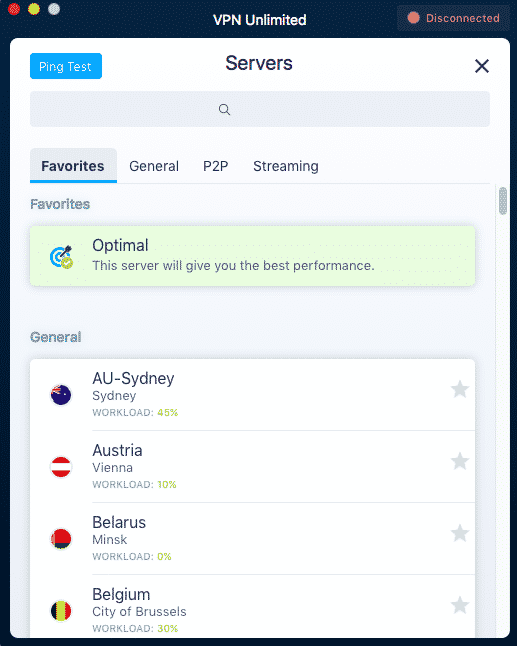 Compared to other VPNs within the same league, VPN Unlimited's server locations are at the top, always ready to be used and be utilized by the members of the VPN.
Another thing good about their wide selection of servers is that you can switch onto a different country of your choice. For instance, if you're looking to access websites that aren't allowed from within your region, you can easily connect to a region where that is allowed and access it without experiencing such a hassle.
Platform Compatibility
Because of the fact that VPN Unlimited uses a bunch of protocols for wide compatibility, we already know that it can be used and fairly utilized in a vast plane of devices.
Unlike other services that have specific software and platforms, VPN Unlimited is compatible with many devices.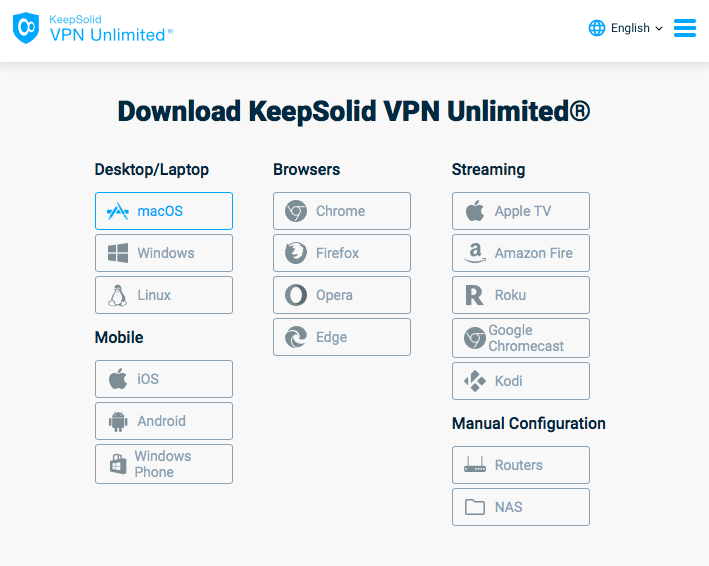 You can use it with Windows, iOS, Mac OS, Linux, Android, Google Chrome, and Firefox. No limits – everything is compatible with it. Do you also remember the fact that VPN Unlimited is equipped with KeepSolid Wise? Good news – it's compatible with a wide range of platforms as well!
There really is no reason for you not to be connected because the entirety of VPN Unlimited is applicable and is compatible with a wide range of devices. It can be supported even by slow and prehistoric devices, as well as new ones.
Netflix and Torrenting Capabilities
At the homepage of VPN Unlimited, you will see that it's marketing the fact that it's Netflix compatible. We then tried it on various servers and to our surprise, it actually works. We tested a total of six (6) servers, all of which allowed us to access the U.S. Netflix Library.
In addition to that, we tried on Hulu and Amazon Prime as well – and it worked seamlessly. Never did we experience any latency to it; the speed is relative to what it was in the speed tests and assessments we held, but overall, it's available and you can, too use it with Netflix.
When it comes to torrenting, though, it's allowed, only with a bit of a problem – it's only limited. Now, the wide majority of VPN service providers don't even allow torrenting in the first place, but with VPN Unlimited, you can enjoy it, given that you're connected to the right and the correct servers.
However, that's not just the bad part about it – in their FAQ, it's stated and detailed there that downloading stuff, specifically torrents is not the primary use of a VPN. That's why they've limited their P2P capabilities only in Canada-Ontario, Romania, France, Luxembourg, and their US-California servers only.
If you're the user who is looking to download torrents while on VPN, VPN Unlimited might not be the VPN best of your choice.
Connection Speeds
As we mentioned above, VPN Unlimited's streaming capabilities is dependent on the speeds on which server you're connected to. That basically means that if you're connected to a U.S. server and the speed isn't that good, you might not be able to enjoy it altogether.
We tested out VPN Unlimited's speed in conjunction to the speed we get regularly. In the Singapore server, it reflected a speed that is just 60% of the original speed we get for download, and a mere 66% speed for uploads.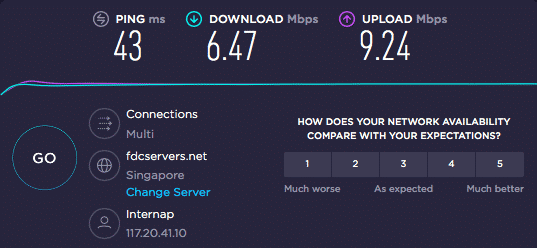 The results weren't bad, but it wasn't good either – in fact, we were expecting it to be at par or even to go higher with what our original speed is.
We then tested it out on a U.S. server (that's where we'll be connected to with Netflix anyway), and it was a few points down from the Canada server, reflecting a speed that was about 34% of the original and the raw connection; and an upload speed that was still at 38%.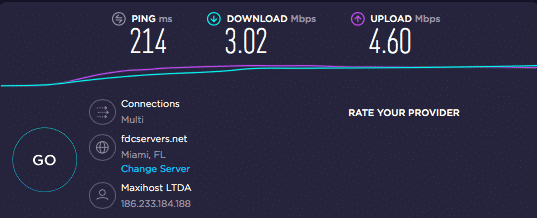 Our verdict for the speed? It's not the best, but it's not something bad either. VPN Unlimited promises lightning-speed internet connections in their homepage, but it's something that wasn't actually given to us.
A few points down when it comes to the connection, but it's not something that would actually change our minds – unless, of course, we are to use VPN for the purpose of maximizing speed and efficiency.
Rates and Prices
VPN Unlimited is rather open and more versatile when it comes to the payment plans and options. They're offering two (2) types of subscriptions: The regular VPN Unlimited and the MonoDefense.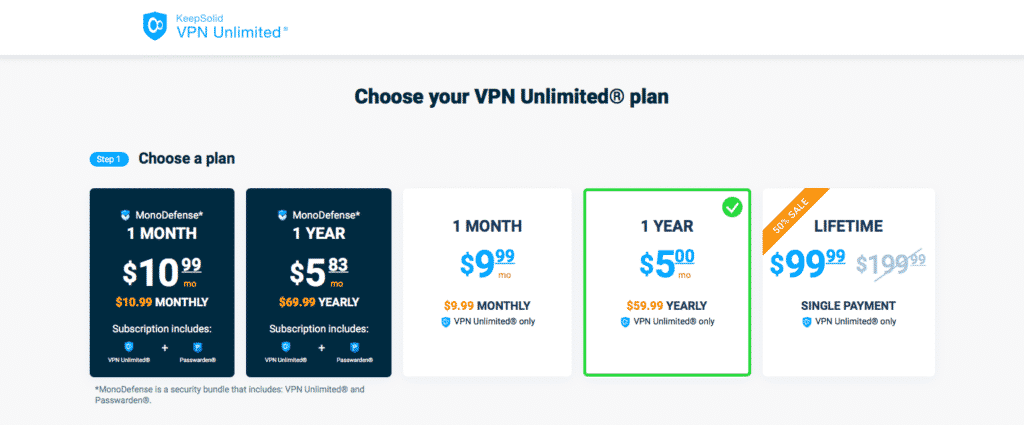 The MonoDefense is the ultimate package because it includes the VPN Unlimited plan with the Passwarden added to it. Therefore, we already know that this is the more expensive bunch. But how much is the regular rate and price for the VPN Unlimited plan?
VPN Unlimited Plan
1-Month Plan – Billed at $9.99 monthly, only includes VPN Unlimited
1-Year Plan – Billed at $59.99 yearly, only includes the VPN Unlimited Plan, comes at $5.00 per month
Lifetime Plan – Billed at $99, single payment, only includes VPN Unlimited Plan
MonoDefense
1-Month Plan – Billed at $10.00 per month, includes Passwarden and VPN Unlimited
1-Year Plan – Billed at $69.99 per year, includes Passwarden and VPN Unlimited
You have options and choices on what you want to get; if you want the raw VPN that they're offering, you can go with the VPN Unlimited Plan alone. But, if you want added security and protection with the Passwarden facility, you can get it for a few extra bucks per month – we promise, it's all going to be worth it.
Do they offer a free trial too? Unfortunately, no; VPN Unlimited does not offer a free trial to its users and its members. However, they're currently offering a 1-week, or a 7-day money-back guarantee!
This is the safeguard in case you're not sure if you really want the service or not. It's something that you can absolutely take if you neither want to continue nor you want to keep learning about their services!
VPN Unlimited is offering this to people in order for them to show that they're confident at the capacity and the overall capability of their VPNs. Plus, the ease of using it is perfect especially to those who are just trying out VPNs for the first time!
It's not as technical as other VPNs and it's not as requiring; but, it gives off total functionality especially when you're already inside their interface.