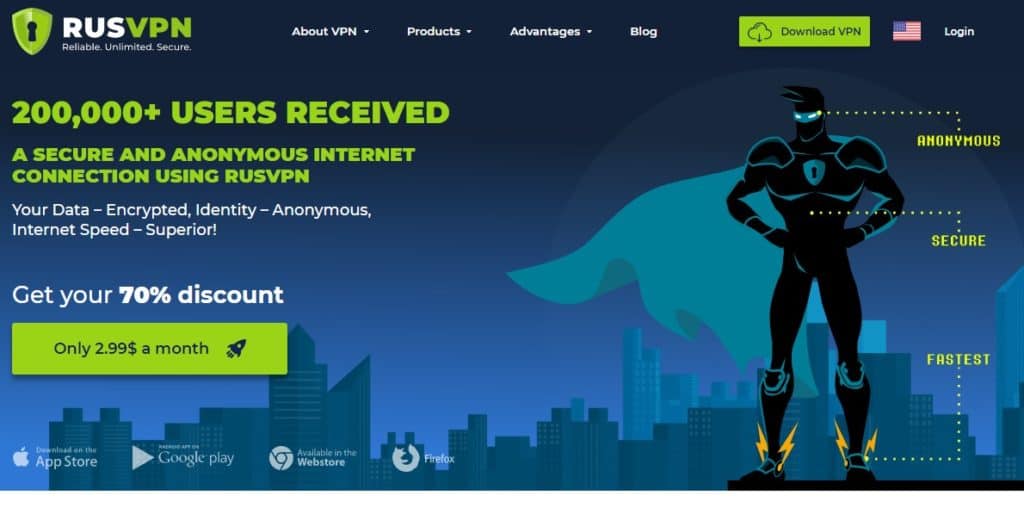 Since the internet was made accessible to the public over two decades ago, the world has been neatly packaged into pixels and captions. The internet has become a valuable source of information, expressions, and support to over half the world's population. It's solved problems and created some of its own. One such issue that has been associated with the internet throughout its existence is the lack of privacy it brings. It's ridiculously easy to spy on anyone's online business with just a little bit of computer technology.
However, Virtual Private Networks (VPNs) cover up those little cracks and ensure that you get full privacy. A newcomer into the internet privacy industry is RusVPN. RUS stands for Reliable, Unlimited, Secure, and we've reviewed this VPN to make sure that the words these acronyms stand for are deserved. Let's take a look at our findings:
Background and Jurisdiction
RusVPN was created just over a year ago, so it's a very "young VPN." It was established by Iron Media Group Limited, and it's registered as a company under the laws of the Commonwealth of Dominica.
It's crucial to note where the headquarters of a VPN service provider is located before you choose it for your home, office, or workstations. While there are other reasons to buy a VPN such as streaming geo-restricted content and adblocking, privacy and anonymity are also significant factors. A country's laws have a telling effect on a VPN provider's ability to protect its users' information. Member countries of the 14 Eyes Surveillance Alliance, such as the United States and the United Kingdom, are the least ideal countries to register a VPN company in. These countries have strict data collection laws that may infringe on users' rights to privacy.
In contrast, the Commonwealth of Dominica has laws that protect individuals' privacy. Any breach of these privacy laws could lead to substantial legal sanctions for any guilty party. This country's laws are ideal for a VPN provider, as it allows them to protect clients' data without any obstruction from the government. Even if another country or company requested information on a client's internet footprint, RusVPN is not obligated to hand over anything. Being headquartered outside of the 14-eyes countries helps RusVPN to adhere to their promise of online security and protection of your data.
A few years ago, the Protection of Personal Data Act became law in the Commonwealth of Dominica. These laws force those who work with or collect data to be clear about what they collect, why, and whether or not it's anonymized. Of course, these laws don't apply if a user is found to have committed a crime somewhere. If that happens, you're on your own.
Anonymity and Security
Like we said before, anonymity, security, and privacy are the three most common reasons for getting a VPN. RusVPN doesn't disappoint in this area. It uses 256-bit encryption, which is the most secure in the online privacy industry. 256-bit encryption is military-grade and will take ages to decode. It also has many protocols such as OpenVPN, L2TP, and PPTP, so you're covered on whichever platform you decide to run RusVPN.
There's also a Kill Switch provided to help you stay private even when your connection to RusVPN drops. RusVPN never experiences DNS leaks. This means that any information that may expose your identity is secured and cannot escape accidentally, no matter which server you connect to.
Servers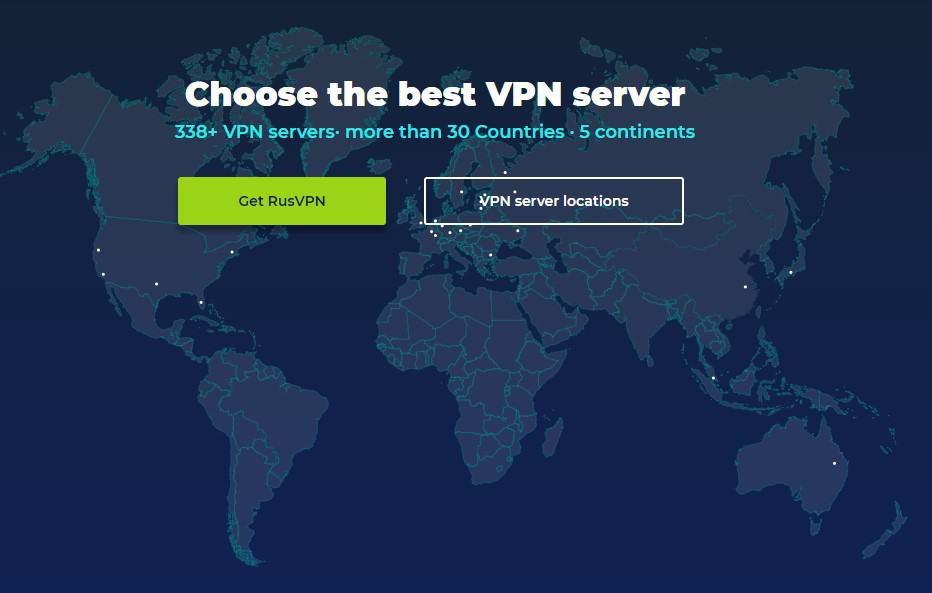 RusVPN has well over 300 servers spread across 37 countries. For a VPN that's only a few years old, we think it's a pretty fair number of servers. The majority of the servers are spread across a high population and technologically advanced countries like the USA and the UK. This makes sense since they do have a large amount of content and privacy-oriented people.
Three hundred and some servers will not be enough for an advanced VPN user or someone who's using RusVPN for a company. There just aren't enough servers for a large group of people to continually be switching servers. For that, you'll need a VPN with a server count heading up into the thousands. But if you only want a VPN for home use without any advanced needs, RusVPN is a great provider to use.
Privacy Policy
RusVPN is one of the least demanding VPN providers we've come across. Its no-logs policy is clear, precise, and there's no wishy-washy backhanded language. RusVPN says in their privacy policy that they never log your online activities. They only use Google Analytics to collect information about non-subscribers who visit their website. Information like the make of the device you're visiting with, what site brought you to theirs, screen resolution of your phone, your browser's user-agent, your language, etc., are obtained via Google Analytics.
However, RusVPN has wrangled the amount of information Google Analytics can collect down to the barest minimum — only a small fraction of your IP address. The best part of this is if you're not comfortable even with Google Analytics' limited tracking, you can opt-out of it by installing the RusVPN add-on in your browser.
As a RusVPN subscriber, though, when you browse, your information isn't taken down or marked anywhere, whether by Google Analytics or any other means. RusVPN runs a nonpermanent log that is cleared every few hours.
They also clearly state that, while you're a client of theirs, they'll do everything possible to protect your information. The laws of the Commonwealth of Dominica help with that, of course. But RusVPN acknowledged its responsibility to its customers by saying if it was ordered to start keeping records, it would notify its clients and try to change its jurisdiction. So, you can rest assured that your data is always safe with RusVPN.
Platforms
You might be forgiven for thinking RusVPN wouldn't support a lot of platforms since it's a new player in the industry. However, RusVPN has products for Android, iOS, Windows, macOS, and Linux, which are the five most commonly used platforms for VPNs. There are also Chrome and Mozilla Firefox extensions available, and RusVPN can support any router that uses OpenVPN.
However, there are no products available for smart TVs like Android TV or TV boxes. But this problem can be bypassed. Since RusVPN allows for platforms that run with OpenVPN, you can easily install this VPN on your router and connect it to your Smart TV or any device that's capable of receiving WiFi.
In the long run, it's better to install your VPN on a router. RusVPN allows for up to five simultaneous connections on one account, but depending on which router you use, you can have eight connections and even more. Any device you connect to your router is automatically VPN protected, which is definitely necessary if your VPN is also used by your family or any other group of people.
Server Speed and Stability
Using a VPN will reduce your internet speed. That's a fact. This is because your data doesn't go through regular servers but encrypted servers in different countries. The amount of time it takes to get through these servers can increase the time taken to download your destination website onto your browser. How much your internet slows down depends solely on your VPN.
RusVPN
Pros
Servers in 50+ countries
No data tracking
OpenVPN 256-bit 2048 RSA technology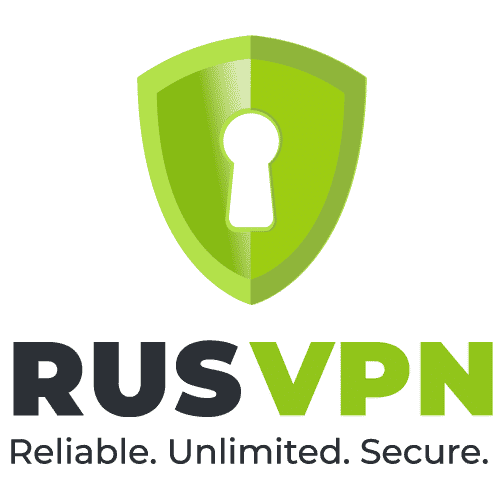 RusVPN does not have servers optimized for speed. And it doesn't have many servers to distribute clients' traffic evenly. However, the main problem here is that the network speed and internet slowdown of all servers are not the same. One server can be particularly slow, and the other can be much faster. This VPN's network speed is unstable, but if you're not using it for any advanced processes or business, it might be ideal for you.
Media Streaming and P2P Sharing
RusVPN is a rather capable unblocker. It efficiently unblocks Netflix, BBC iPlayer, Crunchyroll, and HBO. It does tend to take a long time to unblock Hulu, but you can easily switch servers and find one that loads the site faster. There are servers called rapid servers that are optimized for unblocking content and giving you a restriction-free internet. You won't be left high and dry without the speed to watch it, though.
With the help of the right server, you can watch any content you want, anywhere you want, and in HD too. Torrenting is another game entirely. RusVPN does allow torrenting, and no laws are barring it in the Commonwealth of Dominica. So you're free to torrent what you wish, where you wish.
Overall User-friendliness
RusVPN is not an overly complicated VPN, and setting it up is pretty straightforward. Consequently, it's great for beginners, but for VPN users with advanced needs, it might not be enough. Its interface is simplistic, with straightforward controls and settings. Almost everything you need is already clearly labeled and displayed on the home screen. Settings such as your IP address, your connection status (whether you're protected or unprotected), the last server you connected to, etc., are pretty distinct.
You can pick a server that's recommended based on your current location (deduced from your IP address, of course). Simply click on the last server used, and it will display a list of countries. There are recommended countries, but you can pick any of the over 330 servers at your disposal. Then, you click connect on the homepage. There, you're connected. If you've found a server that you prefer for any activity, you can automatically connect to it in the "Common" tab. This tab is where you'll also find the button to activate your Kill Switch.
Like most other VPN providers, you can choose which protocol you want to use. Each has its pros and cons, but there are little notes on all of them, so you don't choose one blindly. But, you'll have to keep an eye out for when a new update for RusVPN comes out because you can't update it from the app you've downloaded. You have to delete your current RusVPN, download the new and updated software from the official website, and install it again.
Pricing and Trial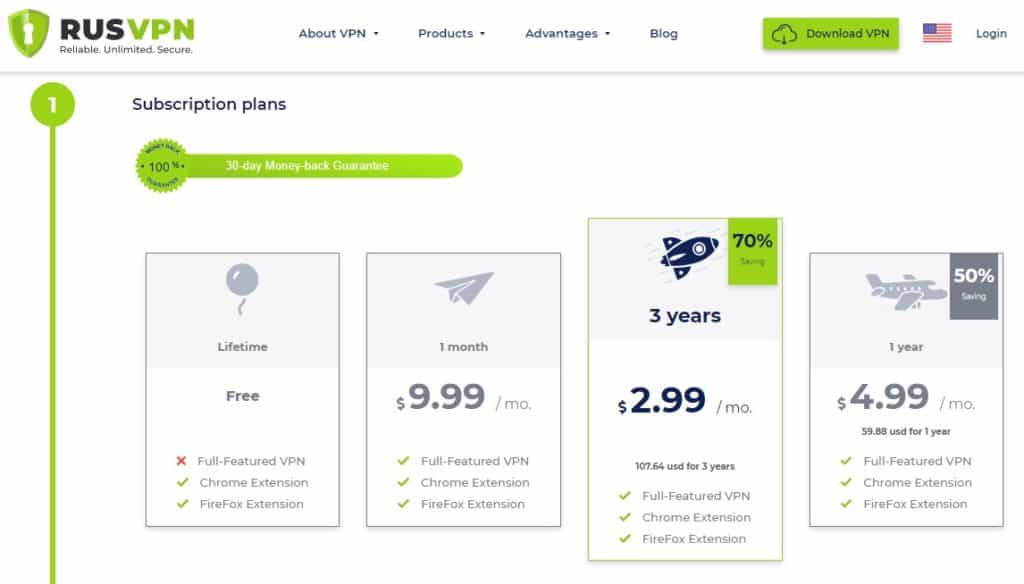 When buying a VPN, it's usually more advisable to go for extended, more discounted plans. RusVPN is no exception. The 3-year plan is hugely discounted by 70%. It's $2.99 per month, but you'll have to pay the full price of $107.64 every once in three years. A year's subscription is worth $4.99 per month, but the total cost is $59.88, paid every year. The monthly plan is $9.99, and there's no discount of any sort attached.
There's a 30-day money-back guarantee attached to all plans, but there is a condition. You can only get a refund if you've used less than 500MB. If you've used more than that, RusVPN considers the device fully rendered, and your refund will not be available. You can test this VPN but only within these conditions.
Customer Service
RusVPN has a pretty sweet setup when it comes to customer service. They have a live chat, email support, web forms, and telephones. These several platforms exist to give their customers an outlet for their questions, complaints, and demands. The live chat allows you to connect directly with RusVPN's customer care agents. Clients can ask questions and receive an answer almost immediately. However, on occasion, it can take a while for the customer care representative to answer. It usually doesn't take more than twenty minutes, though.
The email support is much slower. You get a form to fill, but it can take an average of twenty-four hours for you to get an answer. But this answer will most likely be more detailed than a response obtained from a live chat representative. So the wait might be worth it.
RusVPN has given its users two numbers to contact them with. This is nice but ineffectual for users not in the UK or its environs. It's a long-distance call so any further than that won't work or will make the user spend a lot.
Summary
RusVPN is an excellent VPN for those who are just learning how to use VPNs. It has all the necessities of a VPN while still providing a great user interface and good server speeds. However, it does have some faults, especially for more experienced users. If you do want to use RusVPN, the 30-day refund policy will protect your investment, but you must always remind yourself of the condition attached.