NordVPN vs PIA (2023): Which VPN is the Best?
Virtual Private Networks (VPNs) are necessary for anyone who wants to access the best in internet security. With so many options, however, you need the right information before making a decision. We have two of the best available here.
NordVPN is one of the best and most famous VPN service providers in the world. For years, this option has solidified its place as a top hitter on all fronts.
As for Private Internet Access (PIA), it's not as high-profile as NordVPN. It does pack a punch in several areas, but there is still some work to be done if it is to reach the top tier truly. That said, it still brings a lot to the table.
Let's take a quick look at the two VPNs and what their top value propositions are.
NordVPN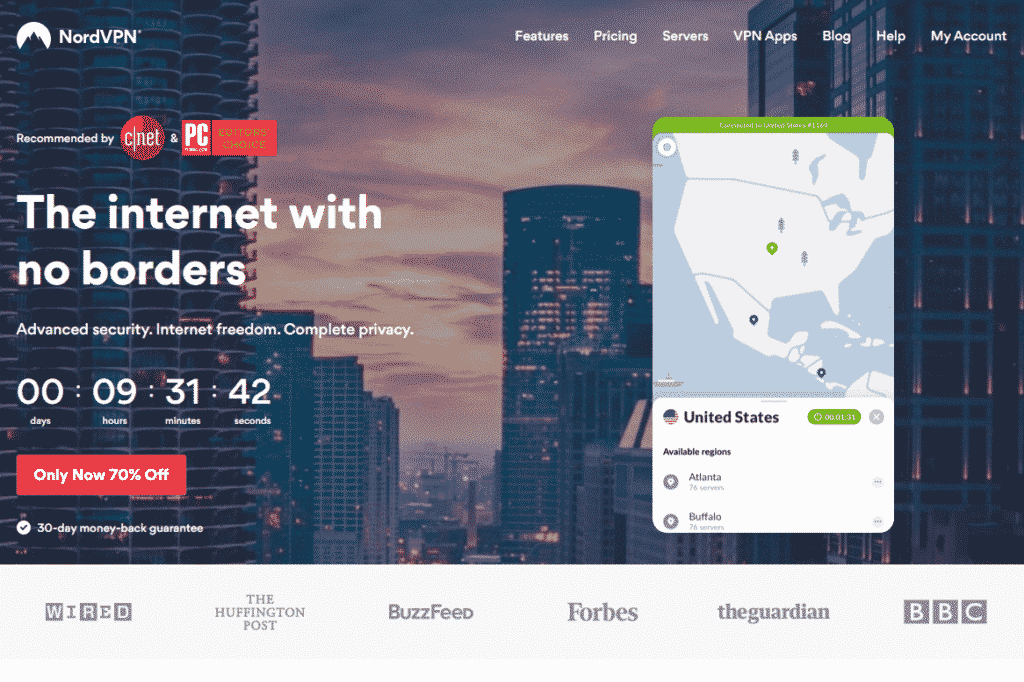 In the rankings of the top VPN services globally, NordVPN is undoubtedly one of those options that have a legitimate case. The service is based out of Panama, and it has made a name for regularly churning out new features that keep fans hooked for long.
With NordVPN, fans get quite a lot. The service has over 5,400 servers across 59 countries, giving it one of the industry's broadest reaches.
Users will also get a wide array of security features that will ensure their safety as they surf the web. From an assortment of security protocols to an ironclad no-logs policy that prevents your data from being collected, everything you need is right here.
In terms of functionality, NordVPN doesn't lag as well. The service comes with lightning-fast servers, which support a wide array of activities. From streaming and torrenting to file downloads and game streaming, you get the whole package.
NordVPN easily breaks through location barriers too, so you get the ability to enjoy content from a platform that would usually restrict you.
With support for all the top device platforms and browsers available, NordVPN has created a market for everyone. Regardless of what you use, rest assured that the service is available for you and can accommodate your needs. Just connect, and you're up and running.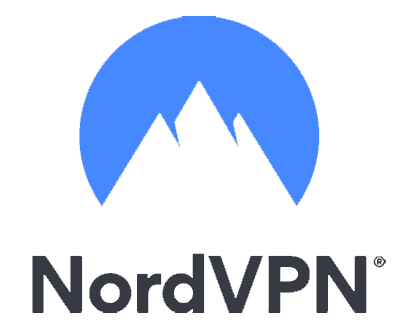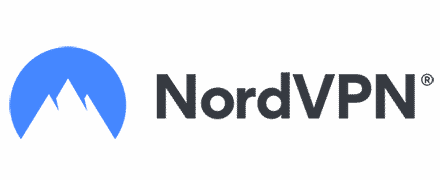 Get 66% off now
Private Internet Access (PIA)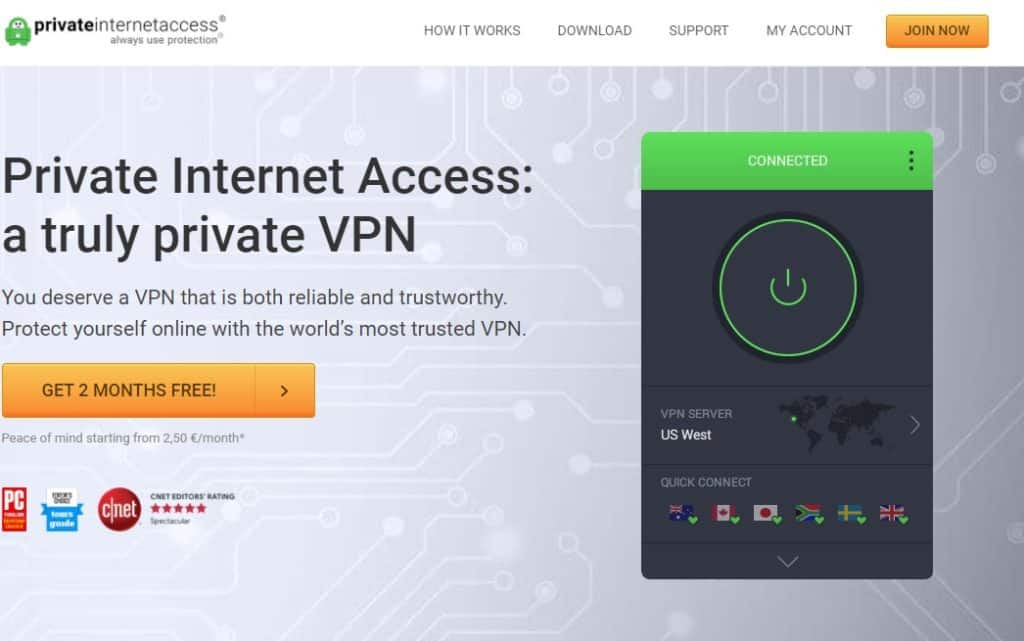 PIA is one of those VPN services that aren't so popular, but which pack a significant punch on their own.
With PIA, you enjoy an impressive haul of over 10,000 servers. This server count makes it one of the most extensive VPNs in the world without a doubt. Its servers are also spread across 74 countries, meaning that you get ore servers in more countries than even NordVPN.
PIA doesn't have such great speed on many of its servers. However, like several other lesser-known VPN, it focuses primarily on the high-traffic areas. Considering that these servers allow access to restricted content, optimal speed means that you won't miss anything.
As expected, the VPN also ensures your protection on all fronts. Encryption is military-grade, and there are several other protocols and security features that protect you from hackers.
Its privacy is a bit of a drag, however. Since PIA is based out of the United States, it collects some of your information. Yet, the company has an enviable track record for anonymity and a solid privacy policy that outlines its commitment to ensuring your anonymity.
Support is available for all top device platforms on PIA, so rest assured that you'll be able to make use of it no matter what device you're on.
In this guide, we'll take a look at both VPNs and see how they measure up for those who want to make choices.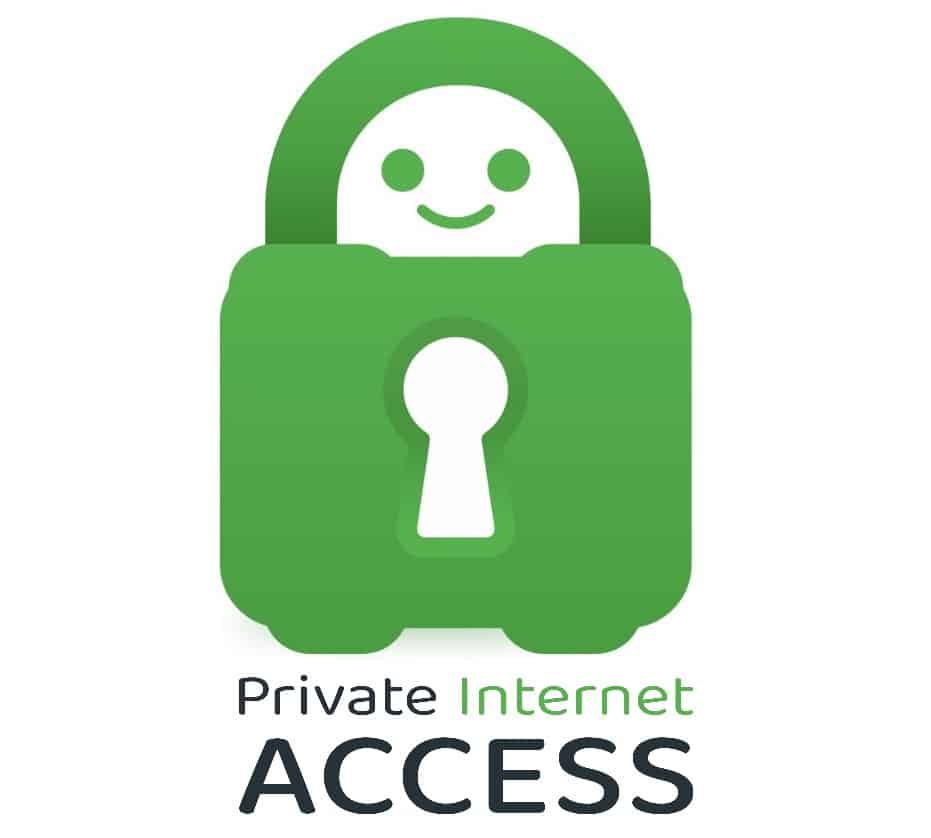 Get 81% off now
Server Coverage
On NordVPN, you get access to 5,467 servers in 59 countries. That is more than enough to server whatever VPN-related needs you have. The VPN also has a "Recommended server" section that scans your location and gives you a list of servers that it thinks will be best for you.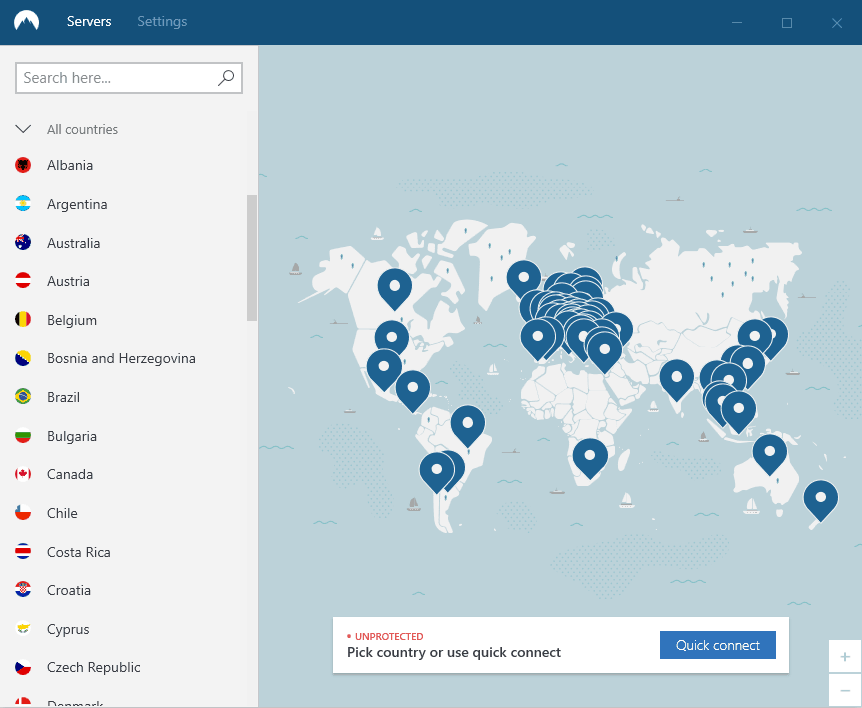 To add to that, NordVPN provides some obfuscated servers for you to bypass geo-restrictions. You can try and see how it works for you. With this provider, there's a significant chance that you will easily find an optimized server. When you do find one, you can add it to your "favorites" tab, which keeps track of select servers. This way, you can smoothly go back to the VPN and select one.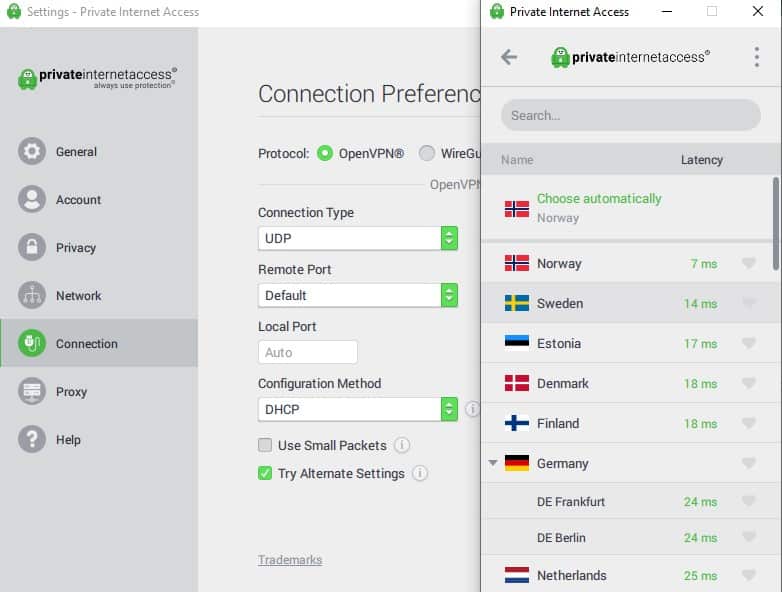 As for PIA, you get over 10910 servers in a staggering 74 countries. In terms of server count, PIA takes the top points from NordVPN.
Speed and Performance
The average speed on NordVPN is 115Mbps across all locations and servers. That is more than enough for sure, and it allows NordVPN to support pretty much anything.
From 4K video streaming and gaming to regular web surfing and much more, NordVPN is ready to serve. The optimal speed means that you don't lose anything. You could just as well go hours without any video breaking or lagging. That's how great this VPN is.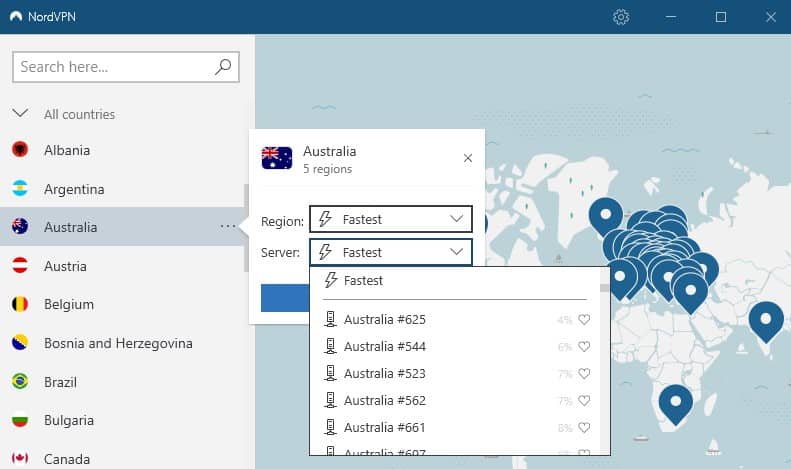 NordVPN has several protocols and features that affect speed. There is NordLynx, which helps to bolster speed. There is also support for WireGuard, which is significantly faster than several other traditional protocols.
As for PIA, the average speed across all servers and locations is 34Mbps. While it's not the highest, it is enough to support all your internet activities. The VPN also doesn't have many advanced features, although it supports the aforementioned WireGuard protocol.
Streaming
NordVPN is one of the best VPNs worldwide as far as streaming goes. The service breaks through the geo-blocking features that you usually get with services like Netflix. Thus, you shouldn't have any troubles with seamless access. Given that Netflix is one of the most restrictive streaming platforms, this is undoubtedly a plus for NordVPN.
While you stream, rest assured that NordVPN has your back all the way. The service comes with a SmartPlay feature that will keep you protected. The SmartPlay feature combines VPN technology with DNS leak protection, ensuring both optimal security and geo-block bypassing. That's pretty cool.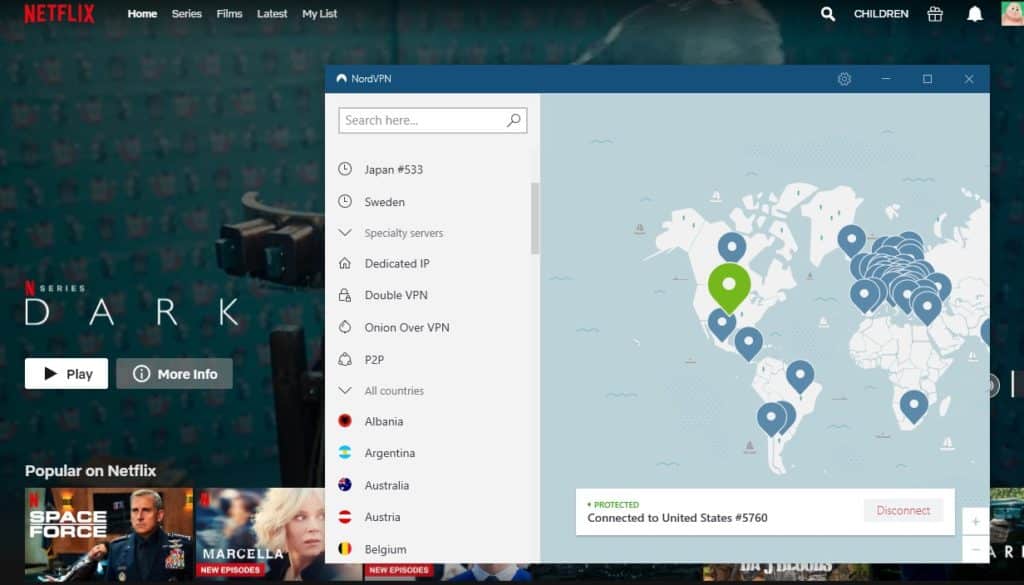 Even better is the fact that NordVPN helps you to access content in countries like Japan and Australia that have their specific libraries. As long as you can find an optimized server quickly enough, you'll be streaming and enjoying your favorite content with ease in no time.
As for the United States, the process is even quicker. Your content is available in high-definition video quality, so you don't miss a thing. Regardless of the library you access, top-quality video output is what you get.
So, there's no doubt that this VPN is one of the best in the business in terms of Netflix access. All you have to do is find the right server – and do so in time.
Other streaming services naturally fall in line. Tests have shown that NordVPN is available on HBO Go, the BBC iPlayer, ESPN, etc. Then, if you're in a country with a highly restrictive social media infrastructure, you will be able to bypass restrictions too.
The social media bypass is especially great in countries like China, which have become notorious for being very cagey with social media. Whether you're traveling to these places or live there, access to social media is always available.
Moving on to PIA, you'll find some pretty mixed results. Many top VPN services easily break through Netflix's restrictions, but this one had some trouble. On PIA, you'll be glad to know that all servers in the United States can break Netflix's geo-block restriction. Servers in countries like Australia, Canada, and the United Kingdom also allow you to access Netflix in these countries. That is particularly good news for Australia, since it has its dedicated library.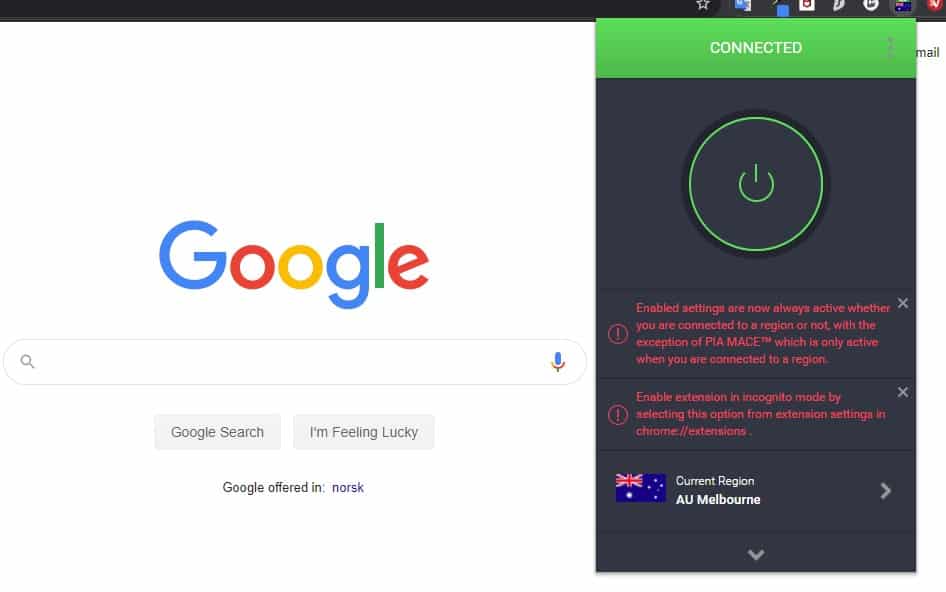 However, a lot of locations don't grant you access to Netflix when you go through PIA. For instance, places like Japan and Germany won't work, and Netflix will eventually block you once again. So, this is a pretty mixed bag.
For the countries that allow Netflix access, PIA protects you all the way. The VPN's security features are always active when you stream, so you don't lose anything. Video quality is also top-notch, just like NordVPN. High-definition video and bufferless streaming are pretty great if you ask anyone.
Torrenting
For torrenting, NordVPN is also wonderful on that front. The service allows you to jump from one torrenting site to another without stress, and thanks to optimal security, no hacker will be able to get your data.
You can also count on the VPN's security to protect you from downloading malicious content. Support for peer-to-peer file sharing is available, so you can communicate with other computers on torrenting sites and easily share documents.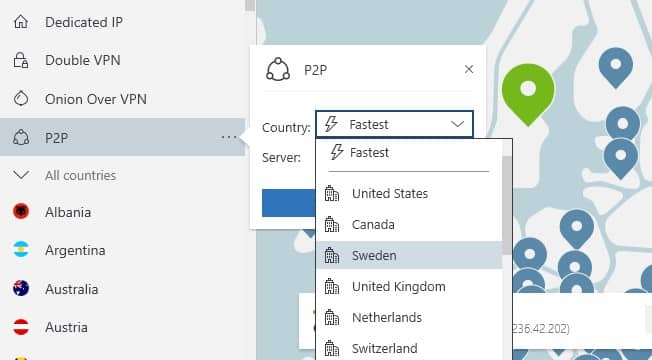 Even better, NordVPN has a "for torrenting" tab that allows you to find the best servers for torrenting activities. So, unlike having to go check message boards and online sources, you can find the best torrenting servers to connect quickly.
In terms of torrenting, PIA is ready to go. The VPN states that it supports torrenting and peer-to-peer file sharing, so don't feel scared to access your favorite content on BitTorrent and co. The VPN maintains a strict no-logs policy, so you have no problems when it comes to anonymous torrenting. Also, the presence of an automatic kill switch and port forwarding means that you're okay if your connection suddenly falters.
Security
Security is one of the areas where NordVPN probably shines the brightest. As one of the top VPNs in the world, you can bet they didn't get there with lackluster protection.
So, here we go. First off, NordVPN provides its users with military-grade, AES 256-bit encryption. As the name suggests, military personnel use this encryption form as well. Anyone looking to crack it will have to go through almost an impossible number of security code combinations to get through. The encryption works with Perfect Forward Secrecy, which assigns you a new security key whenever you connect to the VPN.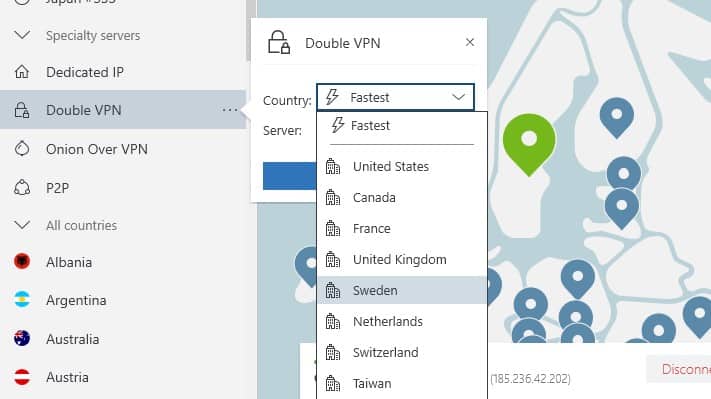 With Perfect Forward Secrecy, your data sessions are always secure. Anyone who compromises your security key in one session won't access the data you saved in previous sessions. Considering that the prospects of cracking the security key are low in the first place, you're more than safe.
NordVPN also provides SHA2-384 authentication and a 2048-bit DH key. The authentication protocol will see to it that your data has arrived at the desired destination. It also checks to ensure that no hacker intercepts your traffic and that it isn't going through any additional server without your consent.
For primary security, NordVPN comes with two protocols — OpenVPN UDP/TCP and IKEv2/IPSec. Both are quite popular among security aficionados, and they work to ensure the best security level for all needs.
NordVPN provides default protocols, but gives room for you to change the provided one to suit your preference. For instance, iOS and macOS devices have the IKEv2/IPSec protocol as the default option. You can still change it if you want, in the event that you're the security enthusiast who wants a specific protocol for a particular activity. If you're just a casual user who wants to ascertain protection, rest assured that any protocol you pick on NordVPN is excellent.
Moving on, you also get a kill switch with NordVPN. The feature blocks your traffic as soon as your device suddenly loses its connection to the NordVPN server. While many can claim that the feature is useless, the truth is that it works wonders sometimes. For instance, you could be on the move, and the device connection drops at a point. If that happens, you need a means to stay protected because hackers could access your files and you won't even be aware of it. This protection is what comes in the form of the kill switch. Along with your primary data, it also protects your DNS requests and gets you the protection you deserve.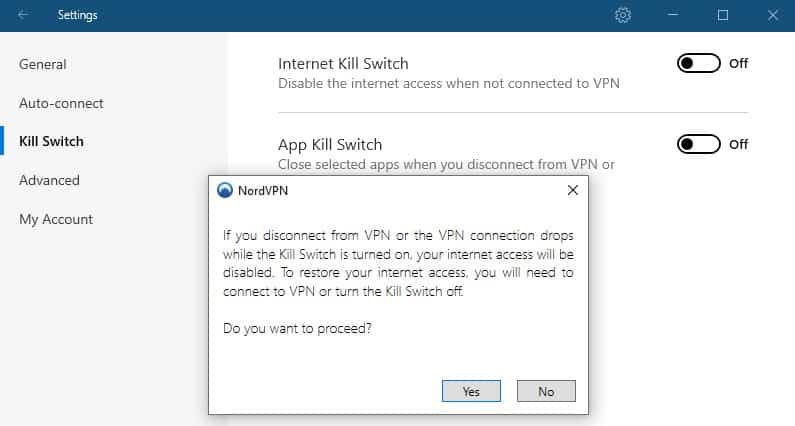 NordVPN provides the kill switch on desktop and mobile devices. Note that it is turned off by default on iOS and Android devices. So, you might have to always toggle it on from time to time. On desktop platforms, however, it is always switched on by default.
NordVPN also provides enough convenience for you to decide which app works with the kill switch. A feature known as the kill switch extension is available, and it allows you to select a group of apps that the kill switch works with. Essentially, any app that isn't on this list won't be covered. So, if the connection does drop, you will still be able to use these excluded apps with the regular internet connection. It's usually recommended that you always add apps like BitTorrent and peer-to-peer platforms to the kill switch. These are usually the ones that have the highest risks of data theft and spoofing.
Last, but definitely not the least, is the split tunneling feature on NordVPN. The feature gives you access to different security domains with the same network. By splitting your traffic, it allows you to use the VPN with another network. This way, it adds a secondary layer of protection to what you already have and keeps the unauthorized parties out.
Moving on to PIA. The VPN claims to be one of the safest VPN services in the world. Definitely, the service's protection features show that.
On PIA, you get three primary security protocols – L2TP/IPSec, OpenVPN, and PPTP. So, it does seem to beat NordVPN in terms of security protocols. The VPN also has IP masking features that add to your location data's safety. Data encryption is available through the AES 128-bit encryption, which, although not as advanced as the 256-bit encryption option, is pretty good on its own. However, you can easily change the encryption settings as you prefer. You can go to the VPN's security settings to manually select your encryption algorithm and handshake option if you want.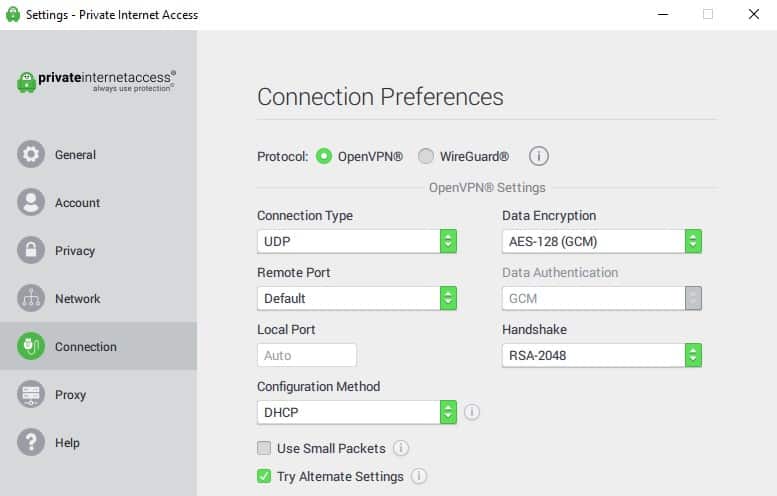 For users who might not know what any of this means, not to worry. There are detailed explanations on PIA for you to grasp their significance and make healthy choices for yourself.
The dedicated apps on PIA are set by default to the OpenVPN protocol. You can also select the TCP and UDP protection options if you like. Note, however, that the iOS option uses the IPSec protocol as its default. Then, PIA has support for the WireGuard protocol — one of the fastest and most secure on the market. The WireGuard protocol is available on desktop and mobile platforms.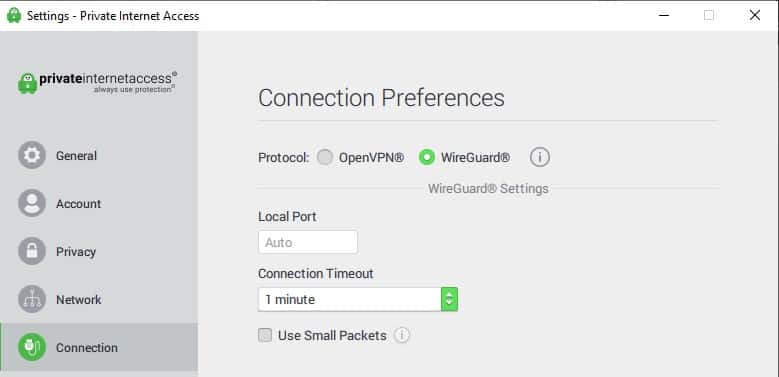 Additional security features on PIA include protection from any possible DNS and IP leaks. A firewall is also available. While it's quite rudimentary, it does have its uses from time to time when it comes to malware protection.
Note that even without enabling most of these security features, PIA already protects you from hacks. Tests have shown no DNS or IP leaks even before these features were initialized, so keep calm. PIA won't show your IP address at all.
For even more transparency, the VPN has open-sourced all of its mobile and desktop applications. So, you can view the apps' source codes to ensure that you're not getting the short end of the stick. Of course, this is usually an option for experienced VPN users.
Then, you'll love that PIA offers a split tunneling feature as well. Even better, you can select the apps that get coverage from the split tunneling feature. This means that the apps you choose will pass through the VPN's network first before getting to the right internet point. As for the others, they go through the usual route without any disturbance. With the split tunneling feature, you can protect things like your banking app, torrenting site, peer-to-peer file-sharing network, etc. If you like, add your web browser and streaming service as well.
However, note that tests on PIA's split tunneling feature have shown that it could delay your internet connection by a few seconds. It might not be much of a problem for you, of course, but it's worth noting nonetheless.
Anonymity and Privacy Features
NordVPN has a pretty simple privacy structure. The VPN doesn't keep any of your logs, period. They don't collect any information concerning your location or online activity, so you can relax about that. Even better, the VPN has a CyberSec feature that allows you to block things like ads and malware that might want to track you maliciously. It is definitely an additional feature to have something like this available.
Then, there's a nifty WiFiSec feature that helps you with untrusted WiFi networks. With WiFiSec, NordVPN immediately connects to any new and untrusted WiFi network that you find. This way, it ensures that your privacy is still top-notch, even if you connect to an untrusted network. Considering that many WiFi networks tend to contain terrible, malicious software, this can come in pretty handy.
As for PIA, there's quite a lot to unpack from a privacy standpoint. To be clear, this service keeps to its no-logs policy pretty well.
However, note that the VPN company is based out of the United States. So, they are mandated to comply with demands from regulators. This obligation means that while Pia might not collect any logs on your activity, they might still have to hand over some data if the government asks.
Still, PIA's privacy policy states explicitly that the company doesn't collect any of your information, that should allay your fears in this regard. The service has a pretty impressive track record of holding privacy to the highest standards. PIA is top for privacy enthusiasts.
There is an ad blocker and malware tracker available with the service, so you get protection from those pesky ads that could hamper your privacy and internet anonymity.
Platforms Supported
NordVPN is pretty great when it comes to the number of supported platforms. The service is available on Windows, iOS, macOS, Android, and Linux. The user experience is pretty uniform, so you don't have to worry about adjusting if you change devices.
The VPN is also available for Google Chrome and Mozilla Firefox via browser extensions. Both extensions allow access to all of NordVPN's servers, so you get the full package.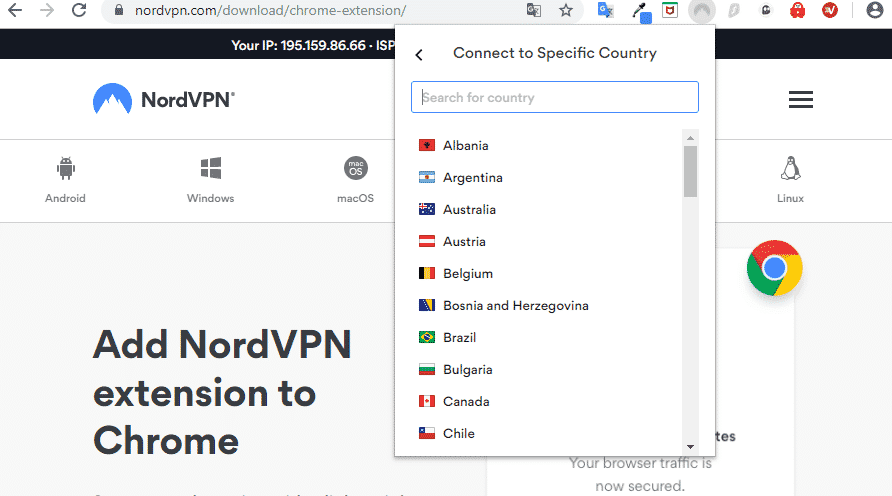 NordVPN also adds the nifty one-click connection feature that allows you to set up its service seamlessly. So, once you install the app, just sign in, and you're ready to go. As long as you can find the right server to support the activity you want to engage in, there's no hassle with NordVPN. This ease of use is one of the primary reasons why you'll love using it.
If you have a paid account on NordVPN, you can connect to six devices at once. However, you can side-step this limitation by connecting to a router. The router connection lets you connect an unlimited number of devices. You can even use devices like gaming consoles and others that connect by WiFi alone.
As for PIA, you get support for macOS, Windows, iOS, Linux, and Android. Like NordVPN, all features are regular and the same across all platforms. So, you can easily get access regardless of the device you use. As explained earlier, the only exception is the iOS platform, which doesn't have the MACE ad blocker and uses the IPSec protocol instead of the conventional OpenVPN.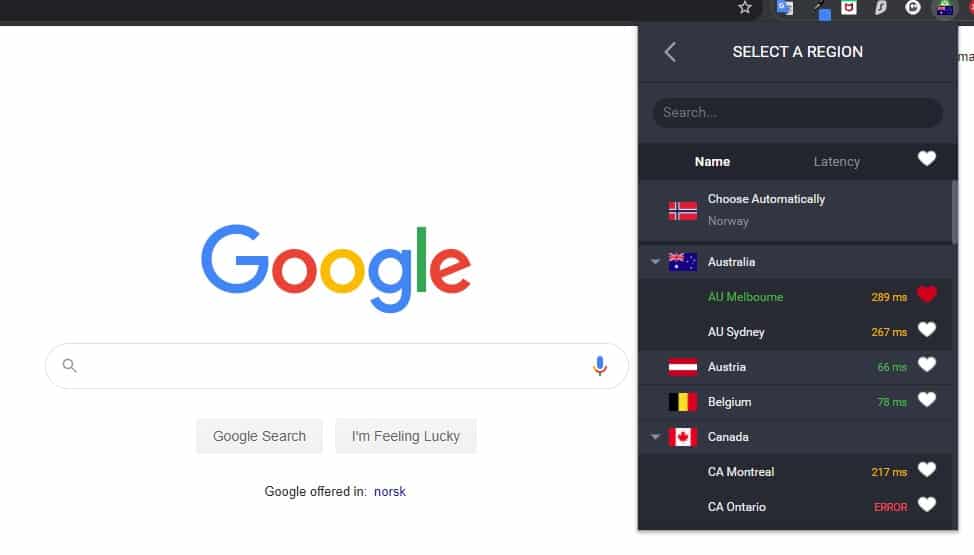 There are also browser extensions on PIA for Google Chrome, Mozilla Firefox, and Apple's Safari browser. There are manual installation guides on PIA's website, and the service is also available on routers.
On PIA, you can connect up to ten devices simultaneously. That's one of the highests for any VPN at all.
Plans and Pricing
Pricing tiers on NordVPN go as follows:
Monthly Plan: The plan costs $11.86 per month
6-Month Plan: Costs $8.93 per month
Yearly Plan: Costs $5.71 per month
On PIA, you pay for the following:
Monthly Plan: Costs $9.95 per month
Yearly Plan: Costs $3.33 per month
Two-Year Plan: Costs $2.69 per month


Pros and Cons
Let's review the pros and cons for each provider, starting with NordVPN.
NordVPN
Pros
Uniform user experience across all platforms
Great for high-censorship countries
Easy access to foreign Netflix libraries
Cons
No split tunnelling on desktop
No version for Safari
PIA
Pros
Connect up to ten devices simultaneously
Strict no-logs policy with a track record
Support for Apple's Safari browser
Cons
Split tunneling affects web browsing speed
Experience isn't the same for iOS
Our Recommendation
While PIA has some vital points to be proud of, we believe that NordVPN beats it on several fronts. From the ease of use and advanced features to optimal streaming and server speed, NordVPN definitely takes the prize here.