How to Access Sling TV via VPN
All Sling TV users need a Sling TV VPN, except if you plan on never leaving the US. Sling TV is a popular app-based live TV streaming service in the US. It allows you to watch your favorite shows, including sports, news, movies, and other forms of entertainment.
Sling TV has excellent features that are rare among its competitors. For example, you can pause, adjust or cancel your subscription anytime. In addition, you can also freely record 50 hours of TV time.
Sadly, if you try connecting to Sling TV abroad, you'll get an error message. This is because Sling TV often only has the right to distribute content within the US. Fortunately, a VPN for Sling TV can help you. 
"Can I use VPN with Sling TV?" is a question many Sling TV subscribers have. This article answers this question by helping you pick a Sling VPN. We'll review our top VPN choices for Sling TV. So, read on.
But first, note that ExpressVPN is an excellent Sling VPN and one that we rate as one of the best, so if you want our top pick then look no further.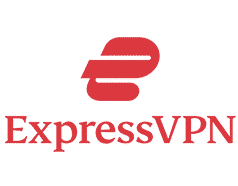 Get 49% off now
All You Need to Know About Sling TV
Sling TV is a home of entertainment. It caters to the needs of kids, families, and lovers of specific types of entertainment, such as sports. Sling TV even has a Watch Party feature.
It allows you to watch movies with friends and family (up to three persons) while video chatting with them. So, you can watch exclusive Sling TV shows like 6O Days In and Black Ink Crew Chicago. Other series are available, too, such as season 6 of Outlander, The Battle for Uber, and Killing Eve.
Sports lovers aren't left out, too, as you can access Sling TV VPN for major games and sports tournaments. In addition, Sling TV has thousands of on-demand movies.
How to Watch Sling TV
Another top-tier feature of Sling TV is its cross-platform support. You can watch Sling with VPN on practically any device in the US. So, this includes Android, Windows, Apple gadgets, and Smart TVs.
So, let's see how to access Sling TV VPN on some platforms.
How to Watch Sling TV on Amazon Firestick
Amazon Firestick is a great option for watching Sling TV. These tips can help you set up and enjoy Sling TV on Fire TV Stick:
Click on the "Search" icon on your Firestick home-screen
Search for Sling TV and download the app
Open the Sling TV app, sign in, and start enjoying your movies and sports
How to Watch Sling TV on AppleTV
You can also watch Sling TV on Apple TV. The following steps will help you:
Subscribe to Sling TV via its website
Download the Sling TV app from the Apple TV App Store
Install the Sling TV app and log in
Now, you can watch your favorite Sling TV content.
Choosing a VPN for Watching Sling TV
There are several options for a Sling VPN. So, picking one to watch Sling TV over VPN may be challenging, especially if you're new to VPNs. But Techshielder has done the hard work and compiled a top-tier Sling TV VPN list.
We chose only VPNs that can unblock Sling TV, guarantee fast streaming speeds, and online security when you access Sling using VPN. Here are our top three picks.
ExpressVPN

Features
Number of servers: More than 3,000
Speeds: Unlimited
Server locations: 160 in 94 countries
Maximum devices supported: 5
24 live chat: Yes
30 day money back guarantee: Yes
Pros/Cons
Fastest VPN out there
Strict no logs policy
256-bit AES encryption
ExpressVPN is the best Sling VPN. It has thousands of servers worldwide and offers premium VPN services. There are multiple ExpressVPN servers in 12 US cities in the US alone. Therefore, you can easily get a US IP address for Sling TV.
In addition, ExpressVPN allows five simultaneous connections on one subscription. So, you can use one ExpressVPN account for all your Sling TV streaming gadgets. What's more? ExpressVPN has a solid security system. You'll thus be safe from online threats when watching Sling TV shows.
Pros: Fastest VPN out there; Strict no logs policy; 256-bit AES encryption;
Lowest price: $6.67
NordVPN

Features
Cryptocurrency accepted? Yes
Simultaneous connections: 6
Dedicated IP-addresses? Yes
Servers: 5342 in 58 countries
Pros/Cons
Lots of pricing options
Netflix support kept up to date
256-bit AES encryption
NordVPN is our second-best VPN Sling TV because it offers excellent services at a cheap price. With NordVPN, you get 1970+ US servers for unblocking Sling TV. In addition, this Sling VPN guarantees fast streaming speeds.
NordVPN has a Double VPN feature with which you can doubly encrypt your internet connection. Therefore, while using this VPN Sling TV, you don't have to worry about hackers or other dangerous parties. NordVPN also allows six simultaneous connections on one subscription.
Pros: Lots of pricing options; Netflix support kept up to date; 256-bit AES encryption;
Lowest price: $3.71
Surfshark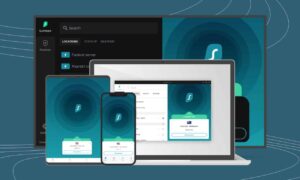 Features
Free trial? Yes
Simultaneous connections: Unlimited
Ad blocking? Yes
Servers: 1000+ in 61 countries
Pros/Cons
No footprints
Allows torrenting
256-bit AES encryption
Finally, Surfshark is a mid-tier Sling TV and VPN option. It makes this list because of its 600+ US servers that you enjoy at very low prices. However, despite its low prices, Surfshark still maintains high streaming and security quality. In addition, Surfshark is an excellent choice because of its unlimited simultaneous connections. So, you can unblock Sling TV with Surfshark on all your devices.
Pros: No footprints; Allows torrenting; 256-bit AES encryption;
Lowest Price: €2.09
Accessing Sling TV with a VPN 
A virtual private network (VPN) can make it seem like you're connecting to Sling TV from the US, even when you're abroad. You'll achieve this by getting a US IP address from the VPN through these steps:
Subscribe to and download a VPN
Log in and click the server icon
You'll see servers from different countries; choose the US
This selection will automatically grant you a US IP address
Now, you can log into your Sling TV app and start streaming movies or sports.
It should be clear at this point that a Sling VPN cannot help you watch Sling TV without a subscription. Any service that allows you to watch Sling freely is illegal, and you should avoid it. So, let's see Sling TV's pricing list.
Notably, Sling TV has three packages. They are:
Sling Orange
Sling Blue, and
Sling Orange & Blue
The Orange plan costs $35/month. And it's great for sports and families. However, the Blue plan also costs $35/month. But it's best for entertainment and news.
Finally, the Sling Orange & Blue subscription costs $50/month. This pricing option is good for everything on Sling. Depending on your payment option, you can stream Sling on up to four devices.
You can even add Sling Extras to your subscription. These will cover specific interests such as Comedy Extra or Sports Extra. Clearly, Sling TV is pretty affordable. In fact, you get 50% off your first month's subscription.
Free VPNs vs. Paid VPNs Online
Seeing Sling TV's prices may have you worried about the cost of using Sling with VPN. Handling Sling TV and VPN bills may be too much for you. So, you may start considering a free VPN for Sling TV.
While you can use free VPNs, they have significant limitations, such as:
Fewer and overcrowded servers
Slow streaming and download speeds
Poor online security
Minimal guarantee of online data privacy
Multiple ads and spam messages
However, you can skip all these issues with any risk-free Sling TV VPN we reviewed above. For example, you can get ExpressVPN for $8.32/month for 12 months. NordVPN also goes for MX$129/month.
This subscription also comes with three free months. Finally, you can purchase a Surfshark subscription for $2.49/month for the initial 24 months. So, you can choose the Sling VPN plan considering your budget.
Conclusion
Sling TV has important channels you'll have to give up once you leave the US. Within the US, you can watch Sling TV at very affordable rates. Therefore, it'll be best to do everything possible to get a Sling TV VPN when leaving the US. Watching Sling on VPN will ensure you don't lose access to Sling TV abroad.
Finally, ExpressVPN is the best VPN for Sling TV. So, you can purchase a plan today and start enjoying your favorite programs.