Find the Best VPN for OnlyFans
Whether you want to access your favorite content privately or you're a creator who wants to protect your location data, using a VPN for OnlyFans is your best tool. But is OnlyFans safe? We review the best VPN providers that can keep you safe when using OnlyFans and provide an easy-to-follow guide on accessing the platform using a VPN.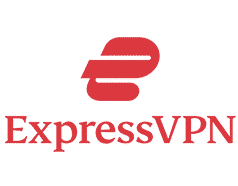 Get 49% off now
What is OnlyFans?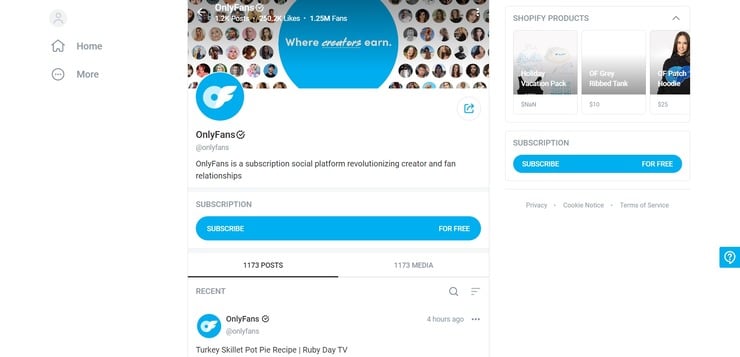 OnlyFans is a social media platform that allows anyone to sell and purchase original content. There is almost no limit to the kinds of original content that can be sold and in 2020, during the peak of the COVID-19 pandemic, sex workers from around the globe began to use the platform to maintain a revenue stream during global lockdowns.
These days anyone from artists and musicians to celebrities and adult film stars use OnlyFans as an additional means to promote and sell their content or brand.
How to Sign up to OnlyFans as a User
Before you even consider using a VPN for OnlyFans, you'll need to sign up for an account. There are two ways of doing this – using your Twitter account or by filling out a simple web form. Linking your Twitter account can be completed in a single click.
The sign-up form requires details such as creating a username, and password and agreeing to the terms and conditions. So far, this process is the same whether you wish to be a follower or a contributor. However, if you wish to start an OnlyFans page, you'll also need to provide your financial information and pass an identity verification process.
How to Use OnlyFans with a VPN
Is OnlyFans safe for both users and creators? Firstly, OnlyFans isn't available in some countries such as Dubai, Belarus, and now the sanction hit Russia. That means the only way to view content in those countries is to use a VPN for OnlyFans to spoof the user's IP address.
Furthermore, due to the platform's notorious presentation of adult content, many public Wi-Fi networks will block access to OnlyFans. A VPN can be used to unlock otherwise blocked content.
For content creators especially, there is a myriad of reasons a VPN should be used when live streaming, uploading images and video or attempting to remain any level of anonymous. A VPN for OnlyFans will mask your IP address and encrypts all of your traffic.
Choosing a VPN for Accessing OnlyFans
Techshielder is the home of trusted internet privacy information because we back up the facts with hard data and never sugar-coat the truth. The best VPN for OnlyFans will protect your personal data, hide your real location, and allow you to access the platform when a network doesn't want you to. We've handpicked three of the very best VPN providers for OnlyFans.
ExpressVPN

Features
Number of servers: More than 3,000
Speeds: Unlimited
Server locations: 160 in 94 countries
Maximum devices supported: 5
24 live chat: Yes
30 day money back guarantee: Yes
Pros/Cons
Fastest VPN out there
Strict no logs policy
256-bit AES encryption
ExpressVPN does just about everything exceptionally well. However, ExpressVPN is particularly outstanding at accessing geo-locked and adult-content-locked websites. With servers that'll let you spoof an IP address in 94 different countries, you can use ExpressVPN to access OnlyFans from practically anywhere.
Pros: Fastest VPN out there; Strict no logs policy; 256-bit AES encryption;
Lowest price: $6.67
NordVPN

Features
Cryptocurrency accepted? Yes
Simultaneous connections: 6
Dedicated IP-addresses? Yes
Servers: 5342 in 58 countries
Pros/Cons
Lots of pricing options
Netflix support kept up to date
256-bit AES encryption
OnlyFans lets you "Go Live" – also known as live streaming – and that can require a seriously stable internet connection with good upload speeds. NordVPN offers internet speeds that are incredibly close to that of a direct connection to your ISP. Some of our tests saw speed drops of as little as 5MBps on a 100MBps connection.
Pros: Lots of pricing options; Netflix support kept up to date; 256-bit AES encryption;
Lowest price: $3.71
Surfshark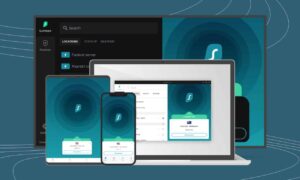 Features
Free trial? Yes
Simultaneous connections: Unlimited
Ad blocking? Yes
Servers: 1000+ in 61 countries
Pros/Cons
No footprints
Allows torrenting
256-bit AES encryption
For content creators who are just starting out on OnlyFans, there could be a lot of costs to consider. One of them needn't be your VPN. Surfshark is an ideal VPN for OnlyFans creators on a budget. The VPN provider offers an initial 30-day money-back guarantee and a low price point of $2.05/month.
Pros: No footprints; Allows torrenting; 256-bit AES encryption;
Lowest Price: €2.09
Accessing OnlyFans with a VPN
Learning how to open OnlyFans with a VPN is a very important part of remaining as safe and anonymous. As a creator, the fact you need to provide a payment method – and how much of yourself you choose to share online – is the only thing preventing you from being totally anonymous.
Using a VPN with OnlyFans will help protect you from being hacked and protects your actual personal location data. Especially in the event of an OnlyFans data breach – which has happened. For both users and creators, a VPN will let you access OnlyFans on networks that have blocked the platform.
So, how do you open OnlyFans with a VPN? Simply connect to an appropriate private network using a VPN and then open OnlyFans whilst on that network. That's all there is to it.
Conclusion
OnlyFans is one of the most popular platforms for content creators of all varieties to promote, provide, and sell their original content. Using a VPN with OnlyFans is the best way to ensure your personal data and actual location is secure when accessing the site.
Secure your data whilst using OnlyFans with a 30-day money-back guarantee from ExpressVPN.
OnlyFans VPN FAQ
Is OnlyFans safe?
In terms of online security, OnlyFans is safe. However, using a VPN with OnlyFans will protect you even further.
Is OnlyFans private?
Yes, OnlyFans is reasonably anonymous thanks to the platform's impressive tools. Using a VPN will also protect your location data even more.
Can you access OnlyFans anonymously?
It is impossible to be entirely anonymous when using OnlyFans. But there are many strategies that can be implemented to remain as anonymous as possible. Using one of the best VPN providers for OnlyFans is a great first step.
How to open OnlyFans with a VPN?
All users need to do is connect to a VPN. Then, simply open the OnlyFans website whilst on that protected network.