ExpressVPN Launches Aircove Router with Built-In VPN Protection
The typical American home has more than 20 devices connected to its Wi-Fi network. With smartphones, laptops, TVs, and smartwatches connected to the internet, it can easily get overwhelming ensuring none of these devices becomes the weak link attackers need to get one foot in the door. The ExpressVPN Aircove is a pioneering Wi-Fi 6 router that comes with an in-built VPN to keep your personal and confidential data secure. The Aircove was designed by the same team that developed the award-winning ExpressVPN software, so users are guaranteed cutting-edge, plug-and-play home security.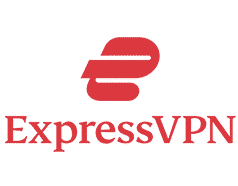 Get 49% off now
ExpressVPN Aircove Specs
The Aircove's easy setup lets you encrypt and protect data to and from every device in your home in minutes. You can connect a virtually unlimited number of devices, including those that aren't typically compatible with VPN software. But with this being a new product, users may want to get a good feel of the specifications before they make a purchase. Here's all you need to know.
Technical Specifications
The ExpressVPN Aircove comes with 4 x LAN Ethernet ports and 1 x WAN ethernet port. The device is powered via a 12V/1.5A DC input. LED lights are present to indicate power and internet statuses. Powering everything is a quad-core 64-bit processor running at 1.2GHz. In terms of storage, you're looking at DDR3L 512MB RAM and a NAND-FLASH 128MB ROM.
Users can expect Wi-Fi speeds of up to 600 Mbps (2.4GHz), and up to 1,200 Mbps (5GHz). You can connect over a hundred devices without compromising speed, and WPA2/3 Wi-Fi security keeps piggybackers out. The connection speed will, however, depend on your ISP, home setup, signal barriers, and other factors. The ExpressVPN Aircove weighs just 445g and measured 210 x 120 x 36.8mm. One device can cover up to 1,600 sq. ft, which should cover most standard homes. Upon first glance, it seems ExpressVPN has all bases covered, something that most may not have expected, especially as this is their first foray into the hardware market.
Aircove Pricing
The ExpressVPN Aircove price comes in at $169.40, a price point that is rather competitive for what you get. This, of course, depends on where you buy it and stock availability.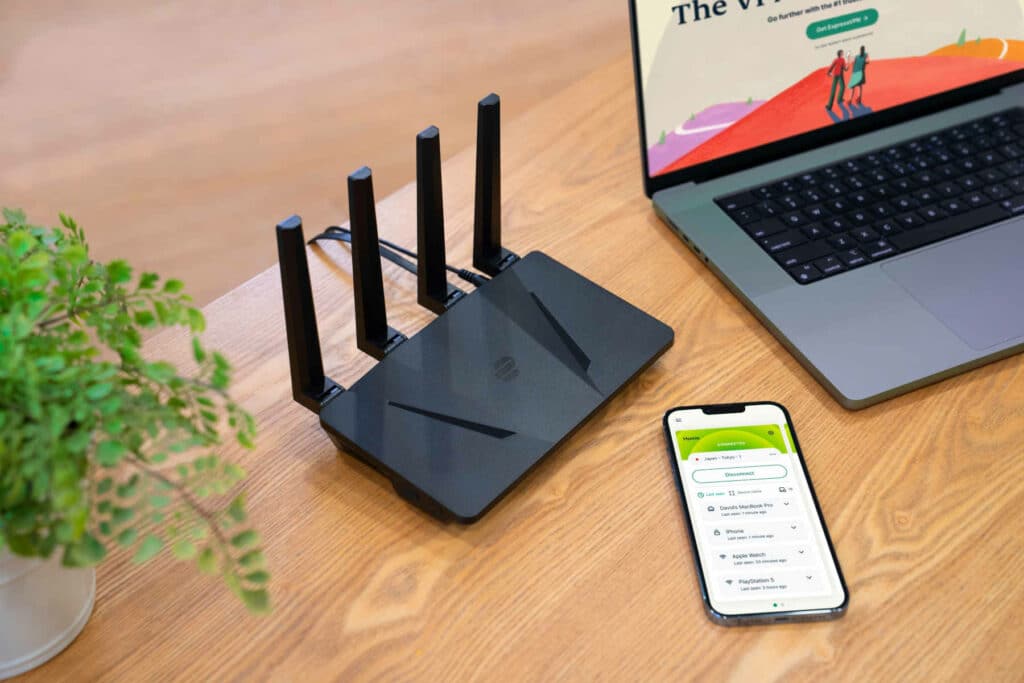 Why Use the ExpressVPN Aircove?
In a nutshell, the Aircove promises better performance, experience, and pricing. With decades of experience under their belt, the ExpressVPN team may very well deliver on all three promises, based on the following qualities.
Easy Setup
As previously mentioned, setting up the Aircove is easy. You can protect every device in your home within minutes. You don't have to install anything—everything comes ready to go.
Device Groups
Having all your devices connected via a single VPN device doesn't mean everything gets routed via the same server. With the Device Groups feature, you can drag and drop devices into different VPN locations. For example, you can connect your TV via a U.K location to watch Netflix shows from that region and your laptop via the US to connect to DAZN. Better still, you can drop your mobile device into the No VPN group to access local mobile banking apps.
Virtually Unlimited Users
Forget running up the stairs to disconnect your laptop just to create "space" for your nephew to connect to the Wi-Fi too. Using the Aircove, you can connect over a hundred different devices without compromising internet speed. You won't have to remember and share the password with visitors too. They simply need to scan a QR code, and they are in.
Cure53 Tested
Users don't have to take the ExpressVPN team's word regarding the Aircove's performance. The device was tested by cybersecurity firm Cure53, which conducted a source code audit and penetration test. Cure 53 got a positive impression, confirming that security was a high priority during the Aircove device development.
Uncompromised Speeds
The ExpressVPN Aircove uses Wi-Fi 6, meaning you'll enjoy faster and more reliable internet connectivity. Users can get speeds of up to 600 Mbps for 2.4GHz and 1,200 Mbps for 5GHz. The Aircove covered homes up to 1,600 square feet, and connection speeds will depend on how far away it is from the router, the presence of any obstructions, ISP, and more.
Reasonable Pricing
One in three ExpressVPN router app users were already buying VPN-compatible routers for above $250. The Aircove provides a better service for a fraction of the cost. The standard price is $189.90, but you can get it for $169 for a limited time. While it's not specifically mentioned in the press release, it might go without saying that the ExpressVPN Aircove would likely work best with ExpressVPN as your primary VPN. In such a case, users should start signing up today!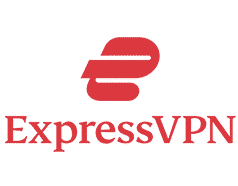 Get 49% off now
Conclusion
The ExpressVPN Aircove is the pioneering router coming with in-built VPN protection. No need to install anything—you can connect all your devices and get instant protection. ExpressVPN already had the software side of things covered, so their move into hardware development means you'll get better software-hardware compatibility than pretty much anything else out there. Users can access speeds of up to 1,200 Mbps for 5GHz and group devices into different locations. The pricing seems just right too, so what's not to like?