Does Surfshark Work with Amazon Prime in 2023?
Amazon Prime is a video streaming service owned by Amazon. The service offers unlimited streaming of TV episodes and movies worldwide for paid or free-trial members in the United States and Puerto Rico. Amazon Prime Video is available to users who have signed up for Amazon Prime. Non-members can also access the service by signing up for the Prime Video service.
Why Do You Need a VPN for Amazon Prime?
Like many other streaming services, Amazon Prime has placed geo-restrictions on its content. To gain access to the full range of shows on Amazon Prime while outside the United States, you will need to use a VPN as the complete library has been restricted to America. A VPN helps to bypass internet restrictions and access geo-blocked services. For people located in China, Syria, Iran, and North Korea, Amazon Prime is entirely inaccessible as the service is blocked in these countries.
To access Amazon Prime from the countries we have mentioned, you will need a strong VPN as Amazon uses strict geo-blocking firewalls to stop individuals from some regions from accessing the service. For users based in the United States, using a VPN for Amazon Prime can still be beneficial. It keeps you protected from hackers while keeping your activities private from government agencies and your internet service provider.
Does Surfshark Work with Amazon Prime?
Surfshark is one of the few VPNs compatible with Amazon Prime. Amazon Prime has been blocking VPN services and many IP addresses from accessing the service for a while now. If you have tried to use a VPN that is not strong enough to bypass the restrictions, you are likely to encounter an error message like this:
"HTTP Proxy Not Supported. Your device's internet connection is using an HTTP proxy, which prevents playing your video. Please close or disable any proxy programs and try again. For further assistance, please contact Amazon Customer Service at www.amazon.com/videohelp and refer to error 1042."
Surfshark uses a strong encryption protocol alongside a GPS spoofing feature and DNS and IP leak protection, making it perfect for accessing popular streaming services like Amazon Prime. It is also compatible with many major devices and has apps for Windows, iOS, Android, macOS, Firestick, and Smart TVs. This means you can access Amazon Prime content on these devices using Surfshark.
Surfshark ticks the boxes required for accessing Amazon Prime with a VPN. It has numerous high-speed servers in the US, giving you different options to choose from. Surfshark also has reliable customer support to help you if you experience issues while trying to stream on Amazon Prime.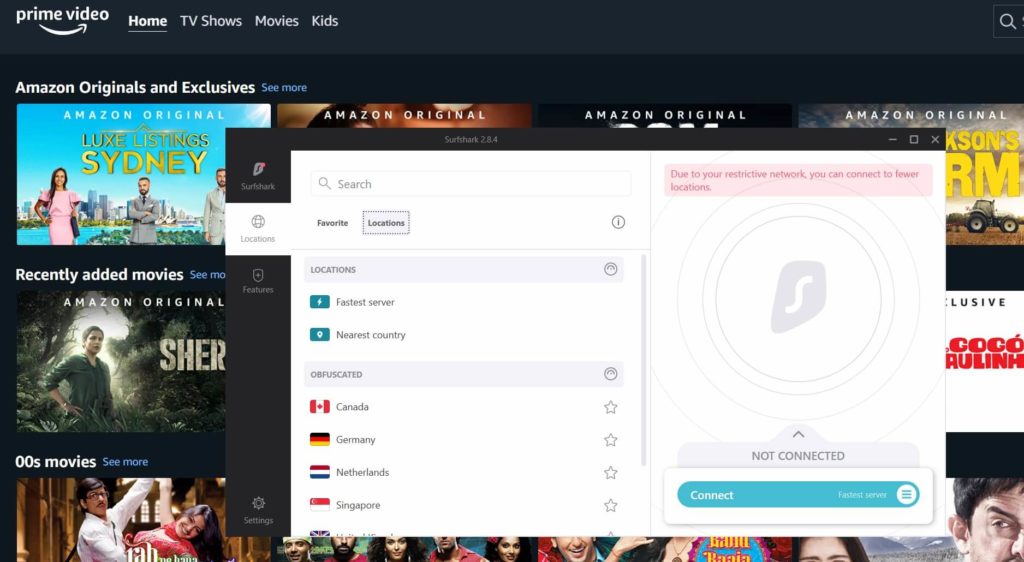 How to Set Up and Use Surfshark on Amazon Prime
In this section, we'll look at how to download and set up Surfshark for Amazon Prime. We'll also discuss how to set up an Amazon Prime account.
Ensure that you have the Surfshark app on your device. If you do not, you can download the app from their website. Before you download, register or sign-in with your email and password if you have an account.
Purchase a subscription plan. Surfshark has various subscription plans and a 7-day free trial period. On the top bar, click on the 'Apps' option and select your operating system to proceed.
After the download is successful, install and launch the app. You can then sign in with the details you supplied during registration to proceed. Accept the terms and conditions to complete the setup.
After the setup is complete, go to the list of servers and choose a server in the United States. You will need to do this to access the full content on Amazon Prime Video.
To set up Amazon Prime Video, follow the steps below:
Ensure you are connected to a US server on Surfshark. Also, check if you'll be able to stream content from Amazon Prime on your device. Fortunately, Amazon Prime works on many kinds of devices.
Visit the Amazon Prime Video official website. The service is free if you have an Amazon Prime subscription. If you have one, you can click on "Prime Member" and sign in with your details to proceed.
If you do not have an account, click on "Create your Amazon account," enter your name, email, and other required details. After you submit, you'll be required to enter your payment details. A 30-day free trial is available, and you won't be billed until the period is over.
Review the details you have supplied and click "Confirm" to complete the process. You can now access Amazon Prime on your device. Depending on your device, you can either download the Amazon Prime Video app or visit the website to stream content.
Why Use Surfshark for Amazon Prime?
Here are a few reasons Surfshark is ideal for Amazon Prime:
1. Security and Privacy Features: Surfshark offers excellent security and privacy features such as a kill switch, obfuscation, and a military-grade encryption protocol. The kill switch feature turns off the internet connection if the VPN connection drops suddenly. The obfuscation feature ensures your real IP address is totally hidden when streaming on Amazon Prime from a geo-blocked region. Surfshark uses the AES 256-bit protocol for encryption, which is unbreakable and guarantees maximum protection and privacy from cybercriminals.
2. Unlimited Number of Connections: Another reason you should use Surfshark for Amazon Prime is the support for unlimited connections. On Surfshark, you can use a single subscription on as many devices as you want. Also, there is no bandwidth cap when using the service. This means you can stream content on Amazon Prime freely without connection breaks or buffering.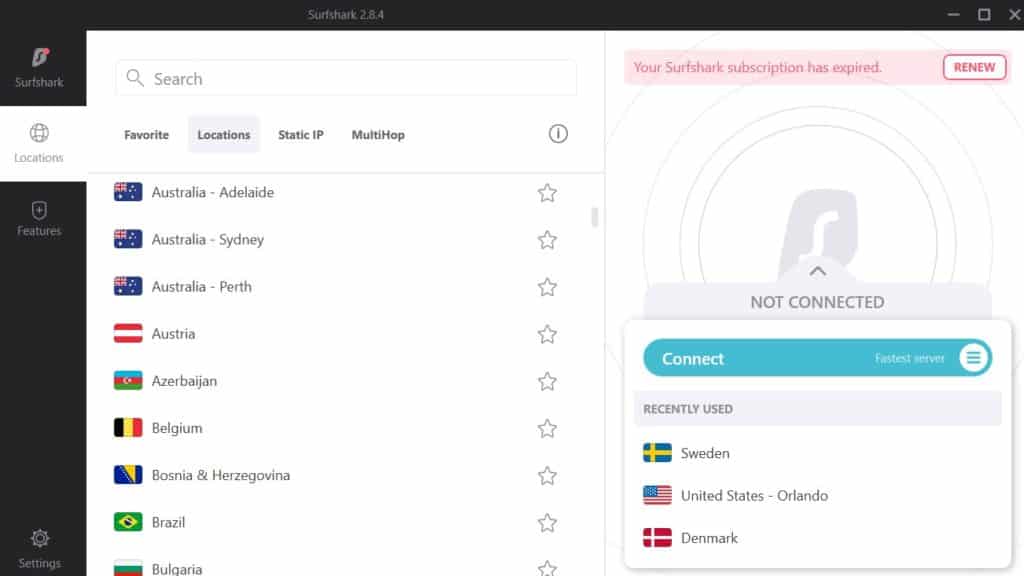 3. Access to blocked Content: Surfshark provides access to geo-restricted or blocked content. It is one of the few VPNs available that can provide full access to Amazon Prime Video content. With numerous servers in the United States, you can easily access the service.
Conclusion
Not many VPNs can bypass the geo-restrictions on Amazon Prime. However, Surfshark is a reliable VPN service that provides access to this service while maintaining excellent security and privacy. Once you follow the recommended steps, you are sure to have a smooth experience streaming on Amazon Prime.