Does ExpressVPN Work With DAZN?
ExpressVPN is a well-known VPN in the online security world. It's been rated severally as one of the top VPNs in the world. It has all sorts of features, however, is it a good VPN for DAZN?
DAZN is a media streaming subscription service that's solely focused on sports and sports analysis. DAZN is an excellent way for sports fans to watch games from wherever they are. However, this service is only available to about nine countries. Fans outside these areas need a VPN to access it. That's why we're going to look at whether ExpressVPN is a good fit.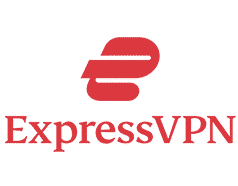 Get 49% off now
What does a good VPN for DAZN need?
A VPN is a VPN, but not all of them are equal. Especially when unblocking and streaming geo-blocked content, there are some criteria that need to be met. These criteria are factors you should look out for when choosing a VPN for DAZN.
Servers: A good VPN for DAZN should have servers in at least some of the countries where DAZN is available.
Speed: A DAZN VPN should be as fast as possible to optimize streaming and ensure that there is no lagging or buffering.
Unblocking capabilities: VPNs should be able to unblock geo-restricted content as quickly as possible and on as many servers as possible.
Privacy and security: There should be measures in place for adequate online protection.
Devices: Users should be able to watch DAZN on a variety of devices.
Customer service: Customer service should be knowledgeable and easy to contact.
Extra features: Are there any other notable special features?
These seven points should be carefully checked when choosing a VPN to stream DAZN with. Now, let's take a look at how ExpressVPN matches up to these criteria.
Servers: ExpressVPN has over 3000 servers in 94 countries, and luckily, for DAZN viewers, all nine countries are included in their server list. With such a massive number of servers and optimized streaming capabilities, ExpressVPN users will never have to struggle to find servers to stream DAZN with.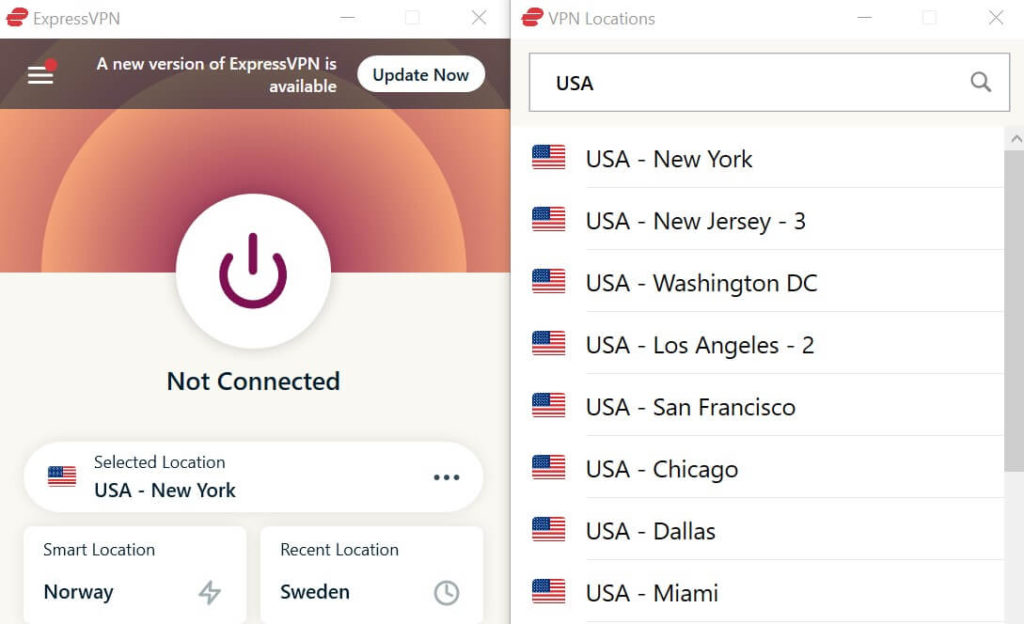 Speed: With this huge amount of servers, ExpressVPN also leads to network speed. A large amount of servers means there won't be too much traffic or stress on one server that may cause it to lag. Using a VPN slows down web traffic because your data has to be routed through a server in another country before heading to its destination. ExpressVPN cuts that time to a fraction of its length and allows you the speed you need to stream DAZN without buffering.
Unblocking capabilities: ExpressVPN is also an expert at unblocking. This VPN is particularly excellent at unblocking DAZN, no matter where you are. ExpressVPN has its tools and technology in place so that as soon as you want access to a geo-blocked or geo-restricted website or app, it'll work. Of course, the companies that set these restrictions are also continually working to improve their blocking software. However, ExpressVPN remains a premium VPN by constantly working to give it's users their favorite shows and content.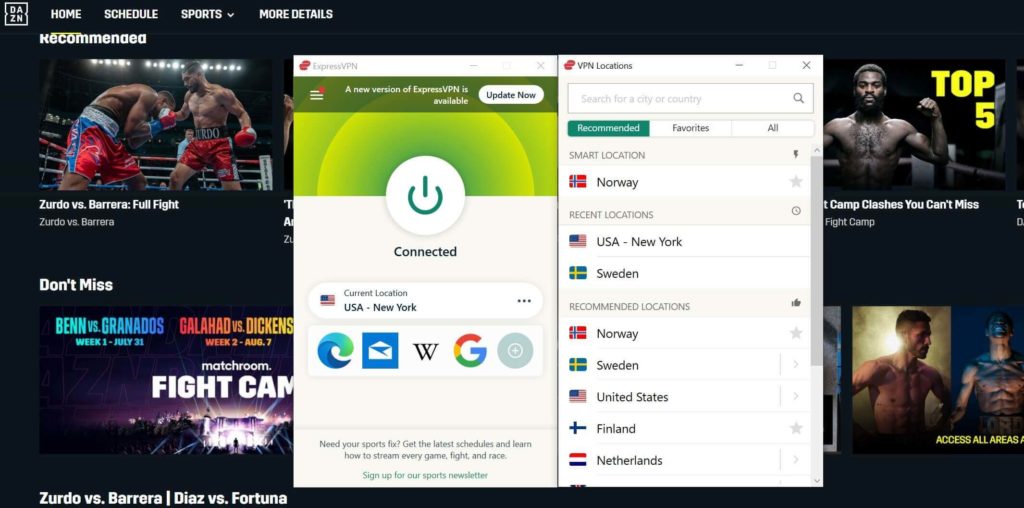 Privacy and security: ExpressVPN also has measures in place for privacy and security. These measures were put in place to ensure safety but also for ease of use for users. There's a network kill switch for disabling your internet connection when the connection to the VPN is unstable. On the off chance that your information got into the hands of a hacker, it'll be inaccessible because of ExpressVPN's military-grade encryption technology. ExpressVPN also has its own private and encrypted DNS on every server, so even the route your data passes through is secure.
Devices: DAZN can be watched on almost any device; Androids, iPhones, PCs, SMART TVs, and game consoles. If it's got a screen and a working viewing system, you can probably stream DAZN on it. The same goes for ExpressVPN. You can install and run apps for nearly every type of device, including one for browser extensions like Chrome and Firefox. You can connect up to five devices simultaneously with one account so that you can make the game a family affair or stream other things.
Customer service: Customer service is vital, especially for new ExpressVPN users. An ideal customer service representative is friendly and knowledgeable about the company's products. ExpressVPN has a live chat that's always available, and responses to questions there are quick. The email option is slower, but you might get more detailed information. Or you could simply search the FAQs for a solution.
Extra features: ExpressVPN has a few extra features to provide even more security and easy use for their clients. The TrustedServer technology ensures your data isn't saved by a hard drive but on a RAM instead. This means that your data will be deleted as soon as you end your browsing session and stop using ExpressVPN. The split tunneling feature allows you to choose what data you'd like taken through ExpressVPN's servers and what information you want to send through your normal ISP. Pretty convenient, if we do say so ourselves.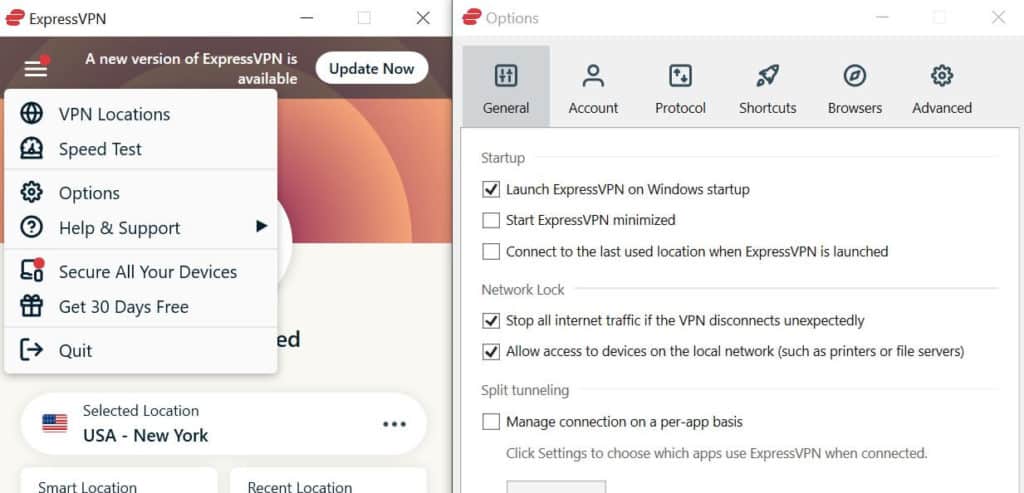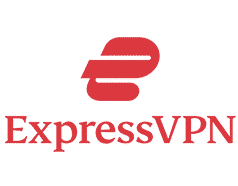 Get 49% off now
Can you use a free VPN to stream DAZN?
While it's unlikely that you'll find a free VPN capable of streaming DAZN, it's not outside the realm of possibility. However, a free VPN that can stream will likely suffer from low-quality buffer videos. And free VPNs won't have the facilities it takes to constantly update their software to bypass the ever-strengthening geo-restrictions.
In fact, a free VPN that can actually stream DAZN should be suspicious. Having to bypass evolving geo-restrictions is expensive. The paid VPNs get the money from their clients' fees, but paid VPNs don't have that much income coming in. A free VPN might get these funds to
By selling information to third parties or other unsavory means. Compared to this, a paid VPN like ExpressVPN is much more trustworthy and reliable.
Frequently Asked Questions on Whether ExpressVPN Works With DAZN
Can I watch DAZN for free with ExpressVPN?
No, you cannot stream sports for free on DAZN because of ExpressVPN. Instead, you'll have to sign up to DAZN by creating an account. ExpressVPN merely improves your DAZN streaming by helping you escape ISP throttling. Then, you'd need a DAZN subscription for streaming sports. However, in some regions, DAZN offers a 30-day free trial. After this, you'll have to buy a subscription such as a monthly or annual plan.
Will ExpressVPN slow down my DAZN streaming?
No, ExpressVPN will not make your DAZN streaming slower. VPNs can slow down any internet activity. There are many reasons for this slow connection, including server distance. However, ExpressVPN optimizes its servers for maximum speeds. Therefore, you shouldn't struggle with slow speeds or buffering while using DAZN with ExpressVPN.
What if my device isn't compatible with ExpressVPN?
ExpressVPN has native apps for several devices and operating systems. However, there are still some gadgets that aren't compatible with VPN apps. Fortunately, you can still use ExpressVPN on such devices. All you need to do is install ExpressVPN on a router and connect your device. Now, the router's encrypted internet connection would allow you to unblock content on DAZN and stream securely.
Is it legal to use DAZN with ExpressVPN?
Yes, unblocking DAZN with ExpressVPN is perfectly legal. That's because most countries allow netizens to use VPNs freely. So, using DAZN with ExpressVPN wouldn't land you in legal trouble. However, if you use ExpressVPN for any illegal activities, you may have issues with law enforcement. Such unlawful actions would include online financial crimes.
How many devices can I watch DAZN on with ExpressVPN
DAZN allows you to stream sports on six different devices. All you need is a single DAZN account. Furthermore, the compatible gadgets include several device types and operating systems. ExpressVPN also allows five simultaneous connections on a single subscription. So, you can protect five of the devices you use for DAZN with one ExpressVPN subscription.
In conclusion
Any sports fan worth his jersey wants to watch his favorite game, play reruns of it, analyze the action and relive various past matches. But you need the help of a top tier VPN like ExpressVPN if you really want to experience DAZN outside the designated countries.