Best VPNs for Linux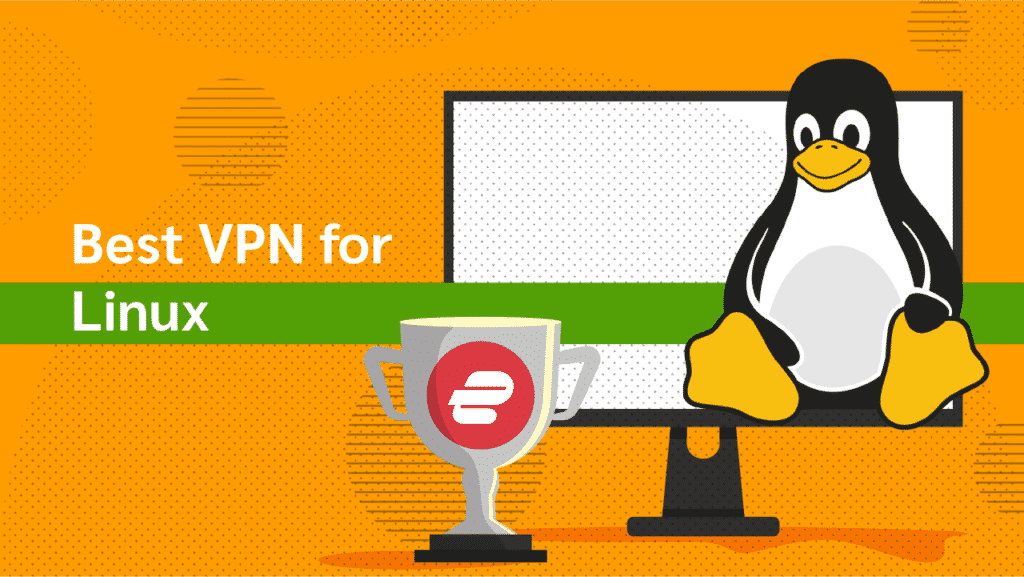 Linux is a part of the Unix-like operating system. Devices like Smart refrigerators, Smartwatches, Chromebook, RokuTV, and most commonly, Smart TVs use the Linux operating system. These devices have different functions. For the most common Linux-based gadget, the Smart TV, functionalities range from browsing to streaming audio and video content. Regional licenses might censor the majority of content available for platforms on Smart TVs. To access this content freely, you can use a Virtual Private Network (VPN).
A VPN basically unlocks the web for you. It bypasses geo-restrictions and further secures your connection, shielding you from spooky eyes. VPNs come with various feature tweaks, and the "best" VPN is relative to each user. This guide recommends 7 top VPNs to get you through any activity on your Linux-based device.
Top Recommended VPNs for Linux
Premium VPN providers put in efforts to make their products stand out. The drive to have the best product makes the competition so stiff and, as a result, gives users the headache of picking one VPN out of the available hundreds.
The following review eases your decision-making by curating a detailed seven-VPN shortlist.
ExpressVPN

Features
Number of servers: More than 3,000
Speeds: Unlimited
Server locations: 160 in 94 countries
Maximum devices supported: 5
24 live chat: Yes
30 day money back guarantee: Yes
Pros/Cons
Fastest VPN out there
Strict no logs policy
256-bit AES encryption
This VPN is on top of the pile for a lot of reasons. It's almost impossible to find a downside to using ExpressVPN. To start with, this VPN service has software applications for devices that use the Linux operating system. It also has 3,000+ super-fast and reliable servers spread across 94 world countries.
With ExpressVPN, censored content unblocks with just a single click. So there's virtually no restriction on getting access to your desired platform on your Linux-based device. Also, you get unlimited bandwidth of data to access these content.
Adding sauce to content unblocking, ExpressVPN gives you an ultimately anonymous status online. The company does not keep logs of your online activity. In that light, they're unable to share it with a third party. This VPN service also has a Network Lock (kill switch) that ensures your data is being transmitted only when you're connected to the VPN.
Furthermore, security isn't better anywhere else. ExpressVPN uses the "almighty" Advanced Encryption Standard with 256-bit keys (AES-256). Talking about advanced standards, this VPN has a Split Tunneling feature. The feature connects some apps via the virtual network, leaving others to transmit directly. You're in total control of that feature.
Pros:

Fastest VPN out there;

Strict no logs policy;

256-bit AES encryption;

Lowest price: $6.67
NordVPN

Features
Cryptocurrency accepted? Yes
Simultaneous connections: 6
Dedicated IP-addresses? Yes
Servers: 5342 in 58 countries
Pros/Cons
Lots of pricing options
Netflix support kept up to date
256-bit AES encryption
NordVPN comes very close to ExpressVPN. This VPN is compatible with devices that operate on Linux. It has one of the very best server databases— good server to location ratio, fast and stable servers that mask IP, and efficiently unblocks geo-restrictions. You get the luxury of over 5,400 servers in 59 world countries. Connection to any of the servers masks your IP address and gives you access to censored content.
NordVPN delivers an ultimately smooth and clear streaming experience without network throttling. The VPN has a dedicated SmartPlay feature aimed at personalizing your streaming experience to the max. The feature doesn't need activation as it's integrated into the functionalities of the VPN.
Hiding your IP address doesn't only help you bypass censor on content; you also get an extra touch of privacy in the form of a disguise. Masking your IP with a virtual one makes your real IP hidden from hackers, so your identity is secure. NordVPN operates a no-log policy and, in turn, keeps your private data private. The VPN also has a kill switch like in ExpressVPN.
This VPN service uses military-grade encryption as a foundation of its security base. You get DoubleVPN encryption as toppings. That feature tunnels your traffic via two different servers. NordVPN has a Domain Name System (DNS) leak protection and a CyberSec feature. The essence of the CyberSec feature is to block ads and malware, giving you an uninterrupted streaming supply.
Pros:

Lots of pricing options;

Netflix support kept up to date;

256-bit AES encryption;

Lowest price: $3.71
Surfshark

Features
Free trial? Yes
Simultaneous connections: unlimited
Ad blocking? Yes
Servers: 1000+ in 61 countries
Pros/Cons
No footprints
Allows torrenting
256-bit AES encryption
Surfing the internet comes through on a platter with this VPN. Surfshark has 1,700+ servers in 63 countries, which makes it easy to bypass geo-restrictions. This VPN has a good reputation in making streaming platforms like Netflix, Amazon Prime Video, and Hulu available on the screen of your Linux-based device regardless of your location.
To prove how dedicated this VPN is to content unblocking, the company integrated a NoBorders feature, which means there's no limit to what content you can access on the web. Also, there's no restriction to the amount of bandwidth data allocated, so you can browse, stream, download, and upload without bother. The good news is, Surfshark is true to its words.
In addition to that, there's a virtual "shark" on standby, ready to devour any snoop and prevent intrusion into your privacy. One of the features of the shark is the AES 256-bit encryption model. The encryption detail secures your connection and makes it uncrackable to hackers. Edging the DoubleVPN feature on NordVPN, Surfshark routes your traffic through multiple VPN with its MultiHop feature. Also, it has a Whitelister that functions in similarity with the Split Tunneling feature on ExpressVPN.
Surfshark stands firmly by its no-log policy and uses a kill switch. It has a Camouflage Mode that deflects targeted scrutiny from your Internet Service Provider. It is not unusual for ISPs to snoop on you and sell you out, especially to the government. This VPN service has Private DNS leak protection and uses the best-in-class protocols. To cap it all, you also get a CleanWeb feature similar to NordVPN's CyberSec.
Pros:

No footprints;

Allows torrenting;

256-bit AES encryption;

Lowest price: €2.49
HideMyAss

Features
Speeds: 20 Gbps
Money-back guarantee: Yes
Activity logs? No
Locations: 190+ countries
Pros/Cons
Best server database on the market
No-logs and kill switch policy
Multiple device protection
Expensive short term plan
No, it's not as vulgar as it seems. This VPN provider has a donkey for a mascot, which explains the name— HideMyAss (HMA). HMA has 1,100+ servers in over 190 countries. In comparison to other providers, it has fewer number of servers, but on the bright side, it covers way more countries.
This VPN can unblock geo-restricted content since it masks your address with a virtual one allowed to stream the content. HMA typically puts your Linux device at the freedom of having zero restrictions.
As a premium VPN company, HMA maintains its no-log policy and goes an extra length to audit the effectiveness of that regularly. So, in essence, your online activity and timestamp remain your personal property. It uses a kill switch and multiple leak protections— against IPv4, IPv6, and DNS leaks. To crown your privacy, HMA shuffles your IP address. It changes it in a timely fashion that you are in control of.
This VPN service shields your data and connection with military-grade encryption. In addition to that, HMA implements the OpenVPN protocol to cement a secure network further. HMA also has a Split Tunneling feature. Distributed Denial of Service (DDoS) attacks are warded off when you're in connection with any HMA server. Finally, you can synchronize your phone's network with the VPN such that when you switch your data on, you automatically get connected to the VPN.
Pros:

Best server database on the market;

No-logs and kill switch policy;

Multiple device protection;

Lowest price: $2.99
ProtonVPN

Features
P2P support? Yes
30-day money-back guarantee? Yes
Country of origin? Switzerland
Servers: 600+ in over 40 countries
Simultaneous devices: 5
Pros/Cons
Professional support
Modern interface and apps
AES-256 encryption
The P in ProtonVPN technically stands for Privacy. The headquarters of this VPN is in Switzerland. Unlike the other VPNs, we pay immense attention to ProtonVPN's headquarters because Switzerland, as a country, has one of the best privacy rules in the world. It also gets bold with content unblocking. In Switzerland, no organization is under obligation to keep records of private data. That regulation directly agrees with ProtonVPN's no-log policy.
ProtonVPN has 1,057 speedy servers in over 50 countries, including Switzerland, of course. The availability of geo-blocked content will make you spend more time with your Linux-based Smart TV.
The VPN will mask your IP address and keep your connection anonymous as long as you stay connected. It also has a kill switch mechanism that blocks your data from being transmitted the moment you lose connection with the VPN server. ProtonVPN complements the kill switch with the Always-On feature. This feature restores your connection with the VPN almost immediately.
When it comes to advanced settings, ProtonVPN provides top-notch security in AES with 256-bit keys. Also, the VPN uses protocol standards that have been tested and confirmed to be entirely secure. This VPN service even has leak protection to make sure none of your traffic data leaks out of the encryption tunnel.
Finally, ProtonVPN operates a Perfect Forward Secrecy standard. This means that if the key used to encrypt your data fails in the future, your already transmitted data will remain secure. That is the peak of security.
Pros:

Professional support;

Modern interface and apps;

AES-256 encryption;

Lowest price: €4
UltraVPN

Features
One click connect? Yes
Servers: 100+ superfast servers
Bandwidth cap? No
Platforms: Mac, Windows, iOS, Android
Pros/Cons
Firewall
Apps for all devices
256-bit AES encryption
Not as many servers as others
UltraVPN makes a bold claim on their official website about being able to unlock the whole internet. With 1,000+ servers in over 100 countries, one would think they could be true to their words. UltraVPN gives you unlimited access in terms of content and bandwidth data. You can watch videos online and even enjoy live streams with buffering with this ultra-cool VPN.
This VPN provider hides your real IP address behind the guise of a virtual address. The virtual address is used by other people connected to the same server you're connected to, and that's the point— no hacker can specifically fish out your traffic data. That way, you're on the highway to safety.
UltraVPN prioritizes your privacy. Like the top VPN that it is, UltraVPN does not engage in targeted or random tracking of users' traffic data. Hence, they keep to a no-log policy.
You further get the all-star military-grade encryption to code your traffic data so that no hacker can decrypt it. Also, UltraVPN has a Secure Firewall functionality that virtually surrounds your transmitted data in a bid to increase the level of security and privacy. This is regardless of what you're browsing or streaming on your Linux-PC.
Pros:

Firewall;

Apps for all devices;

256-bit AES encryption;

Lowest price: €2.99
CyberGhost

Features
Connected devices at once: 7
Automatic kill switch? Yes
One click connect: Yes
Servers: 5900 worldwide
Pros/Cons
No logs policy
24/7 live chat
Apps for mobile devices and routers
Just as it sounds, CyberGhost makes you invisible online. This VPN is often referred to as the "beginner's VPN." It carries that tag because of its user interface— it is elementary to use. CyberGhost has over 7,000 servers in 90+ countries. That's a standout database and a perfect blend between having numerous servers and covering great server locations.
The servers are rapid, rock-steady, and efficient in unblocking geo-restricted platforms like Netflix, Deezer, BBC iPlayer, and other platforms available on your Linux Smart TV.
As regards privacy, CyberGhost masks your IP address by allocating you a new address. The new address is not peculiar to you, so your traffic data cannot implicate you in any means. Also, this VPN officially has a no-log policy to ensure that they do not keep a log of users' private data. It's also equipped with a kill switch and leak prevention features.
CyberGhost encrypts its servers with the AES 256-bit encryption and then transmits it via a secure tunnel. This "beginner's VPN" integrates the security of OpenVPN and the high speed of IKEv2 protocols in their trademark WireGuard protocol. This is all in a bid to give you the best secure connection possible.
Pros:

No logs policy;

24/7 live chat;

Apps for mobile devices and routers;

Lowest price: €2
What to Consider Before Choosing a VPN for Linux
This section highlights the factors we put into consideration to come up with such a comprehensive shortlist. To pick your choice VPN, simply arrange these factors in the hierarchy of your need and preference.
Compatibility with Linux: Not all VPNs have a software app for Linux-based devices. On the brighter side, all the VPNs reviewed in this guide support the Linux operating system.
Server Locations: It is essential to know if a VPN has servers in your region of interest before investing in it. Else, the purpose of subscribing to the VPN's plans will all but be defeated.
Unblocking Ability and Streaming Efficiency: You can trust all the seven (7) VPNs in this review to bypass geo-restrictions and help you stream in fantastic quality.
Advanced features: Additions like NoBorders, Speed test, DoubleVPN, MultiHop, Whitelister, Split-Tunneling, CleanWeb, CyberSec, Secure Firewall, amongst others, might be the cutting edge in helping you pick a VPN.
Conclusion
We've spotted out the details of seven (7) top Linux-compatible VPNs. The ultimate choice is yours. Pick your VPN and set it up. Setting up a VPN for use is straightforward and not as difficult as it might seem. With simple click navigations, you'll find yourself snacking while watching censored content on your Linux Smart TV.