Best VPNs for Bilibili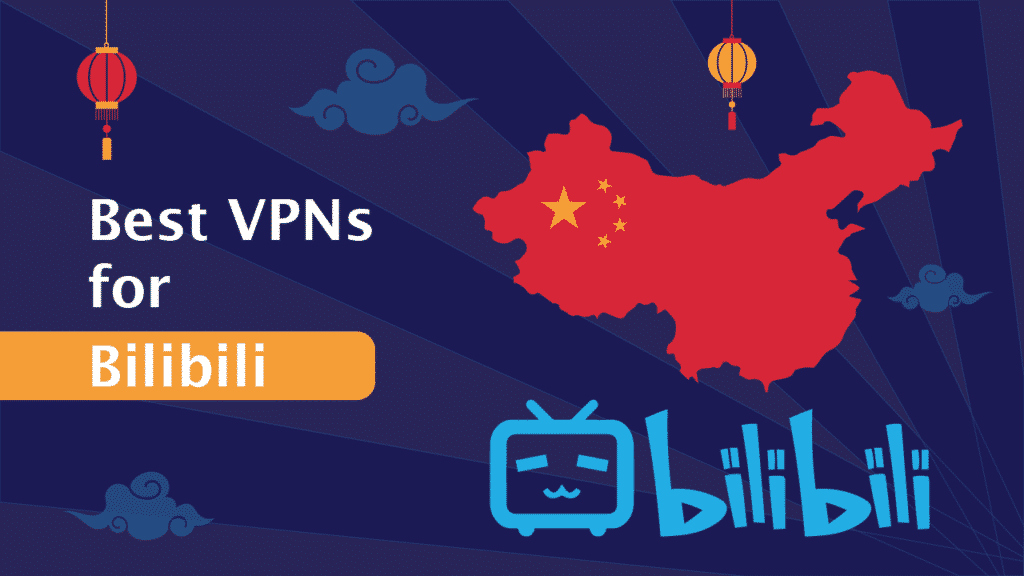 Initially rolled out in 2009 as a video sharing platform in China, Bilibili is now actively used by several million people in China as a source of entertainment. 
Most of its content is centered around anime, comics, and games (ACG). Unfortunately, despite all these entertaining contents, Bilibili is limited to China. If you are not within the country, you are automatically not allowed to view it. Fortunately, VPNs allow you to overcome this limitation.
What are the best VPNs for using Bilibili overseas?
Regularly, China cut down on the number of Virtual Private Networks that can work in the country. However, there are still a few VPN service providers that can bull their way through China's restrictions and give you access to Bilibili. Here are the top five Virtual Private Networks that can help you to use Bilibili outside China:
ExpressVPN

Features
Number of servers: More than 3,000
Speeds: Unlimited
Server locations: 160 in 94 countries
Maximum devices supported: 5
24 live chat: Yes
30 day money back guarantee: Yes
Pros/Cons
Fastest VPN out there
Strict no logs policy
256-bit AES encryption
This VPN came into existence at about the same time Bilibili was established. Since then, it has continued to come at the top of virtually every list of virtual private networks for almost all purposes. With its excellent geo-restriction bypassing qualities alongside its unparalleled speed, among other things, it is one of the few virtual private networks that can help you view your precious content on Bilibili.
In more than one hundred and sixty locations across ninety-four different countries in the world, ExpressVPN has upwards of 3000 servers. This wide dispersion, in no way, excludes China as a couple of these servers are located in Hong Kong. So, if you're outside the country, you need to connect to its servers within the desired location. Afterward, you can start consuming as much Bilibili content as your eyes allow you to.
ExpressVPN cuts through different platforms from Android to iOS and virtually everything else in between. Regardless of the platform you choose to use, however, it allows you to connect up to five different devices per subscription. So, if you and a few friends want to view content on Bilibili, you can share your connection with them and view your content on multiple screens.
Now, this freedom to share your connection does not compromise your security. ExpressVPN uses a state-of-the-art encryption system with 256-bit keys to ensure that nobody can snoop through your precious info. It is worthy of note that this kind of encryption is used by military agencies, banks, and even government bodies to protect their information.
ExpressVPN subscription comes at varying costs, depending on how long you want to use it for. Thankfully, you get discounts as you progress up the ladder in terms of the time of commitment. Even better is the fact that they offer you the opportunity to try out their services for a maximum of thirty days completely free. To make things clear, you will have to pay. However, if you are not satisfied with what you get after thirty days, you can ask for and receive a full refund.
Pros:

Fastest VPN out there;

Strict no logs policy;

256-bit AES encryption;

Lowest price: $6.67
NordVPN

Features
Cryptocurrency accepted? Yes
Simultaneous connections: 6
Dedicated IP-addresses? Yes
Servers: 5342 in 58 countries
Pros/Cons
Lots of pricing options
Netflix support kept up to date
256-bit AES encryption
Number two on our list is NordVPN. This Virtual Private Network has its headquarters in the beautiful country of Panama. This is a very good thing because, unlike some others, Panama does not have any data retention laws. This means that while you're connected to Bilibili, you can be pretty sure that your security is under little to no threat at all.
Even though the network is located in Panama, its reach extends far and wide. So much so that it has over 5640 servers across fifty-eight countries in the world today. Out of those 5640+ servers, about seventy of them can be found in Hong Kong. Connect and begin consuming as much as you want on Bilibili.
As regards security, apart from being in a country with no data retention laws, they also employ the same high-class encryption system as ExpressVPN. Additionally, they have a feature known as obfuscated servers. These servers help you route your connection such that people cannot easily detect that you're using a Virtual Private Network.
With one account on NordVPN, you have the opportunity to connect to Bilibili on six different devices. More screens, more fun. To get an account with them, there are varying subscription plans, some of which cover periods of up to three years. Regardless of which one you choose, though, you get to test it out for thirty days. Their money-back guarantee ensures that you don't have to deal with them if you're not satisfied by giving you a refund if you ask within the first thirty days.
Pros:

Lots of pricing options;

Netflix support kept up to date;

256-bit AES encryption;

Lowest price: $3.71
Surfshark

Features
Free trial? Yes
Simultaneous connections: unlimited
Ad blocking? Yes
Servers: 1000+ in 61 countries
Pros/Cons
No footprints
Allows torrenting
256-bit AES encryption
When it comes to doing their job, SurfShark excels at it. They are relatively new in the industry but have been able to build a name for themselves in such a short period. This is just one of the reasons they are perfect for you if you want to use Bilibili outside China.
In over sixty-one countries on earth, including China, you can find upwards of 1040 SurfShark servers strategically placed. While the number might not be as large as those mentioned above, the quality of service is topnotch.
This Virtual Private Network is packed full of features to make your experience as a customer worthwhile. To protect you properly on the internet, apart from using military-grade encryption systems, SurfShark has a feature known as CleanWeb.
One of the most annoying things in the world regardless of the country you live in is unwanted adverts. Those little images, texts, and videos that pop up on your screen when you're trying to complete the simplest tasks online can be pretty annoying. Recognizing this, SurfShark helps you to block them and prevent them from bothering you. Out of sight, out of mind. That is, while using Bilibili with SurfShark, you can rest assured that you won't be getting any interruptions.
Additionally, among the others they have is the Whitelister feature. It lets you choose which applications on your device you want to tunnel. An easy way to put this is that your Instagram can be in Germany, your actual location, while Bilibili is in China. Sleek right?
Amid all these cool perks, they still allow you to connect as many devices as you want on one subscription. Alongside this is their thirty-day money-back guarantee, which comes despite the free trial available on iOS and Android.
Pros:

No footprints;

Allows torrenting;

256-bit AES encryption;

Lowest price: €2.49
PureVPN

Features
24/7 support? Yes
Simultaneous logins: 5
Dedicated IP-addresses? Yes
Servers: over 2000
Pros/Cons
Port forwarding
Servers located all over the world
256-bit AES encryption
With an establishment date as far back as 2007 and a reputation for quality, PureVPN is easily a veteran in the internet privacy industry. It is number four on our list, and you can be pretty sure that it will give you the value for your money as well as access to Bilibili.
It has more than two thousand servers in about 180 different locations, which span 140 countries in the world today. This makes for one of the largest dispersions of servers in the internet privacy industry. Among all these servers, there are twelve located in China. Six of which are in Beijing and Shanghai each. As such, you can easily subscribe to this VPN, knowing that you have options if you need to choose where to connect from.
PureVPN would not feature on our list if it did not have the security capabilities to keep you safe on the internet. It has thousands of IP addresses waiting to be assigned to you should you need to change your IP for Bilibili. Apart from that, there is the encryption system, too which is top-of-the-line in offering protection services.
With a money-back guarantee that spans thirty days, it's evident that this Virtual Private Network puts customers first.
Pros:

Port forwarding;

Servers located all over the world;

256-bit AES encryption;

Lowest price: $3.33
UltraVPN

Features
One click connect? Yes
Servers: 100+ superfast servers
Bandwidth cap? No
Platforms: Mac, Windows, iOS, Android
Pros/Cons
Firewall
Apps for all devices
256-bit AES encryption
Not as many servers as others
It might be coming in at the bottom of the list, but it is absolutely not a pushover in the internet privacy industry. UltraVPN is another one of the few Virtual Private Networks that can help you bypass the geo-restriction on Bilibili.
This VPN comes along with over one thousand servers spread out across more than a hundred countries in all the continents. With four of those servers located in Hong Kong, UltraVPN allows you to connect to China and use Bilibili with ease and peace of mind.
For the sake of your security, they ensure that your internet service provider cannot see or track your activities when you're online. Additionally, they have a reputation for speed and can easily help you stream content seamlessly on Bilibili without having to worry about those unnerving buffer signs. Alongside that, there is a zero-logs policy, which basically means that even they do not keep track of your browsing records. This is a particularly nice perk if you are one who cares a lot about your privacy.
To top it all off, you can cancel your account within the first thirty days of subscription and get a full refund. This, however, is only beside the fact that you get to connect up to five devices at once on a single subscription. When you consider all of these, it becomes quite evident that UltraVPN is, indeed, a great choice.
Pros:

Firewall;

Apps for all devices;

256-bit AES encryption;

Lowest price: €2.99
Frequently Asked Questions (FAQs)
After learning the various VPNs you can use to get access to the content on Bilibili, let's look into a few FAQs about Bilibili that'll definitely prove useful:
Q1: Why can't I use any VPN to access Bilibili outside China?
There is one complicated thing about using Virtual Private Networks for China and Chinese-based sites. China is rather strict with their internet space. They have several rules and regulations as well as actual practices that crackdown on how content and information go around online. This combination of rules and practices is what birthed the nomenclature, "the Great Firewall of China." This firewall proves itself a particularly formidable opponent when you want to get into Chinese-based sites that don't want you in, even with a VPN.

Only a few VPNs can scale China's Great Firewall, and we've listed the best ones above. Take advantage!
Q2: What makes Bilibili to stand out?
Bilibili has grown over the last eleven years at such a ridiculously high pace. While it does have a bit of a competition, it is still able to hold its ground as the number one source of entertainment in China with a relative amount of ease. Why? 

Most of its contents appeal to such a large crowd. Apart from being able to view interesting movies, anime or play games on the platform, it also has a few peculiar features. One that comes to mind easily is Danmu, which allows you to comment on a certain moment in a movie while watching it.
Q3: Why was Bilibili banned?
Sometime in 2018, Bilibili was taken off of virtually all Android app stores in China. This was because they were found to be showing indecent content on its platform.

However, shortly after the ban, the company came out to take responsibility for the content it was hosting on its platform. It then went ahead to hire a large team of 36,000 individuals. Their main job prescription is to monitor every piece of content that goes onto the site. They ensure that the site is clean and free of obscenities.
Q4: How can I watch a full post on Bilibili?
Like most other online service providers, Bilibili has a regular and premium membership. Each comes with its own perks. If you want to view full posts on the platform, you have to first upgrade to a premium membership plan. Subscription plans are as low as ¥98.
Q5: Is it possible to watch Japanese TV on Bilibili?
Even though Bilibili is China-based, it still gives you the opportunity to watch Japanese TV on its platform. All you have to do is head over to the search column. Afterward, type in and search for whichever Japanese TV show you want to watch. If it's available, it'll pop up, and you can simply start watching.
In conclusion 
Bypassing the Great Wall of China to access their sites is no easy task. Any Virtual Private Network that can do that can be considered pretty good at its job. By implication, all five VPNs on this list are really good choices. All you have to do now is pick one, and you can be on your way to enjoying great Chinese content on Bilibili. Check out the best VPNs for China in this article.