Best VPN for DAZN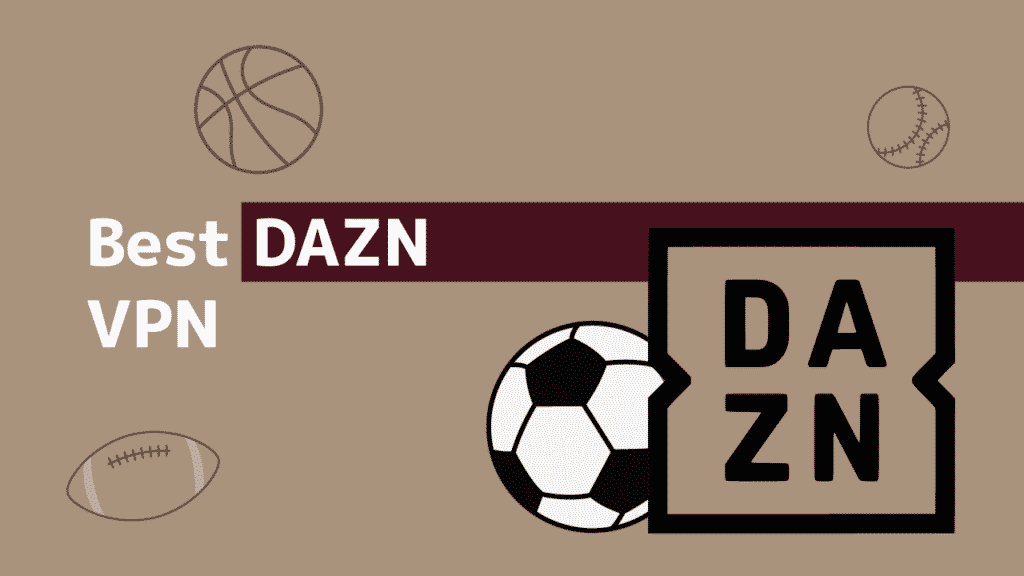 Virtual Private Networks (VPNs) are flooding the internet daily, and many of these services have exciting features and frequent updates. With data leaks and security threats to deal with, more people are turning to VPNs to balance the supply for them.
DAZN (pronounced as 'Da Zone') is a sports streaming service based in London. If you want to watch a sports channel on the site and an error message pops up on your device, chances are that the service is not available in your country. Currently, the platform is only accessible in Germany, Switzerland, Italy, the USA, Canada, Brazil, Japan, Austria, and Spain. So, what do you do when you reside in a country that isn't included in this list, say Australia? It's pretty simple — use a VPN.
DAZN has top-notch detection technologies, so we've created this list of the best VPN service providers you can use to access its content from anywhere in the world.
What are the best VPNs that are compatible with DAZN?
There are so many VPNs that making a choice among them can be a chore. Here's our compiled list of the five best VPNs to use to access DAZN's exclusive content.
ExpressVPN

Features
Number of servers: More than 3,000
Speeds: Unlimited
Server locations: 160 in 94 countries
Maximum devices supported: 5
24 live chat: Yes
30 day money back guarantee: Yes
Pros/Cons
Fastest VPN out there
Strict no logs policy
256-bit AES encryption
The first one on our list of the best DAZN VPNs to use is ExpressVPN because it has just the right features that make the sports site accessible from any country. In testing the VPN, we gathered that the platform has 169 server locations in 94 countries. Not many VPNs can match this number.
The speed of this VPN is rated 'lightning-fast' and just what you'll need to stream content on DAZN. Its performance is also consistent with no lags or buffering. ExpressVPN has unlimited bandwidth, so you'll never get cut right in the middle of an important match. You'll most likely not encounter any challenge, but if you do, there is round-the-clock support via email or live chat to put you through.
Another feature that makes ExpressVPN one of the best VPNs to watch DAZN abroad is its high-security level. It sports AES-256 encryption that no known physical hack can penetrate. With this, a DNS leak protection, and a kill switch, you can be assured privacy while you watch DAZNs channels.
ExpressVPN is available on Windows, macOS, iOS, Linux, and Android. It permits five devices linked to an account at a time, with browser extensions on Firefox, Chrome, and Safari that makes it easier to use. It is the complete package for watching DAZN content from anywhere in the world.
Pros:

Fastest VPN out there;

Strict no logs policy;

256-bit AES encryption;

Lowest price: $6.67
NordVPN

Features
Cryptocurrency accepted? Yes
Simultaneous connections: 6
Dedicated IP-addresses? Yes
Servers: 5342 in 58 countries
Pros/Cons
Lots of pricing options
Netflix support kept up to date
256-bit AES encryption
This Panama-based service is another VPN that is best for watching sports videos on DAZN. If you are looking for excellent VPN features at an affordable price, then you can do no wrong with NordVPN. It has made a name for itself as one of the best VPNs to use with DAZN.
Looking at the numbers reveals that this VPN is on a race of its own. With 5197 servers in 59 countries, it'll take some digging through many VPNs to find one that can match NordVPN. But that's not the only reason why it has made this list of the best VPNs to use on DAZN. Its security and privacy features are just as impressive as its numbers.
NordVPN uses military-grade encryption (AES-256). It also has a double VPN feature so that your traffic can pass through not one, but two servers before reaching the DAZN site. The service promises a strict no-log policy with an automatic kill-switch, Onion over VPN and DNS leak protection to keep your data and details safe. It is almost impossible for hackers to get past this level of security.
This VPN service also impresses with its speed. NordVPN bypasses ISP throttling and keeps you connected while watching DAZN sporting videos no matter the situation. And with the most recent security protocols used on the platform, using NordVPN to watch DAZN content is more enjoyable.
NordVPN has customer service agents that work all day long to solve any issue you may have when using the VPN to watch DAZN videos. It is definitely one we'll recommend.
Pros:

Lots of pricing options;

Netflix support kept up to date;

256-bit AES encryption;

Lowest price: $3.71
HideMyAss

Features
Speeds: 20 Gbps
Money-back guarantee: Yes
Activity logs? No
Locations: 190+ countries
Pros/Cons
Best server database on the market
No-logs and kill switch policy
Multiple device protection
Expensive short term plan
The controversial name that this VPN has reveals all but what it has to offer. It is one of the best VPNs that'll keep your history, logs, and data private, while you watch sports videos on DAZN. Coming in last on the list, it has many features that'll make watching content on DAZN a breeze.
Apart from its excellent privacy features that include a no-log policy, the next thing that'll attract anyone to this VPN is its availability in so many countries. With a presence in more than 190 countries, no other VPN comes close. HMA is also pretty fast, with each of its numerous servers having the ability to stream 4k videos.
With one subscription on HMA, you can connect five devices at once. There's also a 30-day money-back guarantee that is entirely risk-free.
Pros:

Best server database on the market;

No-logs and kill switch policy;

Multiple device protection;

Lowest price $2.99
ProtonVPN

Features
P2P support? Yes
30-day money-back guarantee? Yes
Country of origin? Switzerland
Servers: 600+ in over 40 countries
Simultaneous devices: 5
Pros/Cons
Professional support
Modern interface and apps
AES-256 encryption
If you are familiar with ProtonMail, then you'll know what to expect from ProtonVPN. With a user-friendly interface, strict privacy policies, and rock-solid security, ProtonVPN is one of the best VPNs to use to access DAZN from countries where it was previously not available.
This Swiss-based company is by far one of the most impressive when it comes to the number of simultaneously connected devices it allows. It allows up to ten at a time, a figure you'll not often see in other VPNs. It also supports multi-platforms, so that you can watch DAZN videos on any device. ProtonVPN has 568 servers in 43 countries, which is a decent number for any VPN service. All the servers are super-fast with an average speed of 665 Gbps.
Unlike many other VPNs on this list, ProtonVPN has a free version, subsidized by its paid users. On the service, you'll have a built-in DNS leak protection placed on AES-256 encryption. With these in place, you'll have all you need to enjoy the best matches on DAZN without having to worry about data leaks or compromise.
ProtonVPN has a 30-day money-back guarantee if you aren't satisfied with the service (which we doubt will ever be the case).
Pros:

Professional support;

Modern interface and apps;

AES-256 encryption;

Lowest price: €4
UltraVPN

Features
One click connect? Yes
Servers: 100+ superfast servers
Bandwidth cap? No
Platforms: Mac, Windows, iOS, Android
Pros/Cons
Firewall
Apps for all devices
256-bit AES encryption
Not as many servers as others
If you were to rank VPNs in order of the best to use to access DAZN, UltraVPN would definitely sit atop that list. It scores cool points in its speed, security, privacy, price, and even interface, which is why it has made this list.
On UltraVPN, you are assured of no instances of buffering or snooping. With locations in all seven continents and a decent amount in populous countries like the US, UltraVPN makes it very easy to access the best DAZN contents. Like the other VPNs on this list, you can use UltraVPN with Android, iOS, Mac, and Windows devices with ease.
UltraVPN uses 256-bit encryption to keep your history private while you browse through DAZN videos. The company has a secure firewall and zero-log policy to add to the military-grade encryption included in it.
This VPN service has no bandwidth caps, so you can enjoy the best DAZN videos for as long as you want.
Pros:

Firewall;

Apps for all devices;

256-bit AES encryption;

Lowest price: €2.99
How do I stream DAZN with a VPN?
When you know what to do, streaming DAZN with a VPN is straightforward. Here's how to go about it:
Sign up with any of the VPNs we have included in this list.
Download the VPN app or install the browser extension on your device.
Select the server you wish to use to stream DAZN sporting videos.
Sign in or sign up to DAZN
Enjoy the content the site has to offer.
Will a free VPN work with DAZN?
In practice, free VPNs will probably work with DAZN, and many of them will be able to unblock the site. However, there are several consequences to using them.
Many of them are slow: On a free VPN, there'll most likely be too many users and too few servers to connect quickly to DAZN. This will make streaming a herculean task, with frequent buffering and lags in the way.
Free VPNs are not safe to use: Nothing is entirely free, and it makes no sense for a VPN company to be in business without having some reward back. So, if you look closely, you'll see the catch. Many free VPNs make use of users' data or login details for malicious purposes, and there's no way you'll know.
Many free VPNs lack exciting features: You'll hardly see military-grade encryption on a free VPN. Neither should you expect to spot an automatic kill-switch or servers in a host of countries. Having these options makes browsing and streaming much easier.
What can you watch on DAZN?
As a streaming service dedicated primarily to sports, the content on this site tilt towards boxing more than any other sport. However, you can still watch content on;
Soccer competitions like the UEFA Champions League, UEFA Nations League, etc.
Basketball competitions like the NBA, NCAA.
Football
Ice Hockey
Motorsport
Tennis, etc.
Factors that affect a VPN's speed
Server overload: An overloaded server is a top reason why a VPN's speed drops drastically. When too many people connect to the same server at the same time, the chance that the performance of the server will be affected is very high. This problem is prevalent in free VPNs more than their paid counterparts.

The way to resolve this is to have several servers at your disposal so that you can switch to another quickly.
Internet connection interference: Using regular internet connections can hinder the performance of your VPN. For example, if your signal gets interrupted by a nearby device that is also transmitting a similar signal, your internet connection may be affected. Leaving it this way will definitely affect your VPN connection.

To solve this problem, check your connection when the VPN is not active to see if there is any speed drop. If you find one, you should restart your device to get your regular internet connection again.
Low server quality: Low-quality servers are those with poor hardware specifications that are not made to work with numerous user requests. Again, this is a problem you'll encounter if you are using a free VPN because they use such servers to reduce the cost of providing the services.

If you have this problem, the only way to solve it is to switch to another VPN that is more reliable for better performance.
Limitations on VPN usage: Reputable VPNs, like the ones we've included in this list, do not have bandwidth caps. This is a problem you'll encounter more in the trial version of a paid VPN. Don't be surprised when you experience lots of limitations in data transmission and speed of such VPNs.
Conflicting applications or software: A couple of antivirus software can interfere with the normal working of your VPN. This usually occurs if both of them need to use the same resources from your router or device. For example, if the antivirus needs to scan the entire device daily, much of the RAM will be allocated to this task. To cater for this action, the VPN has fewer RAM resources causing it to have reduced speed.
If you desire a better experience with your VPN, you'll have to temporarily disable those software and applications that are preventing its high performance.
Illegal ways of using a VPN
A couple of ways in which a VPN should not be used include;
For hacking: The privacy and anonymity features provide an opportunity for hackers to carry out malicious acts, but this is not what VPNs were created for. In many countries of the world, it is an offense to use them to hack.
For trading on the Dark web: The dark web is a prohibited zone on the internet, and a VPN should not be used to buy or sell on it.
For cyberbullying and cyberstalking: Again, this is a misuse of the security and privacy feature that VPNs provide for users.
VPN Encryption and Protocols
Many paid VPNs have several protocols you can use with the app or browser extension. Here are some of the most popular ones:
OpenVPN: Ironically, this is one of the most secure and popular VPN protocols because of its versatility and compatibility with many devices. OpenVPN provides excellent performance features and encryptions over any port.
Point-to-Point Tunneling Protocol (PPTP): PPTP is an old in-built protocol that many operating systems have. It has a few security vulnerabilities and is not the safest to use. However, the protocol is relatively fast.
IKEv2/ IPSec: Internet Protocol Security (IPSec) with Internet Key Exchange version 2 (IKEv2) is a pre-configured protocol in most operating systems. It is secure and fast, with a minor downside of not being open-source.
In conclusion
DAZN is becoming increasingly popular as more people are infatuated with sporting activities around the globe. A few years back, it was tough luck to anyone who couldn't access the site because they reside in another country. Now, with VPNs, all that is no longer an issue.
We've included five top VPNs that'll help you access DAZN's content easily. Also, a few tips on how to get the best performance from a VPN service as well as what DAZN has to offer have been highlighted. Happy streaming!