What Is an Internet VPN? Understanding the Basics of an Internet VPN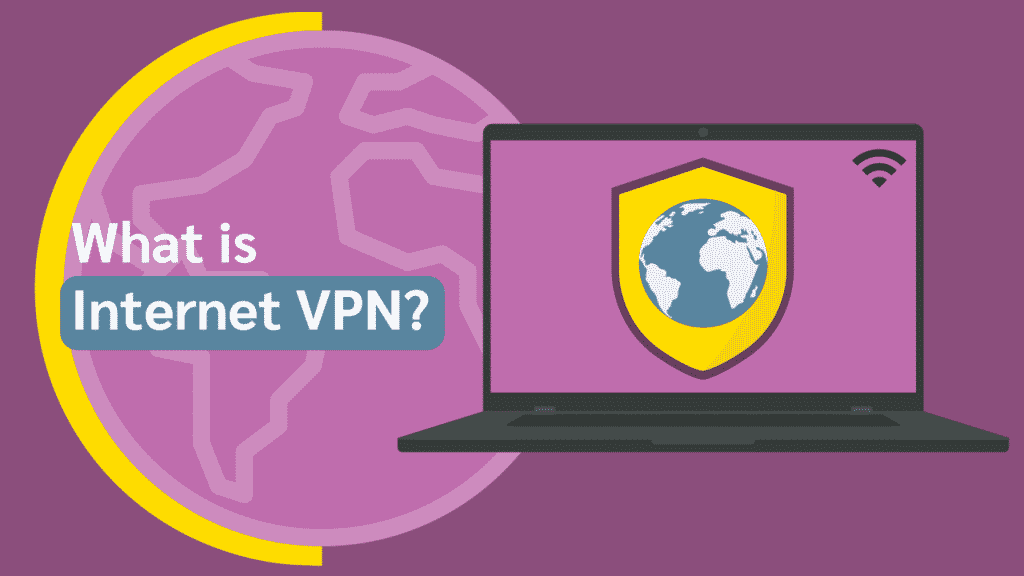 The internet is home to billions of people, businesses, and corporations, and securing it has become a priority in today's world. Finding a secure connection led to the innovation of Virtual Private Networks (VPN). It has two main types, namely Internet VPN and Internet Protocol VPN (IP-VPN). The focus of this article is the former.
What Is an Internet VPN?
An Internet VPN is a secure connection to another network over the internet. It gives users access to region-restricted websites and shields their browsing activity from third parties, unlike public Wi-Fi.
VPNs were initially created to connect the networks used by individuals over the internet or grant access to business networks from home. Today, it connects smartphones, tablets, Smart TVs, and PCs to a server that allows people to browse directly from a VPN connection, no matter the location.
If the server is outside the country you reside in, it would appear as if you are in that country. The user would have access to information that would otherwise be unavailable if they could not access the VPN.
In summary, an Internet VPN:
Bypasses online geographical restrictions on websites
Provides protection from third parties and prying eyes
Gives anonymity online by shielding locations
Protects users from getting their data logged while torrenting
Offers access to streaming services unavailable in a particular country
Four Communication Methods of an Internet VPN
The communication method of an Internet VPN depends on your needs, making it vital to choose the one that meets that need. The four communication methods of Internet VPN are:
1. Internet Protocol Security VPN (IPSec)
Internet Protocol Security (IPSec) is used to secure communication across an IP network. It protects Internet Protocol communication by verifying sessions and encrypting each data packet during the connection.
It is complex to implement and frequently has interoperability issues among manufacturers. However, it is the industry-standard technology, as it supports not only the architecture but a complete set of cryptographic suites.
IPSec runs in two modes, namely transport and tunneling. The former is for encrypting messages in packet data, while the latter encrypts the whole packet data. Users can use Internet Protocol Security alongside other security protocols and improve security systems.
2. Secure Sockets Layer VPN (SSL)
A Secure Sockets Layer (SSL) creates a connection where the web browser is the client, and the user's access gets prohibited to specific applications instead of the whole network. It allows sessions to begin through the browser, thereby enhancing the user's convenience.
Online shopping centers commonly use SSL because of the ease of switching on web browsers with little or no user action. The latter is enabled because web browsers come integrated with SSL, and they have "Https" instead of "Http."
3. Layer 2 Tunneling Protocol VPN (L2TP)
Layer 2 Tunneling Protocol (L2TP) is usually joined to another VPN security protocol like IPSec to establish a highly secure connection. It generates a tunnel between two L2TP connection points, while the IPSec protocol provides encryption for the data and maintains secure communication between the tunnel.
4. Point-to-Point Tunneling Protocol VPN (PPTP)
Point-to-Point Tunneling Protocol (PPTP) generates tunnels and confines data packets. Individuals and companies use it for data encryption between connections. It is one of the most used VPN protocols because of its high compatibility with operating systems and mobile devices. It was created in the early days of Windows and is currently also used on Mac and Linux.
The Benefits of Internet VPN
There are several benefits to using an Internet VPN that several users are unaware of; we'll discuss some of them below.
1. An Internet VPN hides the user's IP address and protects their online traffic. It means that hackers will be unable to track a user's digital footprint, and government agencies won't be able to monitor their online activities.
2. It helps users bypass geo-blocks. This means goodbye to geographical restrictions that hinder you from viewing some contents, as the website would show your location as if it were the approved one. For example, a person in Canada can view a video in the United States, even though Canadians are on the restriction list, by connecting to a VPN.
3. Internet VPN provides secure online connections. Unlike free Wi-Fi, which is usually unsecured, VPN connections protect your information and transaction from third parties.
4. It helps bypass firewalls that prevent users from accessing certain websites. Since Internet VPN hides your IP address, it allows you to go past the restrictions and sometimes government censorships.
5. Internet VPN offers secure torrenting services. While torrenting is not dangerous for those who know what they are doing, it can endanger your privacy if you are unconnected to a VPN.
The Cons of Internet VPN
There are very few disadvantages when it comes to using an Internet VPN. Some of them are:
1. Internet VPN sometimes slows down internet speed depending on how powerful the encryption is and the communication protocol.
2. It compromises safety and privacy if you use an Internet VPN with the wrong configuration.
3. Internet VPN is pricey, especially high-quality ones.
4. Some devices do not support using a VPN; thus, users would have to manually set up a connection on the device/operating system.
Major Differences Between IP-VPN and Internet VPN
As mentioned earlier, an IP-VPN means Internet Protocol VPN, and it is quite similar to the Internet VPN. However, they have some significant differences in the way they work.
1. An Internet VPN is a networking technology that connects users to a particular online network. In contrast, IP-VPN uses multiple protocol label switching technology to prioritize internet traffic and avoid public gateway to increase security.
2. Internet VPNs are three or four-layered, meaning they can establish a connection through the public internet. In contrast, an IP-VPN uses two layers, thereby avoiding the internet and using a private link on a remote site.
3. Internet VPNs use public gateways, and they have exposure to Distributed Denial of Service (DDoS) attacks that reduce speed and consume valuable bandwidths. In contrast, IP VPN uses MLPS capabilities that prioritize internet traffic and guarantees mission-critical applications enough bandwidth to perform.
Three Best VPNs of 2020
Finding the best Internet VPN is vital to avoid security challenges and make a world of difference in securing personal information. The best three VPNs of 2020 are ExpressVPN, NordVPN, and Surfshark.
ExpressVPN
NordVPN
Surfshark
Conclusion
Internet VPNs are famous these days, and using one is the best option to stay safe online, secure personal information, and access online content without geographical restrictions. If you're thinking of subscribing to one, this article breaks down in detail, all you need to know about them. Get on the Internet VPN train today, and discover a world of safe, fast, and reliable internet connection.