VPNs that Work in China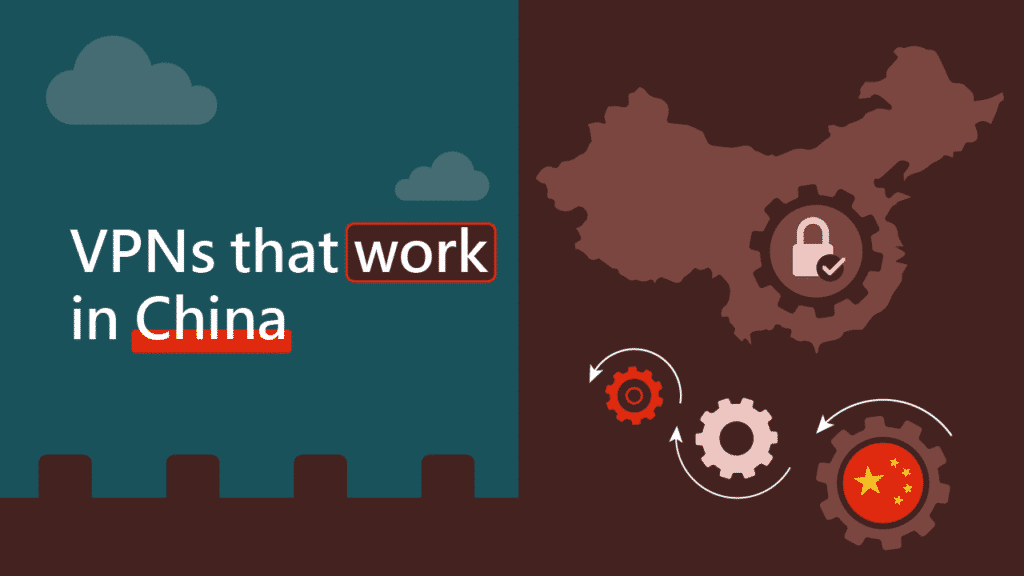 China is one of the world's most powerful nations, and its economy continues to expand across the world today. Right now, you might be thinking of moving to China, you've just recently moved there, or you have to travel there for work or a vacation. But there are a few things you need to know when it comes to keeping your internet freedom and privacy while living behind the Great Wall.
China has never been big on online freedom, but as technology evolved and power changed hands within the government, the noose on the neck of online freedom tightened. Ever since Xi Jinping, China's former General Secretary of its only party came to power, freedom of content, or even speech online has become a distant dream. Xi Jinping has effectively roused China's government into an all-out war against the Internet.
As early as the 1990s, the "Golden Shield" was created. It's a software that allows the government to inspect any information being received or sent and to block certain IP addresses and domain names. This innovation is the software that has evolved into the Great Firewall of China. In 2015, the Great Cannon was created with the ability to replace content as data traveled through the Internet. The Chinese government has even blocked Google once until it came back with Google.cn, a censored version of the search engine.
The government has frozen out thousands of websites, social media, and other content that it deems harmful. They go as far as hiring people to peruse the internet and delete posts that they deem inciting. And since the owners of many private commercial internet service providers are in positions of power within government, privatization of internet censorship has begun to take hold. ISPs have started to hire people to comb through their customers' data to find any posts that might portray China or the Chinese government in a bad light. Regardless of if it's the truth or not.
5 VPNs that Work in China
The use of VPNs is rampant among those who use the Internet frequently in China. It's a  necessity if you want to see what's going on beyond the wall. But only a few VPNs are capable of breaching China's Great Firewall. It's a feat only the highest caliber of VPNs can hope to achieve because it involves constant work and substantial resources. The government of China continues to change its coding to crack down harder on VPNs because they want all information to pass through government-approved providers for more accessible scrutiny.
The squeeze on VPNs' access in China gets even tighter when any major event is being held in the Chinese government. This pressure can leave you stranded without access to your favorite websites and content. A good VPN is needed to bypass this surveillance. After running some tests and listening to VPN customers living in China, we've compiled our top five VPNs that are still able to bypass the Great Firewall of China.
ExpressVPN

Features
Number of servers: More than 3,000
Speeds: Unlimited
Server locations: 160 in 94 countries
Maximum devices supported: 5
24 live chat: Yes
30 day money back guarantee: Yes
Pros/Cons
Fastest VPN out there
Strict no logs policy
256-bit AES encryption
ExpressVPN is our leading VPN for China. It uses its wide server range with locations in surrounding countries like Japan, Hong Kong, and Taiwan to bypass China's blocks consistently. ExpressVPN encrypts your data securely and makes sure that you're protected from DNS leaks and abrupt connection failures with a kill switch. It also never logs your data. This provider has recently started using a feature called TrustedServer that eradicates the little information it collects like timestamps once you switch off your device.
ExpressVPN is famed for its simplicity and user-friendly interface. It doesn't need its users to be tech-savvy because it has dedicated apps for almost every device you can imagine. Once you install the app and log in to your account, your browsing becomes encrypted. And one account allows up to five simultaneous connections. You can always have ExpressVPN close by on any of your devices.
This VPN has a status page for updates about connection issues and how to connect in spite of problems. So, even when the Chinese government has improved its firewall, the status page will be updated with notifications about the issue, what's being done, and servers you can connect to. If there are any problems, the ExpressVPN live chat customer service is active 24/7 with professionals who are prepared to help.
ExpressVPN is a premium service with prices starting from $6.67 per month for a year's subscription. They are currently running a Black Friday deal with three months extra up for grabs if you pay all at once for the yearly plan. ExpressVPN ensures there's no risk in this deal by allowing new users a 30-day money-back guarantee, in case you're not impressed.
Pros:

Fastest VPN out there;

Strict no logs policy;

256-bit AES encryption;

Lowest price: $6.67
NordVPN

Features
Cryptocurrency accepted? Yes
Simultaneous connections: 6
Dedicated IP-addresses? Yes
Servers: 5342 in 58 countries
Pros/Cons
Lots of pricing options
Netflix support kept up to date
256-bit AES encryption
NordVPN makes no bones about what it exists to do. It provides security and privacy with loads of extra features. Your security is assured with this VPN.
NordVPN uses a feature card Double VPN to send your data through two of its servers, doubly encrypting it and further concealing your actual location at the same time. It can take your data through Tor servers to give it multiple layers of encryption, making it incomprehensible until it gets to its intended destination. It also provides a particular type of server called "obfuscated servers." These servers are specifically designed to help users living in countries that regulate internet use. NordVPN can automatically connect to a server for you, or you can choose one. And with over 5200+ servers to choose from, you can run wild.
This provider also supports torrenting and allows you to stream your favorite shows from around the world. But to use this service in China, there's a catch. China has blocked NordVPN. You have to install the app and login before you enter China's territories. But as long as you have NordVPN logged in one of your devices (it covers six), you're good to go.
NordVPN is budget-friendly at $3.49 per month for three years, with an extra three months free as a bonus. But, if you're not too sure about committing, you can have it risk-free with a 30-days refund policy.
Pros:

Lots of pricing options;

Netflix support kept up to date;

256-bit AES encryption;

Lowest price: $3.71
Surfshark

Features
Free trial? Yes
Simultaneous connections: unlimited
Ad blocking? Yes
Servers: 1000+ in 61 countries
Pros/Cons
No footprints
Allows torrenting
256-bit AES encryption
Surfshark is a VPN that's new and sharp in the online security world. Established just a few years ago, Surfshark has risen from an upstart VLN provider to a significant contender with its superb bypassing abilities.
Surfshark's NoBorders feature automatically detects when you're in a country with government censorship. It then automatically redirects your traffic to be able to access restricted content. This provider has over 1040 servers that are cleverly distributed across 61+ countries. All of its servers are optimized for high-speed browsing to counter the reduced speed sometimes gotten from routing your data through a VPN.
Surfshark keeps your data encrypted and secure with features like MultiHop, Surfshark's version of Double VPN, to make your data as private as possible. Its Camouflage mode is the height of privacy as it uses specialized obfuscated servers to bypass restrictions and firewalls while stopping your ISP from monitoring your activities. This can be really useful in a restricted country like China.
Surfshark also supports P2P file sharing so that you can torrent to your heart's content. The speed and systematic unblocking allows users to stream content in HD and 4K quality. And, while you do all of this, you can rest assured that this provider is not, has not, and will not log your data. To prove this, Cure53, a renowned auditing firm, conducted an audit to determine whether or not Surfshark's zero-logs policy is valid. The inspection went well according to the information available on Surfshark's website.
Surfshark has dedicated, user-friendly apps ready for use. It also does an excellent job of ensuring that features are the same on most devices. This is important since the service's distinguishing feature is its ability to hook up an unlimited number of simultaneous connections with one account.
Surfshark is outstandingly cheap at $1.77 per month for the 2-year plan. This plan comes with a  bonus of three months. The other plans are $5.99 per month and $11.95 per month for a year and one month, respectively. If you want to test this VPN, you can take advantage of its 30-day money-back guarantee and enjoy it, risk-free.
Pros:

No footprints;

Allows torrenting;

256-bit AES encryption;

Lowest price: €2.49
HideMyAss

Features
Speeds: 20 Gbps
Money-back guarantee: Yes
Activity logs? No
Locations: 190+ countries
Pros/Cons
Best server database on the market
No-logs and kill switch policy
Multiple device protection
Expensive short term plan
HideMyAss (HMA) is the granddaddy of server locations, with servers spread out over 190 countries and in every continent besides Antarctica. This network continues to expand. With so many servers, connecting to HMA from behind the Great Firewall is easy and secure.
HMA operates the military-grade encryption AES 256-bit encryption with OpenVPN. It has a Smart kill switch, and users can choose apps that will automatically launch HMA whenever they're opened. Split tunneling is also allowed; users can select which data to send through HMA and which to communicate through their regular commercial internet service provider. DNS leak protection is always on, and your device is protected from all DDoS attacks.
HideMyAss has servers optimized for torrenting. You can now share large files with your IP address completely obscured. And, with the HMA servers that are optimized for torrenting, you can do it more quickly.
HMA has apps on all popular platforms, and its user interface is very simple and straightforward. HideMyAss doesn't want you to waste time on selecting and switching servers, though you can do that as many times as you wish. But the faster option is Lightning Connect. HMA will pick the best server for you. Or, if you have a country in mind, it uses Lightning Connect to select the best server for you instantly.
HideMyAss has a customer service unit that's always available either on live chat or email support. Its plans involve longer commitments, with the best price at $4.29 per mmonth for three years. Two years and a year's prices are a bit higher at $5.99 per month and $6.99 per month, respectively. This VPN has a 30-day refund policy in effect too, so your money's safe till you decide whether or not HMA is for you.
Pros:

Best server database on the market;

No-logs and kill switch policy;

Multiple device protection;

Lowest price $2.99
UltraVPN

Features
One click connect? Yes
Servers: 100+ superfast servers
Bandwidth cap? No
Platforms: Mac, Windows, iOS, Android
Pros/Cons
Firewall
Apps for all devices
256-bit AES encryption
Not as many servers as others
UltraVPN is a VPN provider that's new and fresh-faced amongst VPNs, but regardless of its date of establishment, this VPN holds its own when it comes to security, speed, and privacy.
It has an automatic kill switch, DNS leak prevention, and it also hides IP addresses. The real treasure of this provider lies in its speed and unblocking. UltraVPN is able to unblock and stream a multitude of content quickly. Its 100+ servers have a good range of over 55 countries, all optimized for speed, so streaming is a cinch with this VPN.
UltraVPN apps are known for simplicity, ease of use, and user-friendliness. All of its dedicated apps share a similar, simple connect button on the home page that allows users to connect quickly without having to worry about more advanced options. UltraVPN is best for beginners and people who appreciate simplicity without sacrificing any of its features. A 24/7 customer service is there to support you through email and live chat.
Pricing for UltraVPN starts at $3.75 per month for a year's subscription, which is about average for a VPN. As the commitment time gets shorter, the prices get higher. But, all of its plans are subject to a refund policy of 30 days. You have a bit of time to decide if UltraVPN is right for you and your needs while living in China.ultr
Pros:

Firewall;

Apps for all devices;

256-bit AES encryption;

Lowest price: €2.99
Do free VPNs work in China?
China uses some of the most robust protocols and software to barricade its borders from any unwanted information. For a VPN provider to get past this firewall, they need to have the resources to do so. These resources cannot be obtained without the revenue from paying users.
It might be possible that some free VPNs can bypass China's restrictions, but if they do, we cannot advise you to subscribe to them. It takes a lot of money, time, and labor for a VPN to even attempt scaling the Great Firewall. If a free VPN can do it, who's to say they aren't selling your data off to do it? You can't know, and that's why it's essential not to risk it.
So, do free VPNs work in China? Not many can breach China's Great Firewall, and you should be wary of the ones that can or say they can. You might be paying them with your valuable information.
Are VPNs legal in China?
Historically, China has been threatening to shut down or ban all VPNs from use within the country. They've been threatening this for close to a decade now, and they haven't quite gotten around to it yet. So, why haven't they just banned VPNs and be done with it?
It's because there's still use for VPNs. But not with the average Chinese person, with the big, international corporations. The ones that keep China's economy afloat. These businesses need VPNs to be able to communicate effectively and securely with themselves and the rest of the corporate world. VPNs are a necessary tool for everyday business in corporate China. If VPNs were banned, it could jeopardize a lot of the business dealings that China has with the rest of the world.
This reality keeps VPNs firmly in the grey area when it comes to laws against individual use. The only rule about VPNs that's punishable is establishing a business that uses a VPN without getting clearance for it. This constitutes an illegal use of a VPN in China.
This rule doesn't truly apply to individuals.
As an expatriate, can you be punished for using a VPN in China?
In the past few years, the Chinese government has been clamping down harder on the use of VPNs. Apple has conceded to the pressure and has removed all VPN apps, over 600 of them, from the App store. And even more recently, a man called Zhu Yunfeng was prosecuted and fined Rmb1000 (about $145) for using a VPN. This is under a law created in 1997 that forbids unpermitted access to the "foreign internet."
So, yes. Things are getting a bit hotter in China regarding web privacy. With Xi Jinping recently elected President for life, the Chinese government may very well create new laws or find loopholes in the existing ones that can allow them to ban VPNs entirely for individuals. Alternatively, prosecute individuals for using unauthorized VPNs. But so far, not one foreigner has been fined for using a VPN.
Wrapping up
Even with all these goings-on in the Chinese government, the ban on VPNs is still not in full effect. So, if you're considering traveling to China, you still need one. The five VPNs we've explained above will ensure you keep your privacy while browsing, and help you access restricted content. With the right VPN, you don't need to miss your favorite shows just because of a little firewall.