Recommended VPNs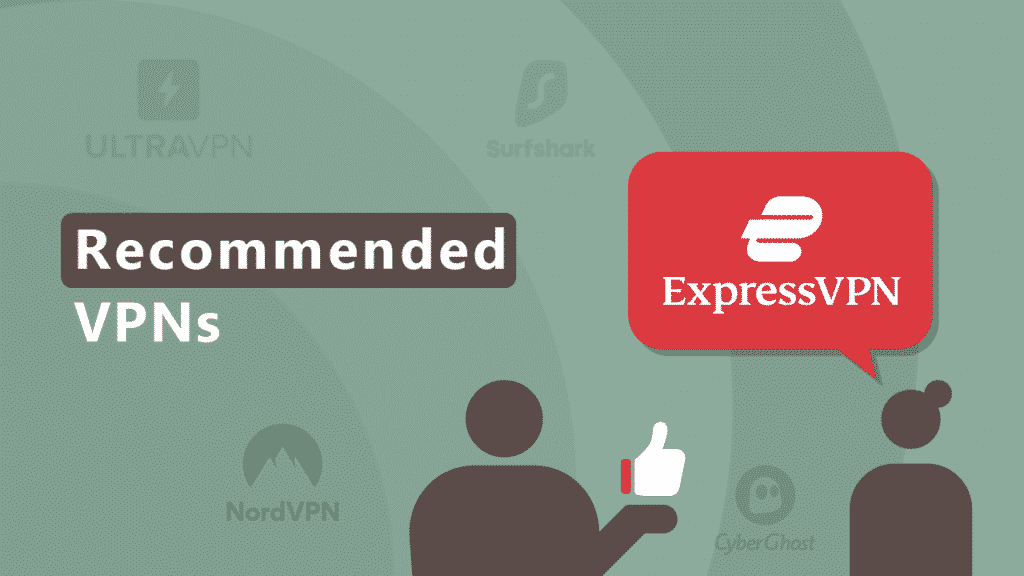 Virtual Private Networks are one of the cool things about the internet in recent times. They are a network of devices and servers that protect you from untrustworthy hotspots, allow you to bypass geographical restrictions on sites, and watch or stream content anonymously.
Since there are lots of VPNs, choosing one out of the pack could give you a tough time. What was meant to be a quick selection process now has to involve several layers of checks. To help you out in your search, the following VPNs are the recommended ones from us:
ExpressVPN
NordVPN
Surfshark
CyberGhost
ProtonVPN
Trust.Zone
UltraVPN
What criteria to look for in a VPN
You may be wondering how we came up with this list of recommended VPNs. Well, there are a couple of things to look out for in a VPN, and these include:
Number of servers: This is a non-compromising factor when looking for a VPN to opt for. Even if every other item is checked on the list, if you don't have enough servers to use, you'll be better off without the VPN. This is because of server congestion. If you have extra cash to spare, you can get a dedicated IP address, which implies that the address is unique to you. But if you don't want to spend more, always ask the provider for the number and locations of their servers first.

The VPNs we have included in this list have impressive numbers, so you'll be covered if you go for anyone of them.
Speed and Bandwidth: These are two sides of the same coin, and vital factors to look out for when getting a VPN. The latter is easy to measure since all that needs to be done is to find out from the VPN provider if there are caps or not. If there are bandwidth caps on a VPN's plan, we strongly recommend you go for another because you'll frequently be cut off when using them.

To get the actual speed of a VPN, you'll have to carry out tests. If the VPN has a trial version, use it to find out what the average server speed is. Anything from 80Mbps is good enough to work with.
Security and Privacy settings: One of the top reasons why people use VPNs is that they allow you to browse anonymously and provide walls of security that are tough to bring down. Therefore, if the VPN you want to get doesn't have sophisticated means of protecting you from malware, viruses, and hackers, then it is not recommended.

The industry-leading encryption is AES-256, so any VPN that uses any other encryption should not be your top pick. Protocols also play a huge role in ensuring the safety of your device, so be on the lookout for recent ones like OpenVPN, IKEv2, and IPSec.
Cost: We can't pretend like the price of a VPN doesn't matter. In fact, many people sieve out VPNs by starting with this factor. While we don't recommend this action, we agree that you should go for an affordable VPN with impressive features.

There are two categories of VPNs: free and paid VPNs. On the list we recommended above, most of the VPNs are paid. This is the category we advise you go for because free VPNs offer so many security threats. They also do not block adverts, so they are really difficult to use.

We recommend that you opt for a long-term plan because the cost of the subscription for each month is usually discounted by many VPN providers.
Trials and money-back guarantee: Having the option of trying out a VPN is great, and so also is getting a money-back guarantee. Make sure the VPN you intend to get has one of these two.
Customer Support: If you don't know your way around VPNs, you'll likely experience technical issues once in a while. This is why having a reliable customer support system is essential.

The recommended VPNs above have round the clock support to help if you run into problems.
In conclusion
We now know that VPNs are very important since they can be used to access your favorite content even if you stay in a country that restricts you from viewing them. They are generally safe to use, and getting them running on your device should not be much of a problem for you.
In this article, we've included seven recommended VPNs. Each one has impressive features that you should look forward to using. We've also recommended some of the things to look out for when getting a VPN so you don't go for the wrong one.
By combining these pieces of information, you have everything you need to get started with VPNs.