Best VPNs for Accessing Japanese Content Overseas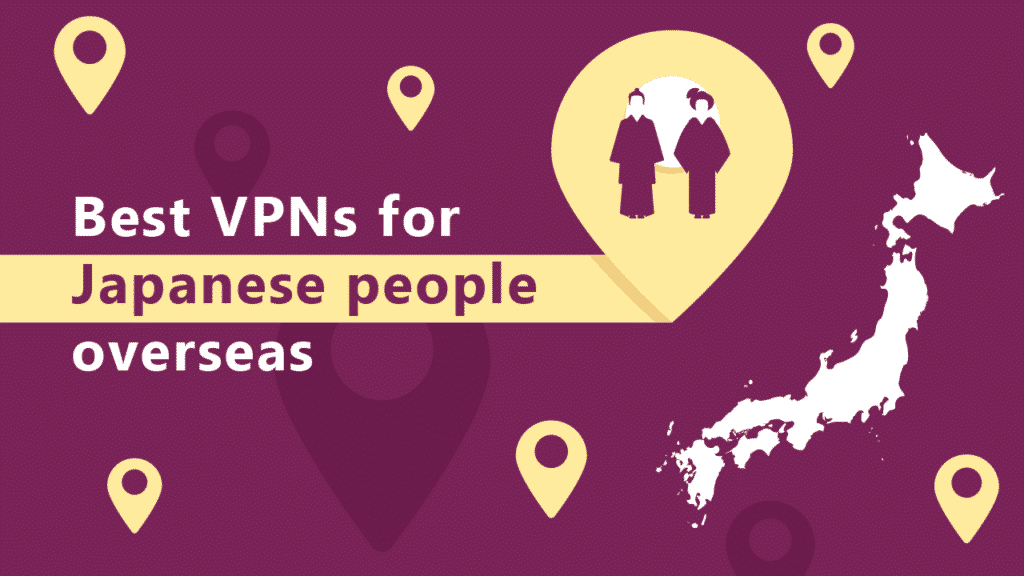 From the icy peaks of Mount Fuji to the tall trees of Historic Kyoto and the awe-inspiring Shrine of Itsukushima, among others, Japan is a truly beautiful place to be at any time of the year. In spite of these historical wonders, these wonderful attractions, as a matter of fact, are not all that there is to the nation. It also happens to be one of the most technologically advanced nations in the world. However, regardless of all its enthralling landscapes and its astounding pieces of tech, there is still the need to explore the world, at least a little bit.
Perhaps, it is the knowledge of the above that causes the indigenes of the country to go outside the nation every now and then to return home later or much later. That is not, of course, to say that there are no other reasons you might want/need to travel overseas. For some, it's exploration. For others, it's business. For some others, it's pure pleasure.
Regardless of what the reason is, the world is a beautiful place, and it needs to be seen. Sadly, however, when you leave Japan and travel overseas, you also leave behind some of its juiciest features in the online world. The issue of not being able to access sites outside Japan that were previously accessible within the country is a common one for those who have gone overseas. Being told that the content you are trying to access is not available in your area is quite frustrating. This is even more so when you had easy access to that content before.
Thankfully, that is primarily what this entire article would be talking about. Let us dive right in.
Best VPNs for Accessing Japanese Content Overseas
Here is a quick summary of the best VPNs for accessing Japanese content overseas:
While there are a lot of them, we have compiled a list of the best Virtual Private Networks that you can use if you are overseas and trying to access Japanese geo-restricted content. Here they are more in detail:
ExpressVPN

Features
Number of servers: More than 3,000
Speeds: Unlimited
Server locations: 160 in 94 countries
Maximum devices supported: 5
24 live chat: Yes
30 day money back guarantee: Yes
Pros/Cons
Fastest VPN out there
Strict no logs policy
256-bit AES encryption
One of the best choices when it comes to VPNs for accessing Japanese content overseas is ExpressVPN. It is a Virtual Private Network that was established in the year 2009. Since its establishment, it has continued to exist and has provided quality services without interruptions. It is located in the British Virgin Islands. It has a fantastic number of servers around the world. There are over three thousand of them spread out across over a hundred and sixty locations in about 94 countries around the world. That, of course, includes Japan. That is, if you are in another country and you would like to, perhaps, stream NPB Baseball or a little bit of Sumo Wrestling, ExpressVPN has got you covered.
Also, and just for the sake of it, if you are outside Japan and you wish to access sites in other countries, not just Japan, you would be able to do so quickly. This is simply because of the large dispersion of servers that ExpressVPN has. If you do the math, it covers about 48% of all the countries in the world.
Apart from these, the VPN uses something that is known as virtual servers to ensure your security. This is particularly noteworthy because it is not a very common feature among Virtual Private Networks. Usually, the servers are placed physically in locations where they are needed or meant to be. However, some of ExpressVPN's servers are not in those locations physically. Instead, they are programmed to appear as though they are in those locations.
The implication of the virtual servers is that you are more secure. Every now and then, people try to get access to information on servers belonging to companies and even VPNs. They do this in order to use the information for their own benefit. These pieces of information can be anything from the email addresses used to log in to the passwords that are most private to you. Without the existence of physical servers to be tampered with, it is harder for anyone to tamper with your information placed on those servers. This means that while you are trying to access your content overseas, you are a lot more secure.
Perhaps, its golden feature as regards this article is the DNS proxy. Once you connect to ExpressVPN, this feature enables you to bypass geo-restrictions in Japan. That would, in turn, allow you to view or access whatever piece(s) of Japanese content you are craving while you are overseas.
With all these features that it possesses, it does not sacrifice speed as it is still able to give you breakneck speeds regardless of what you want to do. That is, you might want to stream an anime or read a manga on a restricted website. ExpressVPN would allow you to bypass that restriction, and on top of that, you would be able to browse speedily without getting frustrated by low speeds and whatnot.
Once you pay for or subscribe to this VPN, you are allowed three simultaneous connections. That means that you can connect any three devices that you want to the VPN, and you would be able to access Japanese content overseas with all those three devices. However, if that number is a bit small for you, you can quickly invest in a router. Doing that would enable you to connect an infinite amount of devices to your Virtual Private Network, and those geo-restrictions would have nothing on you.
The VPN is not free, and some even consider it a bit expensive in comparison with other Virtual Private Networks. However, for just that reason, it has a 30-day money-back guarantee. This means that when you choose to use the network for viewing your Japanese content, if you are unsatisfied within the first thirty days, you would be able to opt-out and get a refund.
Pros:

Fastest VPN out there;

Strict no logs policy;

256-bit AES encryption;

Lowest price: $6.67
NordVPN

Features
Cryptocurrency accepted? Yes
Simultaneous connections: 6
Dedicated IP-addresses? Yes
Servers: 5342 in 58 countries
Pros/Cons
Lots of pricing options
Netflix support kept up to date
256-bit AES encryption
NordVPN is another excellent choice for getting access to Japanese content while you are overseas. It was established in 2012 by four friends who had known each other since childhood. While it is not quite as old as ExpressVPN, it is not a baby at all in the internet security industry.
It has over 5200 servers. These servers are widely dispersed across over 59 countries all over the world. If you ask us, that certainly is a whole lot of servers. That only means that you have a lot of options. Your primary motive behind getting the Virtual Private Network might be for you to be able to view Japanese content. However, with the number of servers this VPN has, it certainly does give you a lot of choices to choose from if you decide to explore just a little bit outside your home country.
This VPN has a SmartPlay DNS Proxy. This is what allows you to connect to Japanese sites that are geo-restricted and view whatever it is you want to view.
In terms of security, NordVPN is also very capable. It does not allow for any DNS leaks at all, which would otherwise compromise your safety on the internet. Apart from that, it has a kill switch that cannot be turned off. The company genuinely cares about its customers' internet safety and security. An excellent example to demonstrate that is their refusal to follow Russia's order when the country required them to provide access to the VPN's servers. Simply put, they refused because it would have jeopardized the safety of their customers. They instead chose to move their servers from the country.
It allows you to connect an unlimited number of devices when you have subscribed. This gives you even more screens to view your Japanese content from. Also, it provides an unlimited amount of bandwidth for you, even if you are overseas.
The Virtual Private Network has a simple and easy-to-understand user interface. The preinstalled configurations are often sufficient for you to use. If, however, you need a little bit more tweaking, you can always go to the advanced settings area and do what you need to.
This VPN gives you seven days to test out their services so you can decide whether or not you want to use them. Surprisingly, after those seven days of the free trial, while you have to pay, you would be given thirty days to use the VPN and quit if you are unsatisfied.
It is available on different platforms, including iOS, Windows, macOS, etc.
Pros:

Lots of pricing options;

Netflix support kept up to date;

256-bit AES encryption;

Lowest price: $3.71
Surfshark

Features
Free trial? Yes
Simultaneous connections: unlimited
Ad blocking? Yes
Servers: 1000+ in 61 countries
Pros/Cons
No footprints
Allows torrenting
256-bit AES encryption
In the internet privacy industry, Surfshark is still relatively new. However, in spite of that, it is still an excellent choice for your geo-restriction bypassing needs. Across five different continents, it has over one thousand servers. This, of course, includes Asia, where Japan is located.
In terms of privacy offered, this VPN has a zero-logs policy. This simply implies that none of your actions online would be tracked or recorded. It is the VPN equivalent of going into incognito mode while browsing on Google Chrome.
Also, it provides an infinite amount of simultaneous connections without a router. Once you have subscribed, you have the freedom to connect as many devices as you please to the Virtual Private Network. The best part is that you would be able to bypass Japanese geo-restrictions in all those devices, even if you have up to twenty of them connected.
Another feature it possesses is called CleanWeb. This would basically allow you to browse your geo-restricted Japanese sites without being disturbed by any ads, malware, or phishing attempts.
Apart from that, it offers a Whitelister feature. This enables you to prevent some apps on your device from being covered by the VPN. This is quite useful, and we'll use an example to illustrate it. You are in Germany, for example, and you want to access a geo-restricted site in Japan. However, while doing that, you still want to do something in Germany that requires a German IP address. The Whitelister feature would allow you to be able to do both things as it would basically retain the IP address for the German app and then give you another IP address for the browser you want to use to access the Japanese site. Convenient, right?
If you are not okay with their services within the first thirty days of subscription, you can just as quickly request a refund, and it would be granted to you.
Pros:

No footprints;

Allows torrenting;

256-bit AES encryption;

Lowest price: €2.49
ProtonVPN

Features
P2P support? Yes
30-day money-back guarantee? Yes
Country of origin? Switzerland
Servers: 600+ in over 40 countries
Simultaneous devices: 5
Pros/Cons
Professional support
Modern interface and apps
AES-256 encryption
The last VPN on our list of the best VPNs for accessing restricted content in Japan is ProtonVPN. This is the only Virtual Private Network on the list that can be considered free. It provides you with a free mode initially. The free mode has basic features and does all the regular things a VPN should do. However, as stated earlier, it is better to use a paid VPN.
If you want to, however, you can use the free mode. Otherwise, you can upgrade to the premium version. The VPN, which is Swiss-based, provides you with 400+ servers spread out over 35 countries. The free mode only allows you to use four countries. However, upgrading is required to get to other countries.
The VPN has no advertisements and a zero-logs policy. Apart from that, it is protected by Swiss laws. It has a kill switch and an unlimited amount of bandwidth.
Pros:

Professional support;

Modern interface and apps;

AES-256 encryption;

Lowest price: €4
Why can't you access some pieces of content online when you are outside Japan?
The internet is generally known to have turned the world into a global village. This is because, in contrast to the physical world, everything is so easily accessible. In practical terms, though, the internet is actually quite vast, and we mean that in every sense of the word. Therefore, while a site may be accessible in one location, it may not be accessible in another. This is simply due to geo-restriction. Geo-restriction is the reason you are unable to access some Japanese content when you are overseas.
What is geo-restriction?
Geo-restriction, otherwise known as geo-blocking, is a method through which companies, brands, the government, etc. prevent you from accessing content on the internet in parts of the world where you are not. To further explain, take this scenario, for example.
You travel from Japan to North Korea for business purposes or something of that sort. While there, you have your meetings and discussions with the right individuals. After concluding your transactions and getting everything in order, you decide to relax in your hotel and watch some entertaining videos online. You open one of the sites you usually go to, Tver, for example. You try to get into the site, but for some reason, it is not allowing you to access the videos. That, right there, is a geo-restriction.
Sometimes, the site you try to access would redirect you to a part of the web where what you are looking for is available. Other times, you would simply be denied access upfront and be told that the content is not available in your area.
There are different reasons that companies put geo-restrictions in place. Sometimes, it is as a result of copyright agreements where the content providers, like Netflix, do not own content. They only own the right to display it. It is those who own the content and wish for it to be displayed in a certain part of the world only that would then make the decision to use geo-restriction.
Other times, it could be for legal purposes or for licensing rights where companies need to purchase licenses before having their content displayed in certain countries in the world. Regardless of the reason, it can be quite discomforting.
Now, how does a geo-restriction work?
To access the internet, whether or not you are overseas, your internet-enabled device would go through some procedures. They are a bit complicated, but in the simplest terms possible, your device communicates with a server. The server is where the part of the internet you want to go to is hosted/located.
When you want to access a site or an app online, Amazon Prime, for example, your device sends a request to Amazon Prime's server. If Amazon Prime is geo-restricted, the server would, first of all, determine if your device is within the location that it is allowed to browse its content. If it determines that you are within that location, you would be allowed access to the content of the site. If, however, you are not within that location and you are overseas, perhaps, you would be denied access.
There are different ways through which a geo-restriction mechanism can determine whether or not you are within a location. The most common is your IP address. Your IP (internet protocol) address is a set of numbers that is assigned to your device based on what location you are in. The IP address is to your device what your house address is to your house. That is, it helps to identify your location. When you leave an area, your IP address changes. If the server you are trying to access reads your IP address, which is outside its location, you would be unable to access its content.
Other ways through which geo-restricted servers could detect your location include your WiFi address, GPS, RFID (Radio Frequency Identification), etc. However, the most common one is through your IP address.
As sad as it is to say, there are several sites and apps that are geo-restricted in Japan as well. They would not allow you to access the pieces of content that you wish to access if you are overseas. Thankfully, there is a solution. There is a way through which this restriction can be bypassed.
How do you bypass geo-restrictions?
For you to be able to bypass a Japanese website geo-restriction while you are overseas, you would need a VPN. VPN in full means Virtual Private Network. It is a piece of software that can help to bypass geo-restrictions placed on websites, online content, or applications. In addition to that, it also helps to ensure your security, and it provides online freedom for you to be able to use the internet however you please.
The way a VPN helps you bypass a geo-restriction is that it masks/changes your IP address. If you remember, earlier, we said that a geo-blocker prevents you from accessing specific pieces of content by reading your IP address and determining your location, after which you would be blocked or permitted. If you are trying to access Japanese geo-restricted sites, a Virtual Private Network would mask the IP address of the place you are overseas and display, instead, a Japanese IP address. That way, you would be able to browse whatever part of the Japanese internet you want to that was previously unavailable due to geo-restriction.
There are several Virtual Private Networks in existence. Some of them are free, and some of them require a bit of payment for you to use. The free ones may seem okay. However, premium Virtual Private Networks are usually the best for a number of reasons, especially if you are trying to access the Japanese web overseas.
In conclusion
Geo-restrictions can be annoying to deal with. This is especially so when all you really want to do is just to watch a couple of videos or something of that sort. What we have tried to do here is to show you the best VPNs that you can use to bypass those restrictions and access your desired content while you're overseas. Before choosing one, it is important that you take note of the cost, speed, etc.