Is VPN free?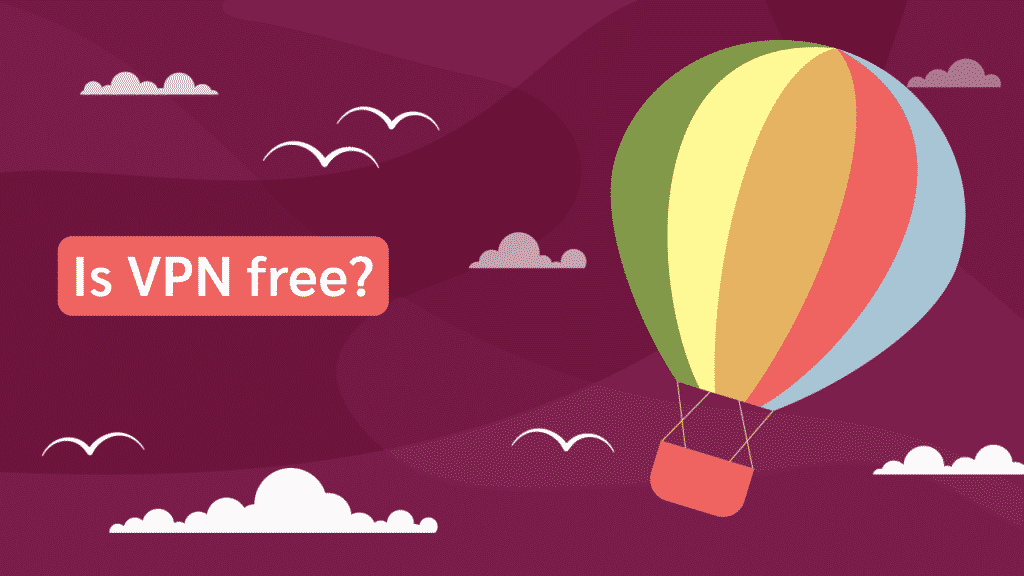 VPNs are the rave of the moment, because of the many things we can do with them. There are quite a number of VPNs in the industry, with the underlying difference between them being whether they are paid or free.
We know that VPNs can be free, but are they any good? In this article, we'll examine both free and paid VPNs to determine whether free VPNs are worth using.
What's the difference between free and paid VPNs?
Before we dive into the differences between free and paid versions, it is important to note that putting a 'free tag' to a VPN doesn't mean it is completely free. A lot of terms and conditions may be included in the VPN's policy.
With that out of the way, here are the differences between free and paid VPNs:
Security: Whatever activity you decide to do on the internet, make sure that you do it with the best security features you can find. And when using a VPN, ensure you get only the best security measures. Hackers have upped their game in developing new techniques to compromise systems, services, and networks. So, even though it'll cost a little more to operate a secure infrastructure, it will save you lots of trouble in the future. Free VPNs use unreliable measures and weak encryption that are too susceptible to malware. Such poor protection measures only mean one thing; your data can be easily deciphered. On the other hand, paid VPNs use rock-solid encryption that'll guarantee the security you need. While most paid VPNs use AES-256 (which is the best out there), you'll hardly see this in any free VPN.
Number of Servers: Free VPNs are not as versatile as paid VPNs. Most of them have only a few servers in not more than 20 countries. This puts a restriction on the type of content you can access with the VPN. But with paid VPNs, you'll have thousands of servers around the globe. Having many servers prevents server congestion when using the VPN.
Speed: Gone are the days when people had the time to wait around for web pages to load. So, if you are looking to use a free VPN to play games, download torrents, or stream videos, then you should reconsider. Congestion of users on the little servers such VPNs have makes them very slow.
However, with paid VPNs, it's a different story entirely. Paid VPN servers work at lightning speeds, that go as high as 10Gbps. Such blazing speeds make watching movies, streaming the internet, and playing games smooth without glitches.
Advanced features: With paid VPNs, you'll have exciting features that'll make using a VPN much easier. Such features include a DNS protection, automatic kill switch, P2P support, Onion over VPN, Double VPN, and lots more. Free VPNs do not pay much attention to these additional features and only focus on allowing users to browse anonymously.
Activity logs: A VPN that saves your data or activities each time you use it is definitely not one you should keep. Many free VPNs do not do well in this aspect because they make a profit by using the information obtained from unsuspecting VPN users. Some of these free VPNs even go as far as inserting cookies into browsers and selling users' data to third parties. All these problems are not experienced with paid VPNs. They operate a no-log policy, so will ensure that your data and logs are kept secure, even if your connection drops.
Interruptions: When free VPNs are not using users' information to make a profit, they advertise other businesses to you, even when you request not to see such. Many of these adverts are not screened for malware or spyware, which is a loophole for hackers to compromise systems. The constant annoyance of adverts will make you wish there's a way out, and there's actually one. Paid VPNs do not run adverts.
Customer support: You'll need a reliable and responsive customer service if you are just starting out with VPNs. Even if you've used a couple of them over time, it's very helpful to have a customer support that can help you with issues you encounter. Sadly, free VPNs do not have such dedicated customer support platforms, unlike paid VPNs.
Bandwidth: Compounding the problem of running at a slow speed, free VPNs also have bandwidth caps. This means if you use the allowable data allocated for the day or month, there's really nothing you can do but wait till the next period. This is a frustrating situation, especially if you are in the middle of an interesting game or movie. Paid VPNs don't have such restrictions, and virtually all of them have unlimited bandwidths.
Which type of VPN do we recommend?
We'll advise you pick a paid VPN any day. They are much easier to use, and not as expensive as people will have you believe. Some cost as little as $3 per month for a long-period subscription, which is a reasonable price for all the features that'll be provided. The icing on the cake is that most of them offer a 30-day money-back guarantee, so you'll be getting them risk-free. The problems of free VPNs are also non-existent in paid VPNs, so you are guaranteed a pleasant ride when using them.
Best Paid VPNs
ExpressVPN

Features
Number of servers: More than 3,000
Speeds: Unlimited
Server locations: 160 in 94 countries
Maximum devices supported: 5
24 live chat: Yes
30 day money back guarantee: Yes
Pros/Cons
Fastest VPN out there
Strict no logs policy
256-bit AES encryption
ExpressVPN is one of the most popular among users around the world, and all for the right reasons. It unblocks geo-restrictions, offers fast speeds, and is versatile. The VPN has more than 3000 servers in 94 spread across the Americas, Asia, Europe, the Middle East, and Africa. Using these servers, you'll have a lot of protocols, like OpenVPN, IPsec, and IKEv2.
ExpressVPN is compatible with every device. It has won quite a number of awards for its world-class encryption and security levels, so you'll be completely protected from viruses and malware when using it to browse the internet. The VPN has some interesting features like VPN split tunneling and a lock switch to beef up its already solid encryption.
Customer support is available all day long if you have any issues with the service. You'll also get a 30-day money-back guarantee if you are unsatisfied with the VPN. It really is an all-round VPN.
Pros:

Fastest VPN out there;

Strict no logs policy;

256-bit AES encryption;

Lowest price: $6.67
NordVPN

Features
Cryptocurrency accepted? Yes
Simultaneous connections: 6
Dedicated IP-addresses? Yes
Servers: 5342 in 58 countries
Pros/Cons
Lots of pricing options
Netflix support kept up to date
256-bit AES encryption
Another paid VPN that beats many others in terms of its security, privacy, speed, and number of servers is NordVPN. Located in Panama, you'll enjoy using this VPN a lot, with its 5197 servers in more than 50 countries.
Like ExpressVPN, NordVPN makes use of military-grade encryption. With its double VPN feature and hack-proof encryption, your data and logs will remain secure every time you use the VPN. Its speed is also something to marvel about because of how easily it bypasses your Internet Service Provider's throttling to keep you connected. The VPN uses recently launched protocols to provide an extra layer of security.
NordVPN's customer support is top-notch and is one of the reasons why we consider it an excellent paid VPN to use.
Pros:

Lots of pricing options;

Netflix support kept up to date;

256-bit AES encryption;

Lowest price: $3.71
Best Free VPNs
ProtonVPN

Features
P2P support? Yes
30-day money-back guarantee? Yes
Country of origin? Switzerland
Servers: 600+ in over 40 countries
Simultaneous devices: 5
Pros/Cons
Professional support
Modern interface and apps
AES-256 encryption
The team that introduced ProtonMail came up with ProtonVPN, and the security standard of the mailing service has been maintained in the VPN service. It has 568 servers, all of which have super-fast speeds, so there'll be no problem of server congestion. Understandably, the free version isn't as fast as the paid version; it allows only one device and you can only connect to three countries.
ProtonVPN has a paid version as well, with many features unlocked in it. If you need a VPN service that has virtually everything you need in one, then you should consider ProtonVPN.
Pros:

Professional support;

Modern interface and apps;

AES-256 encryption;

Lowest price: €4
Hotspot Shield

Features
Unlimited data? Yes
Simultaneous connections: 5
Military grade encryption? Yes
Servers: Over 3200 in 80+ countries
Pros/Cons
Unlimited HD streaming
Blocks malware
256-bit AES encryption
With its catchy name, you'll most likely be expecting a top-quality VPN service with excellent security features, and that is exactly what the VPN is. But that's not the only reason why we think it is one of the best free VPNs.
Hotspot Shield protects up to five devices at a time. However, you are only limited to using 500MB of data each day. This is not too bad a bandwidth cap if you compare it to other free VPNs. Surprisingly, the VPN uses AES-256 encryption to protect your logs and data.
Hotspot Shield is good enough to get through any daily internet use.
Pros:

Unlimited HD streaming;

Blocks malware;

256-bit AES encryption;

Lowest price: $6.99
VPN protocols and encryption
VPN protocols are the instructions that establish a connection to a server so that data can be transmitted through it. The most popular protocols in use include;
OpenVPN: This is by far the most common protocol because it is open-source. It was developed for different authentication methods and is compatible with many devices. OpenVPN has quite some features and offers strong encryption with the TLS protocol and OpenSSL library.
IKEv2/IPSEC: Internet Key Exchange version 2 (IKEv2) with Internet Protocol security (IPSec) is a high-speed protocol that highly-ranked VPNs use. The protocol is preconfigured on iOS, Windows, and macOS, and it works well in re-establishing a lost connection. On the downside, IKEv2/IPSec is not an open-source protocol, so if your device doesn't use any of the operating systems listed above, you'll have a tough time getting it.
L2TP/IPSec: Layer 2 Tunneling Protocol (L2TP) with IPSec is another commonly used protocol. It is fairly secure but does not have lightning speed due to its double encapsulated data packets.
PPTP: A rather basic VPN protocol built into many operating systems is Point-to-Point Tunneling Protocol. It is not widely used because of its vulnerabilities that have been spotted.
Getting started with a VPN
Once you've made up your mind on the VPN service you prefer, the next thing to do is to get the service up and running on your device.
Look for a link to download the browser extension. You can also go ahead and download the mobile version from either Google Play Store or Apple Store. It's a fairly simple process, and all you have to do is search for the VPN's name.
After getting the VPN on your device, you'll be prompted to log in or sign up. Don't get it twisted; many paid VPN services use this information for identification. Make sure the username or password you use to create an account is not so popular that hackers can phish it.
Once you are logged in, look for a VPN server close to your location for a test run. In practice, the closer the server is to your actual location, the faster the speed. Look out for throttling, glitches, and buffering when sending your data through the nearby server.
When the test run is completed and you are satisfied with the result, then you can turn on a couple of other features that the VPN has.
Are VPNs legal?
A lingering question is whether it is right to use a VPN or not. Many argue that since a lot of sites block content from a certain group of people, using a VPN is a step out of line. And for its other use in anonymously browsing the internet, the issue of cybercrimes always comes up.
VPNs are legal in most countries of the world. However, a few such countries put restrictions on what can be done with a VPN. Some illegal activities that can be done with a VPN include;
Cyberbullying, cyberstalking, and other cybercrimes.
Trading weapons and illicit drugs on the dark web
Hacking computers and networks
As long as you do not engage in any of these, you should be fine.
In conclusion
A lot of people are missing out on VPNs because they think it's some type of high-tech security tool for experts. This is far from the truth, as most of them have interactive and simple-to-use interfaces as well as tutorials on how to set up and use them.
For those who understand the benefits of using a VPN, a dilemma comes when it's time to choose between the free and paid options. There are many free VPNs, but most of them are no good to anyone. We will always go for paid VPNs and recommend you do so as well. Ultimately, the decision to pay more for better services or less in getting a free VPN is up to you.