How Does A VPN Work?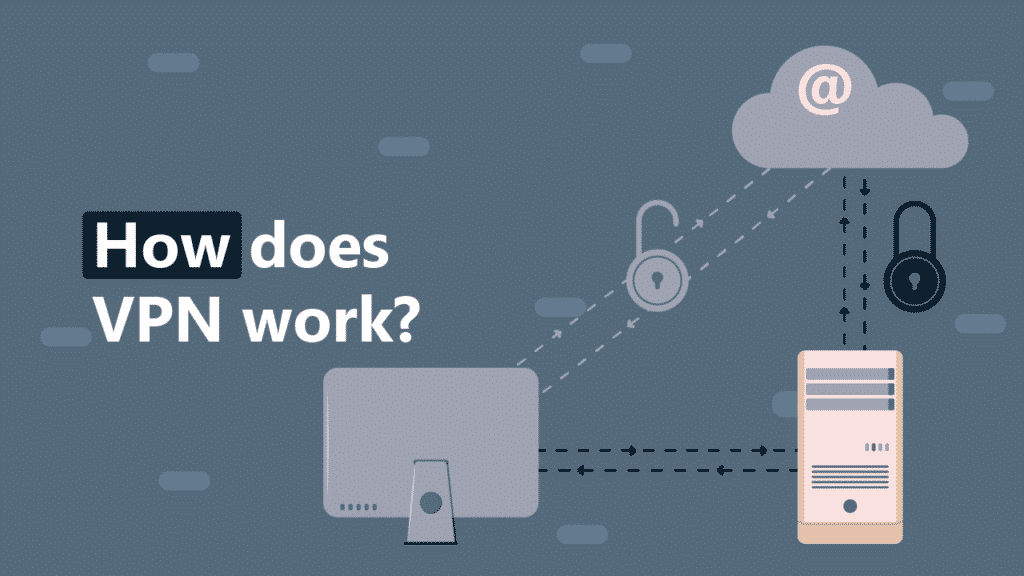 A VPN provides a secure way to browse the internet. It also gives its users the freedom to access any restricted content at will. Although many individuals and companies use this tool every day, a lot about how VPNs work is still unknown to them.
In this guide, we'll explain everything about the workings of a VPN and highlight the best ones to get.
What was obtainable before VPNs came around?
Before the advent of VPN technology, people connected to the internet through their Internet Service Providers (ISP) directly. The ISP also acted as an intermediary between devices for file sharing. You'll be given a unique address called an Internet Protocol (IP) address, which allows your device to be found anywhere on the internet.
This method of internet connection seemed fruitful until security concerns began to spring up. ISPs at that time could (and they still can) monitor all the steps their customers take while browsing the internet. Usually, the connection was unencrypted, which meant information like your IP address remained visible.
This method of connecting to websites is still in use, but with the introduction of VPNs, these security concerns have been alleviated. Furthermore, your IP address will not be visible to others (not even your ISP). Let us delve into how VPNs work to help you understand this better.
How VPNs work
VPNs are not high-tech tools that people seem to think they are. They operate on the same lines every other person uses on the internet to provide a much secure and safe connection. A VPN network comprises servers and the users' devices.
Here's how a VPN works:
First, the VPN app or browser extension has to be installed on your device. Once installed, you'll need to connect to a server in a country where the VPN has one. Just like on your device, each server has an IP address. So, when connected to it, you'll be given the IP address of the server. Since IP addresses of devices are similar in the same country, connecting this way will make it seem like you are in the country where the server is.
The VPN then encrypts your packets, hiding not only your IP address information but also the data. The software at your end then sends the data packets through the connected server.
In rerouting the information, the server then sends the data packets to the destination website.
The information from the website then follows the same path back to your device.
What can a VPN be used for?
A VPN can be used for the following reasons:
To watch geographically restricted videos on streaming sites at super-fast speeds
Netflix and YouTube are two popular streaming websites on the internet. But not all the content on these sites is available in every country. When resident in a country where a particular version is not available, VPNs can provide the access you need. All you'll need to do is connect to a server in the country where you want to watch a particular version of the streaming website's videos.
To bypass content surveillance and web censorship
In a lot of countries, firewalls are set up to regulate what people hear, see, and share with others on the internet. For example, China has the Great Firewall, which is a combination of technologies and legislative actions that control how people use the internet. Sites like Google and Facebook are blocked in the country, and it can be limiting if you need to get information from them.

VPNs help bypass these content surveillance and censorship by providing a secure and private connection.
To obtain secure connections between sites
We now know that connecting to websites through your ISP is not the safest way to use the internet. Apart from the fact that your ISP will monitor your IP address and activities, hackers may also intercept your data and traffic. For both businesses and individuals, VPNs allow their users to securely use the internet without having to worry about their traffic getting into the wrong hands.
To use public WiFis without having to worry about hackers
Public WiFis are almost everywhere we go. A lot of people use it to browse the internet but are unaware that they are very easy to hack. Cybercriminals wait for people to log on to these improperly secured sites, so they can access files and intercept their traffic.

With a VPN on your device, you don't have much to think about when using public WiFi. VPNs will protect so much that even if hackers get access to your traffic, they'll not be able to decrypt it.
To download torrents anonymously
Your IP address is included in a torrent swarm every time you want to download torrents. If a VPN is not used, it won't be just yours, but everyone else who's on the file-sharing network with you. The concern here is that these IP addresses can get into the wrong hands.

With a VPN, you can hide your IP address and download torrents anonymously. And as an added layer of security, your true IP address will not be used.
Top 3 VPNs you should consider getting
The three top-notch VPNs at the moment are:
ExpressVPN
NordVPN
Surfshark
Is it legal to use a VPN?
The legality of VPNs has always been in question. To answer the question simply, yes, VPNs are legal to use in most countries. In some others like China and the United Arab Emirates, stiff laws are in place to regulate their use. But in all countries, VPNs are not to be used for;
Cyberstalking and cyberbullying: Due to the privacy and anonymity features in place in VPNs, many people take it as an opportunity to use them to stalk or bully others. In most countries, using VPNs for such purpose is a crime punishable by stiff laws.
Trading on the dark web: The dark web is blacklisted as one of the places that users should stay off on the internet. However, people still sell, buy weapons, drugs, and other illicit materials on it. They usually do this with a VPN because of the privacy these tools have.
Hacking networks and computers: Finally, the last way in which VPNs should not be used is to hack computers and networks.
Tips on how to use a VPN
Don't get a free one: Free VPNs usually pose security threats because they do not have the sophisticated measures that their paid counterparts have. You'll also not likely have unlimited bandwidth to browse as much as you want with them.
Check the terms and conditions before you use a VPN: There could be some VPN hidden conditions that you'll not take note of on the surface. Take a good and thorough scan of the VPN's terms and conditions before you get one.
Ensure that the VPN has an automatic kill switch: Your connection can drop while you browse, and when this happens, you'll want to stay protected. This is why you should always check whether a VPN has an automatic kill switch or not.
Make sure the VPN has a large number of servers: You'll not enjoy VPNs if you only have a handful of servers to connect to. Server congestion is definitely something you'll experience often.
In conclusion
The workings of a VPN are quite easy to grasp, and in this guide, we've highlighted a thorough process it. We've also included three of the best types you should consider getting as well as what they work for. So, what are you waiting for? Get a VPN today and start enjoying all the benefits that come with using one.